The Apple iPhone X is already being called one of the most user-friendly phones ever made. Indeed, even first-time smartphone users will have no problem operating this intuitive device. These seven features help make new Apple consumers, loyal customers upgrading to the newest device, and first-ever smartphone users feel right at home with the iPhone X.
First-Time Setup
The iPhone X is loaded with plenty of exciting features, but one of the best things about this device is that it's easy to set up and begin using. Even technologies such as Face ID and the TrueDepth camera, though advanced, are so intuitive that getting comfortable with them only takes a few minutes. The quick setup process will take you through:
Connecting to a Wi-Fi network
Setting up Face ID
Creating a password
Logging into or creating an Apple ID
That's it! After a few taps on the screen, you'll be ready to dive deeper into the more exciting aspects of your new phone.
Face ID
Face ID is one of the biggest selling points of the new iPhone X. This technology replaces the dated method of using a password to protect your phone and even makes the thumbprint scanner seem a bit antiquated. You'll have to create a password to use Face ID and update it in the future, but after that, all you'll need to do to unlock your phone is look at it.
Faster CPU
There's a powerful process running behind the scenes as you check your email, snap pics, and make payments on the go from your smartphone. The iPhone X runs on an Apple A11 Bionic processor. This is the most powerful technology ever added to a smartphone — the X is even more powerful than the newest MacBook Pros. Combined with a reliable and quick internet connection, such as an iPhone X running on T-Mobile's 4G LTE network, you'll be able to swap between visiting websites, using apps, recording videos, and making phone calls in a flash.
Optical Image Stabilization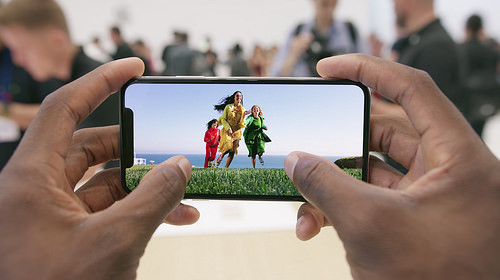 The iPhone X sets new standards for smartphone camera quality and usability. The camera is loaded with features and things to explore, such as the Portrait mode and different lighting effects, but it's remarkably easy to use and fun to play with.
Thanks to optical image stabilization, which reduces blurring due to camera movement, you can capture images like a pro. This system runs in the background. You may not even notice the tech working while using your phone, but it will make a huge difference in the quality of your photos.
Renovated Design
Though the iPhone X's screen is aesthetically impressive, it's got some utility you'll appreciate as well. The screen is water- and dust-resistant and has received an IP67 rating. This means it's "totally protected against dust" and can handle water jets (i.e., from a shower) but not submersion. Perhaps more impressive and helpful is the fact that you can charge these smartphones wirelessly. You just have to set the phone on top of a charging dock.
Navigation
One of the first things you'll notice about the iPhone X is that the entire front of the phone is its screen. Apple has removed the "Home" button at the bottom of the phone, which you may remember from older models. Instead, navigation back to the home screen is done with a simple swipe up from the bottom of the device.
Face ID + Apple Pay
Another wonderful convenience of Face ID is that you can use it with Apple Pay to check out in physical stores almost instantly. The Apple Pay service hasn't changed, so if you're already familiar with the technology, you can look forward to using Face ID to make the process even simpler.
Conclusion
The iPhone X is an awesome device, and though people were quick to get excited about the changes to the screen, the nixing of the home button, and some other obvious adjustments, there's lots more to discover. If usability is a priority or you're worried about finding an easy-to-use device for a first-time smartphone owner, you can purchase the iPhone X with confidence.