The new MacBook Pro made me think about drives that only uses USB-C port, and it made me think about these drives because this MacBook only has USB-C/Thunderbolt 3 ports. Of course, it is not a problem cause USB-C provides faster data transfer and I am sure that in time it may replace other in these times standard ports (such as HDMI, Power, DisplayPort, etc.)
External mobile drives are the best way to share your most needed files with other devices of your choosing or to have some data by your side at all times, but in such a way that it is in a way safe from other fingers. And of course, it is the best way to locally backup your most valuable data.
So, we have made a list of six in our view the best USB-C type mobile storage drives, so you can consider one of them for your usage when looking for a new "friend."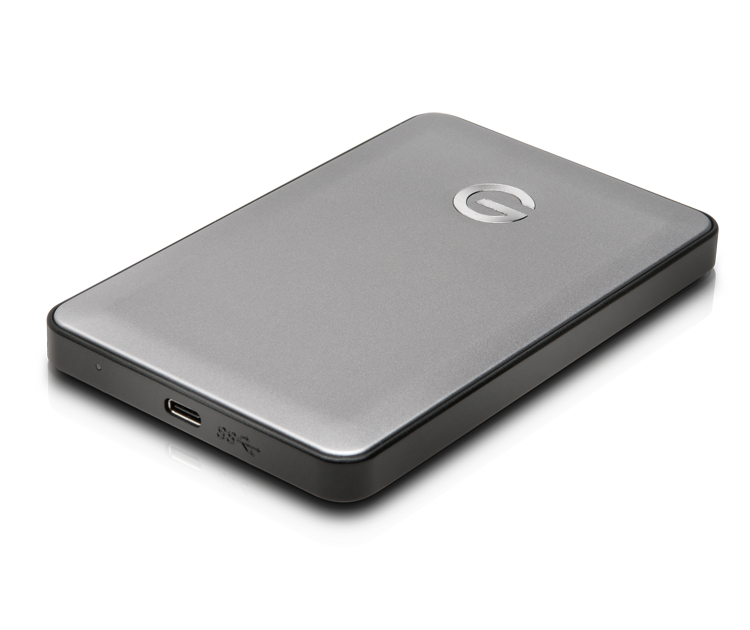 1. G-Technology G-Drive Mobile USB-C Review
First in the line is the G-Drive, and there is not any selection for capacity, as it only comes in one size and that is 1 TB. Although you can choose its color, as it comes with Apple colors: Roze Gold, Space Gray, Gold, and Silver.
G-Technology G-Drive is an excellent storage drive for most people, cause the 1 TB capacity is enough for most users and the performance wise it does decently with every data size. G-Tech advertised that it could get to speeds up to 136MB/s, and in my testing, it almost performed as advertised, reaching the average speed of 112MB/s while reading and 125MB/s while writing. But just so for your knowledge, G-Drive does not come with such features as backup software or encryptions.
For a more in-depth look read full G-Technology G-Drive Mobile USB-C Review
---

2. Glyph Blackbox Plus Review
Glyph Blackbox Plus is the widest range mobile storage drive in this list, as it comes in various sizes, transfer rates, and drive speeds, and it all is packed into durable rubber/aluminum case. For color options, there is only one: black/grayish, and it does not need any other choice, as it fits the drive without a doubt.
Blackbox Plus will fit perfectly for those who needs to take their storage out of a standard house or work comfort into some bit more extreme conditions, although it will not survive a lot, it will take a bigger beating before failure (The SSD will endure much more than HDD). With reliable performance, every time it was used Blackbox offers quiet much (the transfer speeds will differ from drive speed used.)
And once again, just as G-Drive Mobile USB-C, Blackbox lacks the inbuilt backup features and there are no security encryptions, making your drive vulnerable to theft and data loss.
Price for the cheapest option (which is the 500 GB HDD) starts at $99 and will increase up to $430
I would not suggest for you to get the 2 TB / 5400 RPM version, as it is the slowest one from their list, you should rather look at different capacity or different drive from this list.
For more in-depth look read full Glyph Blackbox Plus Review
---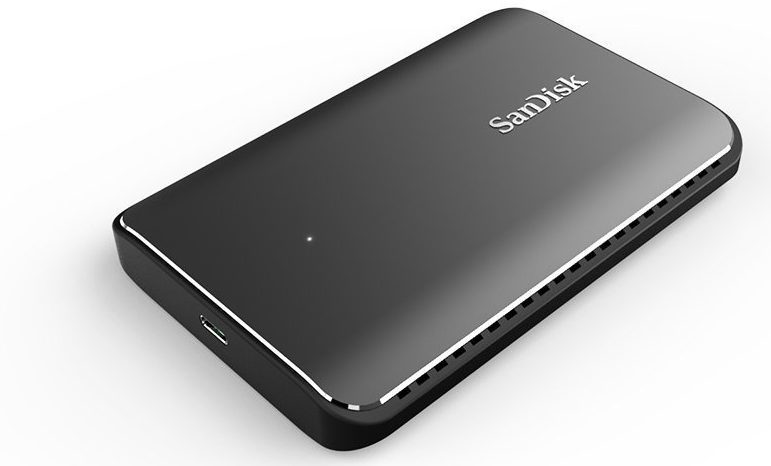 3. Sandisk Extreme 900 Plus Review
Sandisk is the fastest drive in this list from advertisements and review tests, although it will work the best when connected to USB 3.1 Gen 2 port (10 Gbps), and with larger sized data because it tends to lose transfer rate a lot when dealing with small sized data blocks. The only competition is the Samsung T3 and transfer rate wise it cannot get even close to Extreme 900 Plus.
Sandisk Extreme 900 Plus uses two 6 Gbps SATA SSDs bridged in RAID 0 configuration, this setup allows the drive to get up to those speeds, but as this is the source of its power it is also its weakness.
RAID 0 configurations tend to bottleneck when dealing with small sized data blocks, and Sandisk is not an exception. Sandisk offers a 128-bit encryption but thru Sandisk Secure Access and little bit more money you can upgrade to 1024-bit encryption. This upgrade will ensure that your data will be as secure as gold in Fort Knox and the upgrade will provide additional features.
For more in-depth look read full Sandisk Extreme 900 Plus Review
---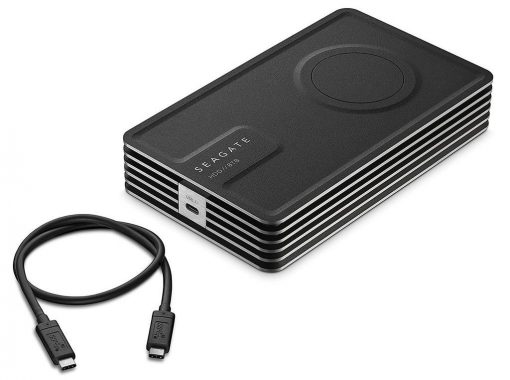 4. Seagate Innov8 8TB Review
Seagate is the biggest drive in this list not only in capacity but its dimensions and weight too. With its 8 TB capacity, it will fit for any user desires and needs. Just because there will be space for all of your videos, movies, music and other important documents and pictures, but there is a price for this size, as Innov8 does not use SSD type drive speed, but a 3.5 inch HDD, thus making it bulky and heavy.
The biggest problem with Innov8 will be that it will only work with USB-C ports, as older ports do not provide 12V power output that is necessary for this drive.
But on the bright side, Seagate added a lot of features for Innov8, like a 2-year subscription to OneDrive (200 GB), Seagate Dashboard which handles your data backup and is integrated into social platforms and allows you to share your multimedia files easily. It comes with Lyve software compatibility, which lets you to backup every video and photo taken in one place and view them from any device
For more in-depth look read full Seagate Innov8 Review
---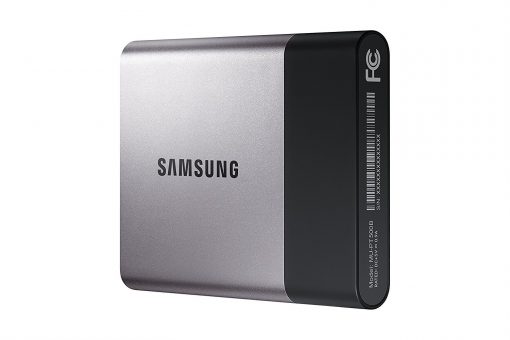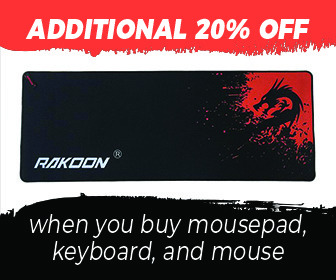 5. Samsung T3 Review
One of the tiniest external drives out there, making it easy to carry around making it perfect for users working in offices, as it is easy to hide it in a suit and any briefcase or handbag. Don`t be scared about its physical size, as it still manages to provide large capacity thanks to its 3D V-NAND flash memory.
Samsung T3 is almost perfect option for those who travels light and does not want to carry around bigger external SSDs. Performance wise it will on average work around 421 MB/s and 372 MB/s (Read/Write) and it has 256-bit security encryption feature.
T3 will work with older USB-A ports too so that you can work with any device out there, plus even some tablets and phones.
Samsung T3 is definitely has everything you would need out of a mobile SSD.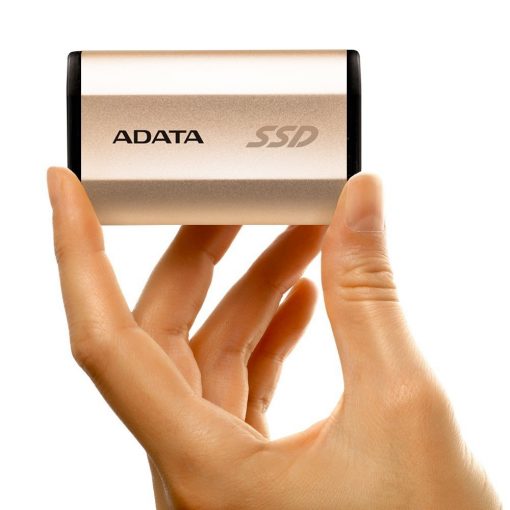 6. ADATA SE730 Review
The SE730 simply is the most compact SSD drive on this list, and probably on the market. For this little man, there is no need for a long talk.
It is super-fast, super small and super durable and rocking USB-C Gen 2 (10 Gbps) interface making it easy to plug and providing speeds up to 500 MB/s. ADATA also has IP68 certification, making it dust, water and shockproof and this certification ensures that the SE730 will survive almost everything you can throw at it, making it perfect for those who likes to take their tech to extreme levels.
The compact size of the SE730 makes it friendly for those users who travel light or needs external storage which can take a big beating and still perform as it would be new. Also, the compatibility across various software's makes it a great device in a lot of situations.