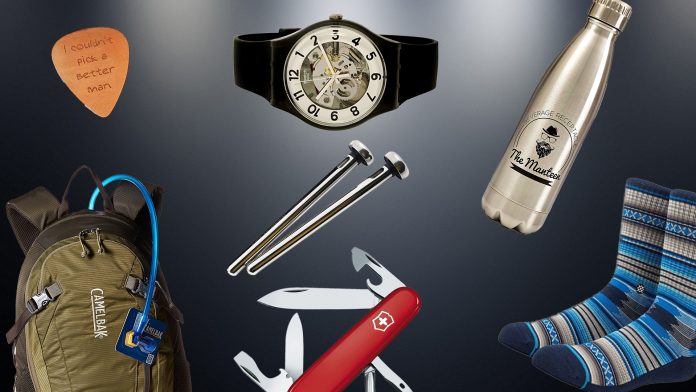 Is it his birthday, Christmas or any other celebration, all of the items on this list are great gifts. All you have to do is choose.
Choosing and preparing a gift can be difficult especially if you don't know what this person would want. Sometimes it's hard to think of a gift your friend or family member would like, not even talking about strangers. We have made this article to help you, so you could stop thinking about what to buy and just choose something from a very cool list of items. Most of the men would be happy to get any of these items. Let's take a closer look!
Related: Best Unique Gifts for Women under 100$
1. A2S Paracord Bracelet K2-Peak – Survival Gear Kit
You know someone who loves to go out on adventures and hike, maybe fishing or hunting? If so, A2S Paracord Bracelet K2-Peak is a perfect gift. For less than 11$ you can buy this cool accessory. It has embedded compass, firestarter, emergency knife as well as whistle – everything you would need in a survival situation. 
---
2. What If? Serious Scientific Answers to Absurd Hypothetical Questions
All of use have tought about existencial questions and even more "What would happen if..". This is a super cool book that has awnsers to absurd hypothetical questions just as title says. For ilustration there's a lot of stick figure drawings that makes reading even easier. Anyone who loves phylosophy and life itself will love this book.
---
3. In Bottle Beer Chiller Sticks
Got a beer, but it's warm? Placing it into the freezer is an option, but usually it takes a lot of time. A cool solution and a gift is this set of two beer chiller sticks as well as beer opener. I bet we all know many guys who love beer – I think you have found a perfect gift!
---
4. Victorinox Swiss Army Tinker Pocket Knife
Every man needs a knife of some sort. Victorinox is a brand that makes these high-quality Swiss army knives. They doesn't cost a fortune, but offer super high quality. It's slim, sharp and has all the tools you would need. Another gift for hunters, fishermen, hikers and adventure seekers.
---
5. Swatch Men's Skeletor SUOB134
A super fancy Swiss watch can costs thousands. However, this great looking Swatch Skeletor SUOB134 has a pricetag of around 70$. Men love watches, they are not only a timepiace, but also cool accessory. If you're intrested in other cool watches, take a look at our Top 10 Best Men's Watches under 2000$ article.
---
6. Burt's Bees Men's Gift Set
Just like women, most men will apriciate a proper skin care products. In this relatively cheap gift set you get  shave cream, aftershave, body wash, hand salve and lip balm beeswax. Basically everything a man would ever need.
---
7. The Manteen
This is a cool looking thermos that's made from stainless steel and has a water bottle looks, making it super stylish. You can pour hot as well as hold cold beverages in it. Another great gift for hikers, golfers and travelers.
---
8. Engraved Guitar and Bass Pick
Guitar is probably the most played instrument on earth. Many men has at least tried it, a bit less can actually play it. This engraced guitar and bass pick is made for cooper, therfore, it's very solid and cute at the same time. The right person will definitely apriciate a gift like this a lot.
---
9. DRUNK STONED OR STUPID
For those who love to play games. There are 250 cards, you take un and then decide who of the group is more likely to do or be something. With the right company and vibe, this game can be super fun to play. We think that this is a great gift for a friend as you will most likely get to play it too.
---
10. Premium Double Layer Inverted Umbrella
Basically, there are two layers of fabric. Now you can fold your umbrella on the other way or reverse. It's original gift that's also practical as you need smaller space to open it and no rain drops get on you. Also you can be almost sure that you won't see any similar unbrella on the street.
---
11.Etched Globe Whiskey Decanter
Whiskey – a true man's drink. Why don't drink it with some style? Whiskey decanters are purely just for looks, they can make whiskey taste better. This original globe shaped Whiskey is relatively cheap and very original gift. See more great whiskey decanters at our Top 8 Coolest Whiskey Decanters For Men article. P.S. Globe spins around.
---
12. Stance Men's Guadalupe Tribal Stripe Classic Crew Sock
A pair of warm socks – you can't go wrong with these, especially when they look so stylish.
---
13. CamelBak Cloud Walker Hydration Pack
Ever walked on hikes and stoped to take a water bottle from your back pack and have a drink? With this backpack, you won't have to stop, just drink from a hydration straw. Again, perfect gift for men who spend their time out in the nature.
---
14. Mininch WRENCHit Interchangeable Hex Wrench System
Mininch WrencHit is a superb and very practical gift. It's something that you can hold in your car in case something happens on the road. Anyone who have worked with tools will apriciate a gift like this.
---
15. AKASO EK7000 4K WIFI Sports Action Camera
AKASO EK7000 is something similar to GoPro just way cheaper. It can shoot videos in 1080p at 60fps. That's qutie impresive if you ask me. It's a small tech toy that every man would be happy to recieve even if they won't ever use it.
Final words
We truly hope that after reading this you were able to find something that you and him would like. If you didn't, at least you got some ideas about what you could get and what you definitely wouldn't.
As a man myself, I would be more than happy to get any of these. All of us want to gift something original, cool or practical. Stand out, get a gift he will remember!