Toshiba TransMemory ID USB 3.0 is a very basic flash drive that comes in three capacities: 16GB, 32GB and 64GB. Design is sweet and very straight forward. One of Toshiba TransMemory ID features is its dedicated label area that has dimensions of 9mm x 33mm. In the result, you get a perfect flash drive to organize and manage different kinds of data by sorting using different names or categories. Thanks to the slim design, you can store these drives side by side. We see this drive as the perfect device for storing many different files, for example, photos, documents, drawings and so on and on. It's especially great if you want files that don't take up a lot of space otherwise you might find this drive a little bit on the slow side.
Related: Top 8 Best USB 3.0 Thumb Drives
Performance and technical specifications
The thing we complain most about is Toshiba TransMemory ID USB 3.0 entry level performance. You can't say it's terrible because it's not. You can still transfer your files without feeling that the drive is slow, but when you compare it with other drives like Lexar JumpDrive P20, you can see a huge difference. Toshiba could have done much better. We took a more detailed look at the 64GB version and did some speed tests. This drive reached a read speed of  35MB/s read and write speed of 17MB/s, that's not too good. These numbers are in the level of USB 2.0 not USB 3.0.
Should you get it?
If you do want to organize your files and they don't take up a lot of space then sure, go for it. However, if you're going to use this flash drive to transfer 4k videos and other huge media files, you might want to consider other drives as the performance won't be up to level. Keep in mind that the price you're going to pay for this drive isn't the most affordable. You can find cheaper drives with a larger capacity on the market.In everyday use this drive is very practical, it features an embedded strap hole and has two-year warranty. Toshiba TransMemory ID works with both PC and Mac.
PROS
A very affordable flash drive
Sweet looking design, available in three colors
PC and a Mac right out of the box
Design
When it comes to design, Toshiba TransMemory ID USB 3.0 does everything well. It's a pretty simple looking flash drive but in a good way. It comes in three colors and in hands, it feels very well made. The drive itself is very slim, but the label area is large enough to write one or two words.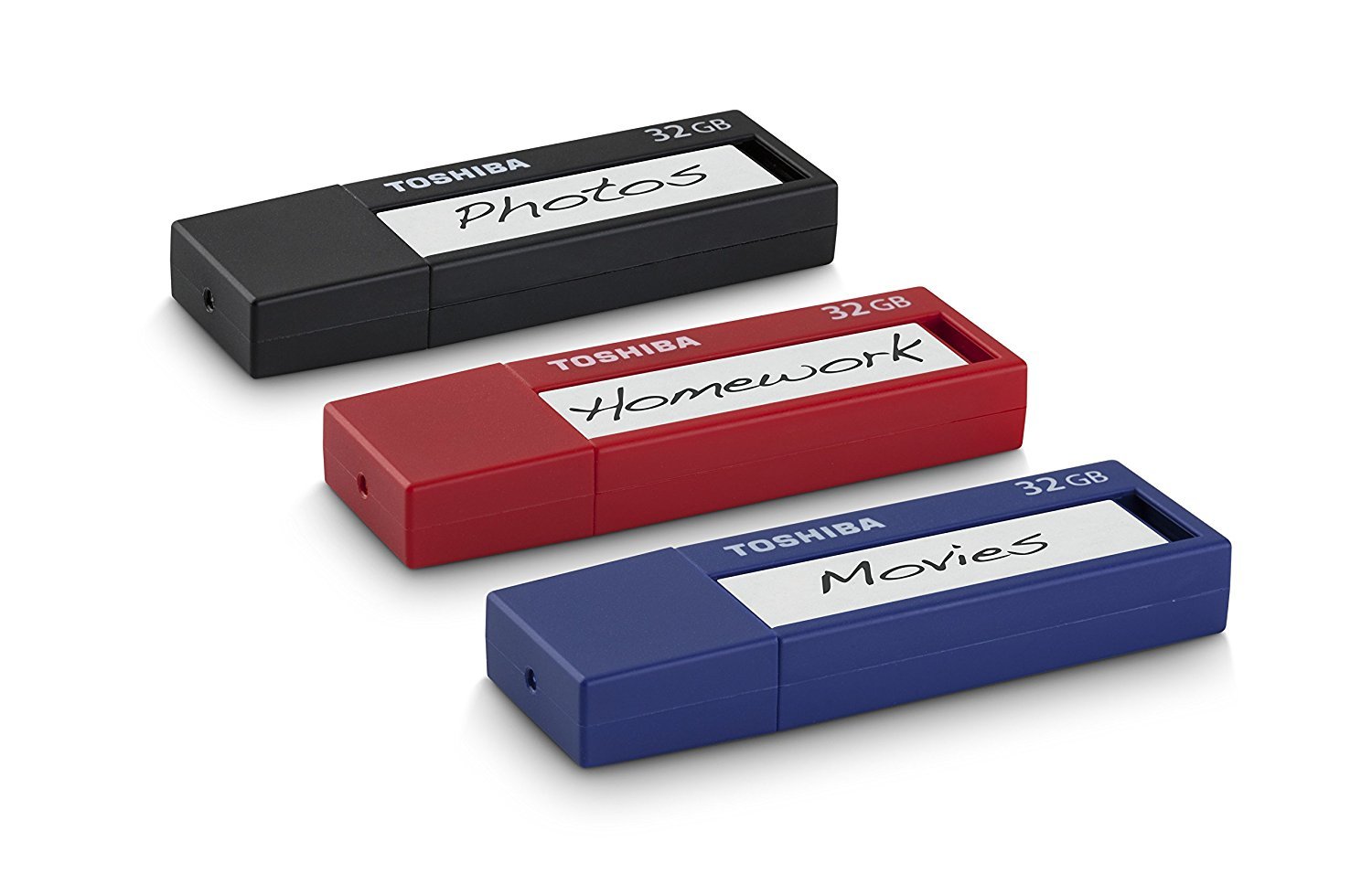 These drives feature a written brand name "Toshiba" and capacity, for example, if you have 64GB then there will be written "64GB". Toshiba has made this flash drive quite durable. It won't break if you accidentally drop it. They have also chosen to protect the USB 3.0 connector in an old school way – with a plastic cap not integrate it into the drive itself as Samsung Bar does. We are not fans of separate plastics caps as they tend to get lost easily.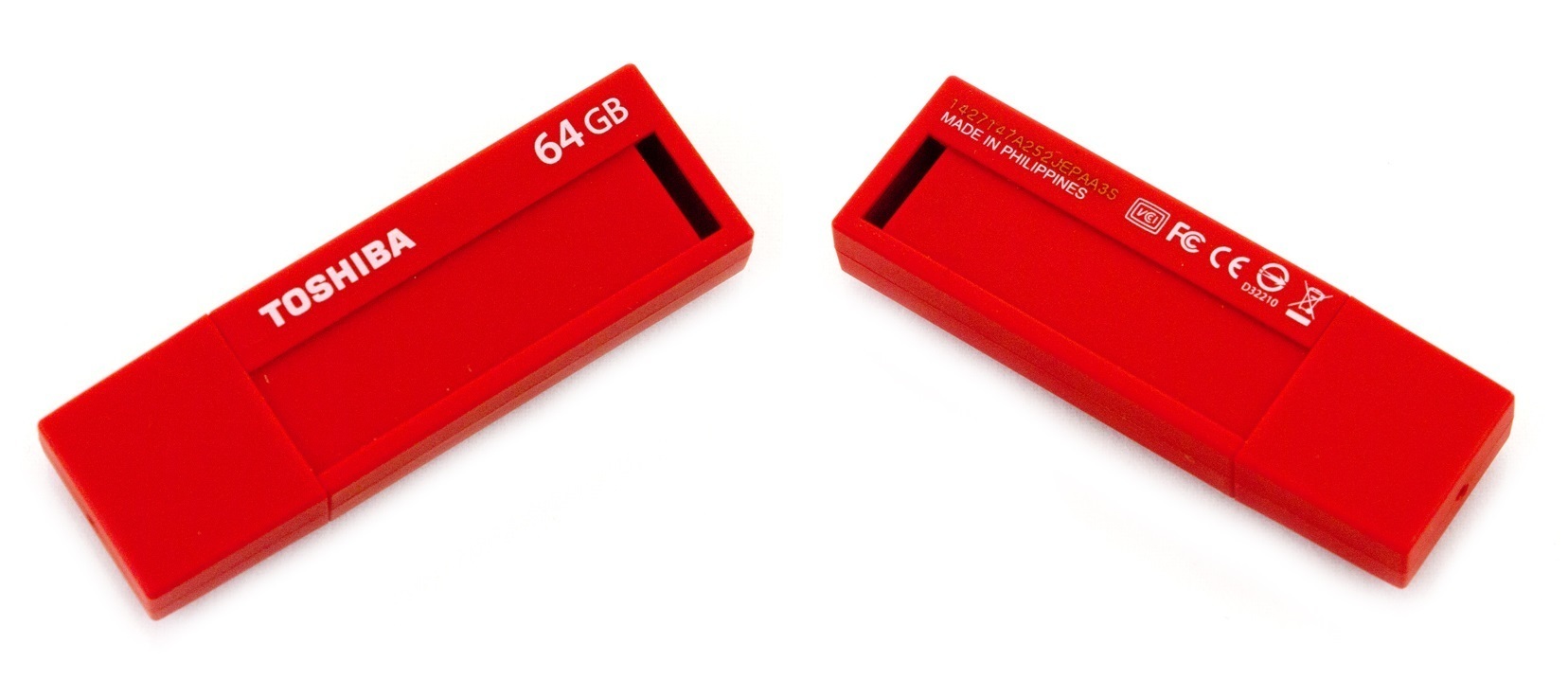 Verdict
If you want to organize your workplace files or files at your home, for example, "photos of 2016", "photos of 2017" and so on, Toshiba TransMemory ID USB 3.0 is a great flash drive to do so. It comes in three colors and each drive can be identified with a special title that's written on the label area. Also, this drive will be just great for students or office workers, maybe accountants, basically all people who have to manage huge amounts of data. Sadly, this drives performance isn't up to level and despite it beeing on the lower side, you can't call this drive cheap. Actually, it's quite expensive. Samsung BAR 128GB is actually for almost 10$ cheaper than Toshiba TransMemory ID 64GB model. That's something to keep in mind while deciding whether to get this drive or not.