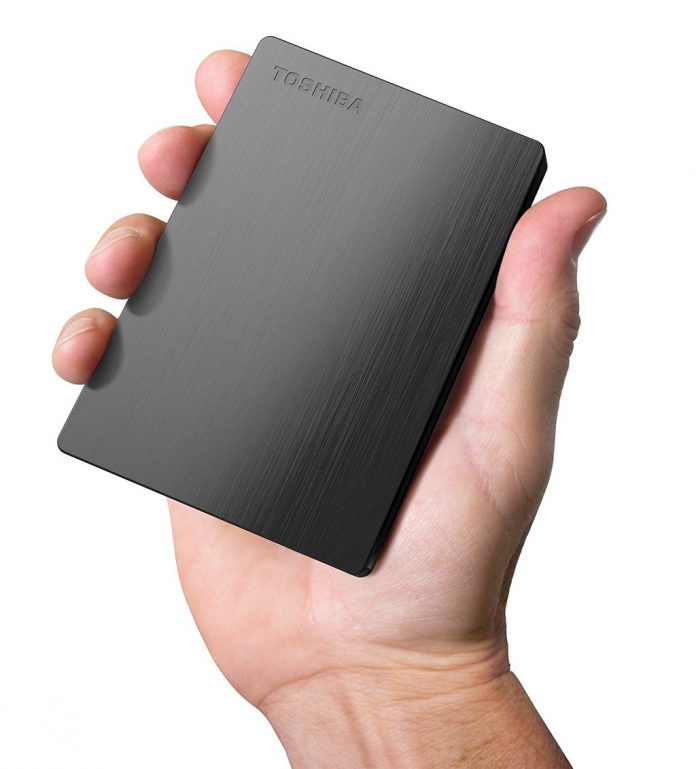 Toshiba Canvio Slim II Review – Not as slim as other slim portable external hard drives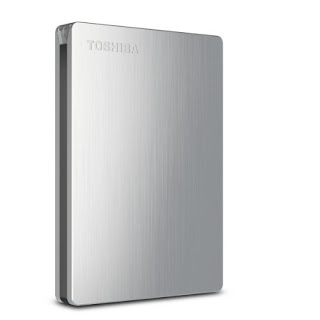 The Toshiba Canvio Slim II is the slimmest of all the portable external hard drives coming from Toshiba's Canvio product line. It is the end result of a chain of improvements – from the Canvio basic, functioning as a highly efficient storage of digital data, moving on to the Canvio Connect I and II, which allows remote access to the stored data, and finally with the Slim – a device that incorporates their perks in one handy package.
Great design and performance, but not as slim as ther slim portable drives
This gadget's features make it indispensible for people who require a no-fuss, reliable, high-capacity storage device that they can access remotely. The cost may be higher in comparison to older Canvio alternatives (Seagate Backup Plus Slim, Wd My Passport Slim, G-Drive Slim, Seagate Seven) and products from other brands, but those who prioritize quality and dependability may not mind the extra cost that much.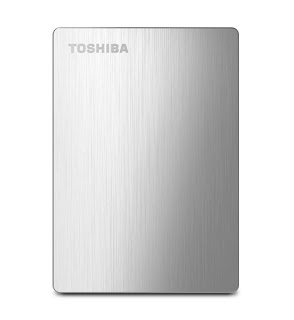 The Canvio Slim II comes in 500 GB and 1 TB versions. The 1 TB is often sold at a higher price, but there are sellers who offer it at an equal or lower cost. If you need 2 – 3 TB of space, the Connect II is a more suitable option for you. Prepare an additional $50 for Connect II, though. Purchase of the Slim II grants you an additional 10 GB for free in cloud storage.
Price per TB is much higher than competition
The main advantages of Toshiba Canvio Slim II:
Slim and lightweight – The hard drive resembles the dimensions and feel of a smartphone. It fits into the pocket and any other small compartment quite easily. Other hard drives are large and cumbersome to carry around.
Remote accessibility – This beats other external drives because of its remote-access feature. You can work with your stored files remotely for as long as the device is switched on and is connected to the Internet. You may use a laptop, computer, smartphone, tablet, etc. to access the contents of the Canvio Slim II, for as long as it has a data, Wi-Fi, or Internet connection.
Easy to use – The setup guide is pre-installed so you only have to click through the options to get started. You also don't need to know how to use all the features right away. You can just start dragging and dropping your desired files so you can save them in the device.
Storage – You can store a lot in this small drive. You also get a free lifetime 10 GB storage that usually costs $30 for those who don't own a Canvio.
Mac and Windows compatible – No need to worry about compatibility issues between the drive and the computer.
Fast transfer rates – The Slim II and other Canvio devices come at the top of others in terms of read and write speeds. This is essential in situations where you need to save and access a large amount of data quickly.
Powered by USB – External hard drives usually need a separate plug to work. This one is powered with a USB cable that is connected to the PC, minimizing hassle, bulk and power usage.
Main disadvantages of Toshiba Canvio Slim II are as follows:
The backup storage software may work slowly and have problems saving the backup files completely. You can work around this by downloading other backup programs just in case the one stored in the device doesn't meet your expectations.
Product specifications
Capacity: 500GB or 1TB
Interfaces: USB 3.0 (both compatible with USB 2.0)
Spindle Speed: 5400 RPM
Inside
Average Seek Time: 12 ms
Cache Buffer: 8MB
Dimensions: 4.21 x 2.95 x 0.49 inches
Weight: 5.4 ounces
Warranty: 3 year limited
Warranty
There is a three year warranty on the Toshiba Canvio Slim II. The warranty of other Canvio devices lasts only two years. This speaks about the Canvio Slim II's superior reliability compared to others in the line. The warranty is included with the product and you can look it up at Toshiba's website.
The device has an attractive brushed aluminum finish. You can choose between black and silver colors.
Dimensions: 4.21 x 2.95 x 0.49 inches
Weight: 5.4 ounces
Ports and Connections: The back of the unit features a USB 3.0 port. A USB 2.0 may also be used. A LED light indicates the kind of USB that is plugged in. If plugged in USB 2.0 led turns white and when plugged in USB 3.0 it turns blue. The led light turns on when the drive is plugged in and flashes to indicate data activity/transfer.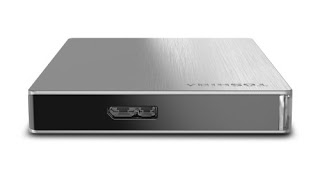 Write/Read Speeds
Transfer speeds are around 114 megabits per second for sequential read and write transfers, while random-large block transfers average at 63 Mb/sec. In comparison, Canvio Connect's sequential read and write speed is at 101 Mb/sec, while random large-block transfer speed is at 43 MB/sec. The drive is slower than Wd My Passport Ultra (read/write speeds both about 118Mb/s) and Seagate Expansion (write 119Mb/s and read 130Mb/s). But it`s faster than Seagate Backup Plus (read 110Mb/s, write 90Mb/s), G-Drive Slim (read 100Mb/s and write 86Mb/s) and also Wd My Passport Edge (read 98Mb/s and write 83Mb/s). As you can see, Toshiba Canvio Slim II has medium/ mid-range performance compared to competition.  In tests via USB 2.0 connection Slim II also performed well – reading 28Mb/s and writing 33MB/s. As Dong Ngo from Cnet wrote  – I`m impressed with Canvio Slim II performance, both with USB 2.0 and USB 3.0. Also Storagereview writes that Canvio Slim II is more than middle-end portable drive, with well built aluminum enclosure.
Does it Work for PC or Mac?
It is possible to pre-format the Canvio Slim II for Windows PC or Mac. It works on both Mac and PC environments. It is sold with an NTFS driver – to make it compatible with Time Machine, reformatting it to HFS+ is required.
Windows compatibility includes Windows 7, Windows 8, Windows XP, and Windows Vista. Mac compatibility includes Mac OS X, Lion, Leopard, and Snowleopard.
Bundled Software
Pogoplug – The Pogoplug program connects the device to a cloud server via the internet. This allows a user to remotely access files in the Canvio and in the computer using a browser or app. Having the product enables you to store 10 GB of data in a Pogoplug account for free. Normally, it costs $30. Non-Canvio users are also limited to 5 GB.
NTI Backup Now EZ 2010 – This is for storing backup files with optional encryption. Installing it enables automatic saving of data. Options for saving include cloud and internal files and folder. It monitors the space available for cloud, file and folder, and other uncategorized data. It keeps track of backup history and alerts you whether there is a pending scheduled backup or if the procedure was unsuccessful.
Muvee – This is a movie creating and video editing program. You can use various kinds of videos, photos and music with this tool.
The Password HDD tool is a password client that prevents unauthorized use of the device. You can use up to 256-bit of characters for your code.
A Lot of useful software included – Pogoplug PC (Windows), NTFS driver (Mac) , Password Tools (Windows and Mac), NTI Backup Now Ez (Windows)
What's In the Box?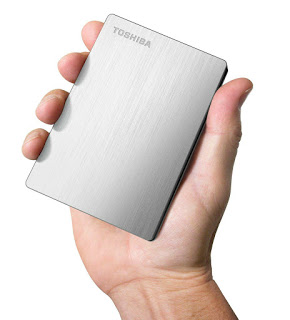 One Toshiba Canvio Slim II Hard Drive
A USB 3.0 Cable
Preloaded programs:
NTI Backup Now EZ
Pogoplug for PC
Muvee
HDD Password Tool (preloaded on drive)
3-Year Warranty
A Quick Start Guide manual
Do i recommend Toshiba Canvio Slim II?
The Canvio Slim II has received 5 star ratings from reviewers because of its design, accessibility, portability, reliability and speed. Aside from 500 GB to 1 GB storage capacity, users also enjoy free lifetime 10 GB data storage online. The only drawbacks may be the steep price of the Canvio and not-so-good performance of the backup program. Overall, the Canvio Slim II is without question one of the best of its kind in the market.