Good bundled software, 10GB of Free Cloud Storage for affordable price
Whats makes Toshiba Canvio Connect special? It is combination of price, portability and good software. When the drive first came out in 2013 it wasn't one of the cheapest so Toshiba included software and 10GB of free cloud storage to attract buyers. Now that the prices have dropped almost for a half this drive seems to be even more attractive.
Toshiba Canvio Connect – Introduction
This drive is very easy to use because it is bus-powered and works right out of the box. Bus-powered means that drive get`s power via USB port and don't need any external power source, like for example Seagate Backup Plus need. Canvio Connect have USB 3.0 interface and is backwards compatible with USB 2.0. Drive perfectly works with USB 3.0 but it sometimes don't want to work with USB 2.0 port, but who have USB 2.0 those days? It's not 2013 anymore…
Toshiba Canvio Connect will work both on Windows and Mac machines. Out of the box drive is formatted in NTFS file system, which will work on Windows without any software. To get it running on a Mac you need to install Tuxera NTFS for Mac, also included on the drive itself. After installing Tuxera NTFS you will able to write/read and even backup your Mac using Apple Time Machine.
This drive comes with a lot of software, to ease your life it includes NTI Backup Now EZ, which allows you to easily make schedule backups on Windows computer.
Available capacities and design
Toshiba Canvio Connect is pretty similar to Toshiba Canvio Basics 3.0 and WD Elements, without bundled software the drive itself is very basic. Although this portable hard drive is not the fastest one, it is very cheap, and that makes it very attractive to many buyers. The price for 2TB storage currently is $79. It comes in various capacities: 500GB, 750GB, 1TB, 1.5TB and massive 2TB. Price goes down to $52 for 500GB model. Drive is available in 5 colors – Black, Blue, Red, Silver and White. Price varies a bit for different colors, Black model is the cheapest one but Blue is the most expensive one.
Portable drive is very handy, it fit well in hand because of small size and rounded corners. It`s made of shinny plastic on top and bottom it`s in color you have bought, while it`s black on all sides on all models. On one side it has a micro-USB port, which works with included USB 3.0 port. It is the only cable you need to use this drive. The Canvio connect dimensions are: 4.37 x 3.1 x 0.59 inches and the weight is 5.8 ounces. Shipping weight is 9.6 ounces. 
Quick rundown of Toshiba Canvio Connect main features
Share and access Your content anytime and anywhere from any device via the internet 

Store all You digital data locally 

Complete and simple to use Backup solution for Your precious memories 

Intuitive and simple interface 

Easily store and access Your files from PC and MAC without reformatting 

Secure Your data with Password 

2-year limited warranty 
Product specification
Available capacities: 500GB; 750GB; 1TB; 1.5TB and 2TB
Product dimensions: 4.37 x 3.1 x 0.59 inches
ASIN: B00CGUMS48 (2TB)
Model number: HDTC720XK3C1 (2TB)
Available colors: Black, Red, Blue, Silver and White
One micro-USB port with included USB 3.0 cable
RPM: 5400
Canvio Connect Performance
I didn't expected much for such a cheap portable drive, but i have to admit that Canvio Connect performed very well. In my testings the drive wasn't noisy, and it remained cool even during heavy loads. I used 200GB test folder, which is very massive. With USB 3.0 reading speed scored 96MBps and 97MBps for writing. Both reading and writing speed is very close to each other, usually reading speed is greater than writing. These speeds stand in a middle, drive is neither faster or slower than competition, like WD My Passport Edge, HP Portable hard drive and Seagate GoFlex Slim, you can see nice read/write speed comparisons table on Cnet.
With USB 2.0 drive offered average speeds, reading 32MBps and writing 26MBps. It is very close to competitors mentioned before.
Software – Pogoplug
With Canvio Connect you will receive some very nice software called Pogoplug. Why Pogoplug is so great? Because with this software you can easily backup, share remotely access your files from anywhere, anytime via internet. It is not enough that drive is small, portable and you can take with you on the go? You can also make your files sharable through Pogoplug account or Cloud storage, then you can download Android or iOS app, so you can easily access files from smartphones or tablets. No, thats not all, you can create a link and access your backup through that link from any device. Or you can stream a movie or videos on your tablet via Cloud. 
Toshiba Canvio Connect is really meant for people who often need to remotely access data or take up to 2TB of files with them in laptop bag or even a pocket. 
On top of that, how often somebody gives you a 10GB of free cloud storage? I think i know the answer.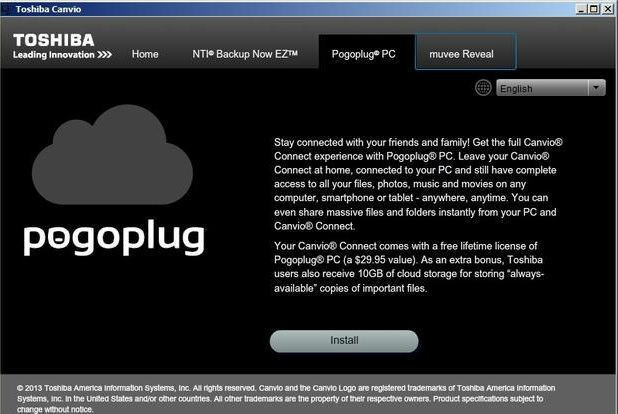 There are NTI Backup Now EZ software included for Windows. It allows you to make scheduled backups, choose backup location and backup type – Cloud backup, File and folder backup or Complete system backup as you can see in the picture. Graphical interface looks very good and is super-easy to understand even for beginners.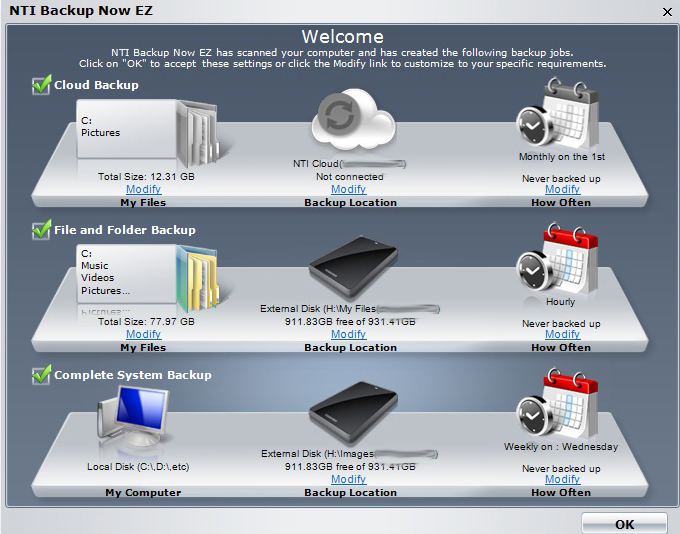 Key features that makes Toshiba Canvio Connect worth the money
Any Time, Any Device, AnyWhere
This line of Toshiba Canvio Connect hard drives makes it easier than ever to backup and share Your precious digital content from any location at any time. With capacity up to 2TB users can simply connect the Canvio Connect to Desktop PC or Laptop via USB and share, access, backup their Videos, Music, Movies and other Data. Free Cloud Backup makes this device your personal Cloud Server, and it is great feature to have.

Expended Access, Sharing and Mobility – Describes perfectly
Plug and go feature is great. That makes Canvio Connect into one of the best storage sharing devices. No matter where you are, you can upload and download photos, movies, videos, music and even largest files from any PC, smartphone or tablet over the internet. Canvio Connect will easily do the job for you. Personal Cloud Server in form of portable external hard drive will definitely be helpful.


Smart Storage with Toshiba Canvio Connect
Nowadays NoteBooks and Smartphones can often benefit from external storage, to store your data safely. Everyone should have a backup solution into their set of tools. Place all your important documents, and digital memories in one convenient place.


Simplified Set Up – Both Mac and Windows compatible right out of the box
You might think a device this versatile would be hard to use. But, no. Just plug it in and it's ready to go—for PCs or Macs®. And because the NTFS drivers for Mac are included you can store and access your files on your PC and Mac without reformatting the drive. It's USB 3.0- and USB 2.0-compatible, for speed and convenience. It also comes with its own pre-loaded backup-and-share application; so there's no need to buy extra hardware or software.


Backup Like That! Your Personal Cloud Server
Unlike any other solutions, the Connect series makes it simple then ever to back up not just your data, but all system, or customize your backups exactly how you need. You can also secure your backups with Password protection. Scheduling automatic backups also is great feature, so you can just set up everything and do not worry about backing up you digital data. If you want to be sure that your documents and files are secure for 100% then you just simply backup everything on the Cloud. Toshiba have included 10GB of Free Cloud Storage, to get the feeling of your small personal cloud.


Warranty Times Two – 2 year warranty
The Toshiba Canvio Connect portable hard drive is designed from the ground up, to satisfy needs of every single consumer, then tested again and again for reliability. Toshiba has done everything so you can count on this device and that is the reason why it comes with a solid two-year limited warranty.Read Customer Reviews On Amazon.com
If you do not want to spend a lot of money on portable hard drive, and you are satisfied with decent speed and capacity, also you want your little 10GB free cloud server, then it is definitely the device you should consider.
What i can say it surely is one of the best portable drive under 100$. And if portability, remote access to your files and affordable price are the main features you are looking for then Canvio Connect must be the best deal exactly for you. My opinion is supported by more than 2,000 Amazon customer reviews with overall rating of 4.5 out of 5 stars, also it is great source for real people experience and opinions.
The Newegg Tv has a great interview with – Toshiba Canvio Connect. I recommend to watch it to found everything you need to know about Canvio Connect. All software features are explained and showed in this video.
Last update on 2020-08-20 at 15:37 / Affiliate links / Images from Amazon Product Advertising API