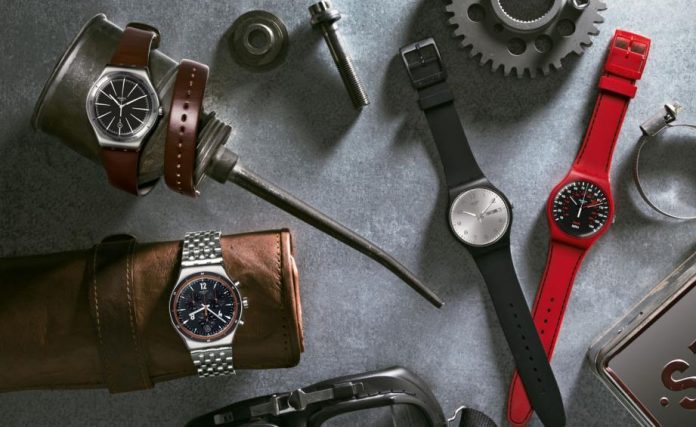 Some say that you can talk about the man by looking at his watch. While not fully true, watches always have been more like an accessory than a timepiece. Most of the watch wearers do care about the brand and its quality. And after all, there's just something in them – the craftsmanship, precision, highest quality mechanics – you just have to have one. However, all of this comes for a price and price range for watches can be enormous starting from few dollars up to tens and hundreds of thousands. Therefore, determining the budget is the first thing to do when you're looking for a new watch. This time we will be looking at our top 10 list of watches under 2000$. While you can't buy a Rolex, Patek Philippe or Breguet watch for such a price, you can still get one that's very flawlessly made and has a well-known quality manufacturer. Let's take a look!
1. Victorinox 

AirBoss 

241575
I believe everyone especially men have heard about Victorinox. In case you haven't, it's a company that makes well-known, almost legendary original Swiss Army Knives and other high-quality products including watches. Victorinox Air Boss 241575 is excellent multipurpose watch – it looks great and is very practical with its scratch-resistant sapphire glass and being waterproof. You can go on hikes with it as well as on business meetings.
Overall it's a flawlessly made watch. You get lether, stainless steel and Swiss precision. And although the warranty is only 3 years, we are sure that it will serve much longer.
---
2. Emporio Armani ARS3001
Emporio Armani is a very aesthetic and minimalistic looking watch. It's also automatic with Swiss quartz movement. You get only the best materials – stainless steel, black sunray dial and black lizard strap. It's also made in Switzerland and you can definitely feel that by just holding this watch in hands. It's quite light and looks great with just about anything. Everyone who loves watches should have something like this.
---
3. Oris Big Crown ProPilot Chronograph
This is the third Swiss automatic watch in this list. Oris Big Crown ProPilot Chronograph is a casual looking watch that's very qualitative. As you would expect, it has a scratch resistant domed sapphire crystal that features anti-reflective coating from inside and it's also waterproof. This watch is perfect if you often have to travel aboard because of its chronograph functionality combined with a second-time zone. Overall it's a very practical and good looking watch that's super well made.
---
4. TAG Heuer Men's WAR211B.BA0782 Carrera

If you are not a fan of leather and fabric straps combined with that casual and practical look, TAG Heuer WAR211B.BA0782 Carrera might be exactly for you. It features skeleton case back and a date display at 3 o'clock. This watch is also running on automatic movement and has a 38-hour power reserve. As all high-quality watches, TAG Heuer has a scratch-resistant sapphire crystal. It also looks very aesthetic. Perfect choice for just about anyone.
---
5. 

Movado 

3600373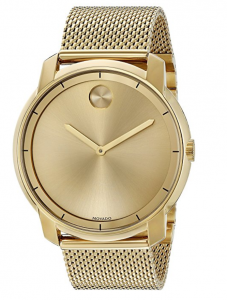 Want to stand out from the crowd with something not so traditional yet still classy and stylish looking? Then try Movado 3600373. It runs on Swiss quartz movement, has a scratch resistant mineral crystal and superb looks. You jsut get two dials, Movado branding and that's it. While it's not the most precise watch (you won't read it precisely, because the lack of grades), it's definitely one of the coolest looking and yet classic watches you can buy.
---
6. Bulova Curv
Bulova Curv is great everyday watch. First of all, it's not so expensive as others. Secondly, it's stylish and looks good as well as well made. It has high-performance quartz technology that features a frequency of 262 kHz. You get a chronograph in titanium and stainless steel case. Bulova claims that this is the worlds first curved chronograph movement watch. It just screams quality and indeed looks great.
---
7. Frederique Constant FC710S4S6
At first, this might look like an average watch with nothing special. However, right after you take a closer look, you realize how super well made and the beautiful timepiece is. It has a Swiss-automatic movement that you can see at the back if watch, super comfortable leather strap with a nice stainless steel clasp. The minimalistic design and super comfortable wear make Frederique Constant FC710S4S6 of the best watches you can get.
---
8. Nixon A4262083 Sentry 38
Nixon A4262083 Sentry 38 is the cheapest men's watch on this list. It costs around 130$ and is superb if you're on a budget. It features Swiss movement and 21 mm custom canvas band with leather backing. While beeing quite cheap, it's definitely not far of when it comes to quality. Maybe it's not so luxorios, but definitely will do its functions well.
---
9. Maurice Lacroix Eliros Date
Maurice Lacroix Eliros is another superb quality watch made in Switzerland. While featuring quality build, anti-reflective sapphire and protection from water, it won't cut a hole into your wallet. It's definitely a very apealing timepiece and an excellent gift.
---
10. Baume & Mercier Classima 8689
At last but not the least there's Baume & Mercier Classima 8689. It's made only from highest quality materials like stainless steel, leather. It runs on Swiss automatic movement, meaning you don't need to worry about batteries – it will be powered automatically as you move your arm. While not the cheapest watch, it's definitely one of the most desirable.
Final words
We truly hope that this article helped you choosing your perfect watch, if it didn't, at least you got some ideas about what you like and what you don't. You can also take a look at HiConsumption's 10 Best Men's watches list.
On this article, we mainly focused on aesthetic and minimalistic looking watches in different price ranges (from about 150$ up to 2000$). Therefore, most of them would go well with any clothing. If you truly like any of these watches don't hesitate and get one. Afterall it's a good investment that will serve you for a lifetime.