Got a Xbox One console, but there are few things you want to improve in order to ease your Xbox One usage and enhance the console on nearly every aspect. Microsoft and third-party manufacturers have come up with many innovative gadgets to use with your console. These devices can improve your gameplay a lot by letting you do things you couldn't do with a plain console like typing messages to friends, using a decent gaming headset and expanding your console's storage capacity. Whether you need an adapter for headset or just seek a particular controller or remote, we have created a list of the best and must get Xbox One accessories on the market.
Related:
1.Xbox One Stereo Headset Adapter
Xbox One Stereo Headset Adapter is probably the most popular Xbox One. Unlike PS4 where you don't need any thing, you can plug your headset straight into your controller, with Xbox One you have to use a Stereo Headset Adapter. This small gadget isn't expensive. It plugs into the bottom of your controller and allows you to use any headphones. It also features buttons for complete control over your audio: Game balance, Chat balance, Volume up, Volume down and a Mute button. Read our full Xbox One Stereo Headset Adapter Review.
---
2.Xbox One Play and Charge Kit
Xbox One Play and Charge Kit is accessory that all Xbox One users would want to get. As standard Xbox One comes with AA batteries, when they die out, you have to get new ones. Xbox One Play and Charge Kit includes a rechargeable lithium-ion battery pack and a charging cable. With this kit you can forget about changing batteries, just recharge your controller, and you're ready to go. It fully charges your controller in under 4 hours. This is the thing that Microsoft had to include in every Xbox One console, shame we have to buy it separately.
---
3.Xbox One Chatpad
The easiest way how to communicate with players while playing games is voicechat through Xbox One headset. But what if you don't want to speak or just can't because you're not the only one in the room? Or what if you just want an easier way how to type something in apps like Youtube and want to browse things easier? Consider getting a Xbox One Chatpad. All you have to do is plug it into the bottom of your controller and your good to go. This chatpad features full QWERTY keyboard and is very affordable. You can also don't have to sacrifice your headset while using this chatpad – you can plug it in the bottom of chatpad.
---
4.Seagate Game Drive for Xbox
You can get Xbox One console in two capacities: 500GB and 1TB. However, often we run out of space, because modern games can take up to 60GB and more of space. In 500GB version you can fit like 6-8 games, that's not too much. The easiest way how to increase your storage capacity is by getting an external hard drive. And if so, why not to get Seagate Game Drive that's made exactly for Xbox so it's fully compatible and features Xbox design. You can get this drive in three capacities 2TB, 4TB that feature mechanical drive inside and a SSD 512GB version.
---
5.Xbox One S Vertical Stand
People usually position Xbox One console horizontally, but if there is not enough space? Or you just want to fit your console somewhere where you can't do it horizontally? Just get Xbox One S Vertical Stand. This inexpensive accessory can save you a lot of space and fit your console in close gaps between furniture or your TV. This vertical stand is very stable and won't wobble around, it feels solid and has a good grip with the surface it's placed on. For example I always place Xbox One console verticaly as it saves a lot of space.
---
6. PDP Energizer 2X Controller Charging System
As we all know, when you get Xbox One console, it's controller comes with basic AA batteries. When they die out you have to replace them. A great solution is PDP Energizer 2X Controller Charging System. It features two rechargeable 1200mAh battery packs and a charging stand. From now all you have to do is place your controller on the charging stand, and that's it. Next time you decide to play games, your controller will be fully charged. Charging stand can charge both –  standard and Elite controllers. Perfect for those who own two Xbox One controllers.
---
7. Xbox One Media Remote
Xbox One is not only a gaming console, but it's also a media center. You can watch DVD and Blu-Ray movies, use tons of apps like Youtube, Netflix, Amazon Prime Video and others. This accessory doesn't cost a fortune, but it improves the navigation through apps a lot! If you do use your Xbox One console for other things not only gaming, then you should totally get Xbox One Media Remote. It features buttons that backlight as soon as you take remote in hands. All you have to do is insert AAA batteries that are included in the package and this remote works!
---
8.Thrustmaster TMX Force Feedback racing wheel
Thrustmaster TMX Force Feedback racing wheel is for those who want to experience real racing feel, that you can't do on your Xbox One controller. This racing wheel features 900° degrees or rotation and a force feedback to give a feel or real racing. This racing wheel is Xbox One certified and has a special software, in the result racing wheel is automatically recognized by the Xbox One and is compatible with all Xbox One racing games that support racing wheels. Build quality on Thrustmaster TMX Force is excellent, this is probably the best racing wheel out there.
---
9.HORI Real Arcade Pro.V Kai Fighting Stick

If you enjoy playing a lot of fighting games like Mortal Kombat, Killer Instinct or Tekken 7, you might want to consider getting an arcade stick like HORI Real Arcade Pro.V Kai Fighting Stick. Playing fighting games with arcade stick may be a lot easier and give that "fighter game" experience unlike with Xbox One controller. HORI has made a very mod-friendly and customizable arcade stick, so you can change different buttons or add a new joystick without too much trouble. The frame itself is very durable and will withstand heavy gaming for years. Another thing we like about having an arcade stick is that nostalgic feel of game machines where you had to insert a coin to play a game.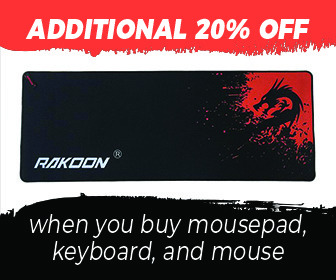 ---
Final Words
All Xbox one accessories mentioned in this article are listed from the "most wanted" in our perspective to the accessories that are specific, and you probably will do just fine without them. For example, most of the people have no need for a Fighting Stick, but some who do play a lot of combat/fighting games might want to get it. On the other hand, such accessory as Play and Charge Kit is a great buy for all Xbox One console owners as it allows you to use rechargeable Lithium Ion Battery Pack instead of AA disposable batteries. Who likes to change AA batteries when you can just recharge your controller?
Another totally must get accessory, if your using headset with your console, is Xbox One Stereo Headset Adapter. With this small gadget, you can use a different kind of headphones with your console.
The last thing we recommend for all Xbox One gamers is the Seagate Game Drive for Xbox. If you play a lot of games, at some point you may run out of your Xbox One internal memory. External hard drive is the easiest way how to increase the storage capacity of your console.