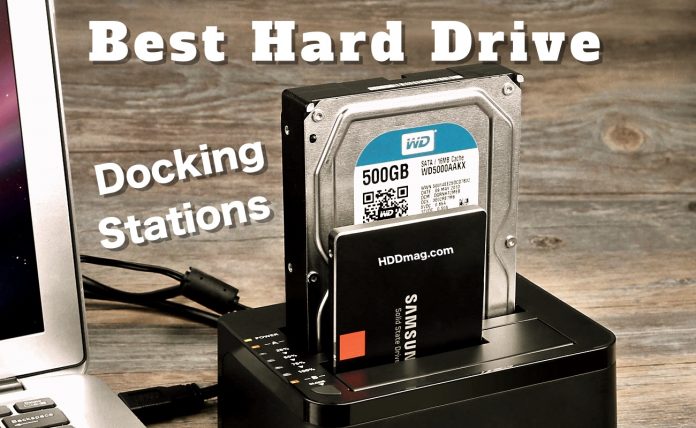 Got a spare hard drive laying around and want to put it to good use? You can do so by getting yourself a hard drive docking station. The docking station is a simple way how to use your internal hard drive as external. Just plug dock station into your PC and insert your desired hard drive, that's it! If you have to switch between hard drives and swap them frequently, there isn't an easier way than dock station.
You can find tons of stations on the market. Some are cheaper some more expensive, some has only one HDD slot some have 4 and more. Interfaces vary too. We have created a list of Top 7 Hard Drive Docking stations based on their performance, price and quality.
If your planning to use your internal HDD for mostly one hard drive, check out our article about Top 7 Hard Disk Drive (HDD) Enclosures.
Our Top 7 favourites:
1. Inateck USB 3.0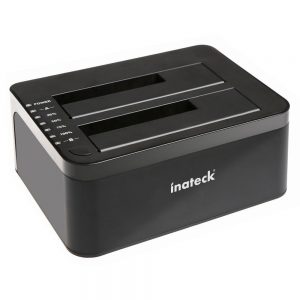 Inateck docking station is our top pick, and it does it all. This dock station has two HDD bays that can support for up to 2 x 8TB hard drives. And you can insert any form factor drive, meaning you can have 3.5″ HDD in one slot and SSD in other. This dock station also features offline cloning. If you want to transfer/copy all files from one hard drive to another, there isn't a more simple way. The power supply on Inateck is very efficient. Dock station enters sleep mode when it's left without operation for 30 minutes.
This is box title
SISUN offers us a docking station with two slots/bays and an integrated card reader hub(XD Card/TF Card/MS(Duo/Pro) Card/CF Card/SD Card). It's very handy when you can get two things in one – save space and your time. You get all of that for a very reasonable price. The only drawback is a lack of USB 3.0 port. SISUN features only USB 2.0. However there is eSata port, that is even slightly faster than USB 3.0. Notice that this docking station isn't compatible with Western Digital IDE hard drive.
3. Sabrent Lay-Flat

Unlike in most docking stations where you insert your hard drive vertically, in Sabrent Lay-Flat HDD is plugged in horizontally and it has a metal casing, protecting the hard drive from any external threats. Sabrent docking station supports all 2.5 and 3.5-inch SATA drives and connects to your PC/Mac via SuperSpeed USB 3.0. There are no capacity restrictions, and the price is very affordable. However this dock station features only one HDD slot/bay, so there is no clone option.
4. StarTech.com Adapter Cable

You can't quite call StarTech Hard Drive Adapter Cable a dock station, but actually it's nothing more or less than a dock station. You can plug in any 2.5″ HDD just like in a dock station. The best thing is that it doesn't need any additional power chords and it's very easy to carry this adapter cable around and it's cheap. This is the least expensive way how to connect your 2.5-inch drive to the computer.
5. Sabrent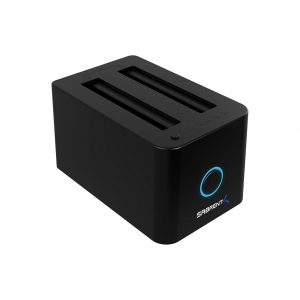 Sabrent docking station is pretty much like Inateck dock station. It has two HDD slots/bays and also features duplicator/clone function. However, you can only insert 2.5″ factor SATA drives and SSDs. This dock station is compatible with MS Windows and Mac OS and doesn't need any additional drivers or software. With USB 3.0 your data transfers will happen in no time.
6. StarTech.com with fan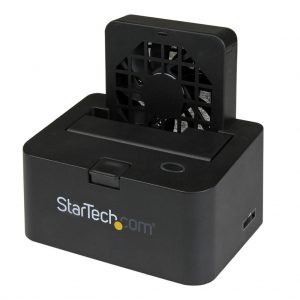 If you want your internal hard drive to perform as well as it can, you should consider StarTech.com dock station with a fan. As we all know heat kills performance, give your hard drive a cold breeze with the integrated fan. There is a special fan control wheel so you can control it's speed manualy. This hard drive dock station has only one slot/bay, but you can connect it to your PC or Mac via USB 3.0 or eSata interface.
7. ORICO 4 Bay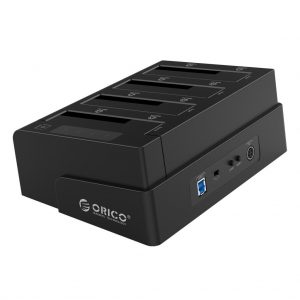 And finally closing our Top 7 comes the ORICO 4 Bay HDD dock station. As you can tell from its name, this dock station has four slots/bays and features duplicator/clone function. It supports all 2.5 inch & 3.5 inch HDDs and lets you have a maximum capacity of 4*8TB=32TB. This is great dock stations who switch between HDDs very frequently or require massive amounts of storage capacity.
Summing everything up
Hard drive docking station is a must get device if you want to put your old PC HDD to good use or if you are working with multiple HDDs and have to swap them frequently. Maybe external hard drive doesn't offer exact specifications you would like to, with docking station feel free to choose your desired hard drive. We loved the clone feature on such docking stations as Inateck. It's very nice that you can clone all your HDD data to another hard drive even in offline mode.
You can always get a docking station with standard USB 3.0 interface and should avoid USB 2.0 – it's noticeably slower. eSata interface is another good choice. It has a slightly better transfer speeds than USB 3.0. Whether your planning to use your docking station for one HDD, we still would advise you to get a docking station with two HDD slots/bays.