We all love to use laptops, no doubts about that. I will ask you a question – when was the last time when you used a regular stationary computer? Nowadays, tablets and phones are replacing old loved computers, and the technology is following. Another question – have you ever had a rough time trying to install a new device on your laptop? But what bothers many users, is plugging and unplugging devices, with all the wires and cables. You will agree – total nightmare.
Thankfully, major manufacturers are producing fast-speed and reliable connector options to your laptop. You can plug-in hard drives, monitors, external hard drives and graphic cards. Purchasing a thunderbolt dock will make your electronic life a little bit easier. You will not need any more multiple cables. Moreover, thunderbolts are perfect for Apple product fanatics. Enough with words! Let's take a closer look at some of the deals which may pay your attention.
Related stories:
1. Belkin Thunderbolt 2 ExpressDock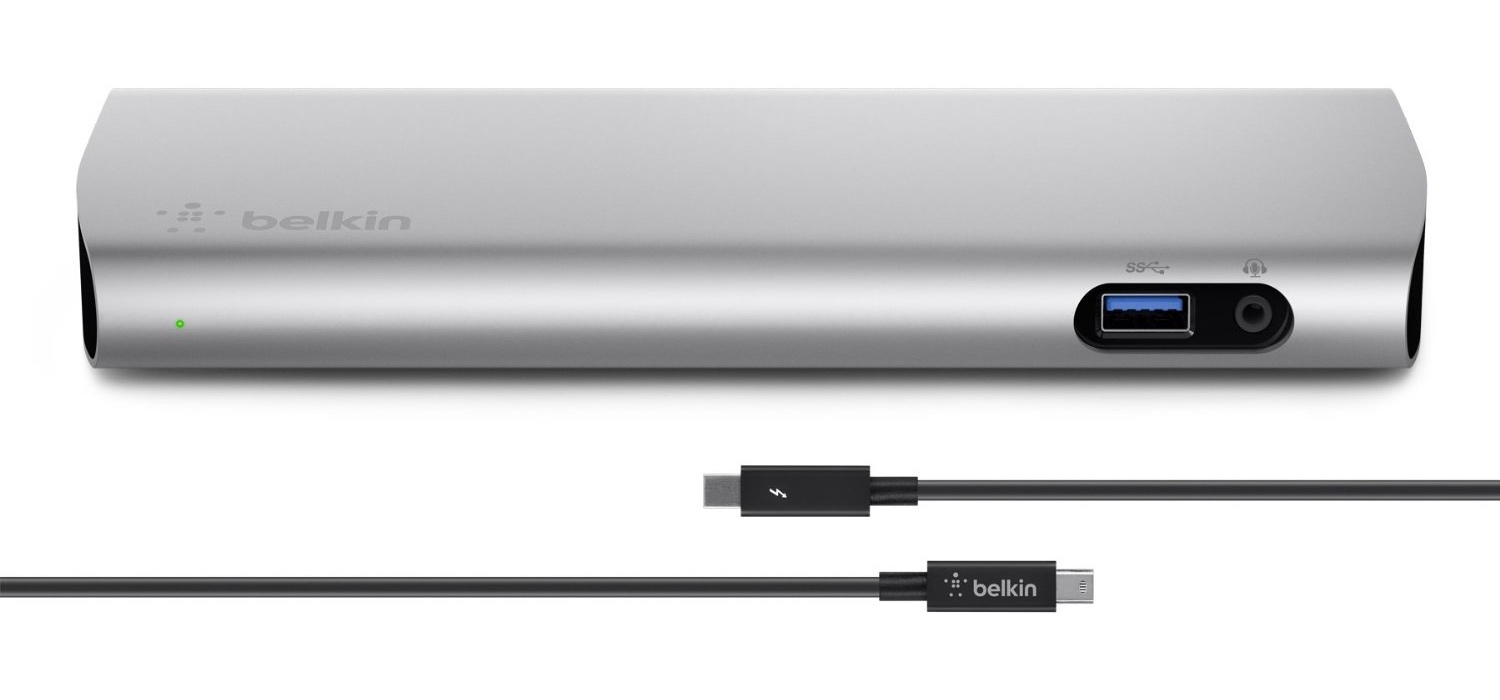 This thunderbolt dock will help you to transfer larger and smaller files easily without any problems. If you are a number person, I can tell you that it works at 20Gbps, which means that you can connect up to 8 devices. The Dual displays will help you to connect two monitors to your laptop and finally enjoy organized and wire-free workspace.
The Belkin Thunderbolt 2 ExpressDock supports 4K resolution, so you can enjoy high-quality streams, videos and other content. A lot of Thunderbolts out there may take a lot of space on your desk, but not this one. Belking Thunderbolt includes 3 USB ports, 2 Thunderbolt 2 ports, audio port, HDMI, and a port for your microphone.
---
2. OWC Thunderbolt 2 Dock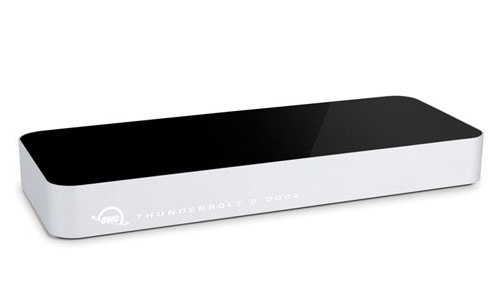 This powerful Thunderbolt includes 5 USB ports and it supports 4K resolution via HDMI. Some people may ask "Where is Ethernet port?" Relax and take a deep breath! The dock provides high-speed Gigabit Ethernet port. If you want to plug in your microphone or other line-in audio source, you will find a port for that as well.
The OWC Thunderbolt 2 Dock will show a great performance with its high speed and qualitative connectivity. This can't get any better, right? But it can! With this Thunderbolt dock, you can interconnect 5 USB devices, FireWire device, Gigabit Ethernet, HDMI and audio in/out. Tech geeks will jump around from the happiness, but for most of the regular consumers, these stats won't say anything. What must be understood is, that OWC Thunderbolt 2 Dock will help you to connect to your laptop multiple devices, without any glitches and interruptions, at the same time keeping your workspace organized and clean.
---
3. Elgato Thunderbolt 2 Dock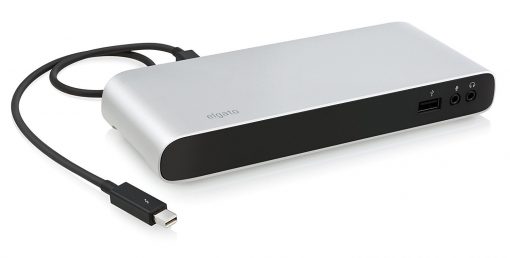 The Elgato Thunderbolt 2 Dock allows you to interconnect 4 more Thunderbolt devices to your laptop. Its HDMI allows you to connect the 4K display as well. The Elgato Thunderbolt provides you with a high-speed connection, thanks to its SuperSpeed USB ports which goes up to 1.5A. Its stand-alone USB charger will keep your device charged without connecting it to your computer. For business people, to enjoy better and clearer conference calls, the microphone port and audio output is built-in separately.
---
4. CalDigit Thunderbolt Station 2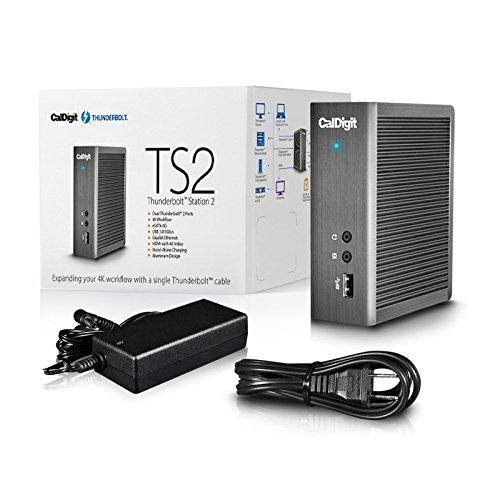 CalDigit is the new and improved version of the original Thunderbolt Station. Manufacturers upgraded and simplified its connectivity, in order to meet quality standards. In case you are wondering, what more improvements have been included – better design, faster speed and organized ports, like USB 3.0 ports, eSATA ports, audio input and output, a Gigabit Ethernet port and an HDMI port. Like other Thunderbolts, CalDigit works with 4K workflow, so you can enjoy high-quality content on your laptop and experience an amazing performance.
By purchasing this product, you can be sure that the files will be transferred much faster. For the display, you can easily access HDMI port, at the same time connecting with the wired network, using Gigabit Ethernet port.
---
5. IOGEAR Thunderbolt 2 Docking Station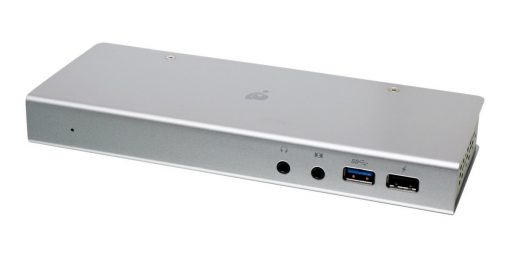 As most of the Thunderbolts are supporting MacBooks, IOGEAR Thunderbolt supports Ultrabook and other Thunderbolt enabled devices. It is designed with 3 USB ports, HDMI port, a Gigabit Ethernet and 2 Thunderbolt ports. At first, it may sound like a total mess, but it is not. All ports are organized and easy to access, even using all of them. Moreover, IOGEAR assures high-speed connection while transferring files thanks to its extended speed, which goes up to 20Gbps. For those who don't know – this is around 4 times faster than any other USB 3.0 and 40 times faster than any USB 2.0. 
The 4K  will allow you to transfer and watch full HD videos as clear and qualitative as possible. Like many other docks, IOGEAR Thunderbolt 2 Docking Station lets you charge gadgets even your desktop is offline.
---
6. Akitio Thunder2 Dock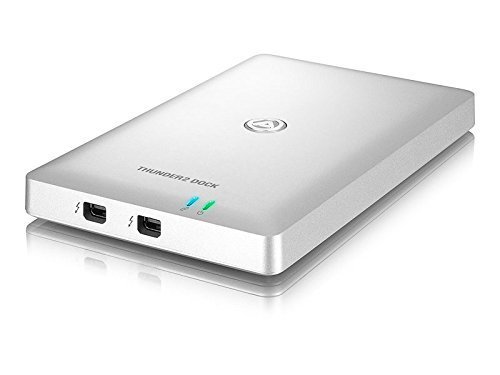 However, Akitio dock weights only 2.100lbs and reaches 3.5 inches. This Thunderbolt includes 1 USB port and 1 eSATA port. Moreover, it comes with 3-feet guarded external eSATA Cable. This is a simplified and more affordable Thunderbolt product for people, who don't need 10 different ports and 2 or more connected 4K displays to their laptops.
---
7. StarTech.com Thunderbolt 2 4K Docking Station
Why this product stands out from others, is its 4K dock which allows you to connect multiple devices at once. It will be ready to go with almost all Thunderbolt devices, like HP ZBook or Macbook Pro with its high-quality retina display. Similar with other Thunderbolt docks, StartTech speeds up to 20Gbps, so you can be sure that the files will be transferred fast, without any interruptions or failed connections. With its 4K resolution, regular videos and movies become crystal clear and more enjoyable to watch. So be aware that you may end up watching the whole Game of Thrones or other viral TV show.
Working on multiple tasks and on a high speed, the dock allows connecting multiple devices, without any glitches, at the same time charging your devices without your laptop being even turned on. If you want, you can add numerous ports to your Macbook Air or Macbook Pro like multiple storage accessories, thanks to eSATA and USB ports.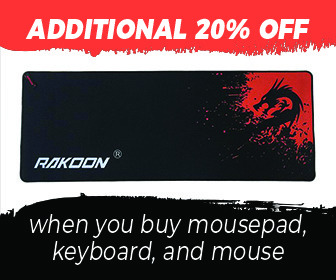 ---
8. Kanex Thunderbolt 2 Express Dock

Kanex Thunderbolt has 3x USB ports. It allows you to connect 8 different devices from your desktop to your laptop. It also supports a 4K and HD dual display with resolutions up to 4K times 2K at 30Hz. Putting this in simpler words – you take your video and photo quality to a whole new level. The Kanex Thunderbolt dock also supports wired network connection through its Gigabit Ethernet port. With thunderbolt dock like this, you can quickly plug in all your devices and go through all your connections. Similar with other docks, KTD20 has a separate USB port for your mobile and other gadgets.
The Kanex Thunderbolt dock includes audio in/out combo port, with fast speed and brilliant audio quality. If we mentioned speed, it is worth to mention that is twice as fast as the old version of Thunderbolt 1. It speeds up to 20 gigabits per second, so no more long-waiting for files to be transferred.
---
9. LandingZone 2.0 PRO 13″ Secure Docking Station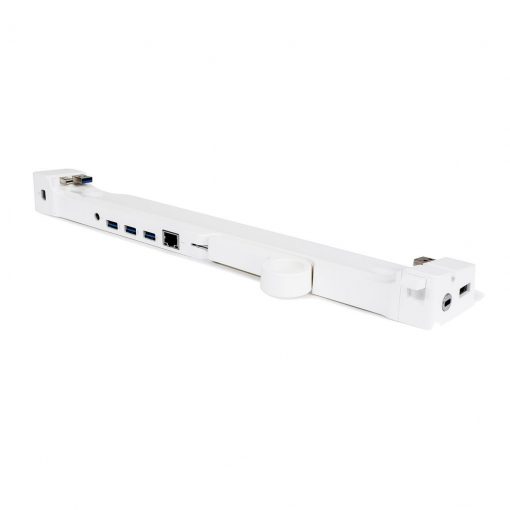 You see affordable and well-built thunderbolt docking station right here. LandingZone works with your laptop no matter if is open or closed. It will charge your Apple products while surfing on the internet or watching live streams, without loosing video quality and slow internet speed. It has 4 USB ports which allow you to easily access and connect multiple devices to your laptop. What makes this thunderbolt dock a must have purchase, is its access to 2 external monitors and fast file transferring speed. This is a perfect alternative for people who are looking for a qualitative and reliable Thunderbolt but got a limited budget and who do not need 10 USB ports.