If you're looking for a great and easy way to restore your lost data, Stellar Phoenix might be just for you. With Stellar Phoenix you are just two steps away from your lost data – just select file type and then selecting recovery location. The best thing is that this software does work and does it very well. With Stellar Phoenix Data Recovery Professional, you can recover just about everything! Whether you're looking for data in partitions that are corrupt, damaged, deleted and even reformatted – lost files, folders, documents, photos, music and any other files – you name it, and this software will recover it after almost all instances of data loss.
To make things even easier Stellar Phoenix Data Recovery Professional has a brand new user interface which has made data recovery extremely simple. Beginners and more experienced users will love this UI.
How to recover lost data with Stellar Phoenix Data Recovery Professional?
1) Open Stellar Phoenix Windows Data Recovery Pro and you will see the "Select What to Recover" screen. Here you can choose what kind of files you want to recover. If you're not sure you check "Everything". Once done, press "Next".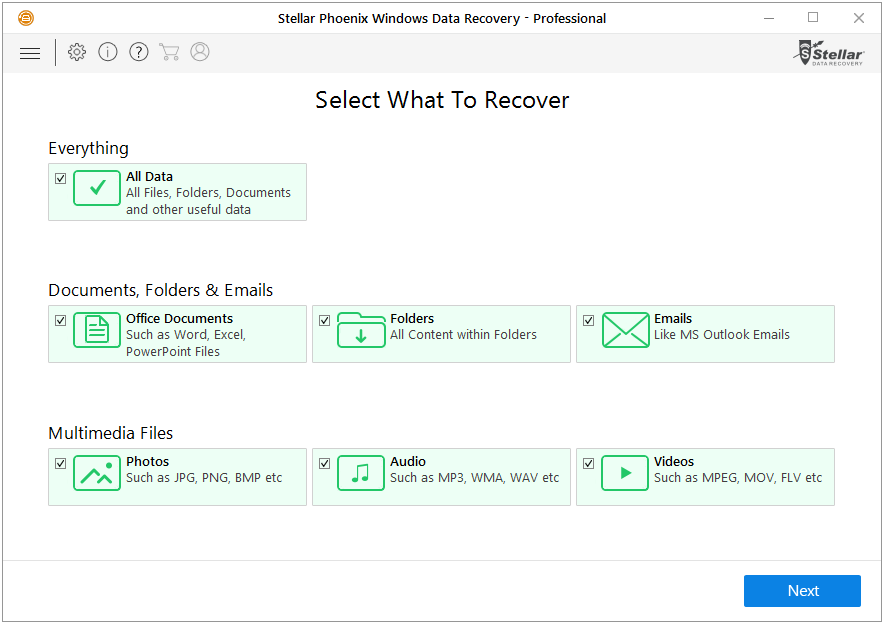 2) Now you need to select the location. To choose a specific location, click "Choose Location". Once done, click "Scan".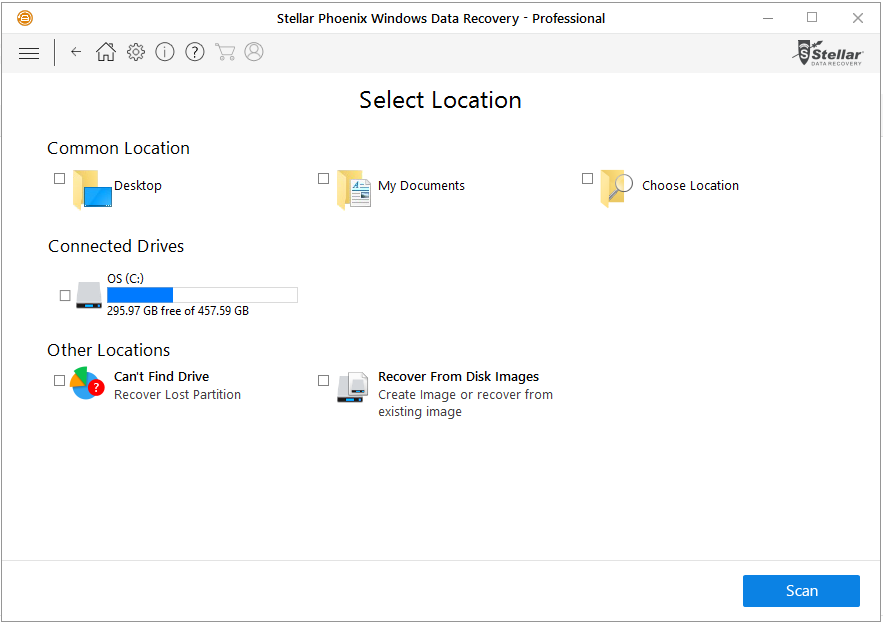 3) Once done, you will see the following screen: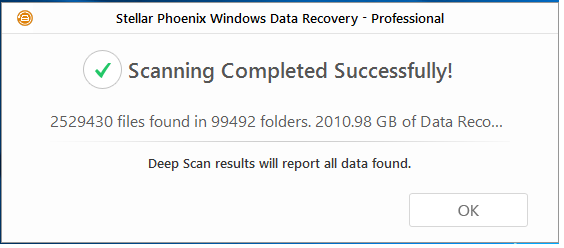 File recovery usually takes ages
We tested Stellar Phoenix Windows Data Recovery – Professional by creating a folder on the desktop. In this folder, we saved MS Word document that contained nothing more than few words: "Recover this!" and deleted it. Now, when the folder is empty we wanted to see how much time it would take to recover this small file. In result we waited for 22 hours until recovery was done. Imagine if you would have to recover photos from external hard drive that has a capacity of 2TB. This kind of file recovery would take weeks to get done. So be prepared to wait.
Key Features:
It's easy Do – It – Yourself data recovery software
Recover in 2 simple steps of selecting file type & then selecting recovery location
Safe, efficient and hassle free data recovery
Recover files, folders, documents, emails, photos and videos even after formatting or deletion
Recover from internal and external storage devices like hard disks, CD/DVD, SD cards, USB drives
Recover specific file types of your choice with provision to add new file types
Create image of entire partition for data recovery
Recover lost partitions
Frequently Asked Questions (FAQ)
Verdict
Awesome software that works great. With Stellar Phoenix Windows Data Recovery Professional you can recover files for anything – specific folder, external storage device or any drive partition. The only drawback is its slow scanning speed. You have to be prepared to wait for hours to recover a small file and for days to recover something larger.
Simple User interface makes it very easy to navigate in Windows Data Recovery Professional. Just two steps and that's it! Simple, easy, and does its job done.