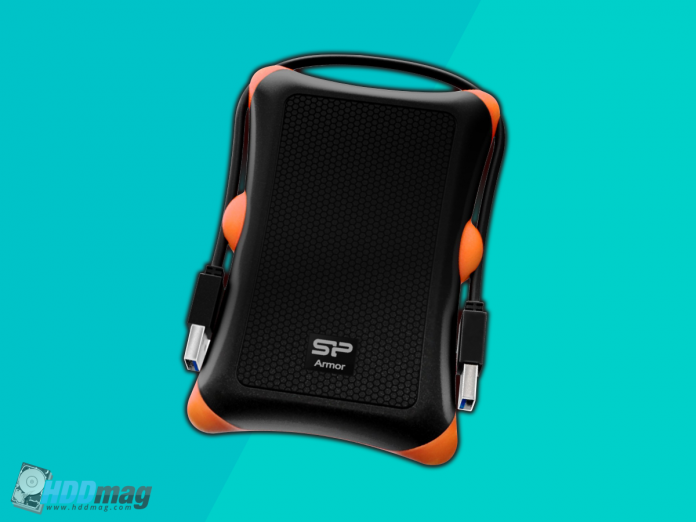 Owning a portable hard drive when you travel a lot to remote locations and into wildlife may require it to be ruggedized, to protect the delicate hard drive parts from water damage, dust, and simple mechanical damage. Even under the most casual circumstances, having a ruggedized hard drive can prove useful.
One of the most popular manufacturers of such ruggedized portable hard drives is Silicon Power with their vast Rugged Armor series. The quality of their work is proven by how one of their oldest rugged drives – the A30 – still proves to be viable years after being released. In this review, we looked all of this drive's features and how they fare amongst much newer rugged hard drive models.
Specs
| | |
| --- | --- |
| Capacity | 500GB, 1TB, 2TB |
| Read/Write | ~115MB/s (5400RPM) |
| Interface | USB 3.0 (USB-A or USB-C) |
| Size | 5.28 x 3.45 x 0.73 in / 13.4 x 8.75 x 1.86 cm |
| Weight | 6.39-7.23 oz / 181-205g (depends on capacity) |
| Warranty | 3 years |
PROS
Well protected against everyday drops and bumps
Costs only slightly more than regular, non-rugged hard drives
Available with a USB-C cable
CONS
Outperformed by and less rugged than newer Rugged Armor drive models that cost roughly the same as the A30
Design might be unattractive to some people
Breakdown of Features
SP Rugged Armor A60 is available in 500GB, 1TB, and 2TB, though 500GB models are outdated and overly expensive. The drive uses the regular USB 3.0 interface but, unlike most other drives that use the Micro-B 3.0 connector, the bulkier USB-A port is used for connection on the hard drive itself. Furthermore, the A30 can come with either a USB-A to USB-A cable or a USB-A to USB-C cable for the newest MacBooks and other devices that use the USB Type-C connector. As a rugged drive, the A30 comes with a bit lengthier, 3-year warranty (needs to be registered on Silicon Power support website).
The drive performs quite well in most benchmarks, though some are less consistent than others. 110-120MB/s sequential read/write speeds are widespread over most benchmarks of this hard drive and approach the speeds of some of the fastest portable hard drives out there. Customers and reviewers that have taken a look inside the belly of this device have found Seagate Momentus mobile hard drives, also labeled as Samsung Spinpoint M8/M9. However, the drive model may vary between different units and real-life performance can be vastly different, depending on the system and method it's measured with.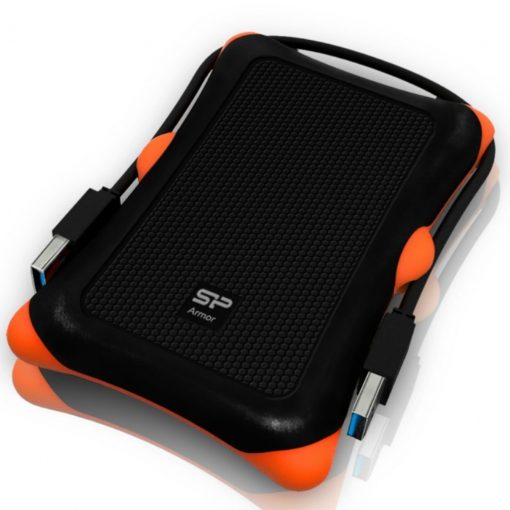 There's not much else to drive, though you can manually download the SP Widget software, which features regular and cloud backup options as well as AES 256-bit encryption. This software can be downloaded from the A30 official specification page (at the very bottom) and isn't included on the drive.
Although it's not marked for water and dust protection (no official IP rating), the Rugged Armor A30 features a couple protective measures against mechanical damage, like drops, bumps, and other forms of physical shock that may damage the drive. It has gone through military-grade drop tests, though these tests aren't exactly sophisticated and involve simply dropping the drive a bunch of times from a height (in this case 10ft/3m). Still, they prove the drive is resistant enough to survive basically any everyday accidental drop.
Also, not having an IP mark doesn't mean that the drive is completely unprotected against water and dust damage – it simply means that it hasn't passed precise tests for it. You can expect some basic waterproofing with this case, just don't be too careless with it around water or in rain. The case is also said to be slightly more scratch-proof than regular cases. It also features the cable-carry feature, allowing you to strap the bulkier cable to the case itself, which can be quite handy.
Design and Alternatives
You can get the Rugged Armor A30 in black-orange or grey-white color schemes. The design of the case is somewhat unique because of the orange, protective silicon protrusions. Though the visuals are very much a matter of taste, these protrusions also double as cable holders. A small, blue light is also located on the flat surface of the drive to signal a successful connection.
| | | | | |
| --- | --- | --- | --- | --- |
| | Capacity | Read/Write Speeds | Warranty | Check price |
| Transcend StoreJet 25M3 | 500GB, 1TB, 2TB | ~110MB/s (5400RPM) | 3 years | |
| Silicon Power Rugged Armor A30 | 500GB, 1TB, 2TB | ~115MB/s (5400RPM) | 3 years | |
| Silicon Power Rugged Armor A60 | 1TB, 2TB, 3TB, 4TB, 5TB | ~110MB/s (5400RPM) | 3 years | |
For the sake of fairness, we compared the A30 to two other rugged hard drives, one being a different Rugged Armor model.
Transcend StoreJet 25M3 is quite similar to the SP Rugged Armor A30 in many ways – both are protected against mechanical damage and not much more, both are accordingly close to regular portable hard drive prices, and both provide respectable performance. Both drive models are also being slowly outperformed by new and improved, cheaper versions, like the StoreJet H3 and Rugged Armor A60. Still, if you can get either the StoreJet or the A30, both drives will do equally well, with the A30 having the upper hand of a Type-C option and the handy cable-carry feature.
Silicon Power Rugged Armor A60 is a much more rugged version of the A30 that also manages to be cheaper. The A60 is fully scratch proof, has gone through similar military drop-testing, features the same USB Type-C option as well as the cable-carry feature, and comes with an IPX4 marking, meaning it's protected against water splashes (4) and unmarked for dust protection (X). In short, aside from being a bit bulkier and a bit slower than the A30, the A60 is simply better than its older counterpart since both cost roughly the same on most retailer sites.
For more portable hard drive options, check out our recommendations and tips for buying the best portable hard drive.
User Experience
Customer reviews for this drive are mostly positive, with a small portion reporting drive failure within the first 3 months. A portion of the drives being duds happens with almost any hard drive, so this isn't too alarming and is on par with even the most pristine portable hard drive manufacturers. Other reviewers also find the A30 to be a great hard drive that is rugged enough for every-day use for most people.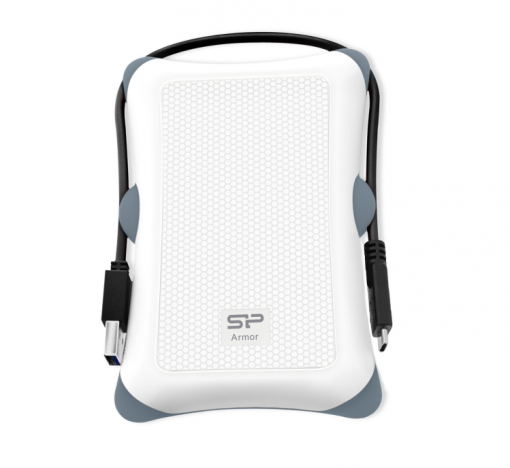 What's in the box?
The product package contains one Silicon Power Rugged Armor A30 portable hard drive of your chosen capacity and a USB-A to USB-A or a USB-A to USB-C cable, depending on your choice. Warranty documentation and a manual can also be included.
Verdict
The Rugged Armor A30 is a great hard drive that delivers good performance and enough ruggedness for regular every-day use for a quite reasonable price. Silicon Power puts a lot of effort into making sure that their portable hard drives are as rugged as possible.
However, newer Rugged Armor models, like the A60, cost almost the same but provide more protection in the form of added waterproofing, fully scratch-proof surfaces, and other handy features. In short, the Rugged Armor A30 might seem less appealing than its alternatives but is a reliable and sensible storage upgrade nonetheless.