Sony Professional is a line of HDDs targeted at, well, professionals, with the intention of delivering high transfer speeds in a durable and safe case. PSZ-HB is the second portable hard drive in the series and is promised to deliver on all the values mentioned before. But it's important to know how the drive behaves in real life and is it worth the high Sony price tag.
Specs
PROS
Durable IP54 case with rubber shock absorber
Relatively high and reliable performance
Both Thunderbolt 2 and USB 3.0 connectivity
CONS
Extremely expensive – costs 2.5-3 times more than other durable drives
Quite bulky even for a durable portable drive
Breakdown of Features
Sony Professional PSZ-HB is available in 1TB and 2TB capacities, which is enough for most customers needs, though actual professionals might want more space in a single device. The drive can connect to both USB 3.0 and Thunderbolt 2 via the ports hidden safely behind the rubber protective case. Cables for both interfaces are included in the package, as well as a 3-year warranty. Professional PSZ-HB reaches its promised 122MB/s transfer speeds on most benchmarks with sequential read speeds of 120-123MB/s, and write speeds of 120-130MB/s. Same as previous models, the PSZ-HB comes in a handy plastic box, intended for easy stacking and even more portability for when you have to carry around documents or other additional items.
The drive comes with Sony's Memory Media Utility, design for use specifically with their Professional portable hard drives and SxS cards. The software features basic storage device information, backup from SxS cards to other storage devices, formatting options for storage devices, and a few other options for SxS cards. If you aren't a filmmaker or videographer and don't intend to use SxS cards, you probably won't gain much from installing Memory Media Utility, as all of its non-SxS features (formatting and HDD information) are already present in both Windows and Mac OSs. The drive comes pre-formatted in exFAT.
Onto the elephant in the room, most retailers price Sony Professional PSZ-HB at $0.13-0.15 per GB, which is an insanely high price. For comparison, Silicon Power Rugged Armor A60, which is an extremely durable and all-around great drive, even if a bit slower than Sony's PSZ-HB, is priced at around $0.05-0.06 per GB. 3-5 cents per GB at higher capacities is common pricing among portable hard drives, making Sony's drive 2.5-3 times more expensive than other portable drives.
Design and Alternatives
PSZ-HB's case is metallic gray and has a slightly darker gray rubber casing around for shock absorption and to ensure the IP54 protection rating. IP54 translates to the case's particle protection of 5 meaning it's protected from dust and its water protection of 4 meaning it's protected from splashes of water from all directions. This makes it more suitable for professionals who work out in the field, regardless of the surrounding conditions. Sony Professional HDD's case has also been tested against light shocks and drops.
The surrounding rubber structure can be removed if necessary, revealing a regular-looking drive with both USB and Thunderbolt ports on one end. With the rubber enclosure on, these ports are protected with lids, which will ensure the IP54 protection for the ports as well.
For comparison, we picked two other durable portable drives – LaCie Rugged Mini and Silicon Power Rugged Armor A60. For more portable hard drive alternatives, check out our portable hard drive buying guide.
LaCie Rugged Mini is a small and durable drive, available in 1TB, 2TB, and 4TB capacities alongside various connections, including Thunderbolt and USB. Although not the fastest, this drive works just fine for most people. As for price, LaCie Rugged Mini costs around 7-10 cents per GB, which is already quite high for a portable hard drive, yet still less than what Sony's PSZ-HB will cost you. Overall, LaCie Rugged Mini is very similar to PSZ-HB, just a bit slower and lot less expensive.
Silicon Power Rugged Armor A60, however, costs way less than Sony's drive and closer to regular, non-durable portable drives. Most retailers sell the A60 for around the previously mentioned 5-6 cents per GB in 1-2TB range. The A60 itself is rated IPX4, meaning its particle protection isn't tested per se, but should still be either 4-5, seeing how the case already protects from water splashes. You can get Rugged Armor A60 with USB-A or USB-C connectors. In short, the Silicon Power Rugged Armor A60 simply delivers a tad bit less in performance and connectivity than PSZ-HB but costs almost 3 times less than Sony's drive. Basically, if you want connectivity, you're better off buying adapters or other gadgets to make the A60 easier to use, rather than overpaying multiple times for a similar feature set that Sony Professional PSZ-HB promises.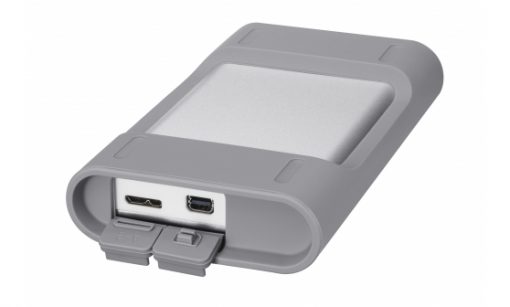 User Experience
People who've been able to overcome the high pricing were pleased with the drive's durability and performance. Other than a couple faulty units, the vast majority of users found the PSZ-HB to be quick and durable.
As for other reviewers, the drive itself seemed to work fine and was quite fast in comparison to other portable drives. Most specialists concluded that the Sony Professional PSZ-HB is a great drive but it's not as great as its price would suggest.
What's in the Box?
Sony Professional PSZ-HB's package will contain the portable drive in the rubber enclosure, a USB Micro-B 3.0 to USB-A cable, a Thunderbolt cable, and a quick setup guide.
Verdict
Sony Professional PSZ-HB is a durable (IP54) and fast (up to 122MB/s real-life sequential transfer speeds) drive that features both Mac and Windows connectivity. The thing is, that's about it. It's an all-around great product but its price is unreasonably high, making alternatives in the durable drive market, like Silicon Power Rugged Armor A60 or even Transcend StoreJet 25M3, much more appealing because of their affordable price.
So, if you have the money to spare for a drive that says "Sony" on it and is supposedly for professionals out in the field, the PSZ-HB might be a great portable hard drive option for you. If you don't want to overpay for the same features that other manufacturers sell at a reasonable price, avoid this drive. Sony PSZ-HC will be a new USB-C portable hard drive that should come out sometime in 2017 or 2018 and hopefully will be priced reasonably.