As years are passing, technology is shrinking in size and increasing in power. Smart wearables such as fitness trackers, watches, and glasses were already popular because of their handiness, and now, we hear about smart rings too.
Smart rings are getting popular very fast because of their small and undetectable size and ease of use. Time is flying, and it feels like just yesterday when we were surprised to see smartwatches which could easily slide onto our wrists and perform basic connectivity functions. Now, you have a smaller wearable that you can wear as a traditional jewelry item to flaunt at your friend's party and, at the same time, connect your phone too. A smart ring will let you lock and unlock your smartphone, receive smartphone notifications, control apps, send messages, transfer files, and do much more.
Smart rings are making their way into the tech world, and now, many companies are manufacturing them. There are many smart rings on the market, but not all are good. We are putting together a list of the top 7 smart rings to let you choose the one that suits you best.
Best Premium Smart Rings:
Smart Rings Compared
1. Ringly - Bluetooth Smart Ring Review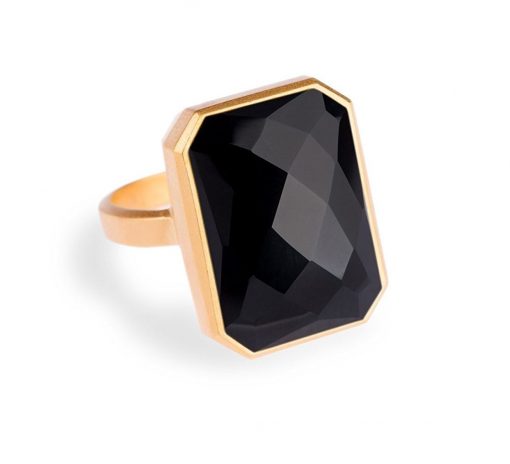 Ringly is considered as the top product in the smart jewelry category because it has been designed so smartly that no one can tell it's a smart ring. It looks like a beautiful piece of jewelry that can be worn on formal occasions and keep you connected to your smartphone.
Main features
Ringly is crafted with gemstones and is designed beautifully to match the style of a traditional ring. The gemstones are elegant and semi-precious stones without a display screen. This ring has eight different models which use different gemstones such as emerald, black onyx, and tourmalated quartz. The smart ring connects to your smartphone via Bluetooth and uses LEDs to alert you. Whenever you receive a message, call, or social media notification, or any other alert, the ring vibrates gently, and the LED lights up. You can also customize the notification lights and vibration patterns by changing the settings.
This smart ring is compatible with Android 4.3 or higher and iOS 8.0 or higher. It offers great functionality and performance, and it is worth putting on your fingers. You can set different LED light colors for different notifications as the LED of this smart ring emits five different colors. You have the options of blue, red, green, yellow, and pink, so you can choose different lights for different alerts. Ringly is the most successful smart ring and is also the first one that started connecting fingers.
Pros 
It is very easy to set up.
The notification system is efficient and discreet.
Cons 
The style doesn't suit everyone.
Looks a bit cheap.
2. Ceramic Eclipse NFC Ring Review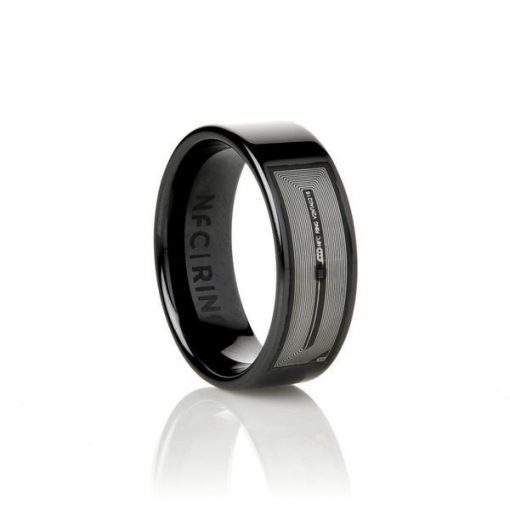 Eclipse has a casual and elegant design that allows you to wear it anywhere you want. It was launched in 2013 on Kickstarter and was designed to allow users to perform various functions such as locking and unlocking doors, smartphones, and computers. This smart ring was a hit when it was launched, and now, the company is back with the latest Ceramic Eclipse design.
Main features
The NFC ring is made of advanced ceramic and is water-resistant up to 164 feet. The ring features two NFC tags, one for sensitive stuff and the other for public information. The private tag is used to perform private functions such as connecting the smart door lock and delivering payment information. This tag inlay is closer to the palm, and thus, the alert can be easily felt. The public tag is for stuff like sending emails and messages.
The ring is available in different sizes, up to 16, so it can fit on any finger. It doesn't need to be charged at all and is very easy to use. This smart ring was used by many Olympians during the Olympics 2016 because of its good performance. The ring can allow you to use both of the tag inlays by keeping your palm facing up and down. However, you won't be able to rotate it properly because of the ceramic sticks to your finger.
Pros 
It has a good operating distance.
The storage capacity is enough.
No charging required.
Security level is good.
Cons 
The standard-sized ring doesn't work properly with some smartphones.
3. ChiTronic Magic Smart Ring Review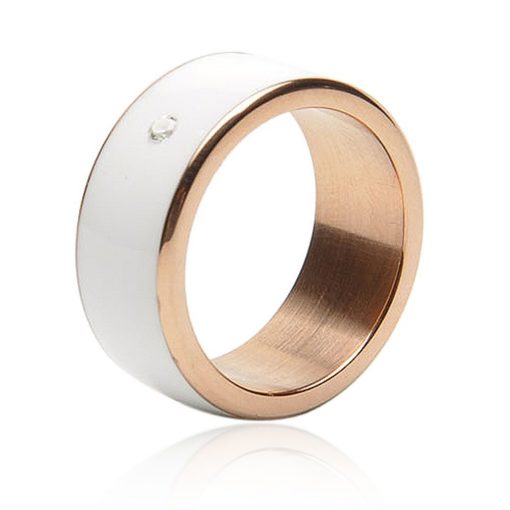 The ChiTronic Magic Smart Ring is an attractive and high-performing smart ring that allows you to perform many functions. This ring allows you to unlock your smartphone using your thumbprint as well as connect to your smartphone in a cool way. With an attractive and glossy finish, it is ready to make your life easier in a smart way.
Main features
This smart ring is water resistant, and it allows you to automatically lock and unlock your smartphone using the NFC technology. It can also hide different apps and perform different customizable actions. Thus, if you want to maintain privacy, you can use this ring to hide your apps when you have left your smartphone for a while. You can also share and transfer files and pictures and even business cards.
This smart ring has a beautiful appearance, so if you wear it to any formal occasion, it will look as attractive as any other jewelry item. The ring looks chic and classy, and it is also easy to program using apps. The thumbprint unlock feature is handy, but it won't work if your thumb is wet or dirty. This smart ring supports Android and Windows NFC phones and overall, it gives excellent value for money.
Pros 
It has a very attractive design.
It is water resistant.
It is easily programmable.
No charging is required.
Cons 
It is difficult to set up.
Storage capacity is not enough.
4. Jakcom R3 Smart Ring Review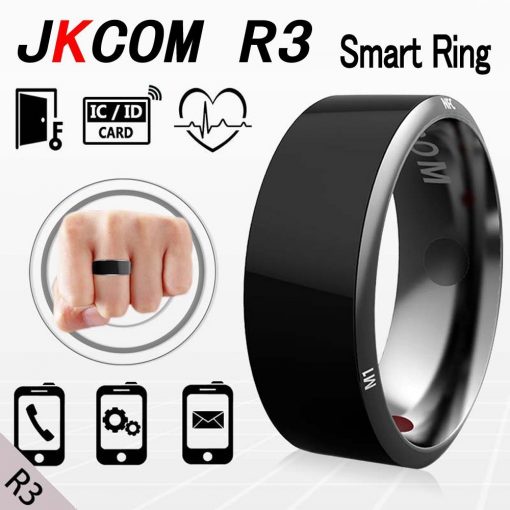 The Jakcom R3 is a smart and multifunctional ring which allows users to connect different types of readers to lock and unlock their smartphones or doors. It has a simple and elegant design and is available in different sizes from 7 to 12. The Jakcom R3 smart ring is new to the smart wearable industry, but it is performing well as compared to its competitors.
Main features
The Jakcom R3 smart ring is made up of liquid tungsten and epoxy crystal ceramic. It looks magnificent and has a glossy finish. This ring possesses amazing qualities such as strength, durability, comfort, and high-grade performance. The smart ring is very lightweight and is available in black color. The ring looks luxurious, and because of the minimalist design, you won't feel that you're wearing something heavy on your fingers.
like, and it allows the user to resist the harmful electromagnetic waves from smartphones or computers. The ring is also equipped with a dual-core NXP MCU chipset, and it can scan the frequencies of many types of cards and small chips. It can be used for payments, as an elevator card, for building and house doors, and much more.
Pros 
It uses various health modules such as FIR energy stone, volcanic magnet, and germanium.
It is very lightweight.
It has a quick start.
Cons 
It is not very easy to use.
It doesn't perform many functions.
5. Ares Smart Ring Review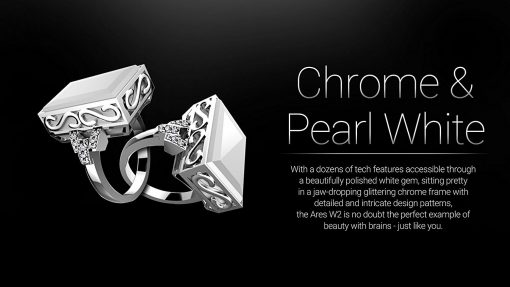 Ares is a smart wearable gadget and is packed with features. It looks amazing and just like a piece of traditional jewelry, but it also performs very well because of its smart features. This ring was specially designed for all the tech-savvy ladies out there so that they can fulfill their needs of wearing jewelry as well as connect to their smartphones.
Main features
The Ares smart ring allows you to keep an eye on your smartphone even if you are not close to it. You will be alerted through small flickers and vibrations if you get texts or calls on your phone. This ring is also perfect for people who have a habit of forgetting their phones by putting it somewhere else. The ring is available in three beautiful colors: silver-pink, gold-white, and silver-white. The ring which we are reviewing here is a silver-white one which looks magnificent as a jewel.
It alerts the user through vibrations and color-coded notifications whenever the smartphone receives a notification. This ring is also water and dust proof, so you can wear it carelessly without worrying about the rigors of daily use. The SOS feature allows you to tap the ring a few times to send an alert to your family or friends.
Pros 
It gives anti-lost notification.
It is water and dust proof.
It has a beautiful and traditional design.
It offers wireless charging.
Cons 
It is heavy and can tilt to the side.
The manual is difficult to understand.
6. TiMER Magic Smart Ring Universal Review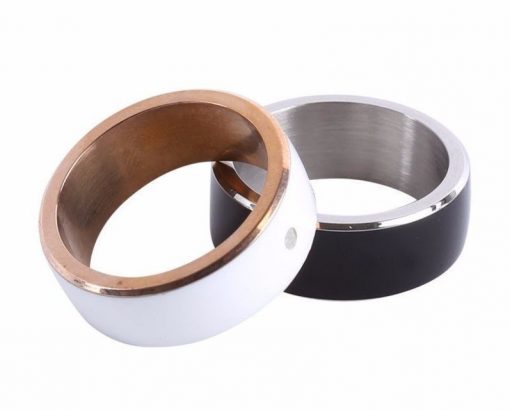 The Magic Smart Ring Universal is for all Windows and Android smartphones. It has a minimalist design and looks like a classy wearable. This smart ring will make your daily tasks easier and save you from the hassle of having to check your smartphone frequently, especially if there are useless notifications.
Main features
You can easily pair your smartphone or tablet to this smart ring, and it will allow you to lock and unlock that device remotely and quickly. If you want to leave your cellphone alone for a while, it can also hide the app for you. With just a single touch, you will be able to send messages, share files and pictures, use business cards, and send website links. There are a few control applications also available that will allow you to fix processes, and only a single touch on the ring will start the processes. The good thing is that there is no charging required, and the ring is water resistant too.
Pros
It is water resistant.
It is very lightweight and has a simple design.
It is a multi-purpose smart ring.
No charging is required.
Cons 
It looks cheap.
The operating distance is not so good.
7. Keydex NFC Multi-Function Ring Review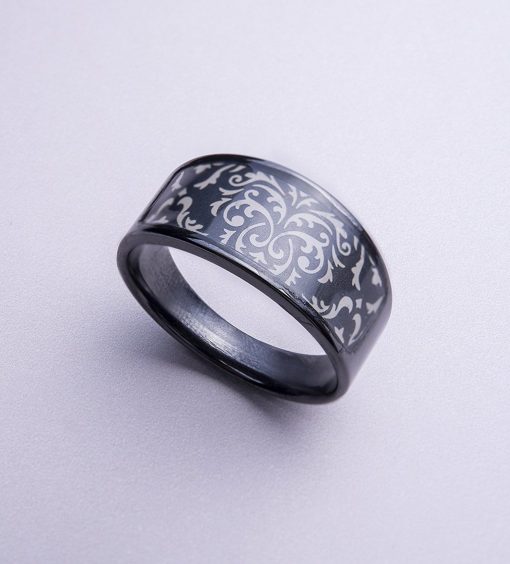 The Keydex smart ring has a unique and stylish design, and it does look like a jewel. It has a minimalist design and is very lightweight. The good thing is that it is available in three different colors to suit everyone's taste.
Main features
The Keydex smart ring is made up of ceramic, which is considered as a hard and durable material. It is resistant to scratches and is very sturdy too. As it is not made up of metal, it reduces the chance of allergic reactions on the skin. The ceramic material also reduces the antenna and signal interference from other metallic materials. Using this smart ring, you can text, edit web address and name cards, and unlock your smartphone quickly. It comes with an app, downloadable with the QR-code, which allows you to perform various data-sharing and messaging functions. The ring can also work with other NFC apps.
Pros 
It is water resistant.
It is very lightweight and comfortable.
The ceramic material is good for the skin.
It is easy to use.
It is very responsive.
Cons 
It is not easily programmable.
Related articles you may like:
Verdict
The smart rings mentioned in our post are the top ones which are easy to use and deliver good value for money. The best thing about the smart rings is that you can wear more than one if you like to, though other wearable gadgets such as smartwatches don't give you that freedom. These smart rings will make your life easier by connecting to your smartphone and performing other daily routine tasks. Our top pick is Ringly, as it has a classy design and is the most high-performing smart ring on our list. This smart ring is also becoming increasingly popular because of its tech-savvy features.