So you have got your hands on the latest console from Sony – PlayStation 4 Pro. This upgrades PlayStation 4 console can render games in 4K resolution and feature HDR. Those are great news. Now you can play your games and view media content in 4k resolution. To do so, you will need a 4K display – a TV or a monitor. But is getting a 4K TV worth it? We will find out!
We hooked our PlayStation 4 Pro with a 55-inch LG OLED TV that supports HDR and did some testing if the 4K resolution is worth it. On the most games that are optimized for PlayStation 4 Pro, we saw huge improvements over the standard 1080p resolution, although some of them don't run at native 4K resolution. However, there are also few reasons why you should stick with Full HD resolution even on your PS4 Pro. What else did we find out and is the upgrade worth it? Read more to find out!
What is 4k?
Ultra high definition (UHD) or 4K refers to the resolution of a screen. In other words – numbers of pixels that are on your TV. The more pixels your TV panel has, the higher resolution is. When compared to the standard 1080p or Full HD, Ultra HD/4K has four times the amount of pixels. This result into a sharper and more detailed image. You can immediately tell the difference when comparing a 4K TV with Full HD TV. The difference is like day and night. One thing to note is that to process four times pixels as on 1080p or Full HD, you also need a lot more power from your hardware.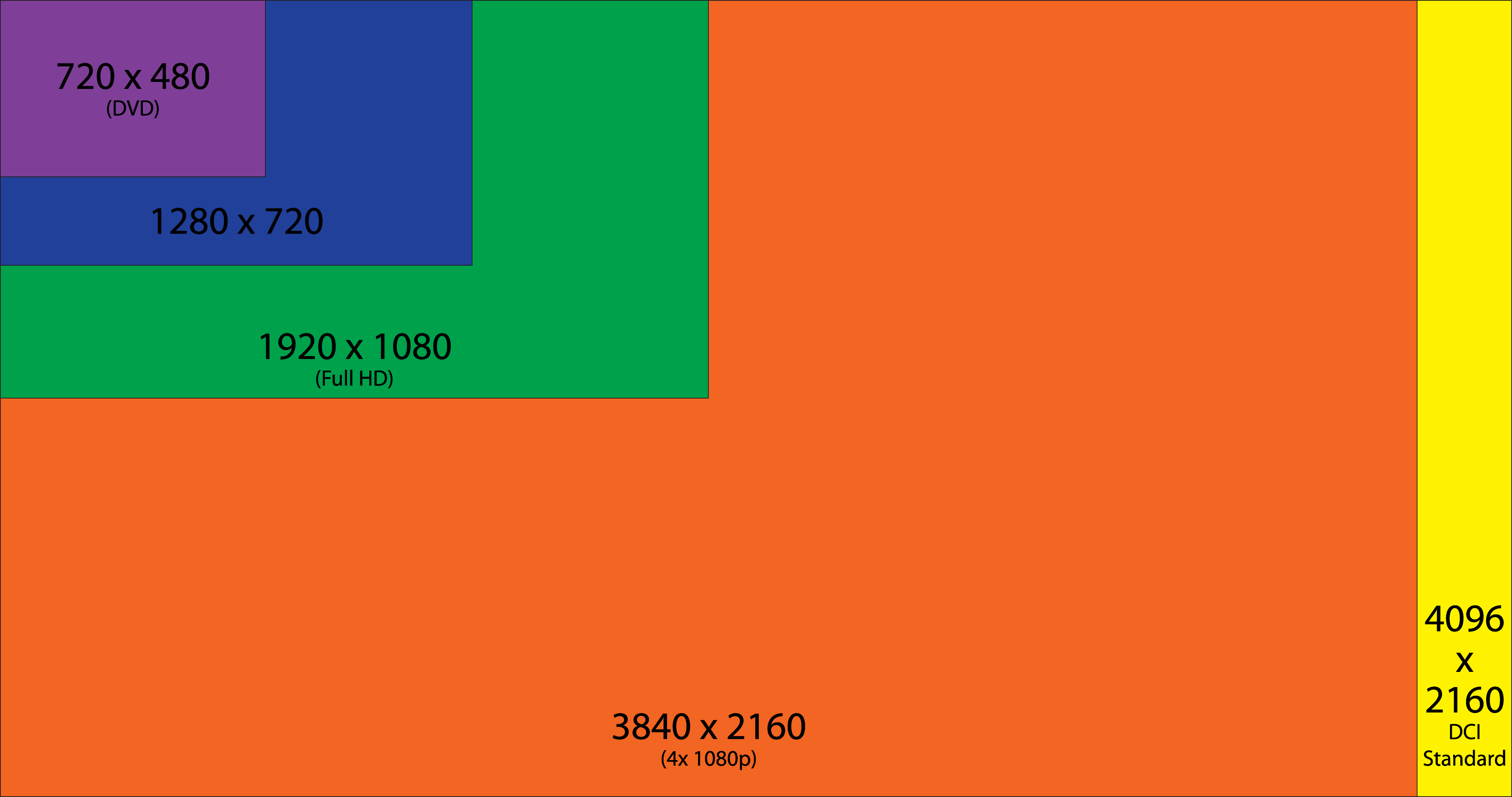 The name "4K" means that there are almost four thousand pixels on the horizontal side and overall there are 3840 x 2160 pixels.
What is HDR?
HDR or High Dynamic Range basically stands for better colors. This includes wider color gamut, greater brightness, and higher contrast. TV's with HDR feature usually can display deeper black levels and are much brighter than a conventional TV. To put everything simply a TV with HDR will be able to get darker and brighter at the same time, meaning that it can also show more shades of gray. In the result, you get an image that's more natural looking. If you are getting a 4K TV, make sure it supports HDR. You can really tell the difference.
So why should you get a 4K TV?
If you want to make most of your PlayStation 4 console and enjoy 4K gaming that's already available on such games as The Witcher 3: Wild Hunt, Rise of the Tomb Raider and The Horizon: Zero Dawn then, then a 4K is absolute must buy. However, it's not so easy as it seems. If you are serious about gaming, there are many things to keep in mind before buying a 4K TV that will be used for gaming. One of them is input lag – it has to be as low as possible. If you want to learn more how to choose a 4K TV for your PS4 Pro and would love to see our top picks, see our Top 9 best 4K TV's for PS4 Pro article.
4K resolution is slowly becoming the new TV resolution standard replacing old Full HD resolution. We believe that 4K is a very future proof resolution as processing higher resolutions require tremendous amounts of processing power and don't make much of a difference when compared to 4K. At least if seen by human eye. In fact, you probably wouldn't even be able to tell the difference between a 55 inch 4k TV and 55 inch 8K TV.
If you worry that 4K TVs are expensive, then you should take another look on the market. With new technologies entering the market like OLED, older 4K TVs become cheaper, and they still offer the same resolution. The only diffrence is brightness, contrast, and colors.
If you have decited to get a 4K TV, make sure it features HDR because some of TVs don't. In this way, you can take a full advantage of PlayStation 4 Pro.
4K on PlayStation 4 Pro
Unlike the standard PS4, the PS4 pro has a CPU that's clocked at 2.13 GHz which also results into 134.4 GFLOPS. When it comes to GPU, it has 4197.8 for (FP32) and 8395.7 for (FP16) where the standard PS4 features 1843.2 for both (FP16/32). With more powerful hardware and improved graphics architecture, the Pro version can render games and implement HDR at 4K resolution games. Sony claims that you can run games at 4K and at 60 frames per second. However, this applies only to some of the games. The majority will run at around 30-40 fps.
Also, a very important factor is how a game is rendered. Most PS4 Pro games will use a checkerboard 4K rendering that has proven to be more effective than well-known upscaling. You should keep in mind that most games won't run at smooth 60 fps.
Our Tests
Uncharted 4: A Thief's End
Uncharted 4: A Thief's End is one of those games that runs very smooth on both resolutions: 1080p and 4K. The difference is definitely there, you can see it more and more as you step to a TV with a larger screen size. It's just not mind blowing. With the 4K resolution, you can see more detail, and it seems more refined. Uncharted 4: A Thief's End is a game that you can enjoy on the base 1080p, but PS4 Pro gives that extra refinement. In the multuiplayer mode, the resolution of 900p reaches 1080p. You also take full advantage of HDR on this game.
Rise of the Tomb Raider
If the Rise of the Tomb Raider is on your games list, you will see huge improvements on a 4K TV. You will be able to choose between three different graphics on a PS4 Pro. The first is standard 1080p that has a uncapped frame rate. Then there is a 1080p30 that has enhanced visuals and at last the 2160p30 that uses checkerboard rendering. In the early game there were many issues with frame rates, but with the newest patch they are all gone, and the game runs smooth. The difference is noticeable, and the game on 2160p30 mode runs very smooth. No complaints there.
PS4 games are optimized for PS4 Pro
So why should you get a 4K TV to your PlayStation 4 Pro? All games made up to date will run just fine on your PS4 Pro, you will get higher frames per second. The real reason to get a 4K TV is because of the upcoming games that are specially optimized for Pro console.
We have got access to a list of games that are going to be optimized for PS4 Pro, this means that they will support HDR and Higher resolutions. Note that you can still play them all on standard PS4, just with Pro version, you will be able to enjoy a better image quality.
To answer a question whether to buy a 4K TV for your PS4 Pro or not, you should take a look at games that will benefit from having the Pro version. If you do think that you're going to play any of these, 4K TV is a wise choice.
Games that are optimized for PS4 Pro:
Abzu
Assassin's Creed: The Ezio Collection
Assassin's Creed Syndicate
Batman: Return to Arkham
Battlefield 1
Battlezone
Bound
Call of Duty: Black Ops 3
Call of Duty: Infinite Warfare
Call of Duty: Modern Warfare Remastered
Darksiders Warmastered Edition
Days Gone
Deus Ex: Mankind Divided
Diablo III
Dishonored 2
DriveClub VR
Fallout 4
Farming Simulator 17
Farpoint
FIFA 17
Final Fantasy XV
Firewatch
For Honor
Forma8
Futuridium EP Deluxe

Ghost Recon: Wildlands
Gran Turismo Sport
Gravity Rush 2
Helldivers
Hitman
Horizon Zero Dawn
Hustle Kings
inFamous First Light
inFamous Second Son
Killing Floor 2
Knack
Let it Die
Mafia III
Mantis Burn Racing
Mass Effect: Andromeda
Middle-earth: Shadow of Mordor
NBA 2K17
Neon Chrome
Nioh
Overwatch
Paragon
PlayStation VR Worlds
Pro Evolution Soccer 2017
Ratchet & Clank
Resident Evil 7 biohazard
Resogun
Rez Infinite
Ride 2
RIGS Mechanized Combat League
Rise Of The Tomb Raider
Robinson: The Journey
Smite
Spider-Man
Steep
Super Stardust Ultra
The Elders Scrolls Online: Tamriel Unlimited
The Elder Scrolls V: Skyrim Special Edition
The Last Guardian
The Last Of Us Remastered
The Last Of Us: Left Behind
The Playroom VR
The Witness
Thumper
Titanfall 2
Tumble
Uncharted 4: A Thief's End
Until Dawn: Rush of Blood
Viking Squad
Watch Dogs 2
Wheels of Aurelia
World Of Tanks
XCOM 2
Verdict
So should you buy a 4K TV for your PS4 Pro? In short – Yes. If you don't have a 4K TV then there is no point of having a PlayStation 4 Pro. Usually, people buy a PlayStation 4 Pro exactly because of the 4K gaming and increased picture quality, and in this case, a 4K TV is no brainer. Of course, there are some of you, who got their PS4 Pro only for improved performance and extra fps, in this case, you can stick with your 1080p TV.
There are tons of fresh PlayStation games that are optimized especially for PS4 Pro. The difference between standard and Pro version is noticeable. PS4 Pro is a relatively cheap way to experience 4K gaming if compared to PC gaming. And pairing a 4K TV with your Playstation Pro console not only means you can game in 4K resolution but also watch movies and videos. Netflix and Youtube version 1.08 both support 4K.
If you still can't decide whether to get a 4K TV for your PS4 Pro or not, look at the future perspective. 4K resolution is the future, and a new – even higher resolution won't take its place for a while as 4K offers a very sharp and clear image. Most of you won't be able to tell the difference between 4K and 8K resolution unless you have a really big TV (70 inches and more) and you come really close to it. However, if you look at 4K and Full HD resolutions, the difference is huge.
In the end, if you have decided to get yourself a 4K TV, we advise you to take a look at our article about Top 9 best 4K TVs for PS4 Pro. In this article we have created a top list of best TV's that are suited for PS4 gaming, meaning that they all have a very low input lag.