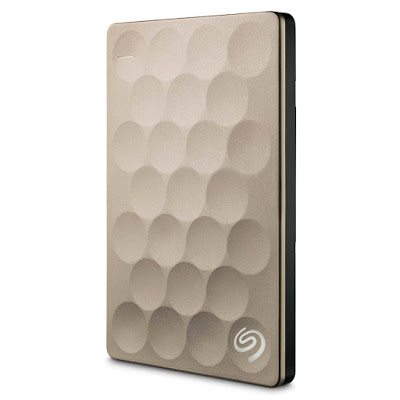 Seagate Launches The Thinnest 2TB Portable External Hard Drive – Seagate Backup Plus Ultra Slim February 2016
Seagate announced launch of Seagate Backup Plus Ultra Slim portable drive. Backup Plus Ultra Slim is extremely thin and packs 2TB external hard drive in 9.6mm enclosure. That makes it 50% thinner than other 2TB portable drives on the market. 

"The launch of the Backup Plus Ultra Slim builds on Seagate's rich history of award-winning innovation to give users even more capacity in an incredibly small form factor," said Tim Bucher, VP, consumer group, Seagate. "Based on our breakthrough ultra-mobile HDD technology, this new storage solution gives them a better way to manage the increase in both data volumes and number of devices."
The Seagate Backup Plus Ultra Slim is available in two capacities – 1TB and 2TB with tough and textured metal design. Drive is available in two colors – Platinum and Gold for both capacities. Ultra Slim includes Seagate Dashboard backup software and Lyve app which allows to automatically organize, manage and share your photos and videos. Also works with Google Drive and DropBox. 
That`s not all, also 200GB of free OneDrive cloud storage for 2-years is included (value 95$). To recieve free cloud storage you need to register Backup Plus Ultra Slim online.
Drive comes with USB 3.0 connectivity and is Bus-powered (no extra power source necessary).
Backup Plus Ultra Slim will launch on February 10, 2016 and will be up for purchase on both Amazon and official Seagate website. Price for 1TB model will be about $100 and about $130 for 2TB model. 
Seagate Backup Plus Ultra Slim 2TB (STEH2000100) (2.5inch HDD)

Product dimensions: 4.47 x 2.99 x 0.38 inches (11.3 x 7.59 x 0.96 cm)

Product weight: 4.8 ounces (136 grams)

USB 3.0 connectivity, bus-powered

Seagate Dashboard Backup Software and Lyve app included

200GB of free OneDrive cloud storage for 2-years (value $95)

Compatible with both PC and Mac

Available in two capacities – 1TB and 2TB

Two colors available – Platinum and Gold

Tough, textured metal design

2 year warranty