Seagate Following HGST With Same Helium 10TB Hard Drive
Seagate Technology Plc. has lauched it`s first Helium 10TB enterprise hard disk drive, merging high capacity enterprise hard drive with lowest power and weight available in 10TB hard drive. Drive is designed to meet the growing storage requiriments for public and private cloud based data centers. 
The new 3.5 inch Helium 10TB HDD offers massive storage capacity for easy system integration by using the standart CMR design
This 3.5-inch enterprise hard disk has been selected by enterprise market leaders for it`s ability to satisfy storage demands unlike any other technology in storage indusrty. 
"Cloud-based data center storage needs are expanding faster than many current infrastructures can sustain, rendering the capacity demands of users a herculean task for cloud managers," said Mark Re, senior VP and CTO, Seagate. "Built on our years of R&D of sealed-drive technology, our new helium-based enterprise drive is designed precisely to help data-centric organizations worldwide solve the needs of their growing storage business."
"With the amount of data today growing at an increasingly rapid rate, we are always on the lookout for storage solutions that offer better performance with lower overhead," said Fan Ruiqi, president of storage products, Huawei Technologies Co., Ltd. "The new Enterprise Capacity 3.5 HDD from Seagate helps us meet these demands by offering incredible capacity with improvements in power and weight allowing us to drastically reduce our costs."
The drive includes 14 heads and seven platters, it`s sealed in helium to create a turbulence free environment, decreasing resistance of platters and friction. Drive delivers the lowest power per TB ratio combined with lowest weight specifications for a ten terabyte hard drive. The 10TB Helium HDD offers 25% more density in order to help businesses increase petabytes per rack. 
To help cloud data centers improve performance and manage increasing volume of data even faster, drive uses advanced caching algorithms. Seagate`s PowerBalance feature will help businesses to optimize the IO/s/Watt for bigger efficiency and PowerChoice technology will help to reduce ongoing costs related with power and cooling during idle time.
It delivers an improved MTBF of 2.5 million hours and provides consistent performance to customers in a 24×7 multi-drive environment. Enterprise ready, the Enterprise Capacity 3.5 HDD is available in both a 6Gb SATA and 12Gb SAS interfaces.
Seagate was working many years on Helium-filled HDD`s, but only in R&D. Seagate was reluctant to design a new product that was supposed to launch in first half of 2016, but they did it even faster with a hard drive that has about the same specifications as HGST Ultrastar Archive HA 10. HGST launched their product in September 2014 with 8TB capacity and then 10TB in june 2015.
As Seagate announces the only difference is "the industry`s lowest power and weight available in a 10TB drive", but unfortunately there is no disclosed idle, operating power nor the weight prove to that. If you fill helium in the box, rather than air, there will be less friction and vibration.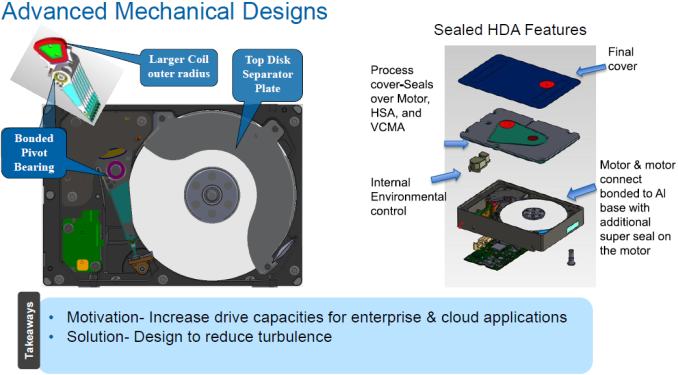 Manufacturing helium HDD is much more expensive, Seagate does not reveal any figure, but you have to pay much more for helium HDD. For example 8TB Seagate HDD without helium is three times cheaper then HGST HE8 8TB Helium HDD. New competition in helium hard drive industry between HGST and Seagate could lower helium HDD prices.
Today 10TB is highest available capacity and 12TB HDD could possibly be the next step, with SMR associated with helium and tomorrow HAMR. The same day of this Seagate's announcement, Fixstars launched SSD-13000M, the world's largest SSD at 13TB, and in 2.5-inch 15mm form factor.
HGST/WD and 10TB Seagate Helium HDD`s Comparison
| | | |
| --- | --- | --- |
| | | |
| | | Enterprise Capacity 3.5 HDD |
| | | |
| | | |
| | | |
| | | |
| | | |
| | | |
| | | |
| | | |
| | | |
| | | |
| | | |
Featured Stories;