Sandisk Ultra Fit is a super tiny USB flash drive that consists of two parts metal USB connector and plastic housing that holds internals of this drive. This is one of the rare drives in which USB connector itself is larger than the actual casing of the drive. SanDisk Ultra Fit competes with such drives as Samsung Fit and Lexar JumpDrive S45, showing decent performance. This flash drive much like others super compact thumb drives are meant for special appliances and are not perfect drives for daily use as they can easily be lost and has a very tiny cap to protect the USB 3.0 connector. They also sacrifice some of the performance to get slimmer dimensions.
Related: Top 8 Best USB 3.0 Thumb Drives
Performance and technical specifications
The Sandisk Ultra Fit performs decently, considering its dimensions and is even few steps ahead of competitors. Read speed of these super slim devices is always on the low side We did some testing with a PC running Windows 10 that has the following specifications:
CPU – Intel i5-6500
RAM – 8GB
SSD – ADATA SU800 512GB
We tested this drive by transferring many different size files starting from 1GB to 10GB and did some benchmark testing. In the result, we got an average read speed of 111 MB/s and write speed of 39 MB/s. One of Sandisk Ultra Fit main competitors is Samsung Fit, that shows similar performance for write speed and is a bit slower when it comes to read speeds.
Sandisk Ultra Fit specifications:
Available capacities – 16GB, 32GB, 64GB, 128GB
Interface – USB 3.0 that's backwards compatible with USB 2.0
Warranty – 3 years
Weight – 0.2 ounces
Should you get it?
If you need a mini USB flash drive and you can't decide between Sandisk Ultra Fit and it's competitors, choose the one you like the most. In our tests, we found that these tiny USB devices perform very similary, the difference between read and write speed are a maximum of 10-15MB/s, you won't feel the difference with a real world use. Sandisk Ultra Fit is a great flash drive that has no special minuses except the 3-year warranty that ain't bad, but competitors like Samsung Fit offers a 5-year warranty.
PROS
Wide range of capacities
A very budget friendly price
Super for tight places and crowded USB ports
Comes with included SecureAccess software
Design
The Sandisk Ultra Fit features a black housing with a diamond type texture. This surface texture helps you to grip this small thumb drive, plug it in or pull it out. In the midle of housing, you can see red lettering featuring brand name and logo "SanDisk". There is also a small transparent USB 3.0 connector cap to protect it while you're carrying it.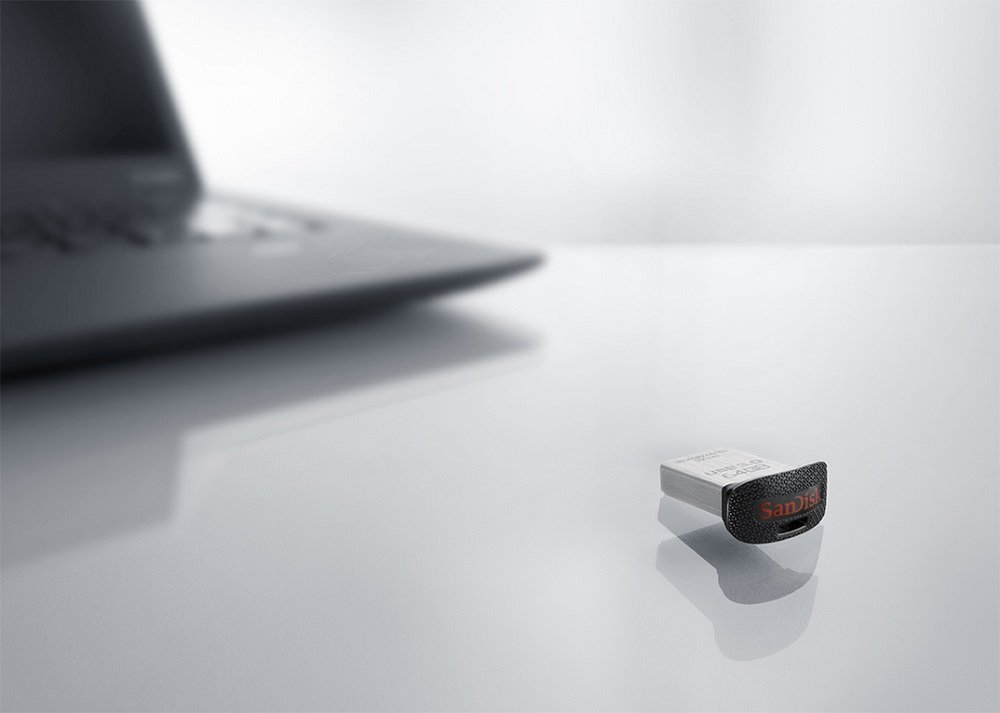 On the USB connector, you can find lettering "USB 3.0" and capacity of the current version. Drive seems well built, however, if you drop it and someone accidentally steps on it, it will be broken.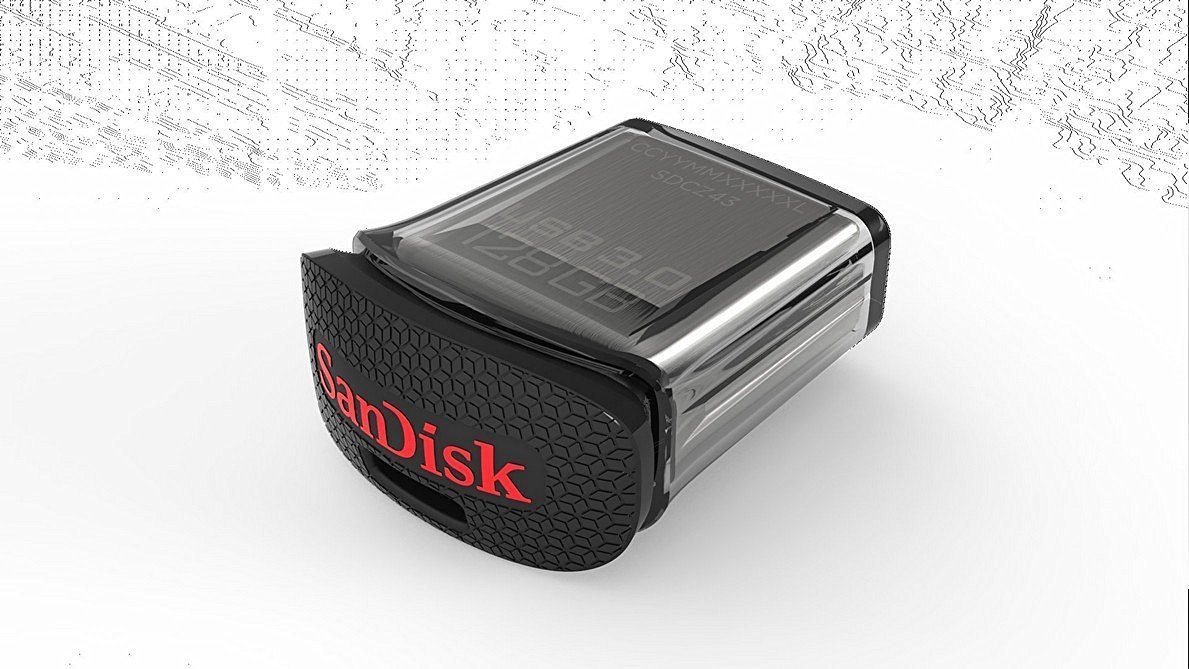 Verdict
The Sandisk Ultra Fit is a great flash drive for extra small notebooks and any other appliances where you want to save space as much as possible. For example, if your USB port is beeing blocked in some way by another USB device, you won't be able to plug in traditional USB flash drive due to its size, but you might fit Sandisk Ultra Fit. Maybe your TV or PC is too close to a wall or a shelf, and you can't plug in a traditional thumb drive, try Ultra fit. We don't recommend to use this flash drive on a daily basis because it won't be practical and you will most likely lose it.