The SanDisk Ultra +Cloud USB 3.0 Flash Drive is a great storage device that offers it all: good performance, sleek looks, affordable price and not only physical storage on your drive but also 50GB of cloud storage. With this flash drive, you can access your data from anywhere, from any computer or manage your data through smartphone or tablet by using SanDisk's mobile app. The Ultra +Cloud offers standard encryption and is compatible with SanDisk's RescuePRO file recovery software. Sadly 50GB of cloud storage expires after three years, and you get the same 50GB for all The SanDisk Ultra +Cloud versions. This means if you buy a flash drive with 16GB of memory, you get 50GB cloud storage and if you buy a flash drive with 256GB of memory, you get the same 50GB of cloud storage. We would have liked to see cloud storage capacity increase as the main capacity of the thumb drive increases. After three years have passed, you have to pay a monthly fee like a subscription to access your cloud.
Related:
How good is cloud storage on Ultra +Cloud?
Whatever capacity SanDisk Ultra +Cloud you choose( 16GB, 32GB, 64GB, 128GB or 256GB) you get set online cloud storage capacity of 50GB. After three years you have to pay a monthly fee in order to keep using your Cloud storage. Overall SanDisks Cloud storage isn't to advantageous when compared to other cloud storage services. If you want to get some extra storage on your cloud, you have to pay 3.99$ every month, for 500GB – 6.99$ and if you want to use 1TB of cloud storage, you will have to pay 9.99$. Setup for Cloud software is very easy. All you have to do is install it and create a username and password.
Technical specifications and performance
You can get this drive in of four capacities: 16GB, 32GB, 64GB, 128GB or 256GB. This drive comes with USB 3.0 interface, and it's backward compatible with USB 2.0. SanDisk claims that this flash drive can reach read speeds of 100MB/s. However, in our tests, SanDisk Ultra +Cloud reached a read speed of 71MB/s and write speed of 43MB/s. That's decent if we compare this drive with other similar flash drives on the market like Samsung Bar USB 3.0.
PROS
The best of both worlds, flexible storage on the USB flash drive or in the cloud

50GB of cloud storage 

Access your data in the cloud from any place and device

SanDisk Cloud app makes it easy to store, share, and swap files

USB read speeds that exceed 100MB/s

Great price
CONS
50GB of cloud storage is free only for three years
Design
SanDisk Ultra +Cloud appearance is very much alike other Ultra drives. It's made out of black quality plastic with a Thumb slide to hide the USB 3.0 connector. This is great as you can protect your USB 3.0 connector, so it doesn't get dirty or doesn't break. SanDisk Ultra +Cloud feels very grippy.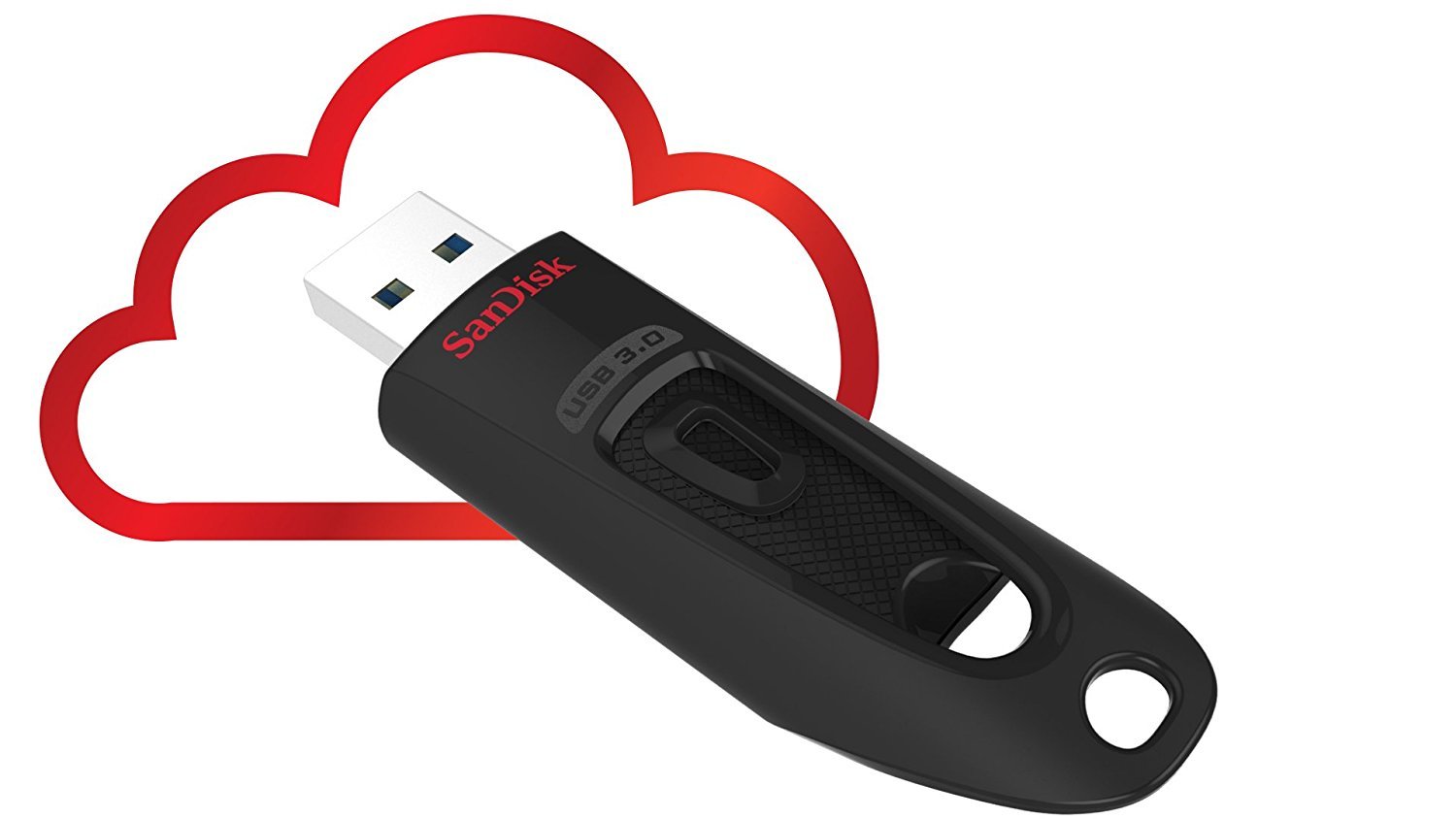 Flash drive also has a hole on the opposite side of USB 3.0 connector. Through this hole, you can easily attach your drive to your keyring or any lace to make sure Ultra+Cloud is always by your hand.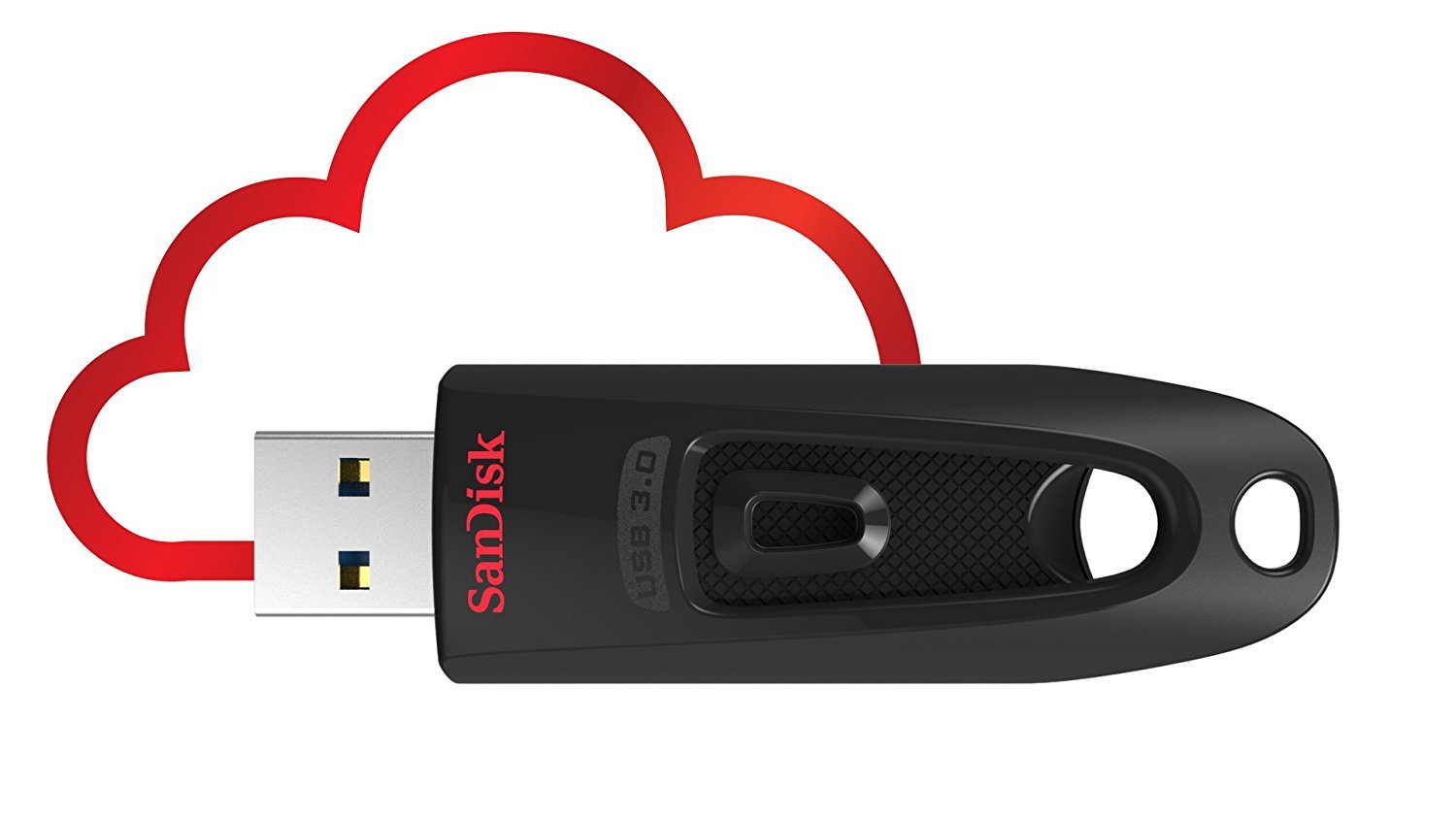 Verdict
Overall SanDisk Ultra +Cloud is a great drive, that's speedy has a solid build quality and 50GB of online cloud storage. Sadly you're stuck with only 50GB of cloud storage unless you decide to pay, extra. However, we wouldn't rely on Cloud storage too much as you have to pay for it after three years and it's not the cheapest of cloud services available on the market. You buy this drive more for it's offline or real storage and good price. The Ultra +Cloud comes with many features and software like SanDisk SecureAccess, where you can encrypt your data stored on the flash drive and RescuePRO file recovery software to restore your lost files. As for the design, the Ultra +Cloud looks very much like other Ultra drives. Performance is decent. We did some data transfer speed tests where the Ultra +Cloud reached the average read speed of 71MB/s and 43MB/s for write speed. In the end, the SanDisk Ultra + Cloud is a good choice if you're looking for a thumb drive with some extra features.