Solid State Drives are becoming more and more popular as Hard Disk Drives slowly reach their technological limits. The high data transfer speeds of SSDs become more and more relevant as spacious data formats like 4k become more widespread and common. But staying ahead of the game in modern electronics has always been costly and SSDs are no different, so saving every cent when buying one is important.
SanDisk Extreme 500 portable SSD might help you do just that, as its latest version is one of the cheapest portable SSDs out there right now. Naturally, we decided to go through all kinds of information we could find about this device to see what it has to offer for its low cost.
Specs
PROS
Cheap for a portable SSD
Very small, light, and pretty durable
Delivers high sequential transfer speeds
CONS
Countless customer reviews of the USB hub breaking off
An included backup tool wouldn't hurt
Breakdown of Features
The latest model of Sandisk Extreme 500 SSD is available in 250GB, 500GB, and 1TB capacities and while the older models featuring 128GB, 240GB, and 480GB capacities are also available, they are more expensive than their newer, more spacious counterparts so make sure you don't overpay for an outdated product. The tiny drive is also slightly more shock-resistant than some other drives because of its soft exterior and light weight. SanDisk Extreme 500 comes with a reliable 3-year warranty.
Extreme 500 uses the USB 3.0 interface with promised sequential read/write speeds of 440/415MB/s (varies slightly, depending on the capacity) which is close to the maximum 500MB/s bandwidth of USB 3.0. Real-life benchmarks on average achieve 410-440MB/s read 360-390MB/s write speeds which are close to the estimates and are pretty high, even for an SSD. Very few benchmarks measured random 4k performance, but those few results were similar and not very impressive – around 20MB/s read (approx. 5k IOPS) and 40-50MB/s write (approx. 10k-13k IOPS). The real-life speeds, of course, depending largely on your usage, but these tests give you a perspective of how well the drive could perform.
Extreme 500 SSD comes with the SanDisk SecureAccess 128-bit encryption tool, which allows you to password-protect your files by putting them in a digital vault. This software is compatible with both Mac and Windows, making cross-platform encryption a simple task. Although it doesn't feature a full 256-bit AES encryption, SecureAccess will do just fine for everyday use.
Unfortunately, Extreme 500 doesn't include a backup tool, but backups can be easily set up otherwise, like with Windows' File History or Mac's Time Machine. Plus, if you're going for SSD speeds, it's likely you won't use it for plain old background backups. As for price, $0.35 – $0.40 per GB seems to be the price range across all the newer 250GB, 500GB, and 1TB capacities, making it one of the cheapest portable SSDs, especially with smaller capacities.
Design and Alternatives
The rubbery, square-shaped exterior case of Extreme 500 is not only a little bit more durable than most other cases, but also very small. Even with the wide rubber outcroppings, the dimensions of SanDisk Extreme 500 are only 2.98 x 2.98 x 0.42 " (7.57 x 7.57 x 1.07 cm) and weighs only 2.72 oz (79g).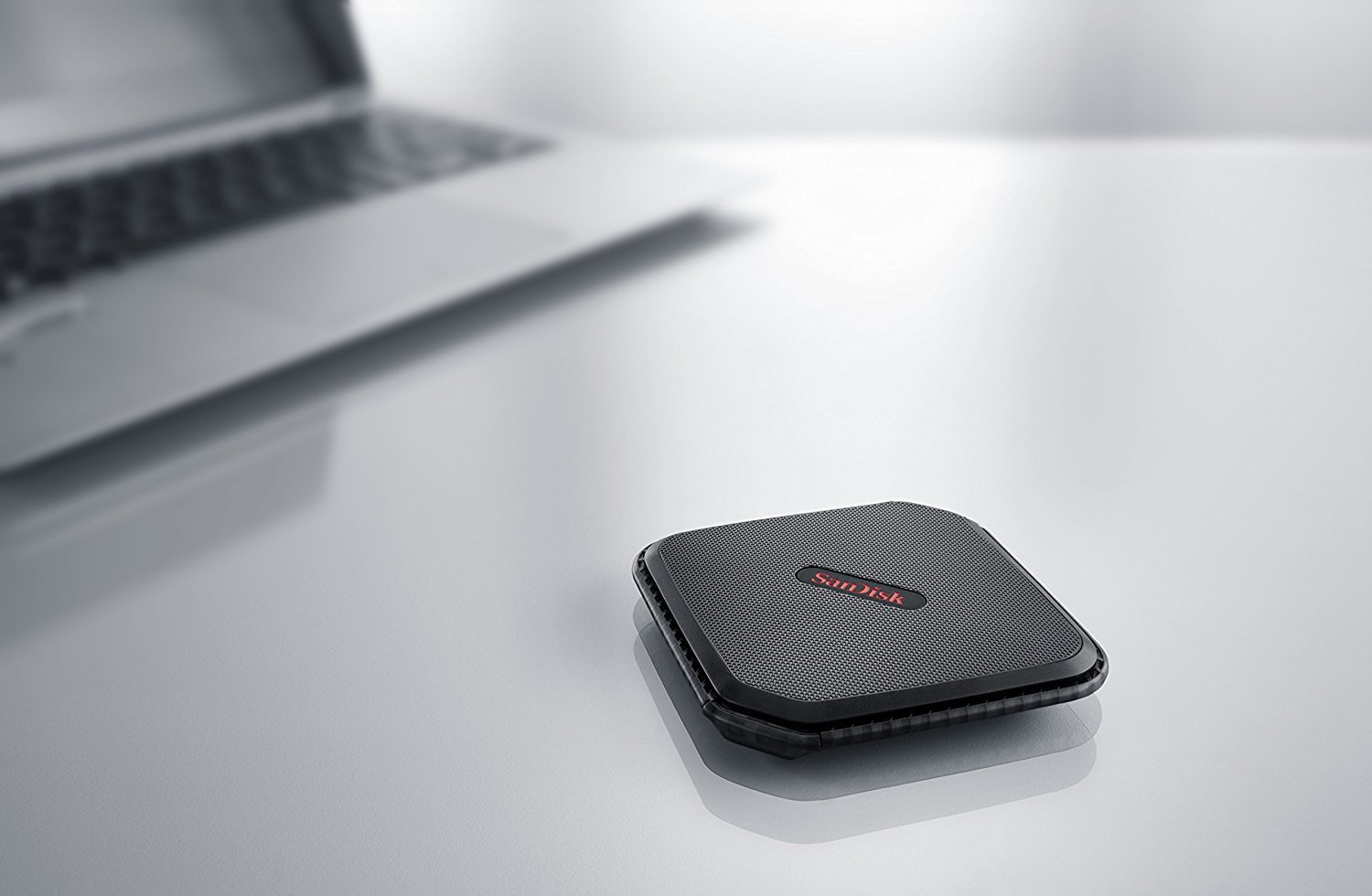 The metallic ring on the top will let you strap it to wherever you want it to be strapped and the rubber cap over the USB 3.0 port will protect it from basic damage. You can also purchase the SanDisk Extreme 510, which is a more durable version of the Extreme 500 since its protective measures are ranked IP55. The additional protection will only cost you 10-20 dollars more than the base package, making the 510 quite the bargain if you want a water/dust resistant portable SSD.
For comparison, we picked two other portable SSDs in the same price and performance range – the Samsung T3 and the VectoTech Rapid. If you've changed your mind on SSDs and want a simple, portable HDD, check out our portable hard drive favorites.
Samsung T3 is very similar to SanDisk Extreme 500, as it is small, lightweight, spacious, and delivers pretty high transfer speeds for a portable device. The T3 actually comes a bit closer to its promised 450MB/s read/write speeds than the Extreme 500 does to its 440MB/s, but the actual difference when using the drives would be much harder to notice than the number difference between the two. The T3 is also a bit smaller and lighter but is less protected against bumps and mechanical shock. Overall, the T3 delivers a bit more in terms of performance than the Extreme 500 does, but is accordingly 10-20 dollars more expensive.
VectoTech Rapid is a much heftier drive than the Extreme 500 and the T3, being closer to regular portable HDDs in terms of size. However, its performance and price are very close to SanDisk SSD's, reaching 450MB/s read/write speeds. The Rapid is also available in up to 4TB of capacity, which is a lot for a portable SSD, even though the 4TB version is priced at over 1.5 thousand dollars. VectoTech is a relatively new company though, so quality is an understandable concern, however, the drive has received a lot of praise from its users. Hopefully, in the future, we'll see more reviews of this product to give a more realistic evaluation of whether it's worth your money, but so far it seems like a decent alternative to SanDisk Extreme 500.
Essentially, both the T3 and the Rapid are very similar to Extreme 500, so you might as well simply go for the one that's the cheapest, which will most likely be SanDisk's portable SSD.
User Experience
For almost all users, the drive delivered its promised performance and external durability and worked just fine. However, an overwhelming issue with this drive seems to be a poorly attached USB port. There are dozens of bad reviews that show the drive's USB connector completely detached after various amounts of usage – for some it broke after many months of usage, for others it came off after just a couple weeks. So, while the drive itself works fine and does its job well, exercising additional care when removing your USB cable from it won't hurt if you decide to buy this device.
Other reviewers, in their short time with the Extreme 500, didn't run into this issue and simply acknowledged the high data transfer speeds, as well as the drive's low price.
What's in the Box?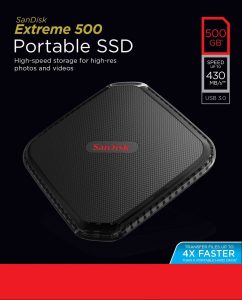 The product package contains one SanDisk Extreme 500 portable SSD of your chosen capacity, one USB cable, and a quick start-up guide.
Verdict
SanDisk Extreme 500 is a very compact and very fast portable SSD that you can get for a relatively low price. Its 440MB/s read and 390MB/s write speeds will definitely speed up your data transfer, while the included SecureAccess encryption software will keep that data safe.
While the drive itself is great, the only real issue with it is the common complaint of the USB hub breaking off. We would usually write this off as some people just getting faulty units but this problem seems to be much more widespread, seeing how many users have encountered it. So, if you decide to buy the drive, give it a bit more love when removing its USB cable to avoid potentially losing your data. Other than that, the SanDisk Extreme 500 is a great device for a pretty low price.