Mechanical hard drives are slowly leaving the market and leaving space for solid state drives. Almost all PC build feature an SSD as the main drive and after some time, it will be the only drive. SSDs have a way more advantages over traditional hard drive, they are way faster, feature longer lifespan and produce no noise.
The same goes for external hard drives. If you want to use an external drive just for storing backups and files you rarely use, you can go with a conventional hard drive. However, if you have to work with your drive on daily basis and transfer large amounts of data, an external SSD is the wisest choice. One of the best products in this section is Samsung T5.
What's Samsung T5?
Samsung T5 is the newest member of Samsung's external SSD family, it replaces the old Samsung T3 and has higher data transfer speeds as well as some new features. Samsung T3 had USB 3.1 Type-C Gen 1 connector, the new T5 features the latest 10Gbps USB 3.1 Type C Gen 2 connector. It's definitely a premium device with well made stylish and ergonomic design. It's well suited for professionals and anyone who needs a high-performance drive to transfer large amounts of data quickly.
Performance and specifications
Samsung T5 is one of the fastest external solid state drives you can buy, that's for sure. The newest version has tons of improvements over the last generation Samsung T3. It's noticeably faster. In our tests, it outperforms such drives as My Passport SSD and SanDisk Extreme 510.
We did some testing with a PC running Windows 10 that has the following specifications:
CPU – AMD Ryzen 1600
RAM -16 GB
SSD – ADATA SU800 512GB
We tested this drive by transferring many different size files starting from 1GB up to 10GB and did some benchmark testing. In the result, we got an average read speed of 463 MB/s and write speed of 421 MB/s. Samsung claims that this external solid state drive can reach read/write speeds of 540MB/s. We didn't hit such numbers. We also noticed that lower capacities feature a bit worse performance than 2TB one, although advertised performance for all models is the same.
However it still is one well-performing external SSD, it beats many drives as SanDisk Extreme 510, My Passport SSD and previous generation Samsung T3. Samsung T5 is fast indeed, however, there are faster external SSDs on the market like SanDisk Extreme 900. It can reach read/write speeds of up to 850MB/s and costs roughly the same as Samsung T3. Below you can see a list of competitors.
Alternatives
Samsung isn't the only brand that makes external solid state drives, there are alternatives. All these drives cost give or take the same, however, there is a difference in performance and features.
A great alternative that offers higher data transfer speeds is SanDisk Extreme 900. It costs around 50$ more than others, however, it also has noticeably faster read/write speeds ( 850MB/s as advertised). Although it comes in a metal casing and looks solid, it's quite large for external SSD and looks more like an external hard drive.
My Passport SSD is Western's Digital effort to make external SSD. It features a very slim and stylish design as well as handy features like password protection with hardware encryption and data transfer speeds of 515 MB/s – close to Samsung's T5 advertised ones. However, in practice, it's the slowest of three.
One thing that is in common with all of these drives is 3-year warranty.
Samsung T5 

specifications:
Available capacities – 250GB, 500GB, 1TB, 2TB
Interface – USB 3.1 that's backward compatible with USB 3.0 and USB 2.0
Warranty -3 years
Weight – 1.6 ounces
Overall Samsung T5 offers the same capacities and similar design as on Samsung T3. You also get the same USB type-C connector. What have changed is increased performance.
PROS
Superb performance, read/write speeds can reach 540 Mb/s 

AES 256-bit hardware encryption

Super easy and straight forward software
Very durable and well built
Slim design
CONS
Maximum capacity is still 2TB
Pricey
Design
Design is where Samsung T1, T3 has excelled and T5 is no exception. Mesuring in at 2.3 x 0.4 x 3 inches this surely is one of the most compact external SSDs ever. You can fit one into your pocket with ease.
This drive features a solid metal unibody design. Unlike as with previous generations, now you can choose it in one of two colors black or blue. However, the interesting thing is that black color is available in the 1TB and 2TB versions and blue is in 250GB and 500GB versions meaning you can't get a blue 2TB version, for example.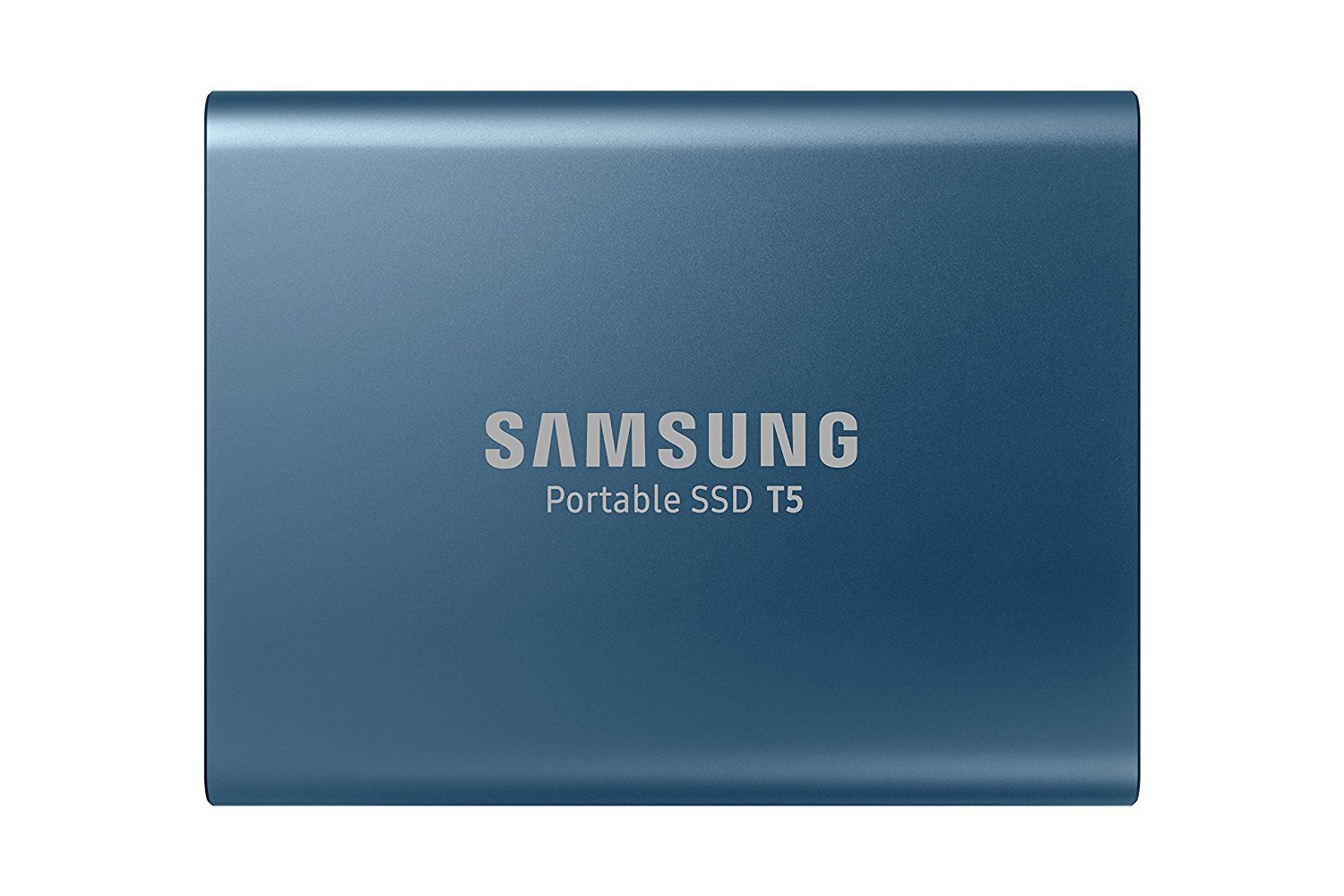 The minimalistc yet qualitative build, makes Samsung T5 very desirable.
At the front of T5, you can see Samsungs branding as well as particular models name, same goes for the back of this device.
Not only T5 looks well and stylish, it also feels very robust and durable. It can withstand drops of up to 2 meters.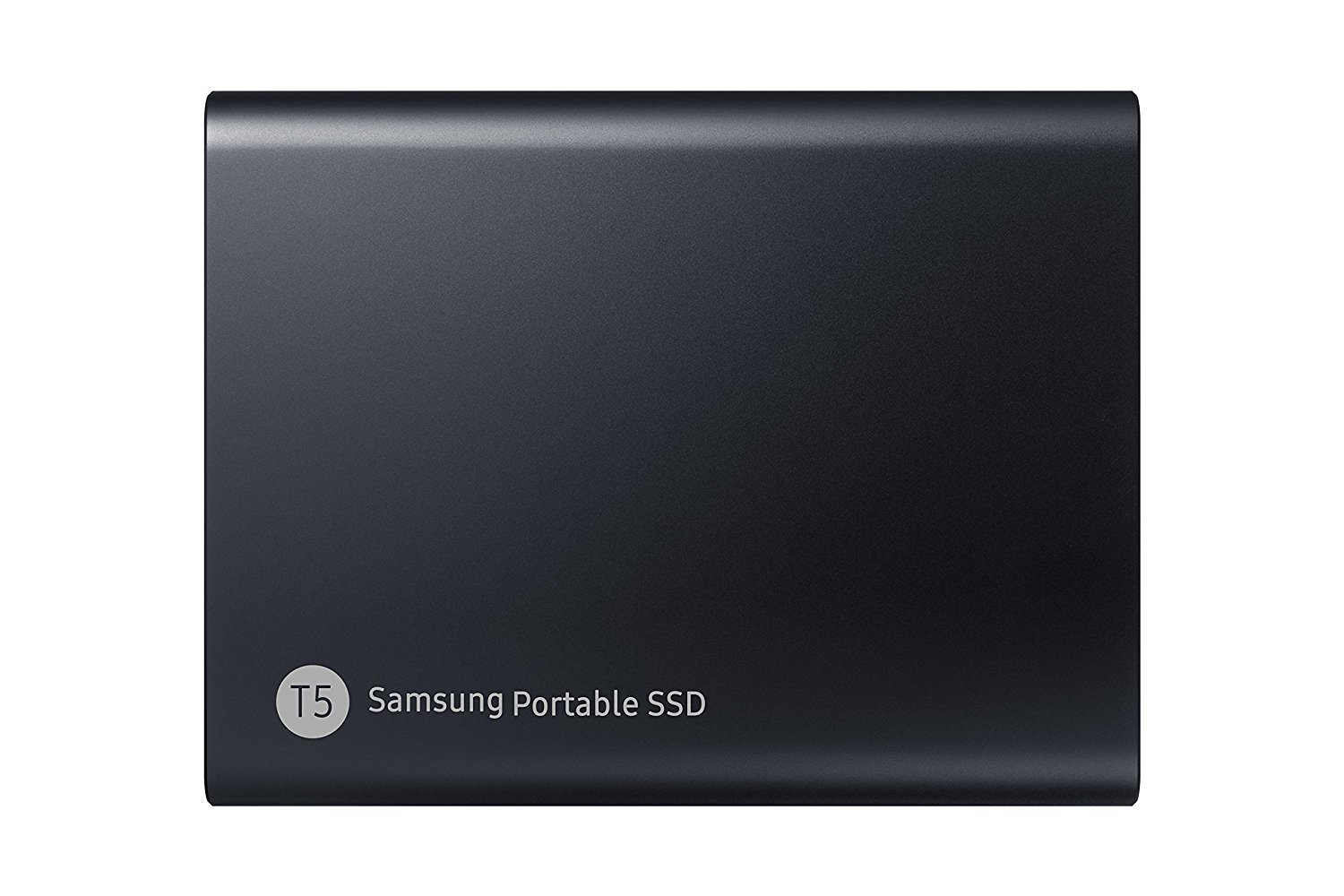 Verdict
Samsung T5 continues external SSD generation with some new features and improved data transfer speeds. The only thing this drive shares the same with last generation T3 is same capacities and similar design otherwise everything is improved. There are no real surprises as it's made by one of the best SSD manufacturers – Samsung and features everything you would ever need.
There are no real surprises as it's made by one of the best SSD manufacturers – Samsung and features everything you would ever need. Thanks to its lightweight and compact build, this drive certainly suits any professionals needs who is always on the go. Perfect for photographers, video editors or any other media enthusiasts that have to work with large amounts of data on daily basis.
When it comes to performance, the new T5 is for around 100-150MB/s faster than the last generation Samsung T3, that's quite an improvement. However, we noticed that large capacity versions – 2TB and 1TB did slightly better than lower capacities, although advertised performance across all versions is the same. Also for about the same amount of money you can get SanDisk Extreme 900 which can reach data transfer speeds of up to 850MB/s. However, it's not as appealing – way bigger and not so pleasant to use. Whether the extra performance is worth it, that's your decision.
Another area where Samsung T5 excels is its design. This is one of the most compact and stylish external SSDs you can get. It easily fits into your pocket. All previously mentioned combined with optional AES 256-bit hardware encryption, password protection, and decent warranty makes T5 a great buy.