Hard disk drives (HDDs) are slowly approaching their maximum technological potential, while solid-state storage technologies are being improved constantly, at an incomparable rate. Solid-state drives (SSDs) are already beating HDDs in terms of the largest drives, with 16TB already available, and up to 60TB coming in the near future.
So, to stay with the times, you might already want to get yourself a portable storage solution that would combine large capacities with the incredible SSD loading speeds. Samsung T3 is one such drive, being very portable and providing up to 2TB of super-fast storage.
Specs
PROS
Very small, lightweight, and durable enclosure
Available in up to 2TB capacity
Although not the fastest in the market, real-life transfer speeds hold up to the estimates
Features USB-C connectivity
Quite cheap
CONS
Lacks more advanced software features
Breakdown of Features
Samsung's T3 is available in four capacities – 250GB, 500GB, 1TB, and 2TB, which is plenty of super-fast storage for anyone's needs, and quite spacious for an SSD. The drive uses the USB 3.0 interface and its according speeds, although it has a USB Type-C connector and uses a Type-C to USB-A cable. Same as with any USB 3.0 device, the T3 is backward compatible with USB 2.0 devices, but using USB 2.0 with SSD speeds would be a borderline sin, as the older interface would bottleneck the drive into the ground. The drive comes with a reliable 3-year warranty.
Arguably, the most important part of any SSD is its data transfer performance since the much shorter loading times is what makes SSDs so much more valuable than regular HDDs. When it comes to Samsung T3, the performance isn't the greatest for an SSD, but it's far from being slow. The promised sequential transfer speed maximum is around 450MB/s, which isn't that bad, especially with most benchmarks coming close to or even exceeding the promised performance values (most benchmarks reach 390-450MB/s read/write). Most manufacturers promise the highest speeds at optimum conditions with very few devices actually reaching them, so kudos to Samsung for delivering on their promise.
However, while sequential speeds are much easier to understand and measure, random transfer speeds are often times much more important, considering that most people use SSDs to load games, programs, or even operating systems, all of which contain tons of smaller files as opposed to a couple larger ones.
This is where the Samsung T3 leaves much to be desired, as its 4k random read speeds usually reach only around 27MB/s (approx. 7k IOPS), with writes reaching 35MB/s (approx. 9k IOPS). Random speeds depend largely on their measurement methods, but the speeds presented by T3 aren't exactly impressive, regardless of the method.
Still, these speeds are pretty fast and, depending on your usage, you might not even feel the difference between the Samsung T3 and some other, faster SSD. The T3 will most definitely be a huge upgrade to any HDD and the lower random speed benchmarks are still dozens of times higher than any HDD's out there.
Samsung T3 provides only AES 256-bit encryption, in terms of additional features, and is priced at around $0.35 – $0.43 per GB, which is a few cents more than most internal solid-state drives. This, of course, is because it's portable, and features a metallic, durable, and compact case in order to keep your data secure. Plus, Samsung products have never been too cheap since they sell their stuff as being of super-high quality. In fact, this Samsung product is actually one of the cheaper portable SSDs in the market. Same as its predecessor T1, the T3 doesn't feature TRIM, which is a "garbage collection" feature that prevents write speed deterioration in SSDs.
Design and Alternatives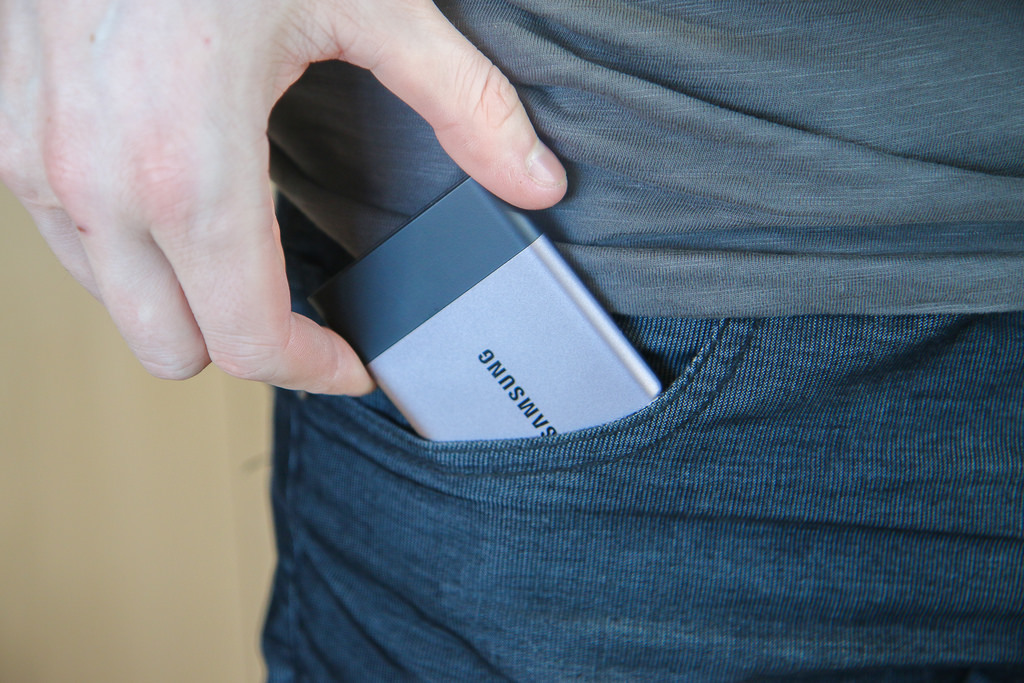 The design of Samsung T3 is rather simplistic, featuring only one color scheme, that being metallic silver with metallic black. But the metallic look isn't just for show, as the enclosure has been built to endure a bit more damage than a regular, fully plastic case. It also supposedly has an additional shock-absorbing frame around the drive itself for extra durability, but we'll just have to take Samsung's word for it.
T3's dimensions are 2.9 x 2.3 x 0.4 " / 7.4 x 5.8 x 1.1 cm, and it weighs just 1.8 oz / 0.051 kg. This tiny drive is extremely portable and light for a storage drive of its capacity.
While the Samsung T3 is not the newest storage drive on the market, it definitely goes toe-to-toe with the latest new portable SSD models, a couple of which we've picked as the closest reliable alternatives. There are many other portable SSDs that the T3 could be compared to, but none come even close to being the market leader that Samsung's drive is. If you've changed your mind on going for a super-fast and expensive storage, and have decided to go for a simpler portable HDD, check out our best portable hard drive list.
Firstly, the SanDisk Extreme 900, which uses the USB 3.1 Gen 2 10Gbps interface. USB 3.1 Gen 2 is an upgraded version of the USB 3.0 (3.1 Gen 1) interface and has twice the bandwidth of its predecessor. The Extreme 900 drive reaches accordingly high transfer speeds – up to 850MB/s read/write, which makes it potentially almost twice as fast as the T3 with the proper setup. Even if you don't have the relatively new USB 3.1 10Gbps port, the Extreme 900 still reaches around 450-500MB/s speeds, squeezing every last bit of performance out of USB 3.0.
This drive is faster than the T3, but it's accordingly more expensive (around $0.41 – $0.60 per GB) and bulkier, being around 1.5 times bigger in all dimensions, and weighing in at 7.4 oz / 0.21 kg. SanDisk's security software that comes with this drive is well renowned and makes the access to its encryption features a bit easier. Overall, if you have the setup, the need, and the money for a super-fast portable device, the Extreme 900 might be the better choice here. Otherwise, the Samsung T3 will be a cheaper and more portable drive with enough speed for most people's needs.
The other contender here is the VectoTech Rapid, which is a rather new drive (first appeared in 2016), from an accordingly new manufacturer. There aren't many benchmarks or full reviews of this drive, but what caught my eye is the large amount of very positive customer reviews regarding this affordable device. Pricewise, the drive has been slightly cheaper than the T3 on Amazon for a while now, with varying prices elsewhere. This drive boasts roughly the same read/write speeds as the T3 (450MB/s) and some customers have reported speeds close to this estimate. The VectoTech Rapid is also available in a staggering 4TB capacity (at an accordingly staggering price).
VectoTech's drive also features a pretty durable case that has a very high temperature and shock resistance and is also pretty lightweight (5.6 oz / 0.16 kg) for the drive's average size. We might have more information on the Rapid sometime in the future, but until then, it seems like a similar drive to T3, so basically check both of their prices and go for the cheaper one.
User Experience
The Samsung T3 has been largely well-received by its owners, with most reporting high transfer speeds, close to the promised values. As with all positive reviews, they just prove that the drive works fine for the vast majority of people.
As for negative reviews, most people had an issue with T3's activation software for Macs, which often times resulted in errors, problematic or impossible data access, and even complete failures of the drive. Keeping this in mind, a simpler drive, like the previously mentioned VectoTech's Rapid might be a better idea if you're a Mac user, since installing this plug-and-play drive involves fewer possibilities for errors. Another frequent complaint, often following a Mac error complaint, is the notoriously bad Samsung customer support, which would often fail to fix the issue or even respond at all. Still, the number of customers that were dissatisfied with their purchase is rather small, especially in comparison to some other popular products.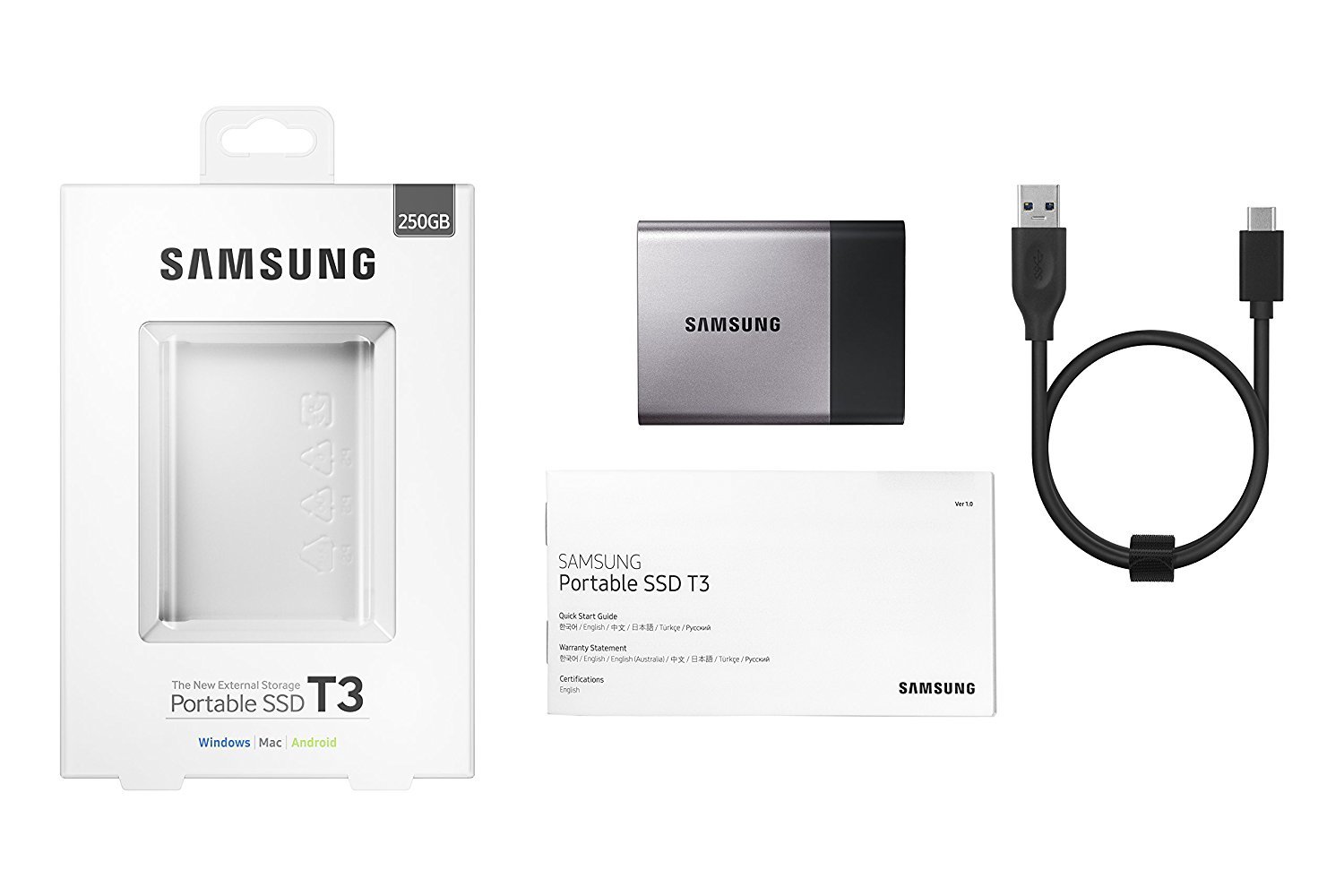 What's in the box?
The product package contains a Samsung T3 portable SSD of your chosen capacity, a USB-A to USB-C cable, a warranty statement, and a quick startup guide. Note that for connectivity with other USB-C devices, you may have to purchase or own additional USB-C cables or adapters, as neither will be included in the package.
Verdict
Samsungs high manufacturing standards and high-quality products have attracted customers for years and the T3 portable SSD is no different. It's pretty fast for a portable device, definitely faster than any HDD you might own and is very small and lightweight. All of these are the exact features you'd want from a portable SSD, which explains the huge popularity of this drive. It's available in various capacities, each covering different customer needs, and is future-proof because of the USB-C connectivity.
Additional software features wouldn't hurt though, as the drive only features a simple encryption tool, which, alongside the setup software, has caused some trust-breaking issues to a number of customers (mainly Mac users).
Of course, there might be better alternatives for your needs, like the SanDisk Extreme 900, which is insanely fast for a portable device but also quite a bit more expensive. Some other SSDs, like LaCie Rugged with lots of protective features, or the possibly cheaper VectoTech Rapid have their own advantages, but the T3 remains an all-around great drive that does well enough in all fields of solid-state storage, hence the popularity of the drive.