Solid-state drive technology has been around for a few years and Samsung has been in the forefront of producing high-performance SSD drives among other major companies. One of their first, most notable breakthroughs in this field was the T1 SSD which came out way back at the end of 2014. While we focus on reviewing new and more relevant products, we also know that you can often times find great deals among older products. This is why we decided to look at what the T1 has to offer and whether it's still viable in today's market.
Specs
PROS
Very fast data transfer speeds
Super-small
CONS
High price, Samsung T3 is just a more durable and much cheaper updated version of this drive
Samsung customer support
Very short USB cable
Breakdown of Features
Starting with the basics, Samsung T1 is available in 250GB, 500GB, and 1TB capacities and uses the USB 3.0 interface. Same as with all other USB 3.0 devices, the T1 is also backward compatible with USB 2.0, however, its high SSD transfer speeds would become useless with the older version of the connection. Samsung gives its T1 SSD a 3-year warranty.
When it comes to performance, the T1 doesn't disappoint, as its promised sequential read/write transfer speeds are promised to reach 450MB/s. Although slightly inflated, Samsung's estimates are close to the real-life performance, as benchmarks show speeds around 415-440MB/s read and 380-420MB/s write.
As for 4k random read/write, 25MB/s (around 7'000 IOPS) read and 35MB/s (around 9'000 IOPS) write seem to be the average of all the benchmarks we've seen. There are internal SSDs that would absolutely smash the T1's random performance, but for a portable SSD, this is not too shabby. Overall, the Samsung T1's performance is very similar to T3's in pretty much all speed types, which strengthens the idea that the T3 is just flat-out an update to the T1 in terms of price and design.
Samsung T1 features AES 256-bit encryption which can be set up during the installation process of the drive via Samsung's drive setup software. There are no other software features to the T1 (like backup or cloud storage software) and it also lacks TRIM support. TRIM commands are used to completely erase the data of deleted files, which improves write speeds of SSDs. This is because SSDs have to delete previous bits in their microscopic storage cells before new bits can be written on them so doing this process while the drive is idle would shorten write times when you want to quickly write data to an SSD. The lack of TRIM isn't a tragedy, but it would be much preferred for both better performance and reliable long-time usage.
Price is one of the main downsides of the T1 since most places sell it for $0.45-0.60 per GB, which is quite a lot, even for an SSD. However, the two Amazon links above will lead you to Amazon refurbished 250GB and 500GB models of the T1, which cost only 26-32 cents per GB. Refurbished models might not be packaged as the previous, now discontinued (more expensive) models of the T1, but are tested and pretty much brand new, and most importantly, cost much less than the "original" models. Finding a cheaper way to buy a T1 right now would be very difficult or even impossible, however, the refurbished models might not always be for sale.
Design and Alternatives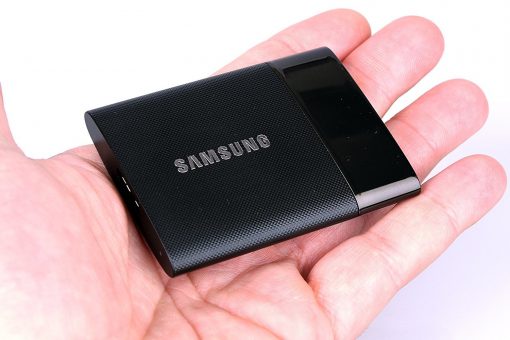 The T1 features a plastic case with smooth and rugged surfaces that is only available in one color – black. Undoubtedly, the most important design feature of the T1, that every user has been amazed by when first holding it, is its small size – 2.8 x 2.1 x 0.36 inches / 7.1 x 5.3 x 0.9 cm. The drive is also very light, weighing just 0.85 oz / 24 g. The included USB 3.0 cable is flat and very short, around 3-4 inches / 7.5-10 cm, which may make connecting the drive to a computer difficult in some situations.
For comparison, we picked an SSD that is similar to the T1 in pretty much all metrics – the SanDisk Extreme 500. Also, we had to compare it to the newer Samsung T3 portable SSD in order to fully understand whether one model is completely superior to the other. If you've changed your mind on SSDs and simply want a cheap and reliable portable hard disk drive, check out our list of the best portable HDDs for more storage device options.
Samsung T3 features the same capacities as the T1 plus a 2TB version. The feature set of the T3 is the same as the T1's (256-bit encryption, lack of TRIM or other features). As we mentioned before, both SSDs show the same read/write speeds as well. Basically, the Samsung T3 functions as a slightly larger (2.9 x 2.3 x 0.4 " / 7.4 x 5.8 x 1.1 cm), a bit more durable, and a lot less expensive version of the Samsung T1. So, unless every cubic millimeter of space matters to you, the T3 is just flat-out better than the T1 unless you can get your hands on a super-cheap model of the T1.
Since both Samsung drives are quite similar, the SanDisk Extreme 500 would actually provide a more logical alternative to both. The Extreme 500 is larger than the T1 since it features a rubbery square-shaped case for extra durability. As we discussed in our Samsung T3 review, the SanDisk Extreme 500 acts basically like a slightly slower and slightly cheaper alternative to Samsung's drive. However, the Amazon refurbished models of the T1 go for even less than SanDisk's drive, so if you can get your hands on one of these cheap T1s, it would be an all-around better choice than the Extreme 500.
As we can see, all three alternatives would be very close if not for the Samsung T1's high price. So, if you can get a T1 for a lower price than the other two, go for it, as there won't be many differences between the three other than minuscule performance differences and cable lengths.
User Experience
As with most other devices, the vast majority of users were pleased with their purchase of the T1 and acknowledge the high transfer speeds and the extremely small size of the drive. However, the main issue that some people had with the drive was a complete or just random loss of connection, especially on Mac systems. Some blame the cable connection, while most dissatisfied users blame the setup software, which added an extra barrier between the drive and its user's system.
Whatever the cause of this may be, Samsung's customer support has been close to useless for most customers, as even replacing a faulty device has been problematic for some clients. Still, all devices have some portion of dissatisfied customers who have unfortunately gotten their hands on a faulty device or a complete dud.
When it comes to other reviewers, they had explored the features and the value proposition of the T1 quite a while before we had, some even before the release of the Samsung T3. Regardless of this, their main and often times only concern has been price, which was super-high at release and even years after is quite high.
What's in the Box?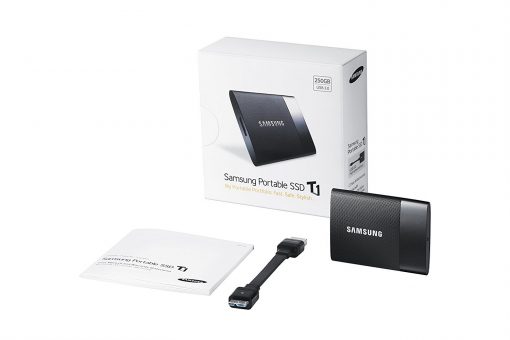 The product package contains one Samsung T1 portable SSD of your chosen capacity, one (short) USB 3.0 cable, and the user manual & warranty statement.
Verdict
Samsung T1 is a super-fast storage solution that is closer, in terms of size, to a large USB drive than it is to a portable hard drive. Real-life data transfer speeds approach the promised values and are very high (380-440MB/s read/write). The added option of 256-bit encryption will keep your data safe.
However, while the drive itself is great, pretty much all retailers will sell it for unreasonable prices since it is now, after the launch of Samsung T3, an outdated device. Overall, the drive itself is great and even many years after its release, it can still compete with other portable SSD market leaders. If you can get it at a competitive price, that is.