The Samsung BAR 3.0 is a very sleek looking and compact thumb drive that's mainly used for transferring files between PCs. Samsung has made this flash drive stand out from others with its simple yet very stylish and robust design. It has USB 3.0 and is backward compatible with USB 2.0. Performance is decent – will be just fine for an average user.  It has everything you would want from a thumb drive. It even features a handy key ring. All previously mentioned combined with Samsungs quality and five-year warranty makes the Samsung BAR 3.0 no-brainer if you want a really good drive for the really good price.
Related: Top 8 Best USB 3.0 Thumb Drives
Performance and technical specifications
The Samsung Bar 3.0 is available in three capacities: 32GB, 64GB, and 128GB. It has dimensions of 0.48 x 1.57 x 0.43 inches and weighs in at 0.3 ounces. This flash drive has USB 3.0 connector, and it's backward compatible with USB 2.0. When talking about performance, Samsung Bar isn't class leading but still offers decent numbers. With Samsungs NAND technology this drive in our tests reached a write speed of 49MB/s and read speed of 64MB/s. That's nowhere near Samsungs claimed, "Up to 130MB/s data transfer speed". However, even if performance is not class leading, it's still decent and will be just enough for most of us. If you mainly want to use this drive for quick, small data transfers like documents, some pictures or presentations, you can't go wrong.
PROS
Sleek looking high-quality metal casing,

NAND Flash Technology,

Key ring,
Rugged design – Water proof, Shock proof, magnet proof, temp proof, and X-ray proof,
5-year warranty
Great price
CONS
You can find flash drives with better USB 3.0 performance on the market
Design
Design is where Samsung Bar 3.0 excels. It's made entirely from metal. There is no plastic at all except inside of USB 3.0 connector. This flash drive features a rectangular design with an arch on top. Inside this arch is a hole. You can use it to attach your flash drive to your key ring or just lace it or use a strap. The drive itself is very minimalistic and comes in a champagne color. We guarantee that this design won't trend away in the near future. An aesthetically pleasing design is one of its key features.
On the top of the flash drive, there is brand name "Samsung, " and on the bottom, you can find that it's a USB 3.0 device and current models capacity. Although this flash drive is very durable, you can scratch the metal quickly if you do attach it to the keyring. And if it's scratched, it loses some of its appeals. If you scratch the screen of your smartphone or crack it, will it feel good to hold in hands and won't bother you much? No, it will? Exactly. Some flash drives that are made from good quality plastics like SanDisk Ultra + Cloud don't suffer from scratching soo much as plastic seems to even out scratches with some polish.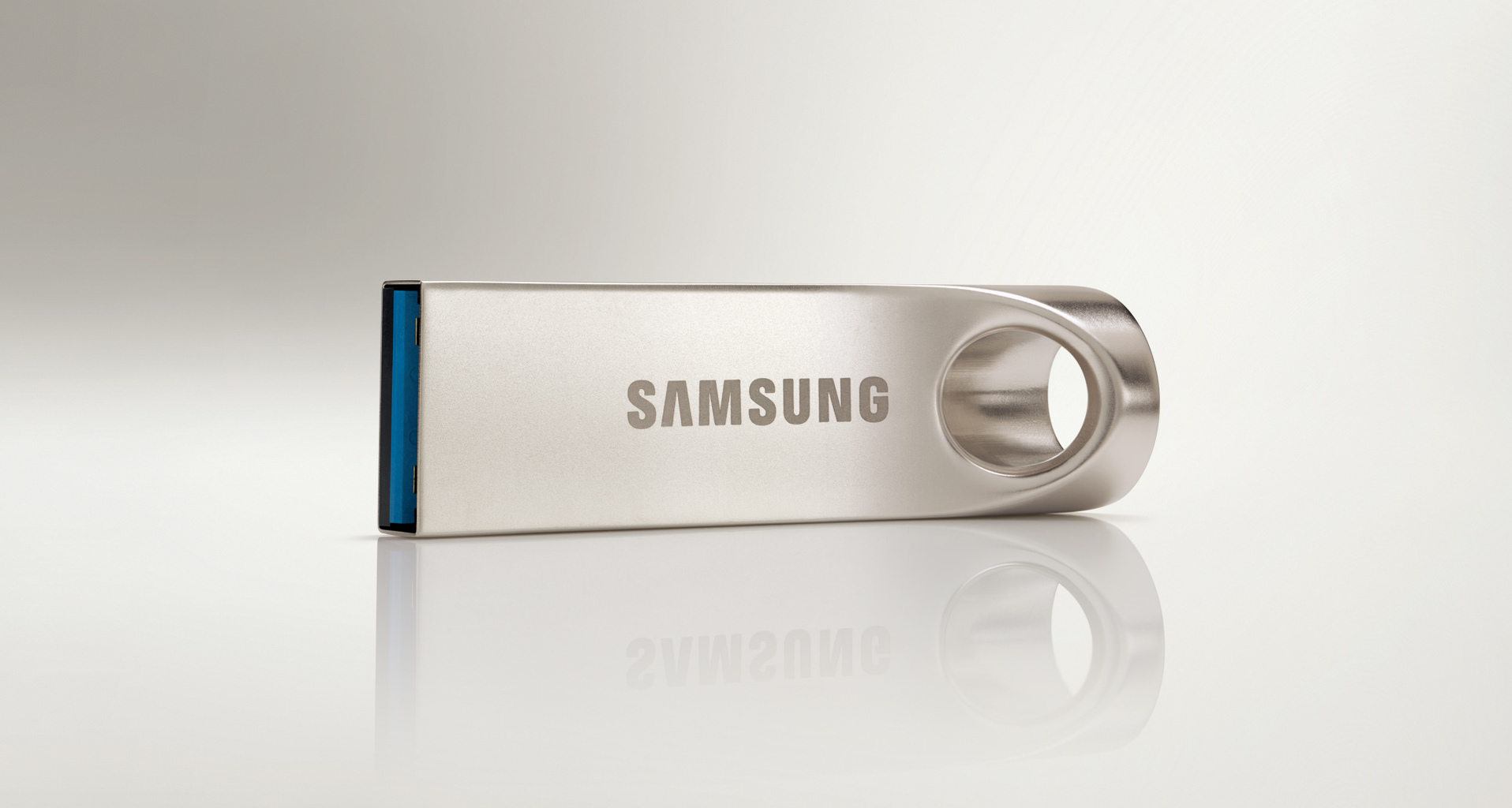 Should I get it?
If style and durability are the main criteria when looking for a flash drive, then absolutely. However, if you do need a high-performance drive to transfer many GB's and you do it frequently, you might want to consider something like SanDisk Extreme CZ80 64GB USB 3.0. It's not so stylish and few bucks more expensive, but doubles Samsung Bars 3.0 performance.
Verdict
To be honest, we just loved this flash drive. After testing, I am definitely going to get one for myself – Samsung Bar USB 3.0 with 128GB capacity. This flash drive has everything the mainstream consumer would want. It's super sleek looking, the metal finish makes it feel very durable and well made. This flash drive is waterproof and shock proof, temp proof you can just throw one into your backpack or pocket and don't worry too much if it gets wet or hits something. You also can't mess it up with a magnet as it's magnet proof. Don't know why and what for but it's also X-ray proof, and even if something happens, Samsung Bar 3.0 comes with a 5-year warranty. Performance could be a bit better. However, it's still decent and will be just fine for most of the users. If you want something durable with a premium feel, good warranty and very affordable, go for Samsung Bar. You won't be disappointed with it.