Many PC and laptop users are moving over to using solid-state drives (SSDs) as their storage solution. They're a lot faster than hard disk drives, a lot quieter, more reliable, and use less power. If you're in the market for a new 2.5-inch SSD, you need to make sure you get the best one.
Currently, in our opinion, that would be the Samsung 850 EVO which is one of the fastest and most reliable SSDs for an affordable price. In this review, we look at all the details that make the EVO so great and why it's worth getting one.
850 EVO Specs
| | |
| --- | --- |
| Capacity | 120GB, 250GB, 500GB, 1TB, 2TB, 4TB |
| Seq. read | 506MB/s |
| Seq. write | 400MB/s |
| 4k Ran. read | 36MB/s |
| 4k Ran. write | 76MB/s |
| Warranty | 5 years |
PROS
Very high sequential transfer speeds
Highest random transfer speeds in its price bracket
Excellent customer reviews and a 5-year Samsung warranty
Wide capacity range
CONS
Not exactly the cheapest SSD
Breakdown of Features
The EVO is a 2.5-inch SATA III (6Gbps) solid-state drive, 7mm thick. It comes in basically all the capacities you might ever need – 250GB, 500GB, 1TB, 2TB, and even 4TB, all of which come with a 5-year warranty. The 4TB version will cost you an arm and a leg though since it costs around $1'600. The smaller capacities are in the realm of 32-40 cents per GB, which is some 5 cents more than the cheapest 2.5-inch SSDs currently.
Nonetheless, you get what you pay for since these capacities come with extra reliability as well as some of the highest benchmarks on the market. 504MB/s sequential read and 397MB/s sequential write top speeds (2TB model – UserBenchmark) are quite impressive, even for an SSD. However, the EVO excels even more in random performance – 36MB/s 4k read and 76MB/s 4k write speeds are matched only by very few competitors, one of which is the premium version of this same drive – the Samsung 850 PRO.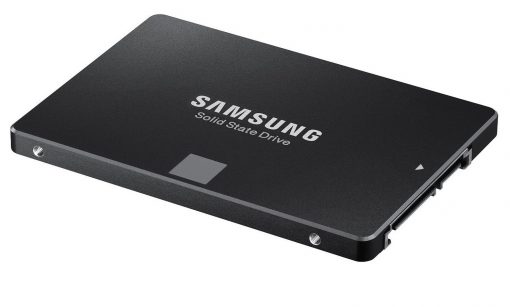 The EVO achieves these benchmarks via the use of various optimization technologies, such as TurboWrite and RAPID mode. Meanwhile, Dynamic Thermal Guard and other technologies ensure the most optimum working conditions for the SSD to prolong its lifespan. The 850 EVO also supports AES 256-bit encryption. Samsung has created its own SSD manager called Samsung Magician, which shows various characteristics of the SSD. Also available is the Data Migration tool that would help you move massive amounts of data to your new EVO.
Alternatives
Seeing how the 850 EVO is by far the most popular SSD, we decided to pick its closest runner-ups for comparison: the Crucial MX300, which is more of a budget option, and the EVO's big brother – the 850 PRO, which is more of a premium drive. For more SSD alternatives, check out our SSD buying guide or our top list of 2.5-inch drives (including HDDs).
Crucial MX300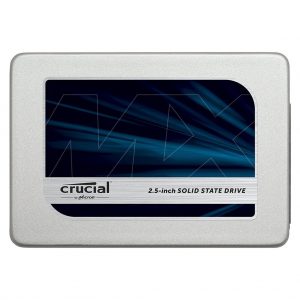 As one of the most well-known SSDs on the market right now, the MX300 delivers relatively high transfer speeds for a very affordable price – currently 26.8-34 cents per GB. This is roughly as low as it gets with SSDs and most drives below such price will be noticeably slower than the MX300 (aside from the Mushkin Reactor).
This drive comes in 275GB, 525GB, 1TB, and 2TB capacities with a 3-year warranty. With sequential read/write of 464MB/s and 318MB/s, respectively, the MX300 is both a bit cheaper and a bit slower than the EVO, even more so with random read/write performance. But, same as with the EVO, you will get your money's worth with this drive since it is also very well received by its customer base. The MX300 is the most reliable budget SSD alternative to the 850 EVO.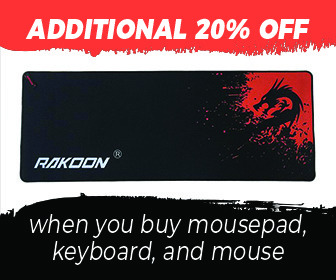 Samsung 850 PRO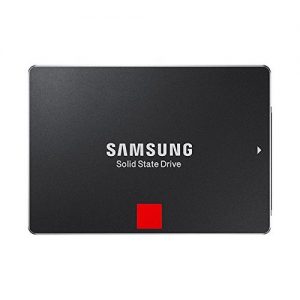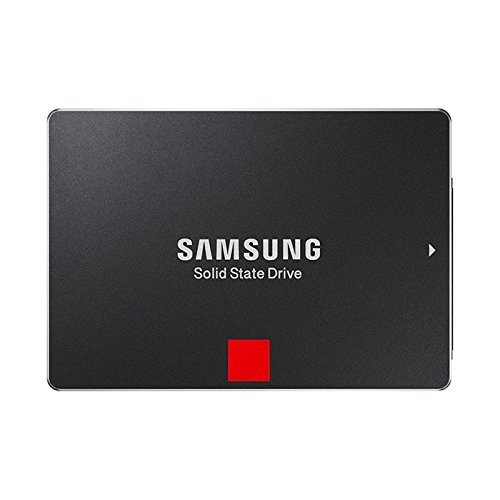 If you're more into getting the best possible product than you are into saving money, a drive like the 850 PRO might be more up your alley. This drive is as reliable as it gets with a 10-year warranty, alongside a ton of other performance-enhancing features. The use of MLC NAND cells makes the PRO's lifespan much longer than that of the EVO, which uses the slower and less durable TLC technology.
The 850 PRO, on most benchmarks, comes up as the fastest 2.5-inch SSD currently available. Its 510/458 MB/s sequential read/write speeds are matched only by very few drives, while its 33/87 MB/s random performance remains completely unmatched. Although a regular consumer might not see a huge performance difference between this and other SSDs (due to less intense usage/not using RAID), the PRO's price still remains staggering – 42-54 cents per GB.
In short, the 850 PRO provides much more enhanced reliability than any other SSD and also manages to be the fastest SSD available. Its price makes it the premium choice for speed demons who want as much speed and reliability as possible and are ready to pay upwards of $100 more (than the EVO, for example) for that privilege.
Verdict
You can find SSDs that are faster than the 850 EVO but they will be much more expensive. You can find SSDs cheaper than the EVO, but they will be noticeably slower. Being in the almost ideal equilibrium of price, performance, and longevity that the EVO is in, makes it the best SSD you can get right now. It's more than worth it to pay those extra $20-40 to get a lot more value out of your purchase with this almost premium SSD.