In the space of a few years, the music game industry has exploded thanks to the efforts of such hit series as Guitar Hero and Rock Band. From humble beginnings as a genre that was once found only in arcades, these rhythm-based games have led the way to a worldwide sensation that nearly any person, from hardcore gamers to casual players, can pick up and love.
What began as a guitar-only game in Guitar Hero was then expanded by Harmonix to a full band experience by throwing a drummer and singer into the mix, making for a multiplayer experience like none other.
Rock Band received very high reviews upon its initial release in November 2007, and received a respectable number of perfect scores from media along the way. What set Rock Band apart from other games is its famous and unprecedented incorporation of downloadable content, as new songs were added to the online library on a weekly basis.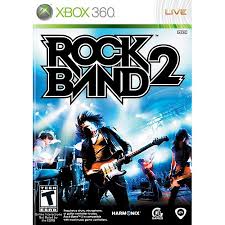 Many fans wondered if the downloadable content would mean that sequels would be unnecessary, but in September of 2008, Rock Band 2 was released, mostly for the reason of addressing the first game's minor flaws.
The Soundtrack of Rock Band 2
Rock Band 2 boasts an on-disc library of 85 tracks, which can be added to from a mind-blowing library of more than 500 songs from downloadable content available in the Xbox LIVE Marketplace, an AC/DC expansion pack, and the option to transfer the majority of the songs from the original Rock Band disc onto your hard drive to play in the new game.
More surprisingly, Rock Band 2 has done away with all cover songs. All of the songs featured on the disc and in the marketplace since the sequel's release are the master recordings done by the original artists.
Nearly every genre of rock is covered – from classic to metal, from punk to progressive – and a foray into other types of music began in December with the release of a Country Music pack. With such a wide range of music, it is clear to see why Rock Band has become synonymous with the party game.
The Playability of Rock Band 2
Fans of the series will breathe a sigh of relief the first time they load up a song in Rock Band 2 as none of the gameplay aspects have been changed significantly, rather only updated for the better. For instance, instead of isolating solo players and multiplayer bands into separate modes of gameplay (as the original Rock Band did with its single-player "Solo Tour" and multiplayer-only "Band World Tour"), the second installment opts for a tour mode that can be played with any number of players between one and four.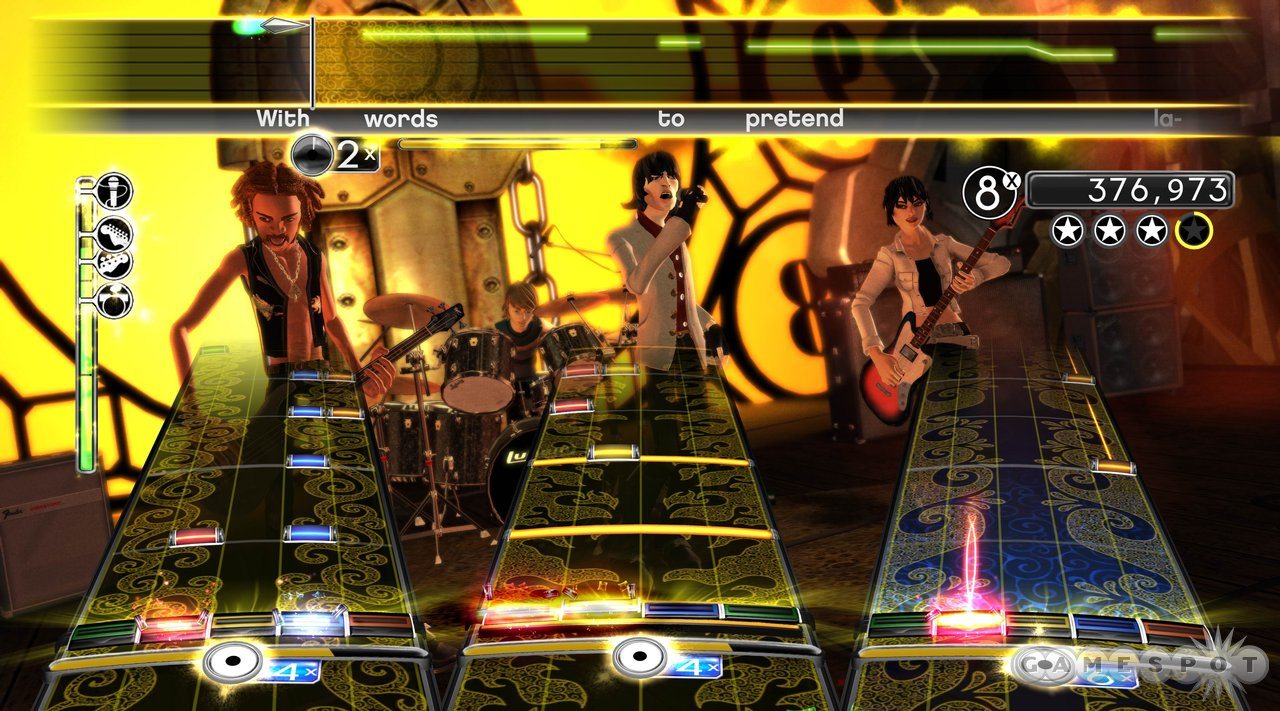 The only downside about the removal of the solo tour is that quite frequently, the same song ends up being played several times before any real progression occurs. Other than that, Rock Band 2's World Tour experience is a solid rock experience that will allow you to make progress with your band whether your friends are able to play or not. However, players will have less of a reason to play solo due to robust Xbox Live support for all multiplayer modes, including daily online Challenges pitting bands across the world against each other in new weekly "Battle of the Band" setlists with different rules.
Rock Band 2 has added several fun perks for the drummers, including Beat and Drum Fill Trainers, as well as a Freestyle Mode that allows drummers to play along to any music on their Xbox 360's hard drive. The practice and tutorial modes have remained for all instruments, as well as the online score duels and tug-of-war competitions.
The Mechanics of Rock Band 2
From a stylistic standpoint, not much in Rock Band 2 has changed from the original game. The note charts remain the same and flow from the top of the screen to the bottom, the background and character graphics see only minor upgrades (the Character Creator mode hosts some new options and clothing options), and the sound mixing remains as excellent as always. As 1Up.com writer Robert Ashley described it in his review of Rock Band 2, the game itself feels more like a "system update" rather than a sequel.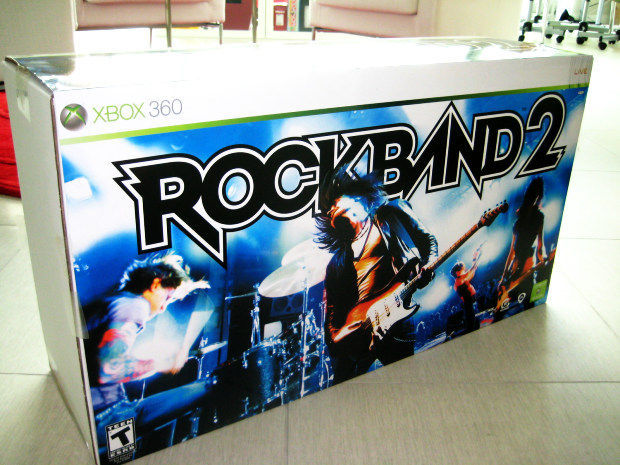 The main star of this "system update" is without a doubt the hardware. Many players complained about the quality of the first game's instruments, finding that things broke quite easily or were unresponsive. The guitar's mushy strum bar was replaced with a much springier one, and the Overdrive tilt sensor no longer deploys at random. The drum kit is now wireless, has been equipped with quieter, velocity-sensitive pads, and the fragile plastic pedal of the original Rock Band drum kit has been replaced with a metal-reinforced version.
Assessment
With no signs of stopping and fresh gameplay provided in the form of weekly downloadable content, Rock Band 2 will remain the source for the widest range available in the music game genre. There have been no immediate plans for a Rock Band 3 with Harmonix busy at work on their Beatles-centered game for release in 2009, so players who have yet to invest in Rock Band 2 can rest assured that their purchase will not be made obsolete in the near future, and they will be able to enjoy the game for a long time before worrying about another upgrade.
All in all, Rock Band 2 succeeds in creating an environment that anyone can enjoy. Rock Band 2 stands above all else as one game that should not be missed by anyone.
Final score: 10