The PNY Pro Elite is a sleek looking flash drive with a gunmetal finish that features a quality build, large capacities, and good read speeds. This is perfect thumb drive for just about anyone as it offers everything and in good price range. Similar devices like Lexar JumpDrive Tough offer lower capacities and lower speeds and are just a tiny bit cheaper. This flash drive is more like a match for Patriot Supersonic Rage 2 and Lexar JumpDrive P20. All around it is very basic and conventional flash drive that has some good hardware and style behind it.
Related: Top 8 Best USB 3.0 Thumb Drives

Performance and technical specifications
The PNY Pro Elite not only feature sleek looks but also high performance. With claimed read speeds of 400MB/s and write speeds up to 180MB/s this surely is one of the best performing thumb drives on the market. We did some testing with a PC running Windows 10 that has the following specifications:
CPU – Intel i5-6500
RAM – 8GB
SSD – ADATA SU800 512GB
We tested this drive by transferring many different size files starting from 1GB to 10GB and did some benchmark testing. In the result, we got an average read speed of 349 MB/s that's one of the highest reads speeds we have recorded and write speed of 160 MB/s. This drive surely competes with more expensive competitors like Corsair Flash Voyager GTX and Kingston DataTraveler Ultimate GT showing similar performance. Only write speed lacks a bit behind
PNY Pro Elite specifications:
Available capacities – 128GB, 256GB
Interface – USB 3.0 that's backwards compatible with USB 2.0
Warranty – 2 years
Should you get it?
Everyone can use this drive and be satisfied with it, especially those who do work with large files like 4k videos and photos, games, software and so on. You will really appreciate PNY Pro Elite superb read speed. And as with most high-performance flash drives – they cost a lot. But not PNY Pro Elite, it's super affordable so we don't think only professionals should get it. Of course, you shouldn't buy it if you rarely transfer anything larger than 1GB and will mostly use the flash drive for some documents and photos. If so, you should probably consider something like Samsung USB 3.0 FIT or Samsung Bar.
PROS
Metal casing
Fast Read speeds
Backwards compatible with USB 2.0
Large capacities
Premium feel
CONS
Sliding USB connector can be hard as the metal body is slippery and that requires a lot of force
Write speed cloud be a bit higher
Design
Design is one if the PNY Pro Elite strong sides. It's a very sleek looking device that's also compact enough to be placed into crowded USB ports where USB devices are plugged next to each other. You won't have such problems as with Corsair Flash Voyager GTX or Kingston DataTraveler Ultimate GT.

The PNY Pro Elite features a capless design using a sliding mechanism instead of a conventional USB connector cap. On the housing, you can find lettering of "PNY" and capacity. Also, there is a hole on the one side of the drive. It's meant for adding your flash drive to your keychain, so you don't lose it.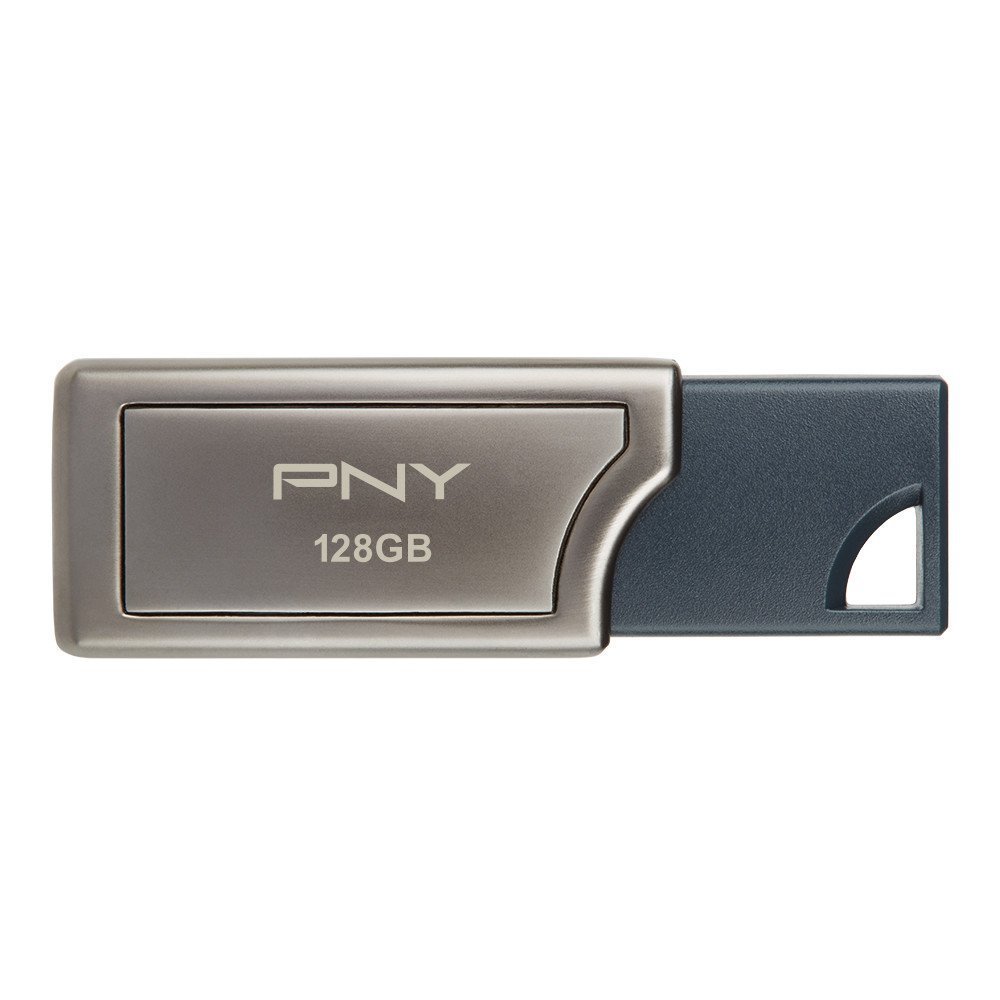 Verdict
We would recommend this flash drive to anyone who wants a drive with super fast read speed, decent write speed, large capacities and that all for a very budget friendly price. It's great for average consumers and for professionals who look for a device to do their work with. The style is another key element to this drive. It looks very minimalistic and aesthetic. You won't be ashamed to use it for your business meetings and presentations. The only thing we didn't like so much is a 2-year warranty. Other drives like Patriot Supersonic Rage 2 or Corsair Flash Voyager GTX has 5- year warranty.