Photofast MemoriesCable is a flash drive with lightning and USB 3.0 connectors, and it can also be used as a power chord. Combining these two things makes this drive a very useful small device, just keep one in your backpack and you won't need additional power chord nor flash drive. PhotoFast MemoriesCable has the same functionality as the i-FlashDrive Max only it has an added feature of charging your device. As this drive has a lightning port, it's mainly designed for IOS devices. However, with USB 3.0 it can also work with PCs. If you don't use any IOS devices like iPad or iPhone, you probably should look for another flash drive otherwise lightning port and ability to charge your device will be useless.
Related: Top 8 Best USB 3.0 Thumb Drives
Features
Just like Photofast i-Flashdrive Max, Photofast MemoriesCable also has tons of features to make users life easier. You can manage most of them through a free app. These features include:
Cloud storage integration – you can manage files on your drive through DropBox and Google Drive
"One Touch Backup" – backup camera roll, calendar, contacts, photos with just one press of the button
Social media integration – Share your media files to social media platforms and save them on your drive
App Lock and both connector lock for security, so your files don't get seen by unwanted eyes.
Ability to both charge and manage your data on your IOS device at the same time
Performance and technical specifications
You can get Photofast MemoriesCable in four capacities: 16GB, 32GB, 64GB and 128GB. We tested the 128GB version. First off, we took measurements with USB 3.0 connector where MemoriesCable reached a read speed of 87MB/s and write speed of 20MB/s. That's pretty much what Photofast claims: 90MB/s and 22MB/s. Next off lighting connector: read speed reached 26MB/s and write speed hit 18MB/s. If you transfer files from your MacBook to for iPhone, the Photofast MemoriesCable will work with lighting ports speed. Overall performance is decent and up to the level that Photofast promises.
PROS
Comes with special app to keep your data safe
Can be used as storage device and power chord at the same time
Offers plenty of features
Storage capacity reaches 128GB
CONS
Sometimes when you use MemoriesCable as a power chord, it's too short to charge your device
Design
Photofast MemoriesCable is a very sleek looking device that weighs just 9.4g. Build quality feels very robust and durable. Housing around the connectors is made from aluminum with a gray finish. On both of these housing is written the name of brand "Photofast" and capacity.

This drive features a clip for holding both ends of the cable together, making it easier to carry around. The cable itself seems very sturdy and doesn't seem like it would tear with. Mounting around the place where the cable meets metal housing is well built.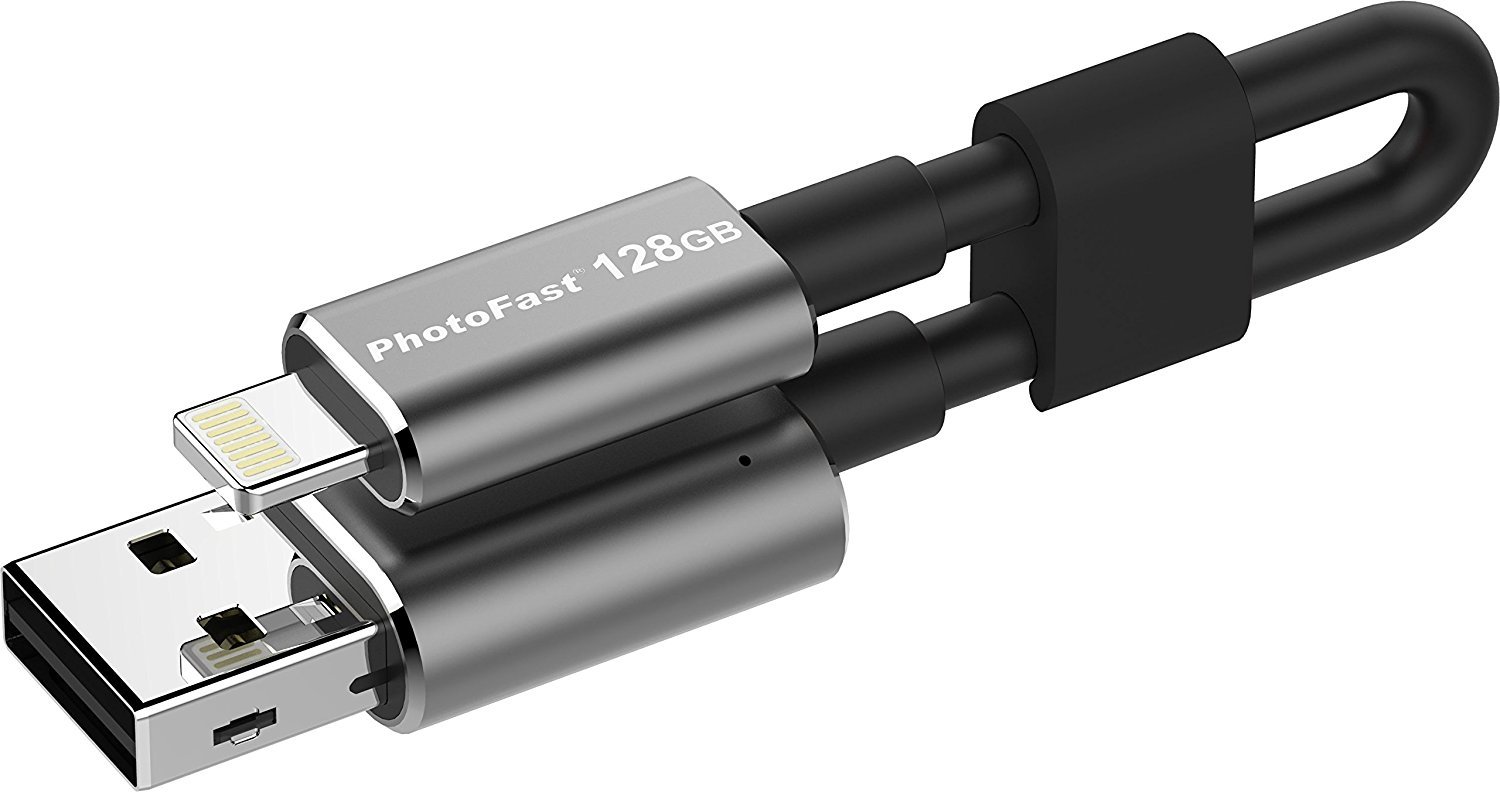 Verdict
Photofast MemoriesCable is excellent IOS device accessory if you do have to manage files on your device. Added practicality of charging your device and ability to use two connectors: lighting and USB 3.0 makes this drive a great choice. Though keep in mind that you might have some trouble when trying to charge your IOS device because the length of the cable is just 13cm, don't expect it to be your main charger. Compact build and sleek metal design make this drive very appealing and easy to live with. Performance is adequate for this kind of drive and will be just enough for most of the users. Overall Photofast MemoriesCable is a great flash drive that's worth buying if you're going to use it for what it's built for.