The PhotoFast i-FlashDrive Max is a storage device with two connectors: USB 3.0 and Lightning for Apple products. Having a Lightning connector doesn't mean it won't work with non-Apple devices, but if you don't plan to use this flash drive with IOS devices, this flash drive probably isn't meant for you.
This flash drive allows you to use it will all IOS devices, do data transfers, watch movies and play music, do backups and so much more. There are tons of features, and they all are fitted with a one very compact and slim looking flash drive.
If we compare PhotoFast i-FlashDrive Max with similar drives like SanDisk iXpand or Leef iBridge, then on paper it's more superior in every aspect but is that true?
Related: Top 8 Best USB 3.0 Thumb Drives
Performance and technical specifications
The PhotoFast i-FlashDrive Max is availably in two capacities: 64GB and 128GB. It has two connectors: Lightning and SuperSpeed USB 3.0. We tested it with a USB 3.0 connector and got decent results. Read speed reached 87MB/s and write speed hit 25MB/s. Overall speed is adequate, and we couldn't want much more from this device, considering it has two connectors and its compact size. Another thing to keep in mind is that most competitors did far worse. You shouldn't complain about the PhotoFast i-FlashDrive Max performance.
Features
Photofast i-Flashdrive Max offers tons of features when compared to other similar products. Through this flash drive, you can transfer all your movies, music, photos between your iPhone, iPad and Mac. You can also backup not only data like photos, videos, and documents but also your entire camera roll, contacts, and calendars. There is also such featured called "Touch ID." Through it, you can keep your data safe and prevent unauthorized access through the app. When you buy this flash drive, you also get free i-FlashDrive ONE application for backing up and organizing your files. The interface of this app is very straightforward and easy to use, you can even stream videos from the i-FlashDrive to an Apple TV.
PROS
Free Apple App Store Software

versatility – can be used with iPad, iPod, iCloud, iPhone, Mac, PC
Tons of features
CONS
Performance isn't top shelf
Design
Design is one of the spheres where Photofast i-flash drive Max excels. When compared with other similar flash drives, i-flash drive Max offers much smaller and slimmer dimensions that allow easier use with iPhone and other IOS devices that use a Lightning port.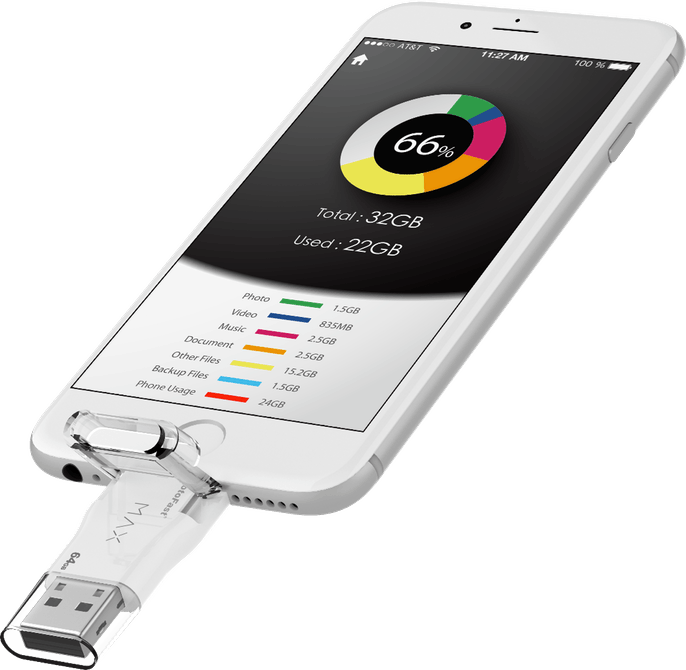 The drive itself is made in a white plastic finish. On the front, there is written brand name and model "Photofast Max" as well as capacity. The Photofast i-flash drive Max has two transparent connector caps that can be pulled back or flipped over.  This drive is also extremely lightweight. You can hold one into your pocket and forget that it's even there.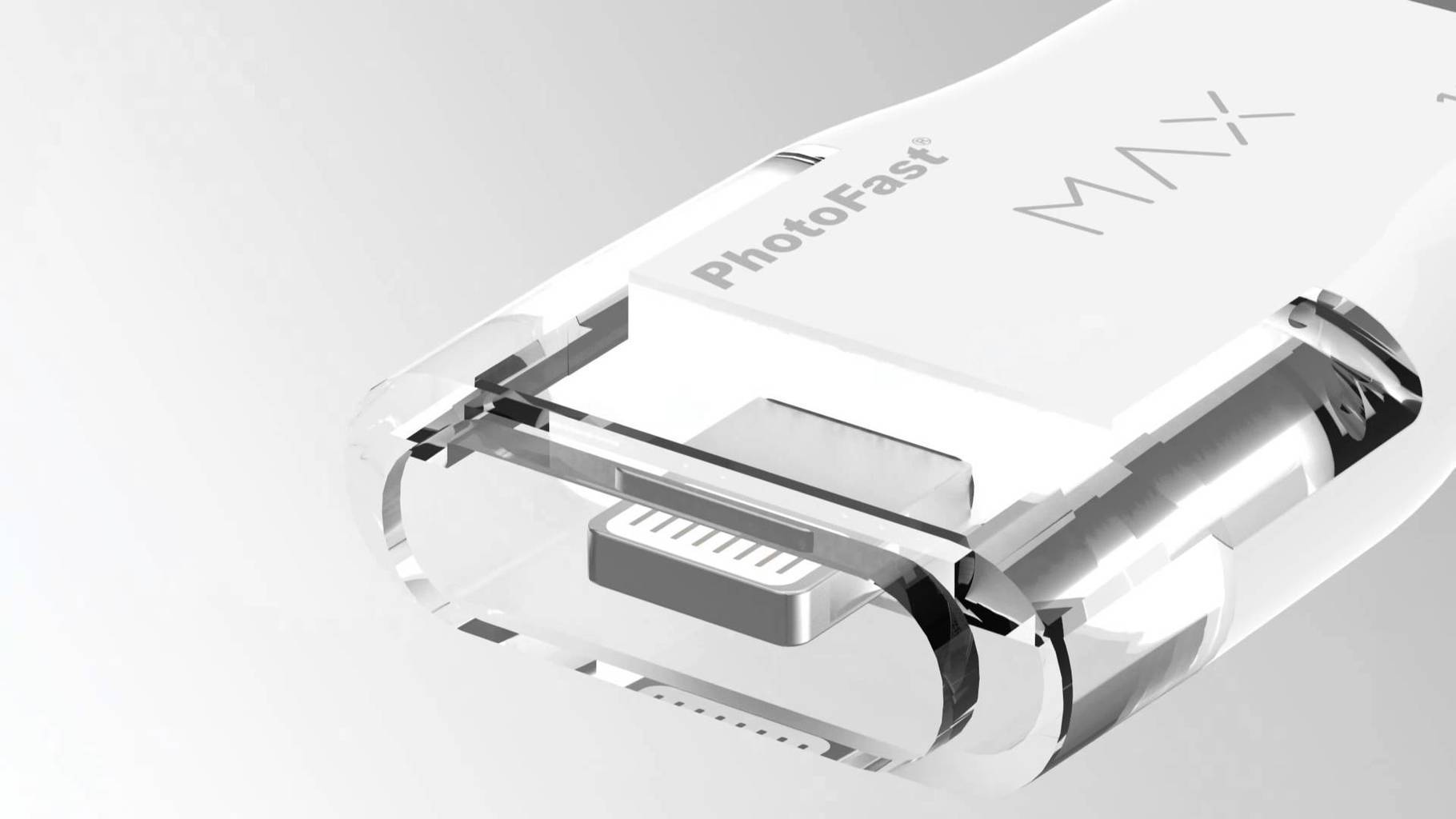 Is it worth buying?
Uploading files from your MacBook to iPhone, creating backups, processing files on your iPad, that's what i-FlashDrive is made for. PhotoFast i-FlashDrive Max is a great drive if you have to manage with a lot of files through your iPad, iPhone and other devices, basically, if you are going to use the lightning port. If not, you should consider whether you really need this drive as you can find much faster and cheaper ones on the market that feature only one connector – USB 3.0. Price is adequate you can call this drive expensive neither cheap. This drive is a great way how to save money that you would spend on iTunes. Just plug it into your media IOS media device and enjoy your music.
Verdict
Want a flash drive to use with your iPhone and other IOS devices? For example to listen to music so you don't have to use iTunes or just manage your files and backups. If so, PhotoFast i-FlashDrive Max is made exactly for you as it's the best drive in this segment. This drive will come really handy if you do use your iPad, iPhone on daily basis and have to manage files on these devices. It has class leading performance, dimensions, features and the price is very affordable. However, if you want to use this drive mainly through USB 3.0 port and don't bother much about the Lightning port, you should probably choose another thumb drive like Samsung Bar 3.0 for sleek looks and durability or SanDisk Extreme CZ80 flash drive for extra performance.