The Patriot Supersonic Rage 2 is a high-performance USB flash drive that features large capacities of 128GB and 256GB. It's one of the fastest thumb drives up to date competing with Corsair Flash Voyager GTX and Kingston DataTraveler Ultimate GT, Lexar JumpDrive P20. To do so, this drive uses an MLC NAND-type memory and an IC controller. Combining these technical specifications with a rugged build that has a rubber coated housing and five-year warranty you get a great drive that's suitable for everyone. The Patriot Supersonic Rage 2 is also noticeably slimmer than competitors and is not so expensive.
Related: Top 8 Best USB 3.0 Thumb Drives
Performance and technical specifications
The Patriot Supersonic Rage 2 features a high read and write speeds, it's built for performance. We did some testing with a PC running Windows 10 that has the following specifications:
CPU – Intel i5-6500
RAM – 8GB
SSD – ADATA SU800 512GB
We tested this drive by transferring many different size files starting from 1GB to 10GB and did some benchmark testing. In the result, we got an average read speed of 291 MB/s and write speed of 163 MB/s. That's a bit behind from a Corsair Flash Voyager GTX and Kingston DataTraveler Ultimate GT, but still, performance is high.
Patriot Supersonic Rage 2 specifications:
Available capacities – 128GB, 256GB
Interface – USB 3.0 that's backwards compatible with USB 2.0
Warranty – 5 years
Weight – 0.48 ounces
Should you get it?
If you want a very simple yet fast and durable flash drive, go for it! It's an ideal choice for practical users with its compact design, large capacities, and high-end performance. However, in hands, it doesn't feel premium as other drives do. That's mainly because of its rubber coated housing that's designed to protect your drive from any water spills, drops, and just a regular daily wear. Keep in mind, while this drive isn't the most expensive, it's still not as affordable as mid-range flash drives. Before buying it, you should consider whether you need so high data transfer speeds and capacities. If you don't, take a look at a cheaper alternative – Lexar JumpDrive P20 that's near twice as cheap, has a more premium build but isn't rugged. Lexar JumpDrive Tough is another option that is very much alike Supersonic Rage 2. It's a bit slower and features lower capacities, but it also has a rugged build.
PROS
One of the fastest flash drives on the market
Very good price for the performance
Backwards compatible with USB 2.0
Large capacities
Durable design
CONS
Write speed cloud be a bit higher
Design
Design wise the Patriot Supersonic Rage 2 is made very simple. It features a black rubberized housing with blue touches. The drive features a lettering of Supersonic Rage 2 and capacity. It doesn't feature anything fancy. One great bonus is its compact size as you can easy plug it next to other USB devices without having to use USB extension cable or plugging something out.

The drive has a keychain loop so you can attach it to for example some kind of lace or strap not to lose, there is also no connector cap to lose as Supersonic Rage 2 uses a sliding mechanism to retract the connector.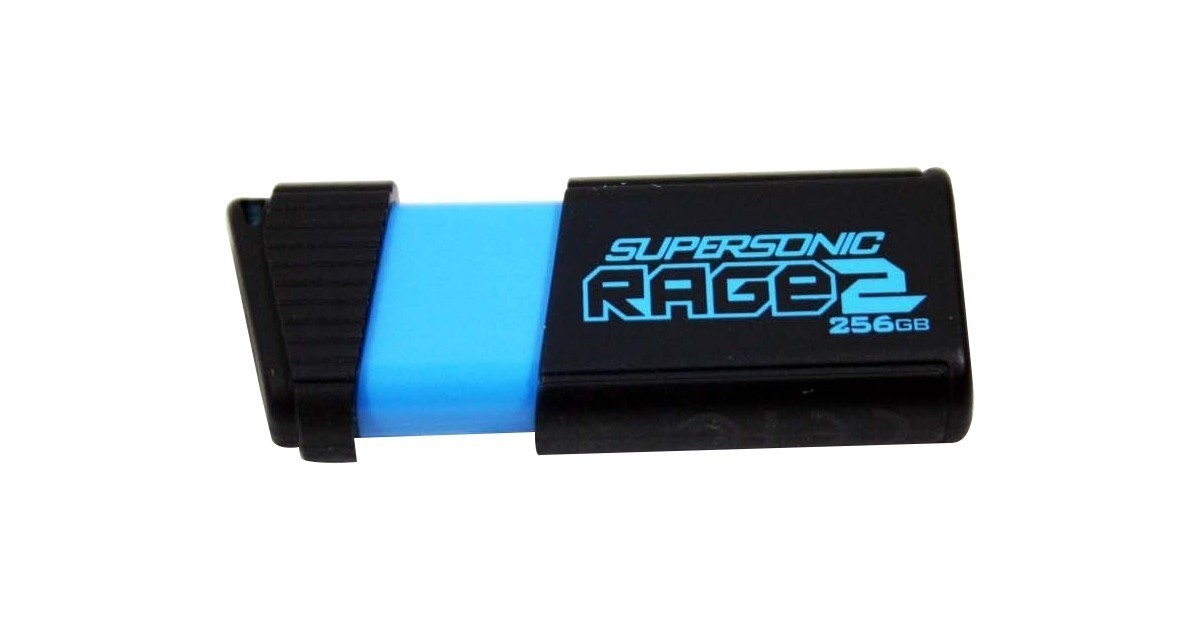 Verdict
The Patriot Supersonic Rage 2 is a simple USB flash drive that features high capacities and great performance all within a very durable housing. It's made for people who want to get things done easily and fast not paying too much attention if the drive is fancy or not. In hands, it doesn't feel premium, maybe even a little bit on the cheap side with plastic and rubber featuring no metal parts except the connector itself. It also uses a conventional USB design where slide mechanism is used to retract the USB connector. However, with Supersonic Rage 2 compact design it has some advantages over competitors – you don't have to worry about plugging it into notebooks or PCs that has crowded USB ports. It will fit just fine, without a need to plug something out or use extension cables. It also has a 5-year warranty. Basically everything a practical consumer would ever need.