Flint, Mich. – Baker College in Flint is the lucky recipient of more than $500M grant given away by the National Science Foundation (NSF) to pursue further studies on Photonics and Lasers.
Anca Sala, the Dean of Engineering, stated that they are working on incorporating Photonics into mainstream Science and Technology education to draw the younger generation into this exciting field. An estimate of 25 to 30 higher education institutions, including Baker College, offer such degrees.
The private institution has a two-year Photonics and Laser Technology program. It started in 2013 and has since then been enrolling 30 students annually, with a goal of reaching 300 students a year.
According to the National Center for Optics and Photonics Education, Photonics and Laser Technology graduates can start working with an initial salary of $40,000-$50,000.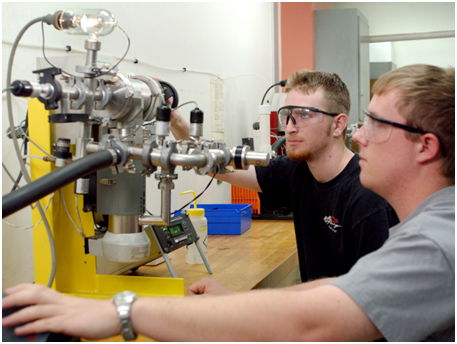 In the Sci-Fi hit movie Star Trek, it could be remembered that photon torpedoes are used as starship weapons. In reality, photons are light particles that are used in the fields of medicine and communication. They can also be used to create images, just like flat screen televisions.
Meanwhile, lasers are being used by physicians to perform surgical procedures. Some industries use them for steel cutting. Sala added that in the future, it is possible that lasers could be used for weapons, just like in Star Trek.
Baker College reported that it would use the $512,000 grant given by NSF for the advancement of the curriculum, the expansion of the Photonics laboratory at the Flint Township campus, the establishment of the laboratories in Auburn Hills and Jackson campuses, and the organization of Photonics workshops for the entire Michigan state. The dean also reiterated that the grant would be shared to the other departments in the college such as the primary and secondary levels – with the hopes of giving the much-needed exposure of children to Science and Technology.
Sci-Fi has finally come into reality.