REDMOND, Wash. – Mario stepped out of his comfortable overalls and fans just had to tweet about his nipples like there was no tomorrow.
Nintendo announced further updates for the famous character's upcoming game, which is called Super Mario Odyssey, last Wednesday, September 13. The update was made through their online platform Nintendo Direct. The shocking reveal included a trailer showing a topless Mario on a beach.
It did not garner immediate reactions because fans were not even sure if those nipples exist, but when the news reached Twitter, there was no holding back.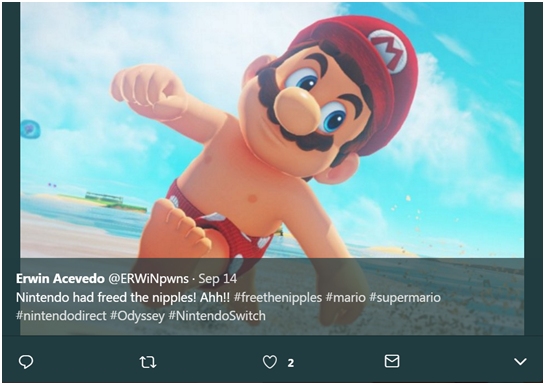 A fan stated that this is the character nipples' "first in-game appearance," but there were previous games that showed the same thing. The #FreeTheNipple hashtag has trended on Twitter until the conversation went as far as reminiscing about Mario's tribal tattoo on his left arm.
The plumber's tattoo was only shown once in an advertisement in 2004. Apparently, 66 percent of the nipple discussion was led by men.
Aside from the nipple show, Super Mario Odyssey has upgraded from its original 2D appearance to a smooth 3D finish. It looks like the red-capped protagonist gave up his job as a plumber to become a world traveler. However, his main goal remains the same: to save Princess Peach from the antagonist Bowser, who plans to marry her.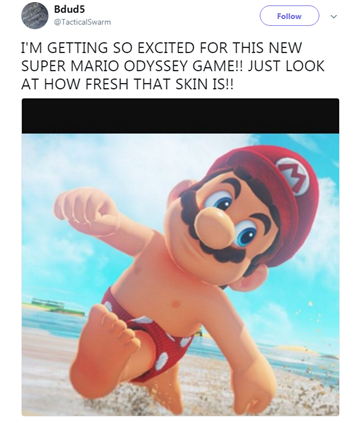 Other than its 3D features, gamers can now catch and control almost everything in the game to collect Power Moons. These Power Moons help the player to move to other levels. They are called Power Stars in older versions.
Mario is also joined by a new friend, Cappy. Cappy will collaborate with Mario to rescue his sister Tiara, who will be used by Bowser as Princess Peach's wedding headdress.
Super Mario Odyssey will be available on the market on Friday, October 27, but eager fans can pre-order through Amazon, Best Buy, GameStop, Target, ToysRUs, and Walmart. Check out the game's official website for other details.