The Lexar JumpDrive Tough is a very versatile, compact flash drive that offers a lot. This drive uses USB 3.1 connector, and Lexar claims that it can do 150MB/s when reading data and 60MB/s when writing data. With a capacity range of 32GB to 128GB, this is a perfect drive for just about anyone.
The main feature is its rugged build that can withstand shocks, water, and temperature changes meaning it's great for adventurers and those who don't want to pay any extra attention to their flash drives. By getting this flash drive, you also get EncryptStick Lite software that includes 256-bit AES encryption. Your vulnerable files can be encrypted through a password-protected vault.
Related: Top 8 Best USB 3.0 Thumb Drives
Performance and technical specifications
The Lexar JumpDrive Tough shows decent numbers when it comes to performance. We did some testing with a PC running Windows 10 that has the following specifications:
CPU – Intel i5-6500
RAM – 8GB
SSD – ADATA SU800 512GB
We tested this drive by transferring many different size files starting from 1GB to 10GB and did some benchmark testing. In the result, we got an average read speed of 143 MB/s and write speed of 60 MB/s. That's pretty impressive and very close to Lexar's noted numbers. This flash drive beat such thumb drives like Samsung Bar and Toshiba Transmemory ID.
Lexar JumpDrive Tough specifications:
Available capacities – 32GB, 64GB and 128GB
Interface – USB 3.1 that's backwards compatible with USB 2.0
Warranty – 3 years
Security -256-bit AES encryption
Features
This is where the JumpDrove Tough really shines. Let's start with its durability and rugged design. Lexar claims that JumpDrove Tough can withstand a shock or a pressure of 750 PSI, that's around 51atm (In car tyre there are 2atm), can be submerged in water that's 98 ft deep and can operate in temperatures ranging from – 13°F to 300°F. That all makes this drive a very durable device that you can throw in your backpack with no worries for it beeing scratched or damaged.
As for you data protection, JumpDrove Tough uses an EncryptStick Lite software that features a 256-bit AES encryption.
Should you get it?
No matter are you an adventurer or just an average user that want to use this flash drive on a daily basis, we can recommend it to anyone. With speedy USB 3.1, wide range of capacities and 3-year warranty, this drive surely is one of the best picks. Also, it has a superb price for such a product.
PROS
Decent performance
Rugged build with added durability
256-bit AES encryption for your data protection
Very affordable price
CONS
There are no real minuses considering Lexar JumpDrive Tough price
Design
Design wise this drive is made very simple and as we all know – the more simple thing is – the more durable it will be. The Lexar JumpDrive Tough features a standard capless design. If you do want to make it survive tough conditions, make sure the connector cap is always on. If you do take it outdoors, accidently thow it in mud or step on it, it won't do any feelable harm to your device.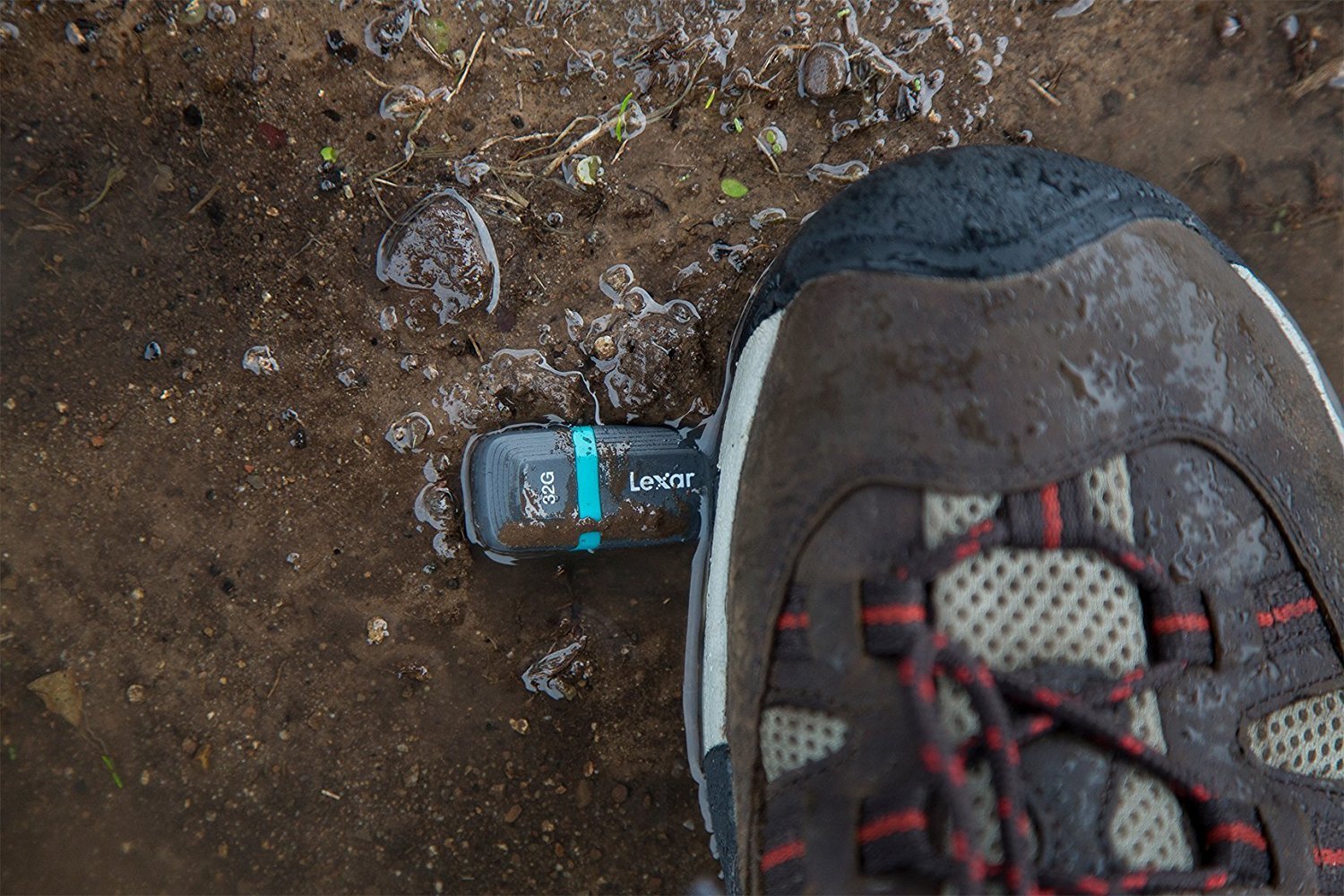 One thing to not is that JumDrove Tough may seem a bit bulkier than similar thumb drives with the same capacity. However, it's still a very lighweight drive. The outer case of this drive is dark gray with some blue touches – two lines near the connector cap and around the loop to which you can attach a strap or a key ring. Build quality seems solid – we dont think it will tear with time.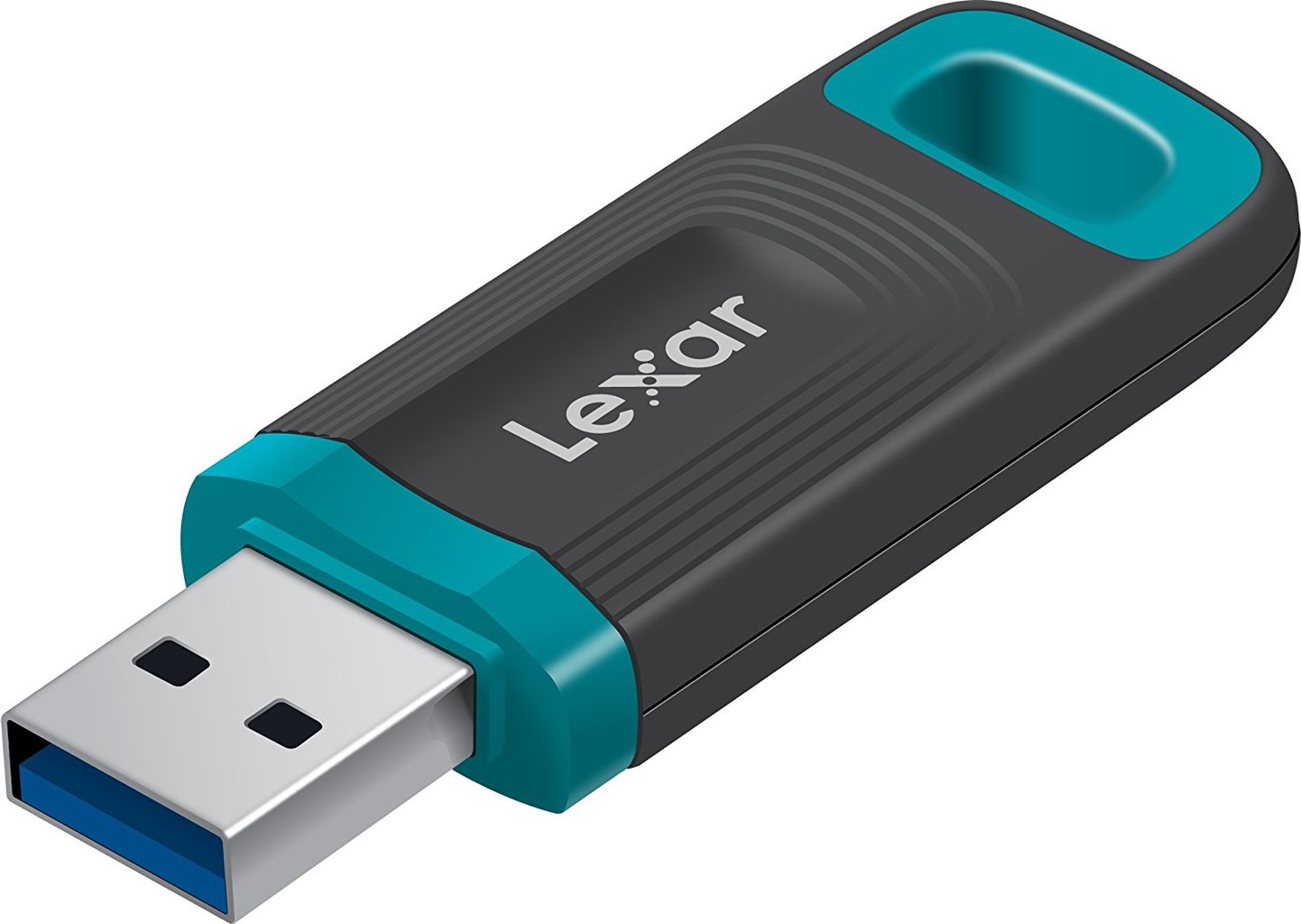 Verdict
If you are looking for a simple looking design, tons of features and durability, then Lexar JumpDrive Tough is made for you. This thumb drive is one of our all-time favorites as it combines it all – looks, capacity, and durability. It also has a very good performance, of course, you won't reach speeds that are near top-shelf flash drives like Corsair Flash Voyager GTX, but decent numbers that coincide Lexar's claimed 150MB/s read, and 60MB/s write. And that's a decent performance.
This drives rugged design makes it withstand conditions that other thumb drive couldn't and not only it's safe from the outside but also from inside. Your data is being protected with an EncryptStick Lite software that includes 256-bit AES encryption.