Kingston Digital Datatraveler is a very compact and good looking USB flash drive. While performance isn't its strong side, it does everything else good. Actually, if we compare it to other flash drives that feature USB 3.0, Datatraveler SE9 shows decent competition and isn't far behind. In some cases, it reaches higher data transfer speeds than these USB 3.0 drives.
Ability to combine bargain price and premium feel is what Digital Datatraveler does the best. From the looks, you can't tell that it's in the lowest price range. It compares with such thumb drives as Samsung Bar 3.0. Design wise they are very much alike. The only difference is performance.
Related: Best USB 3.0 Flash Drives
Performance and technical specifications
The Kingston Digital Datatraveler SE9 is on the lower end in terms of performance as it has USB 2.0 connector, you can't expect high data transfer speeds. We did some testing with a PC running Windows 10 that has the following specifications:
CPU – Intel i5-6500
RAM – 8GB
SSD – ADATA SU800 512GB
We tested this drive by transferring many different size files starting from 1GB to 10GB and did some benchmark testing. In the result, we got an average read speed of 26 MB/s and write speed of 19 MB/s. That's quite low for an USB flash drive. It competes with such drives as Toshiba TransMemory ID USB 3.0 and Toshiba Transmemory u362. Keep in mind that both Toshiba drives feature USB 3.0 interface, where Digital Datatraveler SE9 features USB 2.0. Keeping that in mind, the data transfer speeds are about the same. Why use USB 3.0 if you don't use its full potential?
Kingston Digital Datatraveler SE9 specifications:
Available capacities – 8GB, 16GB, 32GB, 64GB
Interface – USB 2.0
Warranty – 5 years
Weight – 0.2 ounces
Should you buy it?
Kingston Digital Datatraveler SE9 is a great drive if you don't work with large files and mostly transfer documents or some pictures. Considering it's price it is a great buy, it has metal casing making it very durable, this thing comes with 5-year warranty! The only downside is it's USB 2.0 connector and performance. We would like to compare this drive to Samsung Bar USB 3.0. They are very much alike, just Samsung has a faster version that features USB 3.0 interface.
If you want a very cheap flash drive that feels premium in hands, has a decent warranty and you don't need to transfer massive amounts of data, then Digital Datatraveler SE9 is a great buy. Actually, we would choose this drive over Toshiba's low-end flash drives that feature USB 3.0.
PROS
Very affordable
Premium feel metal casing
Super slim dimensions
5-year warranty
CONS
USB 2.0 interface and low performance is the only drawback of SE9
Design
The design is one of the things where Digital DataTraveler SE9 excels the most. It comes in two colors: Silver and Gold. Both feature a solid metal design that feels very durable. The drive itself is very compact, it features a capless design that's great because there is no cap that you can lose, but on the other hand, the USB 2.0 connector has no protection from the environment around it. The metal housing features lettering of "DTSE9" and capacity.

The Kingston Digital Datatraveler SE9 features a very compact design. It's one of the slimmest flash drives on the market. Thanks to its dimensions. It's super easy to plug many devices next to Datatraveler SE9. You won't such problems as with Kingston DataTraveler Ultimate GT where because of it's bulkiness it blocks USB ports next to it. It features a handy circular loop so you can attach your drive to your keychain or lace it so you never lose it.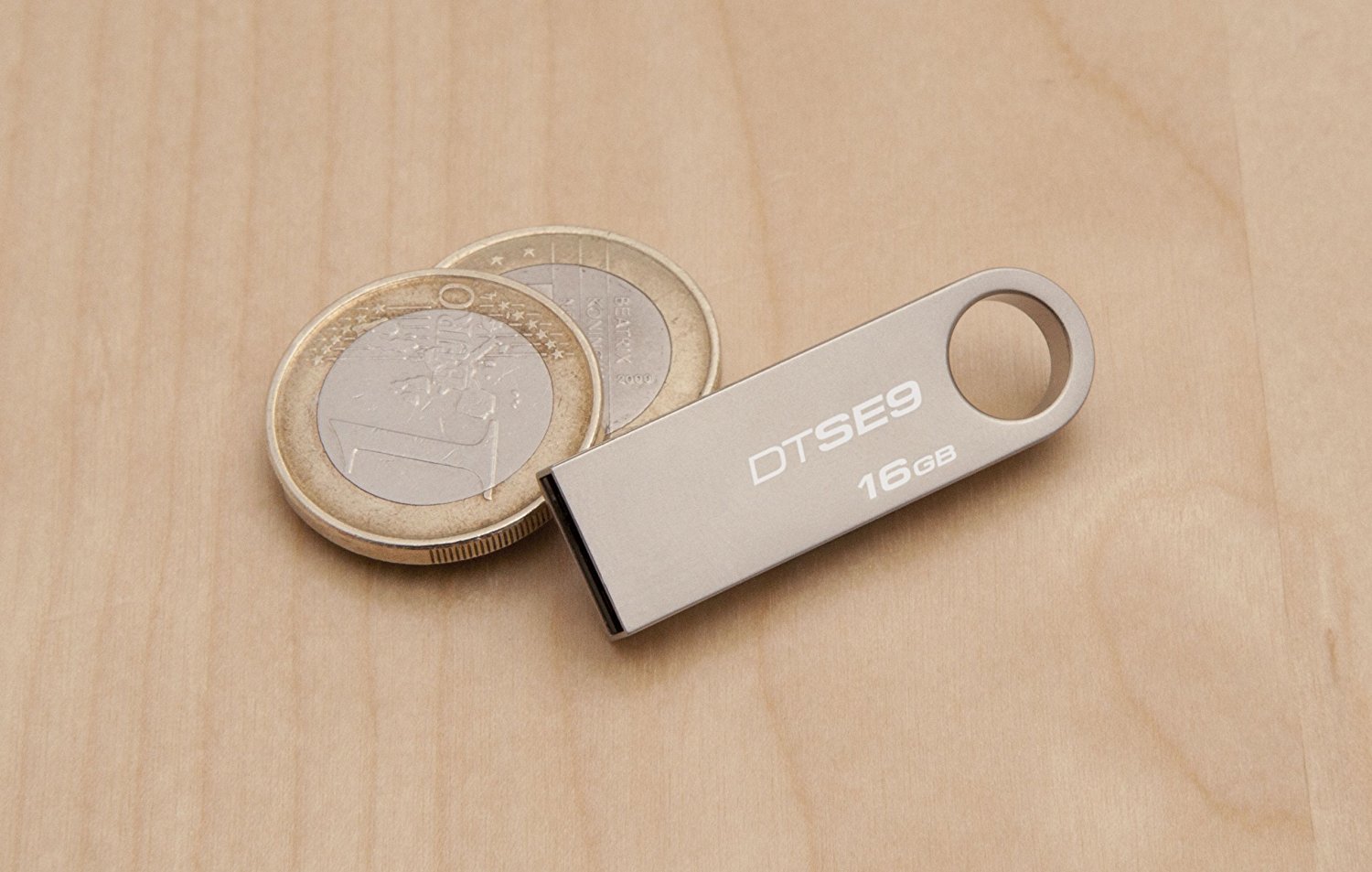 Verdict
If you want to get a cheap and good looking flash drive, then go ahead and get Kingston Digital Datatraveler SE9. While performance is not, it's strong side. It can handle some photos, not too heavy media files and documents with ease. This is an excellent drive for students and average users that want nothing more than a drive that can do its job – transfer files. Metal design makes it very durable. It comes with a five-year warranty. That's a lot for a product in this price range matching Samsung Bar 3.0 warranty. We define this drive as a great everyday user that lacks a bit of performance and isn't meant for hard tasks.