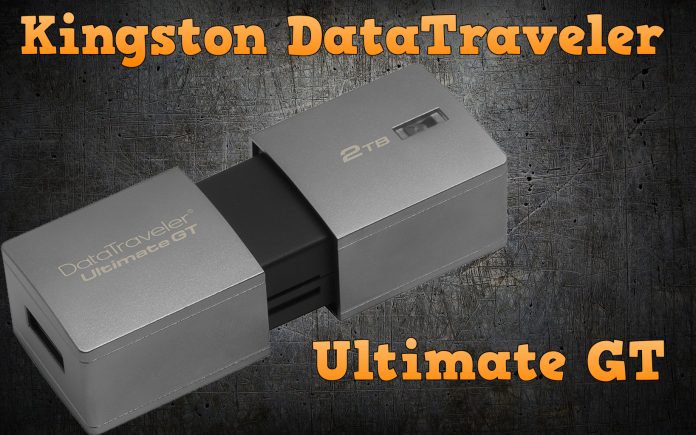 Kingston DataTraveler Ultimate GT like having an external hard drive that is smaller than regular external hard drives and offers a performance that's somewhere in between a mechanical drive and solid state drive. DataTraveler Ultimate GT main feature is its enormous 2TB maximum storage capacity (also 1TB version is available) that's a lot more than any other USB flash drive can offer.  This drive is mainly made for professionals that have to work with huge amounts of data and as an alternative to cloud storage. Performance wise this thumb drive claims to have a 300MB/s read and 200MB/s write speed, ranking it on the high end of all flash drives. All previously combined with a solid alloy build and five-year warranty makes this a desirable drive although it's very expensive.
Related: Top 8 Best USB 3.0 Thumb Drives

Performance and technical specifications
The Kingston DataTraveler Ultimate GT main feature is its capacity, however, when it comes to performance, it shows a decent capability to transfer files. We did some testing with a PC running Windows 10 that has the following specifications:
CPU – Intel i5-6500
RAM – 8GB
SSD – ADATA SU800 512GB
We tested this drive by transferring many different size files starting from 1GB to 10GB and did some benchmark testing. In the result, we got an average read speed of 321 MB/s and write speed of 171 MB/s. That's pretty close to Corsair Flash Voyager GTX results where it scored a read speed of 312MB/s and write of 192 MB/s.
Kingston DataTraveler Ultimate GT specifications:
Available capacities – 32GB, 64GB and 128GB
Interface – USB 3.1 that's backwards compatible with USB 2.0
Warranty – 5 years
Weight – 4.8 ounces
Should you get it?
The truth is if you are an average user who needs a lot of space for your media files, software, and other files, then probably this thumb drive is not worth it, and the main reason is its enormous price. If you do need a speedy drive that has a capacity of 2TB, get Samsung T3 solid state drive. It's twice as low on price as Kingston DataTraveler Ultimate GT and is much faster. Another option is to get a regular mechanical external hard drive that you can get under 100$. If you do want a slim device like flash drive, take a look at Corsair Flash Voyager GTX USB. Yes, it offers only 256GB storage capacity, but do you really need more?
PROS
Solid and durable build quality
Metal casing
Super large capacities (1TB, 2TB)
5-year warranty
CONS
Write speed could be higher
Very expensive
Doesn't support encryption
Doesn't have a USB-C
Design
Design wise DataTraveler Ultimate GT is a unique looking device. It features a rectangular build that's made from alloy casing resulting in a very reliable and rugged device.
The drive seems very bulky that may be a problem – forget about using it on thin notebooks and computers with crowded USB ports unless you use it with included USB extension cable. Talking about extension cable – by getting this drive, you also get outer case thats padded with a special section to your drive and extension cable. Of course, it's cool that you get a device in a particular casing but then again by getting a flash drive you want a very portable device, right? With external housing and extension cable, you have to carry around you basically get a device that's as large as external hard drive. In this aspect, DataTraveler Ultimate GT loses its topicality.

This thumb drive features a led to indicate whether it's working or not and has a capless design. To cover USB port, it uses a slide mechanism – you have to push or pull both ends of the drive to reveal or hide it. It locks in place when you hear a click. In hands, this drive feels very solid and heavy (4.8 ounces).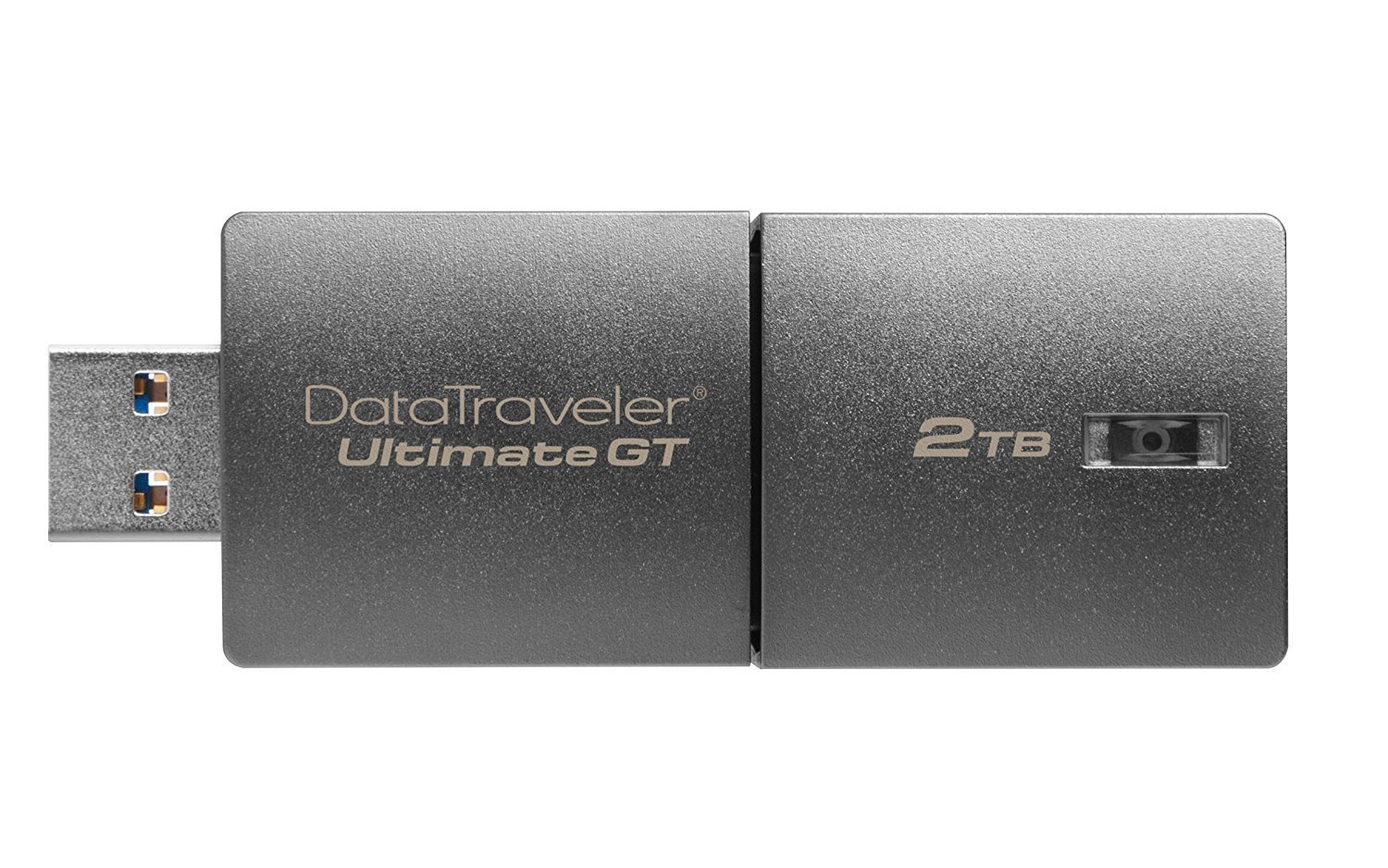 Verdict
This flash drive is not made for anyone. It's made for specific appliances, and that's why 2TB version cost well over 1000$. The DataTraveler Ultimate GT will mainly be used for professionals who need a durable drive with a large capacity that also features decent speeds to transfer massive amounts of data. For everyone else who want a flash drive with large capacity and fast speeds – consider getting an external hard drive, it will be much cheaper, will feature the same or even higher capacities and won't even take up that much of space when compared with a DataTraveler Ultimate GT. You ask how? As we found out DataTraveler Ultimate GT is a bulky device. Because of its dimensions, it may be impractical, because you have to lift a slim notebook from a desk to actually fit this drive into the USB port. Verdict – not for average users, only for people who need it to do specific tasks.