Are you looking for a high-end USB flash drive that can manage heaviest workloads and enormous amounts of data with ease? The Kingston Datatraveler HyperX is exactly that kind of drive. In fact, it's the best Kingston flash drive we have ever tested. It's also one with highest capacities – you can get one with 512GB capacity. It's right behind Kingston DataTraveler Ultimate GT.
This drive is perfect for those who work with large amounts of data on daily basis like video editors, gamers, and photographers. To manage and get things done fast, it uses a USB 3.0 that Kingston has renamed to USB 3.1 Gen 1, which is basically a SuperSpeed+ USB 3.0. Claimed sequential speeds of 350MB/s read and 250MB/s write are very close to real numbers.
Related: Best USB Flash Drives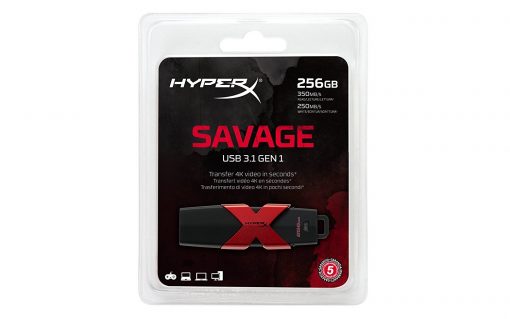 Performance and technical specifications
The Kingston Datatraveler HyperX Savage is made with a performance in mind offering super-fast data transfer speeds. Kingston claims that all versions except the 64GB one can reach sequential read speed of 350MB/s and write speed of 250MB/s. That's truly impressive. This flash drive can compete with such drives as PNY Turbo and Lexar JumpDrive P20, as well as Patriot Supersonic Rage 2.
This surely is one of the fastest USB flash drives we have ever tested. USB 3.1 delivers mind-blowing performance that not any USB flash drive manufacturer can reach.
We did some testing with a PC running Windows 10 that has the following specifications:
CPU – Intel i5-6500
RAM – 8GB
SSD – ADATA SU800 512GB
We tested this drive by transferring many different size files starting from 1GB to 10GB and did some benchmark testing. In the result, we got an average read speed of 332 MB/s and write speed of 241 MB/s. There are not many flash drives that can reach such speed. The only portable memory drives that exceed these speeds are external SSDs or an SATA SSD that's put into an enclosure.
Kingston Datatraveler HyperX Savage specifications:
Available capacities – 64GB, 128GB, 256GB, 512GB
Interface – USB 3.1 that's backward compatible with USB 2.0
Warranty – 5 years
Weight – 1.6 ounces
Should you buy Kingston Datatraveler?
Kingston Datatraveler HyperX Savage is perfect if you work with very large and demanding software and files. Anyone ranging from a gamer to video editor will be more than happy with HyperX Savage as it's a perfect mix between performance and capacity. This drive will be a great choice for gamers. For example, if you want to increase your PS4 capacity, 512GB version is a great and simple upgrade. It won't take as much place an external hard drive, and it will perform much better. The only way to make your games load even faster is an external solid state drive.
However, there is one small drawback – it's price. You can't call this drive cheap as you have to pay more than 250$ for the 512GB version.
PROS
Wide range of capacities, up to 512GB
5-year warranty with a technical support
Sturdy build quality
Design
The HyperX Savage is a great looking device. It measures in at drive measures 76.3mm x 23.48mm x 12.17mm and weighs 1.6 ounces. It's definitely not the thinnest USB flash drive out there, but you should have no problems with plunging it next to other USB devices. The HyperX Savage doesn't block near by USB ports as other drives like Kingston DataTraveler Ultimate GT do.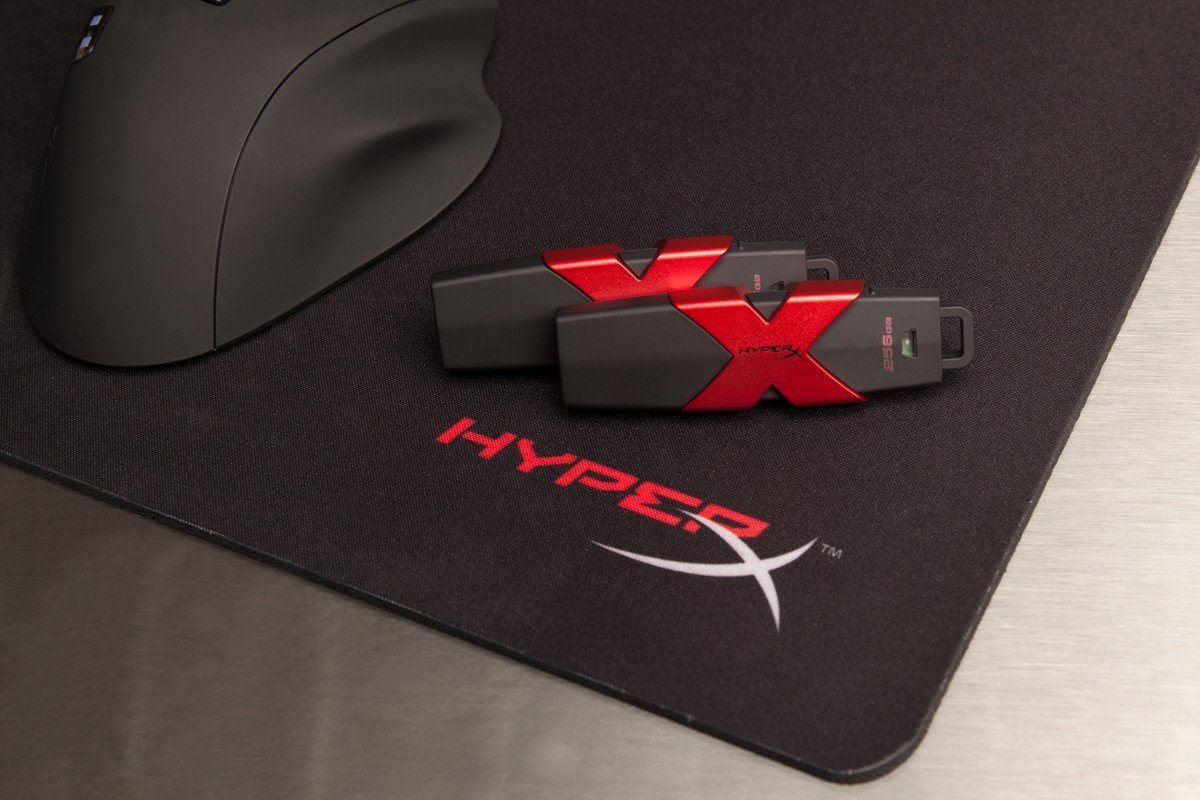 The drive is made from a gray plastic with a red cross on it that resembles "HyperX" It also features a lettering of "HyperX" and capacity. For added extra practicality there is a hole to which you can attach your keychain or strap so you never lose your drive. One thing we were not too happy about is a design that features a removable cap. These caps tend to get lost very easily and for a device in this price range, we would have liked to see other USB connector protection solution. At least cap of this drive feels very robust and holds in place nicely.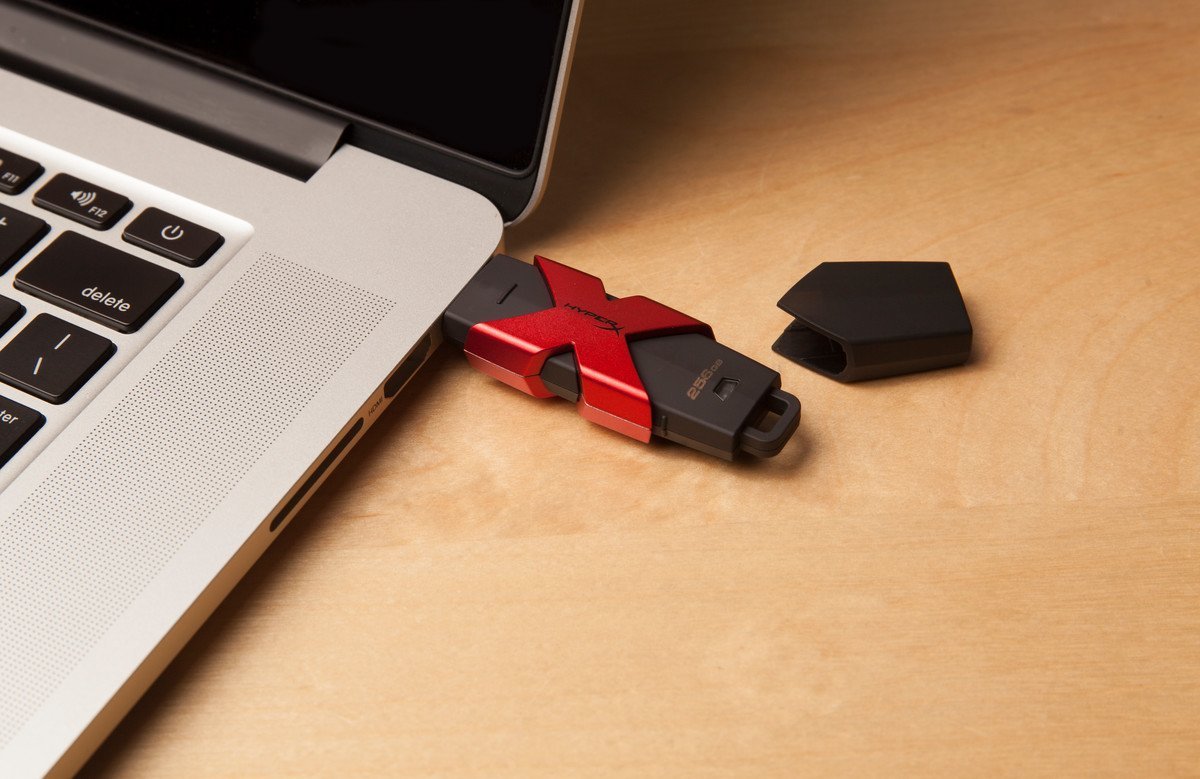 Verdict
If you need a performance USB flash drives that can manage data transfers in no time, the Kingston Datatraveler HyperX Savage is a perfect choice. It's one of the fastest USB flash drives we have ever tested. It combines this performance with very high capacities that can reach 512MB, making it great for professionals who need to use their flash drive on daily basis for work purposes. The HyperX Savage is also a great choice for games, you can play games directly from your flash drive on systems like PS4, Xbox One as well as on PC. These speeds exceed average hard drive data transfer speeds, resulting in better in-game performance. However, if your more like an average user who doesn't need to transfer anything more than some media files and documents, this drive will be a total overkill and you won't use its full potential, if it's so, better save some money and get a drive like Lexar JumpDrive P20 that also performs very well, features sturdy build and is a lot cheaper.