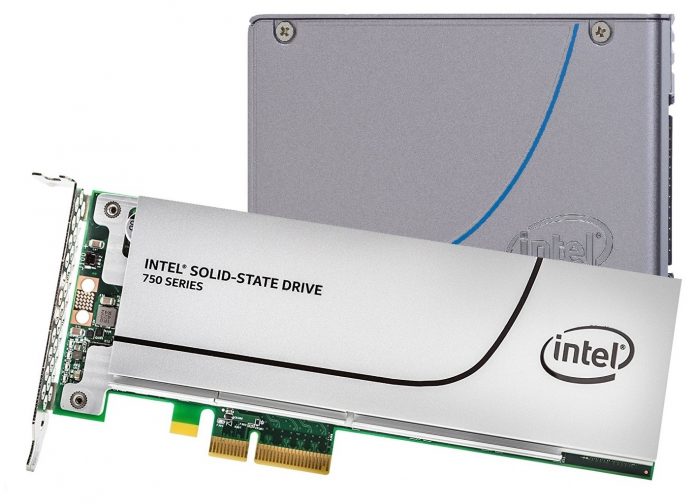 While steady progress is nice and all, in the past few years, the consumer computer electronics market hasn't had many huge leaps. Aside from Intel's 750 Series SSD, that is, which beat pretty much everything on the market when it came out a couple years ago and still remains an extremely powerful SSD.
But is it fully viable today as it was those couple years ago? To help you find the answer, we compiled all the specs and information out there and looked at other SSDs that could challenge the beast that is 750 Series.
Specs
| | |
| --- | --- |
| Capacity | 400GB / 800GB / 1.2TB |
| Seq. Read | 2200 / 2100 / 2500 MB/s |
| Seq. Write | 900 / 800 / 1200 MB/s |
| Ran. Read | 430k / 420k / 460k IOPS |
| Ran. Write | 230k / 210k / 290k IOPS |
| Interface | PCIe x4 or U.2 (SFF-8639) |
| Form Factor | HHHL Add-in Card (PCIe) or 2.5-inch (U.2) |
| Warranty | 5 years |
Related articles:
Check Intel 750 Series SSD Prices
Intel 750 Series SSD Connectivity
You can find all the specifications and full product descriptions on the Intel homepage. These drives were the cause of a huge customer demand for a more client-friendly version of the P3500 drives. The 3700 were one of the first PCIe drives and were made for data centers, providing lots of speed and capacity for lots of money. Intel provided never before seen transfer speeds and the people wanted some for themselves. Thus the Intel 750 Series drives were born, optimized for client usage for slightly lower prices.
The 800GB version was added a while after the other two came out and thus was not the focus of the project all the way through. This was probably the cause of the NAND layout in the drive not being optimal which resulted in lower performance than the other two drives. But the difference isn't huge, so the 800GB drive is still a worthy member of the 750 Series family.
As it is a very powerful (and accordingly expensive) piece of hardware, it would be more suitable to enthusiasts or professionals (such as video editors or meteorologists) but if you just want to be a few years ahead of everyone else, then this drive is made just for you. But be careful as the 2.5-inch drive can turn out to be too futuristic for your PC because of the U.2 (SFF-8639 – Small Form Factor) connector. If you have a free M.2 slot with a connection to PCIe, it is possible to get an SFF-8643 to the M.2 adapter and use it together with the U.2 connection cable that comes with the drive.
Unfortunately, the NVMe standard is not yet fully implemented into Apple's computers, so this particular SSD won't be fit for Mac users. While you can get a third party driver that can allow this drive to run on certain OSx devices, we wouldn't recommend this, especially to people with not a lot of experience in customizing and configuring computers.
Capacity and alternatives
It's obvious that all this power won't come for free since the larger 1.2 TB drive costs close to a thousand dollars. Although it's a noticeable investment, the price/GB isn't the highest on the market, a much more important detail when considering the high speeds and almost unparalleled capacity.
| | | | |
| --- | --- | --- | --- |
| | Intel 750 series | Zotac Sonix | Plextor M8Pe |
| Capacity | 400GB, 800GB, 1.2TB | 480GB | 128GB, 256GB, 512GB, 1TB |
| Seq. read | 2200 / 2100 / 2500 MB/s | 2600 MB/s | 1600 / 2000 / 2300 / 2500 MB/s |
| Seq. write | 900 / 800 / 1200 MB/s | 1300 MB/s | 500 / 900 / 1300 / 1400 MB/s |
| Ran. read | 430k / 420k / 460k IOPS | 350k IOPS | 120k / 210k / 260k / 280k IOPS |
| Ran. write | 230k / 210k / 290k IOPS | 250k IOPS | 130k / 230k / 250k / 240k IOPS |
| Warranty | 5 years | 3 years | 5 years |
| Check price | | | |
As we can see, more and more PCIe SSDs are getting closer to the capacity and transfer speeds of Intel's drives while Intel has failed a bit in reducing their prices appropriately, since the somewhat faster Zotac Sonix has about the same price/GB of around 0.70-0.80 $/GB as the 750 series, with Plextor's M8Pe absolutely crushing it at higher capacities by going below half a dollar per GB of capacity (prices on April 2017). This is solely comparing PCIe cards as a whole and not going into M.2 SSDs separately, where the prices may go even lower. For more options of PCIe SSD check out our list of best PCIe SSDs.
Verdict
The Intel 750 SSDs provide transfer speeds that only a couple other manufacturers have managed to beat (Kingston Hyper-X Predator, for example), but what makes it better is the combination of these respectable speeds and high capacity. The high price can scare a lot of people away from this drive, but the price/GB is not that bad when compared to other PCIe drives (OCZ Revodrive, for example). However, you should look at price changes on similar SSDs (Plextor M8Pe, for example), since Intel seems unwilling to lower the price as rapidly as other manufacturers do. Sadly, Mac users will have to wait for a major update or just find another drive.
The main pioneer in PCIe SSD field – Intel, has created this extremely powerful drive which combines huge capacity (up to 1.2TB!) with the high speeds of the PCIe port. On top of that, they have put even more of the future into their drives by creating the 2.5-inch form factor drive with a U.2 connector. Also with these drives comes the NVMe (Non-Volatile Memory express) interface, which helps provide even greater performance. At the same time, the market moves forward and an incredible alternative may come along that would beat the 750 series in every metric.
Check out other Intel 750 Reviews for more specific information: