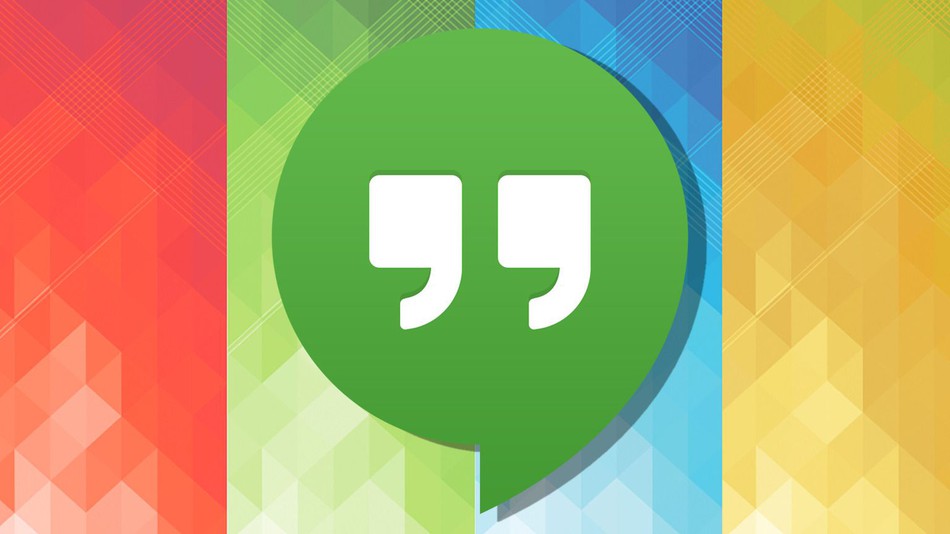 We're here to teach you how to use Google Hangouts. If you have G suite, a collection of cloud computing and collaboration tools developed by Google, then you also have Google Hangouts. This chat tool tends to focus around the needs of people who work in business. You can use text chat or video calls to discuss your ideas with other people. Some use this to host meetings while others may use it for product demonstrations or employee training.
What is Google Hangouts?
To get started with Google Hangouts, all you need is your G Suite account. If you log into Google Hangouts Chat and use your company's account, then you will see which rooms your employer invited you to. You can reply to conversations and directly message the people there. You can even send invites to others who also have a G suite account.
Unlike other messenger clients, Google Hangouts wants to focus on conversation rather than individual messages. If you have something to say, you can start an entirely new conversation based around it. The point is to have new conversations and to keep it all in one place. The chats are in chatrooms, but you can also send people messages in private.Aside from talking and connecting with people, you can also share your documents. This entire platform has business in mind.
This means that, sometimes, you will have to show your files to one another. If you saved everything to the Google drive, you can do this easily. Any documents, spreadsheets, slides or drive files are yours to share on Google Hangouts. This makes meetings more of a breeze when you're separated by long distances.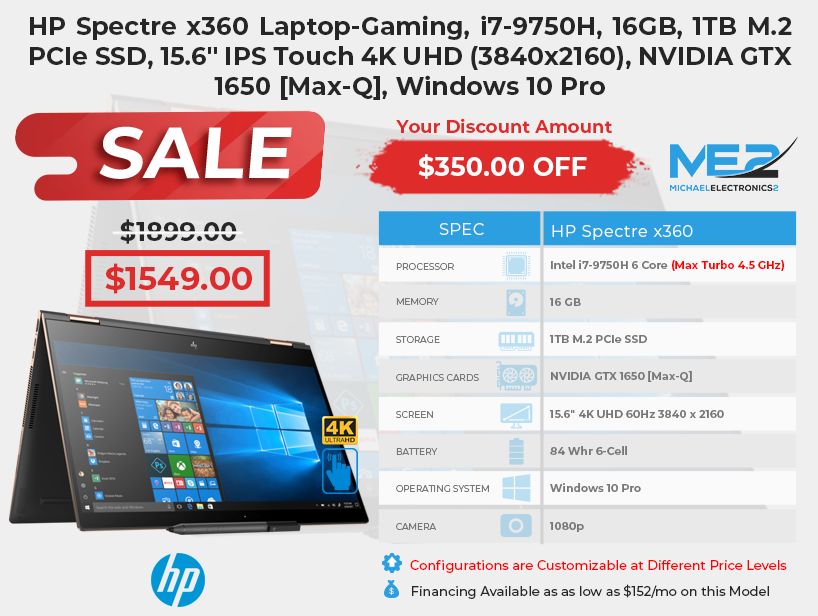 When you open a room, you will notice that the conversations with the most recent replies are viewable first. So, no matter if you're seeing a new conversation or a brand new reply, they will both show up at the same time. There are also options to search the chats if you need to find something. There is a search button at the top of Hangouts Chat; you can use that to look up older conversations.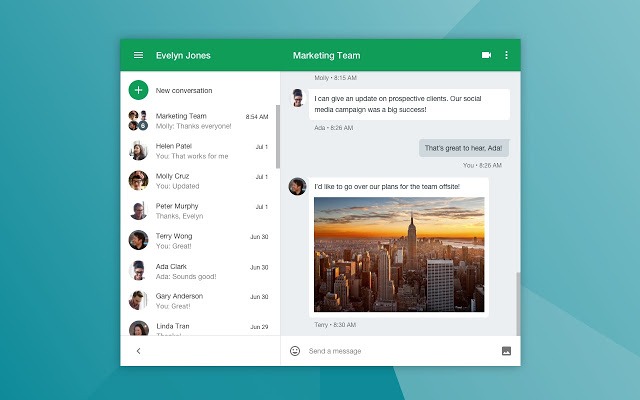 What Can You Do With Google Hangouts?
Within your company, there are several ways that you can use Google Hangouts as a video conferencing tool. You can use it amongst employees or use it as a tool to reach an external audience. For businesses, here are some benefits to using Google Hangouts.
Connect with employees who may work remotely.
Speak face-to-face with clients.
Use it to demonstrate products.
If there are customer support problems, you can solve them face-to-face or with an entire group.
Use it for interviews within your company.
If you have information or training to offer your employees, or even a forum for potential customers, you can use it for webinars.
Use it to share behind the scenes videos of your idea sessions, design proposals or anything that may get customers interested in your company.
In-person meetings aren't always practical. Nowadays, this is especially true when many employees work remotely. Also, if you have many clients or customers that you cannot meet with individually, Google Hangouts is a place where you can have face-to-face conversations or host seminars. For an added benefit, you can record and save all the videos that you make on the platform.
Say that you have a product demonstration to give to a group of people but you want others to be able to see it if they could not make it to the demonstration. Google allows you to save the video for later sharing.
This also works if you want to get more views on your videos. You can take your demonstrations or lectures and save them for later.
Tips for a Google Hangout
Utilizing technology loses its fun when you mess up. If you have a disaster of a meeting, then you are not likely to want to try again. Most hangouts are effective and offer more benefits than not. You just have to put in a little bit of work to make sure that you have a successful Hangout. The more confident that you are that it is going to go well, the more likely it is to be a success. While you should always have confidence, you also need the preparation to feel on top of things. So, how do you get yourself ready for a Google Hangout?
Prepare, Prepare, Prepare
Even if you're not the one about to do the speaking, you have to properly prepare for the event. You have to make sure that everyone is clear on the date and time that you are all meeting. In addition, you should know what the topic is going to be in advance so that everyone can prepare for it. Make sure that you have the right equipment and that it works. Technology has a way of messing up when you need it. Make sure that your video and audio quality is high.
You can also prepare a script that will help you outline topics and discussion points. If you're the one who is doing the talking, then this can help you stay on track. Keep it broad, so you aren't tempted to memorize every word. Just make sure that the plans stay in line with the objective of your meeting.
Along with preparation, make sure that you aren't hosting the Hangout in a room that gets a lot of echo. You don't want people hearing you twice or having difficulty understanding you. Test the sound before you host any Hangout. Sound and lighting are also important to check. If they aren't decent, the people aren't going to want to watch your meeting. Also, in order to maintain professionalism, make sure you aren't being shot at an angle that makes you appear slumped, or that is taken from below. That's an unflattering look for everyone.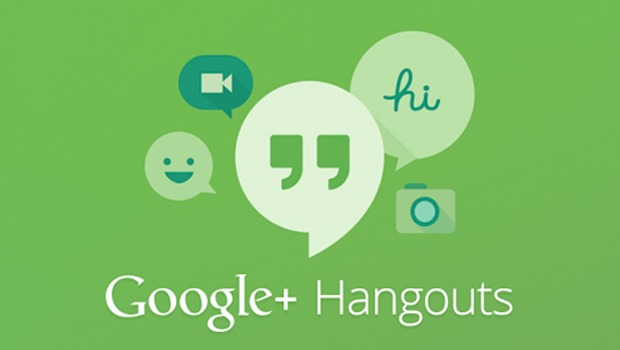 Promote Your Hangout
Give yourself a couple of weeks before the Hangout to promote it. Your audience may need a couple of weeks in advance to know when to meet up with you. In addition, you can use this time to see what people want to hear about. If they have any questions in advance, you can prepare your answers.
It's best not to start a Hangout on short notice. People are bound to be upset if they did not get enough warning to plan ahead and aren't ready to join you online.
Benefits of Google Hangouts
While we have detailed the important things you can do with the Google Hangout, there are still more benefits that you, your employees and your customers could take advantage of. After all, Google Hangouts is one of the more popular services for messaging and video calling right now. This is especially true for businesses who want a cost-effective way to keep in touch with the company and its customers.
Low Cost: There is very little cost to you to run a Google Hangout. The service itself is free. All you need is a webcam and a microphone to utilize the Hangout. Most laptops come with these devices, but even those that don't, you can hook them up for a low price.
Text Chat: Not only can you speak to your viewers, but also there are text chat abilities for answering problems, questions and speaking behind the scenes.Promotional: If you use Google Hangouts to provide information and to do demonstrations and training, then you can promote your business without having to give discounts.
Accessible: Most people have a Google account. Therefore, most people can access Google Hangouts without a problem. If you do not have a Google account, on the other hand, it is simple to join the Hangout as a guest.
Connections: Video conferences are a lot more personal than e-mail conversations. If you have a video conference, it can be a great way to work on your connections with customers, business partners or other companies.Video marketing is important. It might be intimidating if you have not used Google Hangouts before, but it can help with your customer base and even your relationship with colleagues.
What Makes Google Hangouts Unique
What Google Hangouts does is offer convenience in a conference platform. Not only does it offer you a place to speak to your employees or colleagues, but it also allows you to see every message across all of your devices. It doesn't matter if you try out a new device somewhere else, as long as you can connect to your Google account, you can log into Hangouts from anywhere.
What makes Hangouts so unique is that you can do all of your communication there. You can get into websites, make phone calls and do much more. If you want to chat through text, voice or video, you have all of those options. To make it better, you can speak with just about anyone. Even if you mainly use Hangouts for work, you may discover that you have other connections that use Hangouts. After all, most people do have a Google account.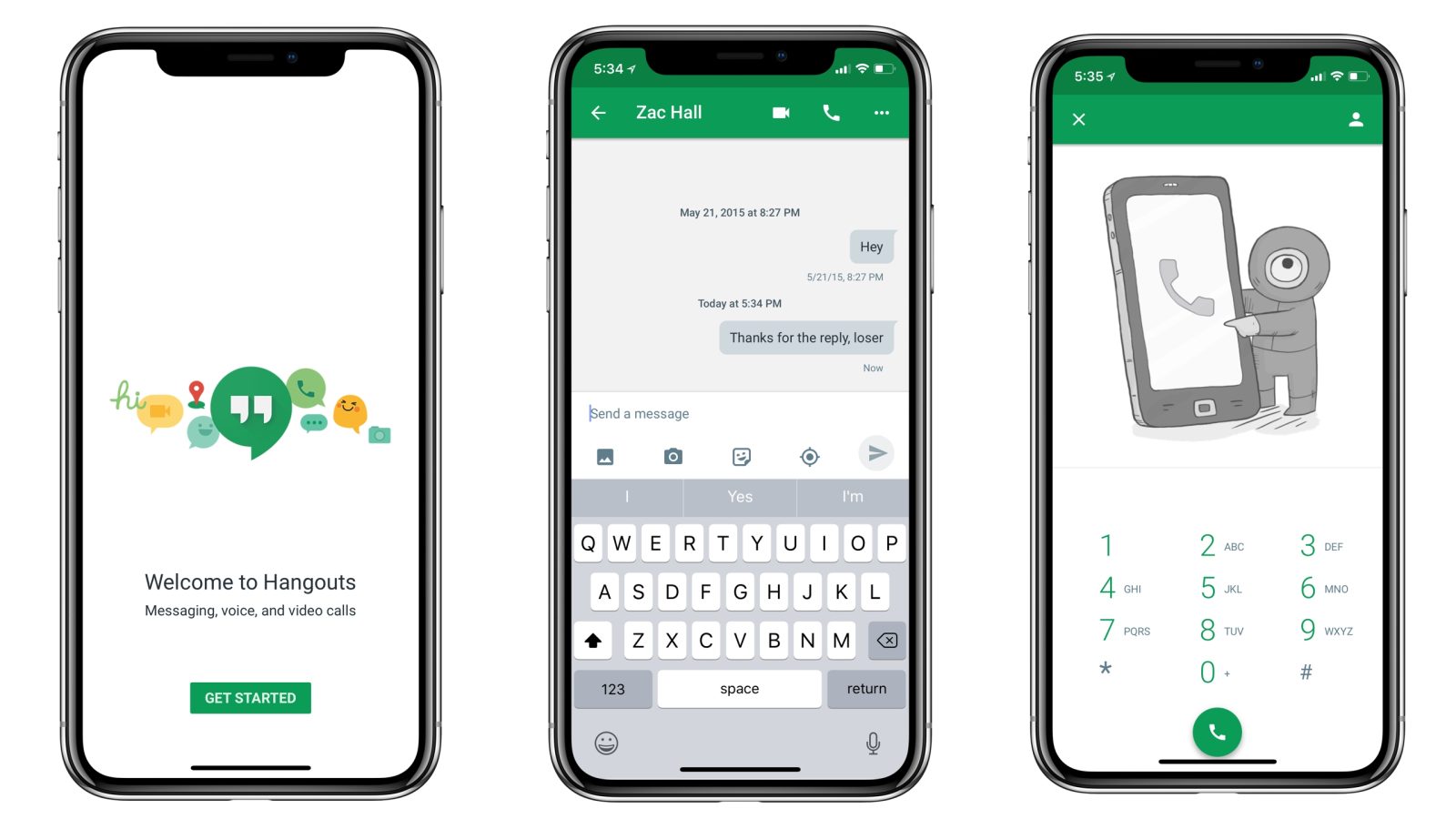 Pricing
With Google Hangouts, you shouldn't have to pay much at all. The service is free of charge, but you do need to have a webcam and a microphone available. While most laptops nowadays come equipped with one, some older models and desktops do not usually. When it comes to pricing of the service, however, it's a service that anyone can use. For the type of platform that it is, it's more than worth it.
Public Perception (Other Google Hangouts Reviews)
Businesses tend to love Google Hangouts. Consider that it is an online meetup, free of charge. Many businesses have their teams spread across the country or even across the world. It's important to be able to have contact with your boss and colleagues as often as possible. This is especially true if you are a part of a team that needs to work together. For these types of business people, Google Hangouts have worked.People love the personalized options that Google Hangouts allow. If you need your system personalized to your colleagues or customer base, then you can. Some review sites cite Google Hangouts as having 98-percent user satisfaction.
However, some complaints are over how the Hangouts app works differently on different platforms. If you don't use other Google tools, this may not be a platform that you enjoy.
Buy on Amazon
How It Compares
There are many other video conferencing and messaging clients out there for people to look through. On one hand, there is a platform called ezTalks Meetings. It is a professional tool for video conferencing. The only problem with it is that you have to have a Mac, iPhone, iPad or Android phone to be able to use it. While this doesn't cost anything if you only have a video conference of 100 people, you can be charged if you go over that number.
Facebook Messenger is another competitor of Google Hangouts. The Facebook ecosystem has an app that you can text, voice or video message someone. The messenger is free, of course, but its options aren't as extensive as Google Hangouts.
WhatsApp is another common messenger service. This multifunctional messenger can exchange messages, videos, audio messages, images, video calls and voice calls. The app is free to use, no matter how you use it.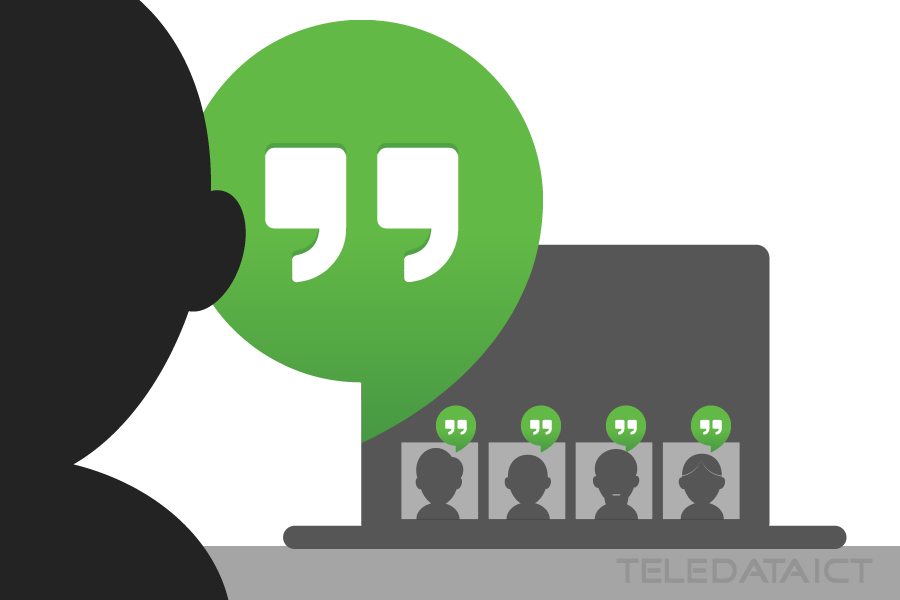 What We Think
If you need a video conferencing tool for your company, then we'd suggest Google Hangouts for it. Most computers can access Google Hangouts without a problem. Equally, if you don't have a Google account, you don't have to worry about not being able to get into the meeting. The Hangouts do allow guests to enter. Also, setting up a Google account is easy.
For a business that wants to take part in webinars or demonstrations, or have group meetings, we think that this is an essential tool to use. It is one of the most stable platforms and it has the most features without costing you extra.
Last update on 2020-08-20 at 15:37 / Affiliate links / Images from Amazon Product Advertising API