USB flash drive is a great compact device to store your data and valuable information that you have to use on a daily basis. But if you don't keep track of your USB flash drive, it might get lost. Some flash drives are super slim like Sandisk Ultra Fit, and they can get lost very easily. If you do carry a sensitive information on your USB flash drive, you might want to encrypt your drive in other words – password protect. So in a case of theft or loss of your thumb drive, content on it will be safe.
You can password protect or encrypt your flash drive in three ways: using Windows BitLocker, using a third-party encryption software or buying a hardware encrypted USB drive like Sandisk Extreme cz80.
In this article, I'm going to explain all three methods. You should keep in mind that despite having an encrypted flash drive, proficient hackers can find security holes in all of the protection methods. You can never be sure if your data is completely safe. However, you shouldn't be too worried about this as 99% of average people won't be able to bypass any encryption. And at last, we always advise you to get up to date software and hardware to keep your data safe. As malware, also security features update over time and it's important that you get the latest version for maximum protection.
1. BitLocker on Windows
All this method requires is your flash drive and Windows operating system. BitLocker on Windows is a very simple and fast way how to encrypt your flash drive. Whenever your flash drive is connected to a PC, you will have to enter a password in order to access your files.
Plug in your USB flash drive into any USB port.
Open "File Explorer." The easiest way to do is so through Toolbar by clicking on a folder shaped icon.
Once in File Explorer, on the left side pane find This PC. Click on it. Now under Devices and drives, you are able to see your flash drive.

Right click on your flash drive and click Turn on BitLocker. In this screen, you're able to choose how to unlock your drive – with a password, with a smart card or with both. We advise you to just password protect your drive. 
Once you have created a password, you will have to choose to save the recovery key in case if you forget the password. You will also have to choose whether encrypt the full capacity of your drive or just a part of it. The last thing you will have to check is new encryption mode or the compatible mode.
When you have gone through all these steps you will get an encrypted USB flash drive. Now every time you plug it into PC, you will have to enter a password to view your content.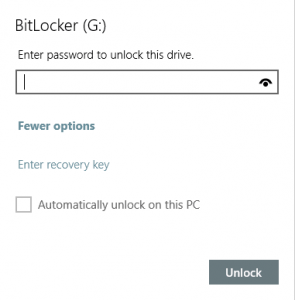 2. Third-party encryption software
To encrypt your USB flash drive you can also use a third-party software like VeraCrypt or TrueCrypt. Third-party encryption software often offers way more security features than Windows BitLocker and is harder to hack. Encrypting your flash drive through such software is a little bit more complex and requires a bit more time. However, it provides you with more safety. I won't go into details how to encrypt your flash drive with a third-party software as there are a ton of them and each is a little bit different.
3. Hardware Encrypted USB Flash Drives
If you don't want to spend your time and need a safe and reliable encrypted flash drive, just get one that's already encrypted from a factory and comes with a special safety software like Kingston Digital Data Traveler Vault Privacy. These flash drives usually tend to cost a bit more than drives without encryption, but they are totally worth it. The manufacturer has made a special software especially for your drive to keep it safe.
Verdict
If you carry files on your flash drive that contain valuable and sensitive information, we strongly advise you to encrypt your drive. This process is very easy and straight forward regarding method you choose.
If you need a serious protection, you probably should get a hardware encrypted USB flash drive. It will most likely have not only encryption but also added features like Anti-Virus protection and so on. Many well-known brands offer AES-256 or AES-128 bit encrypted drives like Kingston, Corsair, Verbatim and much more.
If you don't need extra security but just want to keep your files safe from your friends, colleagues and other average users, just use BitLocker, we are sure they won't be able to bypass it.