Mostly people want to have external storage with over the top transfer speeds, but what about the times when there is a need for large amounts of data storage. For that, we will look into another Glyph Technologies device, as they have fought their way in my top 3 favorite external storage manufacturers.
We have reviewed the fastest external drives, so I believe it should be the right time for something big, something that can store all of your data ten times more and still have a place for some other data. Because this time we will be talking about storage capacity we will compare it to Seagate Innov8 which is another one of my favorite manufacturers.

Introduction
Maybe some of you already know what I was talking about, if you guessed Glyph Blackbox Pro then you were correct. Blackbox Pro is the big brother to Blackbox Plus, and offers capacity up to 8 TB. Glyph Pro is again, similar in design as other Glyph devices, with its aluminum casing surrounded by rubber shell for that extra protection.
Glyph Blackbox Pro comes in six different storage capacities: 2 TB, 3 TB, 4 TB, 5 TB, 6 TB and 8 TB and their price, of course, varies from its size. Beginning with $140 for 2TB and going up to $440 for 8 TB one.
| | | |
| --- | --- | --- |
| | Capacity | |
| Glyph Blackbox Pro | 2 TB, 3 TB, 4 TB, 5 TB, 6 TB, 8 TB | |
| Glyph Blackbox Plus | 500 GB (7200 RPM), 1 TB (7200 RPM), 2 TB (5400 RPM) | |
| Seagate Innov8 8 TB | 8 TB | |
Breakdown of the Glyph Blackbox Pro features.
It is quite large, measuring about 43 mm x 130 mm x 210 mm, that is because it is a 7200 RPM HDD. The most interesting part, just like its smaller brother Blackbox Pro comes with interesting warranty type (3-2-1), offering a three-year standard warranty, two-year level 1 data recovery and one-year advanced replacement.
Blackbox Pro uses USB-C ports, but provides the buyer with USB-C to USB 3.0 cable, making sure you will be able to connect with almost every device out at this moment. For OS compatibility, I am not sure with how old versions it can work with, but as I tested it worked well with Windows Vista OS and Mac OS 10.4 and newer. The most inconvenient part is that it needs external power source, making it not so mobile.
First impression
Like other Glyph devices I have tested and used, I really like their design with the aluminum casing surrounded by rubber shell, I just feel that it works perfectly for these devices. Opening the box, I was surprised to see the third cable, which was external power cord making it less mobile.
For Blackbox Pro, I did not focus on its performance as I did for its storage capacity and endurance, but it still performance well. Pumping out the average of 189 MB/s write and 178 MB/s read from its advertised up to 220 MB/s, so it still can give some kick to its competition in performance too. It will slow down on performance when working with small sized data, but that will be on approximately 20 MB/s slower than average.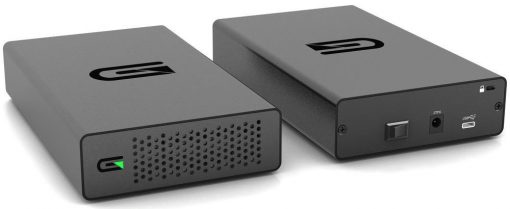 The advantage of the Glyph Blackbox Pro
One thing that I did not think will be its advantage is its transfer rate performance. Because Blackbox Pro did put out decent results making it slightly above others with the same storage capacity and even others using 7200 RPM HDDs. In terms of storage, it offers in my perspective enough even for the most demanding user.
Biggest one the 8 TB version should be sufficient to backup or store your data ten times and still have some space, at least it did for me. I believe the external power cable which makes it less mobile still makes it as its advantage, and that's because it will work with every single computer and not be power hungry just because the USB could not provide the necessary power.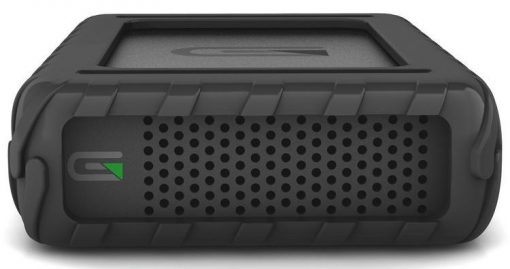 The disadvantage of the Glyph Blackbox Pro
In some way, the price (for larger storage drives: 8 TB this time) makes it a lot more costly than its competitors. As the 8TB drive biggest rival in size is the Seagate Innov8 costing only approximately $350, and that is $90 less than Blackbox. But the Blackbox Pro has greater performance results, making this disadvantage questionable.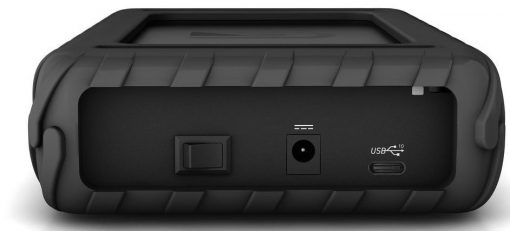 Conclusion
It still is not a must buy, and you could get cheaper large storage external devices, like Innov8 or Lacie Porsche Design. But Blackbox will provide the balance in large capacity storage and decent transfer rate performance. Glyph Blackbox Pro is in my perspective a great external storage device, provided with large amounts of storage that will be enough even for the professionals. Although the price seems high, its performance, warranty, and durability make it worth every penny.
For more ideas make sure you look at these articles for some more knowledge on other external storage drives