There are hundreds of gaming desks on the market today, which can be both a positive and negative thing.
A large amount of choices means you can likely find a desk that fits your needs and style perfectly.
The problem is that determining which desk will fit the bill can take some time as you go through the options.
We're going to offer some insight to help you by providing a list of the top 10 gaming desks currently on the market.
When making our ratings, we took into consideration the reviews and ratings of both experts and gamers.
We also looked at important factors such as size, weight, and extra features.
We considered both traditional gaming desks as well as more modern ones. This can provide a selection that fits the needs of every gamer out there.
We also looked at the materials used on the desk, the difficulty of setup, and the potential for comfort and durability.
The Top 10 Gaming Desks on the Market
DXRacer Gaming Desk
If you've been in the gaming community for some time, you may have heard about DXRacer.
This company is known for putting out exceptional gaming chairs.
Now that the company has moved into computer desks, it's no surprise to see the product is just as high-quality.
It's a durable desk with a spill-proof top. So if you spill a drink, it won't warp the desk like it might do to a traditional wooden one.
The one disadvantage to note is that you can't place your actual PC on the desk because there simply isn't enough room.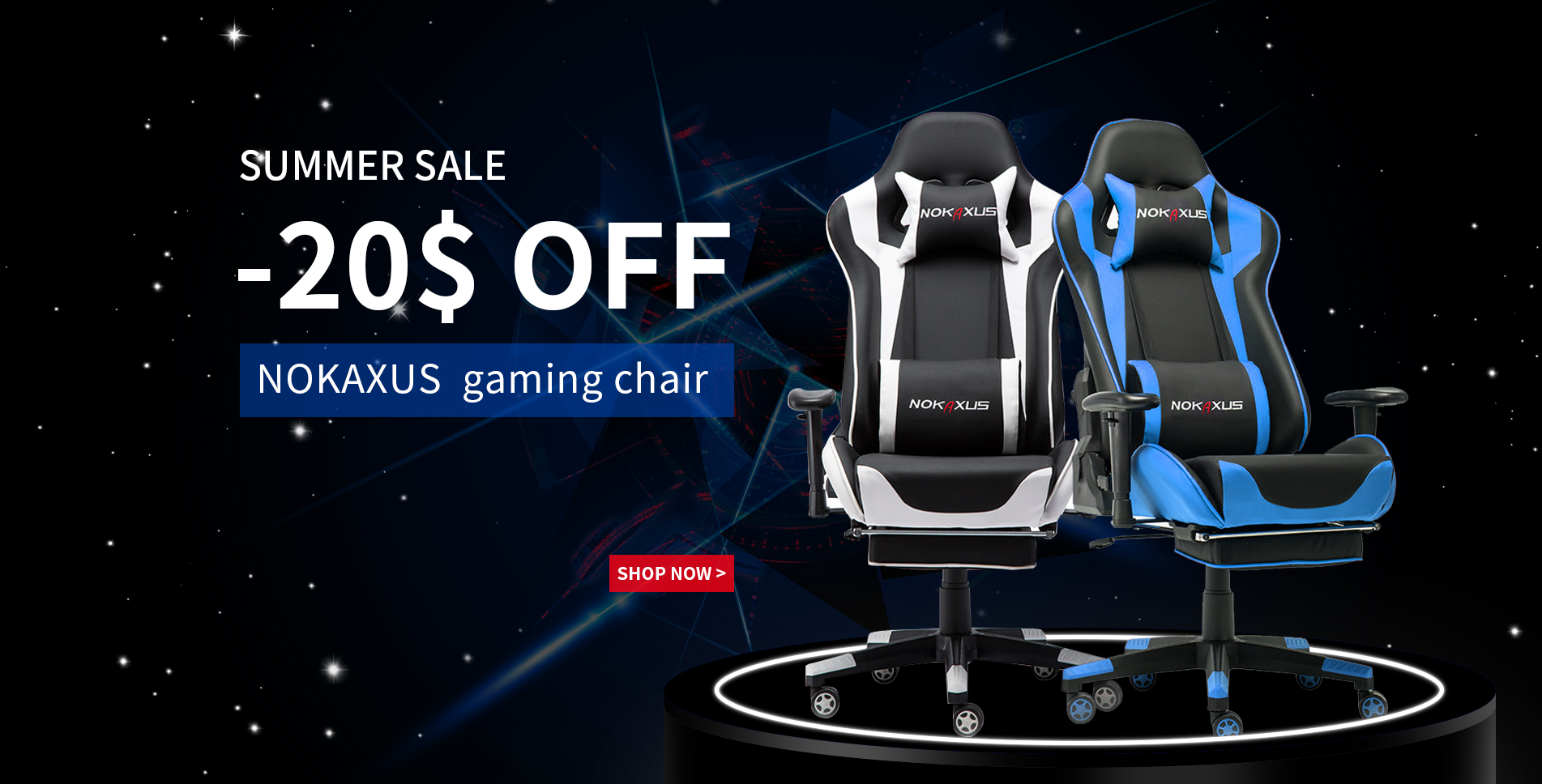 Pros
Double Triangle Design

High Quality ABS

Steel Rod Frame

check-circle10 Degree Slope

check-circle360 Degree Rotatable

check-circleEasy to Move
Cons
Other parts are cheap plastic

Ergonomic slanted angle is messed up

Hard to assemble
However, there's room for tons of peripherals. The desk also has a slight angle, which makes it more comfortable to rest your hands on when gaming.
On top of that, it comes in three colors: black, black and white, and black and lime green.
This desk is worth every penny. 
Arozzi Arena Gaming Desk
The Arena gaming desk by Arozzi is another popular option in the gaming world and for a good reason.
It was built in a way that maximizes both comfort and play. The desk comes in black, red, green, white, and blue. So, you can choose the style that fits your taste.
It has a host of features that gamers from casual to expert will appreciate. It also comes packed into a single box for easy shipment.
This desk offers height adjustment, so you can set things up exactly the way you prefer them.
All it takes is loosening a few screws, adjusting, and then tightening the screws back in.
It also has a cable management system, so you can hide your keyboard and mouse cables underneath to improve the aesthetics of your gaming sanctuary.
Pros
Full-surface mousepad

Thick padding and stitched edges

Cable management
Cons
Desk wobbles

Table is made of cheap and flimy material
Another innovative feature from Arozzi is a full-surface mousepad across the entire desk.
The thick padding and stitched edges keep your mouse from slipping. It also keep your hands comfortable while you play.
ApexDesk Elite Series
No products found.
No products found.
Everyone loves a height-adjustable desk, and ApexDesk does it right. There's no need to unscrew the legs or make endless adjustments.
All you need to do is press a button under the desktop, and it will electronically change the height all on its own.
It's a solid desk for anyone who needs to elevate the top for actions like DIY projects or working on their PC to avoid back strain and other troubles.
Pros
Height-adjustable desk

Extremely sturdy and weighs a good amount

Top of the desk is laminated to prevent scratches
Cons
It does not come with a cable management tray
The Elite Series comes in various colors that range from walnut/black to red cherry/black, black/black, and light oak/off-white.
It's extremely sturdy and weighs a good amount, making it an excellent choice for anyone who needs to place numerous monitors and a PC on top of it.
The top of the desk is laminated to prevent scratches, and the assembly is simple for even a beginner.
With all the extras incorporated into this desk, it has a higher price point than other options. You can expect to pay a sum for this.
Origami RDE-01
When it comes to long hours of gaming, many users want a desktop that has great support but also enough comfort to matter.
The comfort and robustness of the Origami are one of the rare situations where both are possible.
Its desk is sturdy but lightweight and can open and fold in less than a minute. You need absolutely no tools to set it up.
The desk features a raised platform at the bottom. So, you can kick back and put your feet up whenever you like.
It also makes for an excellent space to place your PC to keep it off of the floor.
Pros
Desk is sturdy but lightweight

A raised platform at the bottom
Cons
Middle section of the table lifts up
There are a few color options available with the Origami, including black, bronze, silver, and turquoise.
The entire desk itself is sleek and modern looking to fit any office or space.
One of the best things about the Origami is that you can easily take it with you anywhere you go thanks to the quick setup.
That's impressive considering it offers a total of seven square feet of a desktop.
Z-Line Designs Feliz
The Feliz by Z-Line Designs is a stylish desk that works well for gaming or even as a spot for your television or home office.
One of the biggest reasons for that is the hardened glass surface that has been tempered to handle heavy loads.
It doesn't hurt that it also features metal-framed legs with reinforced welding joints.
That means you can keep your PC on top of the desk without a problem.
Pros
Hardened glass surface

Features metal-framed legs with reinforced welding joints

Pull-out keyboard tray
Cons
The desk has a central shelf that joins the desk together and provides a space for photos, toys, or whatever else you want to display.
There is a pull-out keyboard tray that offers enough space for a mouse. The desk also comes with a raised shelf for your monitor.
While the glass top may not appeal to everyone, it may be a good choice if you prefer a modern, tech-oriented space for your gaming adventures.
The Feliz desk's price is right for everything it offers.
Walker Edison Soreno Corner Desk
This desk by Walter Edison features high-quality materials and excellent craftsmanship without setting the price too high.
It's an excellent option for the content creator or gamer who needs various electronic devices at the ready.
It comes with a retractable keyboard tray to keep things nice and neat.
The L-shaped design gives you options if you also use the desk for purposes other than gaming.
The desk has a computer stand that keeps your PC off the ground with a beveled and polished top that is durable and attractive.
The only real disadvantage might be that keeping glass desks clean can be a constant process.
Pros
Features high-quality materials and excellent craftsmanship 

Comes with a retractable keyboard tray

Can easily hold numerous heavy items 
Cons
Tempered glass has poor quality

Complicated to put together
Despite that, it can easily hold numerous heavy items such as PCs or gaming consoles due to the metal frame.
You can purchase this desk at online retailers.
GreenForest Workstation
The GreenForest Workstation provides a modern look and feels that will appeal to anyone looking for sophistication in a gaming desk.
The dark color is attractive and prevents the desk from looking like it should be in an office somewhere.
There is an open area leading to the back of the desk that offers options for cable management, no matter how many devices you have stacked on it.
This is a versatile desk that will appeal to many gamers due to the look and the durability of the product.
Pros
Versatile desk

Triple shelving units

Comes with assembly tool
Cons
Difficult to put together 

The desk wobbles
In addition, it has triple shelving units for storage, adjustable legs, and a price tag that isn't going to break the bank.
It even comes with all the tools you need to assemble it, which is always a plus.
Atlantic Pro Gaming Desk
For the gamer on a budget, you can't go wrong with the Atlantic gaming desk. It has a sturdy, durable composition and plenty of room for all your gaming peripherals.
While it won't hold your PC, it can handle a monitor of up to 40 pounds and 27 inches. The surface of this desk is black carbon fiber, which can take a beating and come back for more.
The legs are also durable with steel rod feet. It's not everyone's cup of tea aesthetically, but it's a full-featured option.
Pros
Sturdy, durable composition

Desk is black carbon fiber

Steel rod feet
Cons
Some parts don't fit

Parts misaligned

Flimsy
What makes this desk different from other budget desks is the many spots to stash all your gaming gear.
There is a room set aside to store a pair of headphones, two controllers, two speakers, five-game cases, and even your favorite beverage.
This is an excellent option for the gamer without a lot of room, as nearly everything you need can be contained in a small space.
If you're on a budget, this is definitely one to watch. 
Ameriwood Home Dakota
The Atlantic isn't the only budget desk to consider. The Ameriwood has all the space you could possibly want.
In addition to handling all of your peripherals and even two or three monitors, it has the room to hold your gaming PC.
It also comes with a mini-bookshelf that you can use to hold whatever you'd like. There's no need to worry about accidents, either, since it comes with a one-year warranty.
The desk is composed of particleboard and laminated fiberboard, and it has the durability to spare. It also has a black ebony finish that looks great in any room.
Pros
More room for other monitors

Comes with a mini-bookshelf
Cons
Drilled out holes are very sloppy

Cheap and not sturdy
On top of that, you'll see two grommets that can manage all of your cables and keep things looking tidy.
Reviewers of this desk have lauded the fact that it's simple to put together, something that is uncommon with gaming desks.
You can pick up this desk for cheap.
Tribesigns Modern Simple Style
Not everyone wants a gaming desk that sticks out with LED lights, decals, and storage space.
For gamers who prefer a cleaner look, the Tribesigns Modern Simple Style is a great option.
This desk is available in nine different colors including black/black, teak/black, walnut/white, and more.
It has no drawers but that's part of the beauty of it and extends its clean style.
The frame is composed of stainless steel, which adds strength to a desk that is already sturdy.
The laminate top looks bright and can help lighten up a room that is smaller than average.
Pros
With LED lights, decals, and storage space

Available in nine different colors

Frame is composed of stainless steel
Cons
Few holes weren't drilled or threaded properly 

Manufactured improperly
It's also a simple desk to set up, and it comes with quality hardware and an easy to understand instruction manual.
It might be simple, but it does the job and would make a great gaming desk for the right person.
You can pick up a Tribesigns desk for cheap.
Buyer's Guide
The most important thing to look for in a gaming desk is a stable surface for playing games in addition to proper ergonomics and comfort.
Gamers often spend hours at a time at their desks, which means it's important to be safe and comfortable while doing so.
Think about your posture and the positioning of your wrists with the desks you consider, since these things will affect how well you play.
You may also want to consider how much storage is needed for your games and peripherals.
Some desks offer cable management, shelves, drawers, and holders for accessories.
Others are a bit plainer and put the emphasis solely on the computer, mouse, and keyboard.
If you have an idea of which appeals to you more, you're on your way toward making a great choice.
Wrapping Up
No matter what your style is, the desks on this list should offer some options for purchasing your next gaming desk.
Every desk mentioned here is a fantastic option, but some are likely to be more attractive to you than others are.
Follow your intuition and choose the desk that speaks to you. Everything else is just a perk on top of that.
Last update on 2020-08-20 at 15:37 / Affiliate links / Images from Amazon Product Advertising API