Although RAID systems are slowly outperformed by SSDs and other fast and safe storage technologies, many RAID devices still have appealing and innovative features. One such device is the G-Technology G-RAID Mini, which is a small, portable, 2-drive RAID device. The G-RAID has been out for years now, so we decided to look at what features it presents to its users and whether it's still viable in today's market.
G-Technology G-RAID Mini Specs
PROS
Very small for a 2-HDD portable RAID
Real-life transfer speeds close to the promised
CONS
Slightly more expensive (per GB) than other portable RAIDs
Only 1TB & 2TB capacities available
Needs a separate power source when conected to USB
Provides the older FireWire 800 connection, as opposed to Thunderbolt 2
Breakdown of Features
G-Technology G-Drive Mini (not to be confused with regular G-RAID, which is much larger) is available in 1TB and 2TB capacities, although the 2TB capacity seems to be sold out on every major retailer site. G-Technology doesn't make new G-RAID Minis, so getting your hands on the 2TB version might be quite the challenge. Only 1TB of storage isn't a lot of space, especially for a RAID device but it might be enough for some people who just want fast storage. The drive comes pre-formatted for MAc (HFS+) with a 3-year warranty.
This RAID device has one USB 3.0 port and two FireWire 800 ports. USB 3.0 can be found on most computers these days, but the FireWire port, which is so slow that it may bottleneck the performance of G-RAID Mini, is becoming outdated and is thus much harder to come by. However, a FireWire connection will also power the drive, while connecting the drive via USB 3.0 requires a separate power source (the included power adapter), making the drive less portable.
G-RAID Mini supports RAID 0 and RAID 1 and comes preconfigured in RAID 0. If you don't know how the different RAID modes work, in short, RAID 0 saves different parts of the same file on different drives, allowing separate parts of the file to be read/written simultaneously from those multiple drives, resulting in read speeds multiple times higher than those of a singular drive.
Meanwhile, RAID 1 functions more as a protective system, as it saves the same data on both drives, so if one drive fails, you'll still have all your files stored on the other drive. RAID 0 will provide high transfer speeds, maximum promised capacity but no data protection, while RAID 1 will provide the reliable data security but will cut the drive's capacity in half and load data as slowly as one 7200RPM drive would.
Switching between the two modes requires the G-RAID Mini RAID Configurator software, available for download on G-Technology's support page (Software by Product / G-RAID Mini – RAID Configurator) since no additional software is included on the drive itself.
Both drives inside G-RAID's case spin at 7200RPM and provide respective transfer speeds of 250MB/s in RAID 0 mode and 120MB/s in RAID 1 mode. All real-life benchmarks did indeed reach close to these idealistic speed values, coming in at around 215-250MB/s RAID 0 read/write speeds and 110-130MB/s RAID 1 read/write speeds. G-Technology lists the G-RAID Mini's price as $250 for the 1TB version and $400 for the 2TB version ($0.25 and $0.20 per GB, respectively), however, most retailers sell the 1TB version for $120-160 ($0.12-0.16 per GB), which is not that expensive for a portable RAID system, especially one this compact. When taking into consideration the transfer speeds of the G-RAID Mini, the price seems even more appealing and makes this a nice mid-way option between a regular HDD and a quite expensive but super-fast SSD.
Design and Alternatives
G-RAID Mini features a metallic case and looks more like technical measurement device than a RAID system. At the front of the RAID, there are activity and error LEDs, beneath it is a cooling fan and a heat sink, and on the back, you can find the two FireWire ports, the USB port, and the DC input hub. The G-RAID Mini is available only in metallic/white color scheme.
This RAID device is actually quite small for a two-drive system, measuring in at 5.875″ x 3.25″ x 1.5″ / 149 x 83 x 38 mm and it weighs only 2.2 lbs / 1 kg. Although the G-RAID doesn't have any specific handles for extra portability, its share size makes it easy to carry around. However, as we mentioned before, connectivity via USB requires using the included AC adapter for power.
For comparison, we picked two other portable RAID devices – the LaCie Rugged RAID and the Sony PSZ-RA Professional RAID. If you also consider buying a portable HDD, our picks of the best portable hard drive might help you find the best device for your needs.
LaCie Rugged RAID is, as the name suggests, a rugged device – its IP54 protection rating means that it's protected from dust, sand, and splashes of water. Its case is also durable against drops and bumps, making it a better choice for outdoor work than the G-RAID. This RAID device also features a THunderbolt 2 port, as well as a USB 3.0 port, which also needs a separate power source, similar to G-RAID. When it comes to data transfer speeds, both RAIDs are on par, with LaCie RAID being slightly slower at 230MB/s (RAID 0 speed).
But where LaCie Rugged RAID (and any other portable RAID, for that matter) is ahead of the G-RAID, is capacity – LaCie's RAID is available only in 4TB capacity, making its uses much more versatile. It also costs only 8-9 cents per GB in most places, making it technically cheaper, even though it's quite the payment at more than $300 for a storage device. In short, LaCie Rugged RAID is a more durable and spacious portable RAID device that costs less per GB, but you might overpay for 2-3 terabytes of storage with Rugged RAID, depending on your preferences and needs.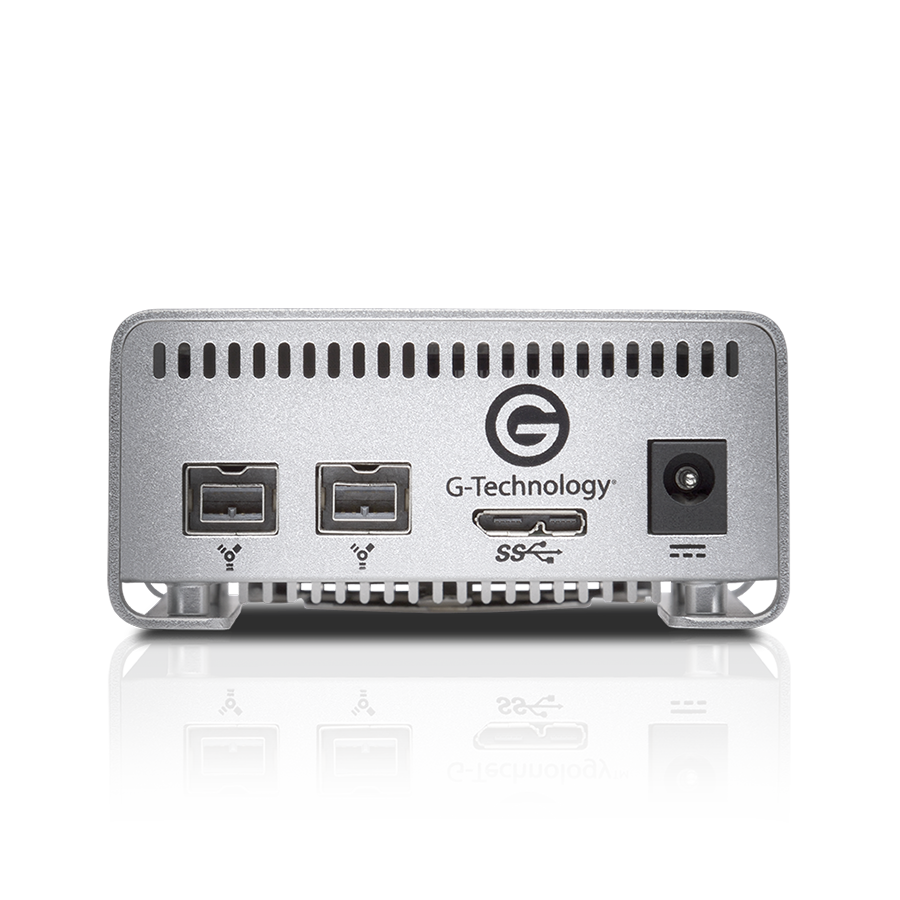 Sony PSZ-RA Professional RAID is somewhat on a different level to G-RAID Mini but still counts as a portable RAID "box". PSZ-RA comes in 4TB and 6TB capacities and has one USB 3.0 port and two Thunderbolt 2 ports. It absolutely destroys most other 2-drive portable RAIDs in terms of speed, providing 440MB/s read/write speeds in RAID 0 configuration.
The price of these RAID systems varies wildly between retailers, but the cheapest we came across (B&H) sold them for 8-9 cent per GB, which is again cheaper than the G-RAID Mini. Sony's Professional RAID is also pretty durable since it's very well protected against mechanical shock, plus it also has a handle for carrying. On the other hand, a handle is necessary to carry this 6.5 lb / 2.9 kg brick, which is also 2-3 times larger than the G-RAID. Sony's portable Professional RAID is a heavyweight alternative to the G-RAID Mini, with your necessity for 4-6TB of durable storage determines how useful it would be to you.
User Experience
Most G-RAID Mini users have been pleased with their purchase and haven't run into any issues. However, on average one fifth of customers encountered different connectivity issues, all of which may involve the age of this device and subsequent compatibility issues, although some customers basically just bought a dud.
Still, such number and nature of complaints are more common than you'd think, so overall, there are no overwhelming, deal-breaking quality issues with the G-RAID Mini. Similarly, the only real complaint from other reviewers was the lack of the more modern Thunderbolt port, as well as the need for a power adapter when using the drive via USB.
What's in the Box?
The product package contains one G-Technology G-RAID Mini portable RAID with either 1TB or 2TB capacity (if you've been able to find the 2TB model), one USB cable, two FireWire cables, an AC adapter, and the user manual.
Verdict
G-Technology G-RAID Mini is a compact, portable RAID storage device that provides decent data transfer speeds even for today's standards. Although there may be slightly cheaper, more spacious alternatives out there, like the Sony PSZ-RA or LaCie Rugged RAID, a RAID device with only 1TB of maximum (RAID 0) storage might be a smaller up-front investment for users on a strict budget.
The main downsides of the G-RAID Mini are the lack of included software tools (even the basic RAID config tool has to be downloaded) and the need for a power adapter when using the ubiquitous USB connection. Still, this RAID is still a sensible storage option even many years after its release, with its only real weakness being the slightly higher price, alongside a few quality of life issues. If you want a fast yet cheaper than SSD 1TB storage device, the G-RAID Mini would be a decent choice, especially if you can get it on sale.