Rugged portable hard drives have become quite popular over the past few years as they provide a safe data storage solution that is protected not only from internal data loss but also external damage. G-Technology drives are all pretty unique and feature different forms of external protection, with one of the most rugged drives being the G-Drive ev ATC, which is protected from water, dust, and high drops.
But, the promise of this high durability is accompanied by a pretty high price tag, so it's important to know if the drive is as durable as promised and if the actual data storage part of the drive is up to par.
G-Drive ev ATC Specs
| | |
| --- | --- |
| Capacity | 1TB |
| Read/Write | ~130MB/s |
| Interface | USB 3.0, Thunderbolt |
| Size | 6.46 x 4.25 x 1.2 inches / 16.4 x 10.8 x 3.1 cm |
| Weight | 0.82 lbs / 0.37 kg |
| Warranty | 3 years |
PROS
Extremely durable
Internal drive can be removed and used separately or with other G-Technology products
Faster than 5400RPM drives
CONS
Very expensive, even for a rugged drive
Delivers very low performance for a 7200RPM drive
Only available in 1TB
Breakdown of Features
The G-Drive ev ATC is available only in 1TB capacity, which isn't much, especially for this drive's main target audience – outdoors photographers and video makers who have to store a lot of large high-definition files. Still, this will most likely be enough for more casual users and will do just fine as an on-the-go storage solution for professionals. This rugged drive is preformatted for Mac in HFS+ and comes with an appropriately lengthy 3-year warranty.
The ATC is available with either a USB 3.0 or a Thunderbolt cable integrated into the case. The G-Drive ev ATC with Thunderbolt also includes a separate USB 3.0 cable that you can use by removing the hard drive from the durable case. Whichever cable the ATC has will fit neatly around the drive's rugged case and have a plug cover in order to protect it from water and dust damage. The drive's durable case is promised to be protected from:
water damage for 30 s in a depth of 1ft (it also floats)
dust damage
pressure damage
mechanical shock from 6.6ft / 2m drops on carpeted concrete floor
Although no specific protection marking has been provided, different user tests that involve throwing the ATC in water and dropping it have shown the drive to be as durable as promised.
Although the ATC's exterior is extremely durable, it's much less impressive on the inside. The rugged case of ATC holds an ev RaW portable hard drive which, even though marked as 7200RPM, can only reach up to 136MB/s read/write speeds. In real-life benchmarks, the drive shows 125-135 MB/s read/write speeds, often reaching the promised value. This is only slightly faster than an average portable 5400RPM HDD, which usually reach 110-130MB/s, while most 7200RPM drives mostly reach 150-180MB/s, leaving the ev RaW in the dust. This is most likely because of the drive's smaller, 2.5-inch form factor that limits various aspects of the moving parts and increases latency. Nevertheless, the ev RaW's price tag is that of a properly fast hard drive, so appropriate transfer speeds are expected.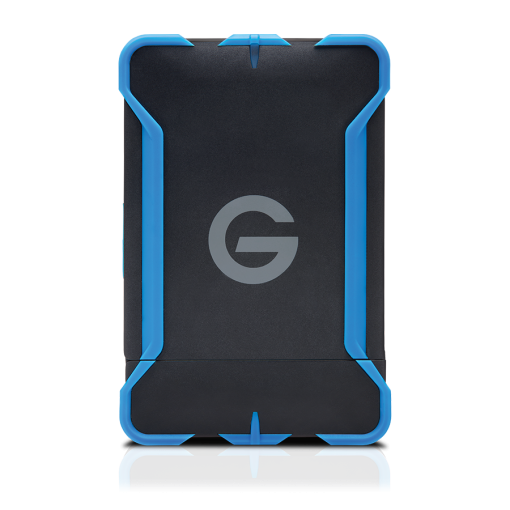 The summed up value of the 1TB 7200RPM ev RaW drive and the durable case comes in at $0.13/GB for the USB 3.0 version and $0.17/GB for the Thunderbolt one, with prices listed on G-Drive's website being $129.95 and $169.95, respectively. This is 2-3 times more expensive than most other portable HDDs in the market, including rugged ones, like the Silicon Power Rugged Armor A60. The drive's durable case can be purchased alone for around $90, which gives you a perspective on what makes up the ATC's high price.
Design and Alternatives
As we mentioned before, the drive's case is extremely durable and is protected from being dipped in water (for a short period of time), exposed to dust, and being damaged by mechanical shocks and pressure. The USB 3.0/Thunderbolt cable fits neatly within the exterior of the case and features protective measures that match the case itself in terms of durability.
A clip holds the bottom side of the case shut and can be opened to access the ev RaW drive inside. The HDD itself has a metallic exterior and could be used easily even without the rugged case, which is how most G-Technology devices work – G-Drive hard drives can be interchanged between various other G-Technology Evolution Series products, like the G-Dock or the ev RaW's regular enclosure. However, drives from other companies are not guaranteed to fit neatly into the case, which contains the 5.14 x 3.29 x 0.65 inch (13.06 x 9.91 x 1.65 cm) ev RaW drive.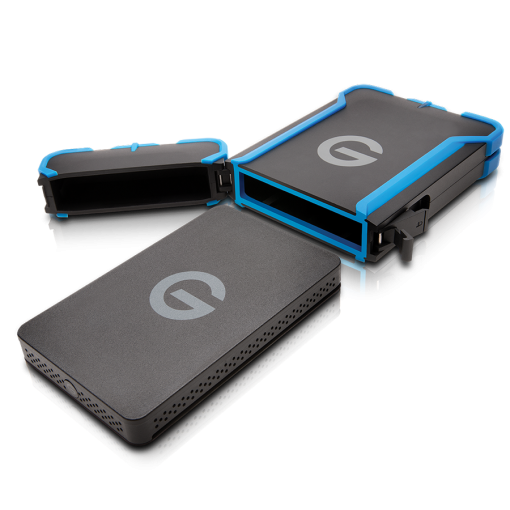 The case is also aesthetically more pleasing than most other, more basic portable hard drive designs. The black plastic case is complemented by the blue rubber accents around the edges and corners of the case, which also serve as shock absorbers.
| | | | | |
| --- | --- | --- | --- | --- |
| | Capacity | Seq. read/Write Speeds | Warranty | Check price |
| G-Technology G-Drive ev ATC | 1TB | ~135MB/s (7200RPM) | 3 years | |
| Silicon Power Rugged Armor A60 | 1TB, 2TB, 3TB, 4TB, 5TB | ~110MB/s (5400RPM) | 3 years | |
| Transcend StoreJet 25H3 | 500GB, 1TB, 2TB, 3TB, 4TB | ~115MB/s (5400RPM) | 3 years | |
For comparison, we looked two other rugged portable hard drives, namely, the Silicon Power Rugged Armor A60 and the Transcend StoreJet 25H3.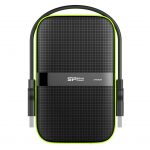 Silicon Power Rugged Armor A60 is one of the more popular durable external hard drives on the market, combining pretty high water and dust resistance numbers, shock protection, and relatively cheap price into one device. The A60's case features an IPX4 protection marking, meaning it's protected from splashes of water and, although unmarked, most likely will protect the drive from dust as well. It also has straps for its bulkier USB-A to USB-A cable and has a scratch-proof surface.
The A60 is a bit less protected from water and drop damage than the G-Drive ev ATC but will do just fine if you won't need a hard drive next to rivers or hills. The A60 also features many more capacities for just 4.4-6 cents per GB. Overall, the A60 is a much cheaper option than the ATC and will provide enough data protection even for most professionals on the go.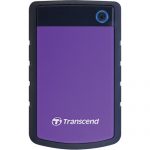 Transcend StoreJet 25H3 is a bit less popular than it's more rugged brother, the 25M3, but we'll still look at the former HDD since latter is now discontinued and will slowly disappear from the market and increase in price. Same as the A60, the 25H3 offers more in terms of capacity and costs a lot less than the ev ATC – around 4-6 cents per GB.
The StoreJet features only shock protection but it's more reinforced with multiple means of protecting the drive inside from drops, making it a good enough choice for casual users. However, more advanced users, like outdoors photographers might want a more rugged option, like the two other alternatives. In short, the StoreJet 25H3 is targetted more at casual users rather than professionals and is accordingly much cheaper than the ATC.
The only criterion where the G-Drive ev ATC has an undeniable upper hand is ruggedness – it's protected almost fully from being submerged and can endure all kinds of other damage and pressure. It's also slightly faster than the other two drives. But when it comes to almost all other factors, the ATC falls behind – it has only 1TB capacity while most other drives provide up to 5TB, it's much slower than it could be, and most importantly, it's only redeeming factor comes at an incredibly high cost. Depending on your needs, both of the portable hard drives mentioned above will be worth your money much more than the G-Drive.
User Experience
Although it's not the most popular product out there, the customer reviews of G-Drive ev ATC are overwhelmingly positive, with literally a couple people encountering duds. While the drive seems too expensive for what it's worth, if you do decide to get it, you will receive a quality product. Other reviewers also acknowledge the high quality and durability of the product while deeming it quite expensive, compared to its alternatives.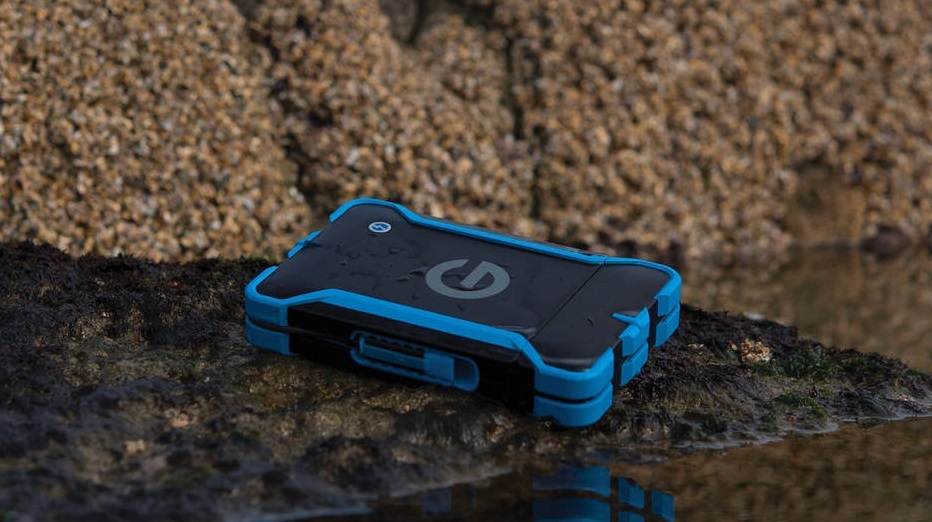 What's in the Box?
The product package contains one G-Technology G-Drive ev ATC 1TB hard drive with either a USB 3.0 or a Thunderbolt cable integrated into the case, and a quick startup guide and product manual. The ev ATC with Thunderbolt will also contain a separate USB 3.0 cable for connecting the ev RaW drive inside the case via USB 3.0 as well.
Verdict
The G-Drive ev ATC is one of the most rugged portable hard drives on the market and will provide safe data storage for professionals out in the field. It will protect the drive from water, dust, shock damage, and pressure, so unless you bring it to a volcano or drop it from a mountain your data will be safe.
However, the lack of more storage than just 1TB and the low performance for a 7200RPM hard disk drive makes the G-Drive ev ATC much less premium. Add to that the high price that is way higher than that of any other durable hard drive on the market and the ATC doesn't seem that valuable anymore.
Still, if you have the money to spare and want a drive that's super-sturdy and at least a bit faster than most other portable hard drives, the G-Drive ev ATC would fit your needs well. Just make sure you avoid the even more overpriced Thunderbolt version that costs $40 more for basically having an extra USB cable.