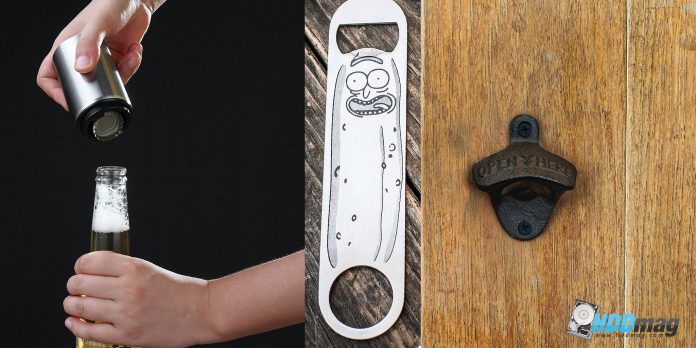 A man should always be equipped with all of the instruments and gadgets that are necessary for him to become a walking and talking James Bond. Bottles are everywhere, and whenever we're all having a good time out with friends you never know when a malt is going to hit you, or you might just go for a beer or soda. But wait, what if you're away from the bar or counter and you don't have a thing to open it with? That's right! Bottle Openers! A must have, for everyone and a must need as well. But one can always get creative with every gadget so that's why we have come up with a list of top 10 funniest bottle openers that will make your day.
10. Ah So Wine Opener Bottle Opener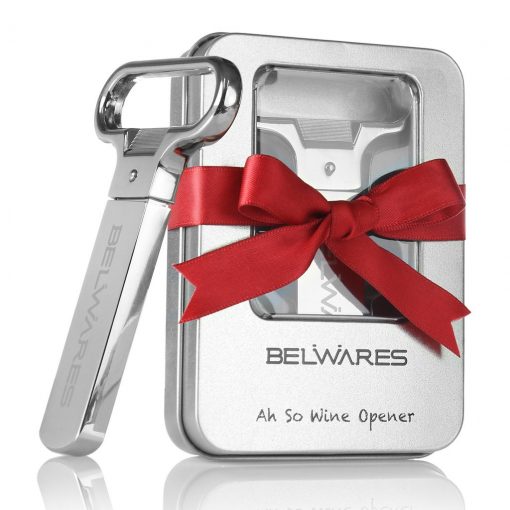 We will begin our list with this traditional bottle opener that is going to give you the best vintage style available on the market. The entire body is made of stainless steel so that you can tread anywhere with this baby in your pocket or bag and it can open almost any bottle you can look at. It also has sweat free cork pulling feature, and it also doesn't mess them up. A perfect gift if you're planning for one.
---
9. All-in-one Multi-Function Opener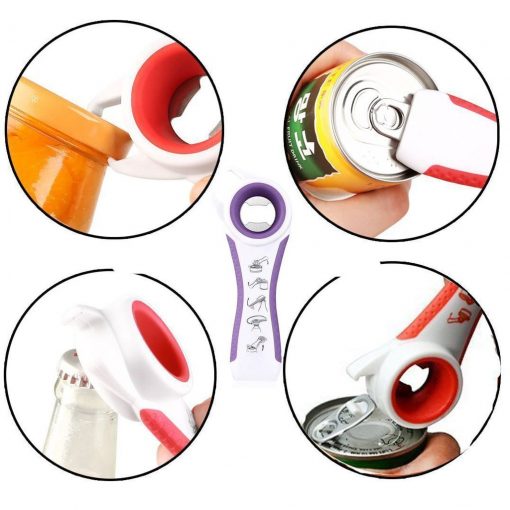 Another one that has been making some noise in the market is this opener. Priced just around affordable $3 it is going to give you the freedom you've always been looking for. It has a Jar Opener Grip so that your hand slips at nothing. It can open a variety of bottles and cans with tabs, as well as loosening jar lids, thanks to the rigid and very user-friendly design. And hey! The color purple must be your favorite, right?
---
8. Sgt. Pryer Green Army Man Bottle Opener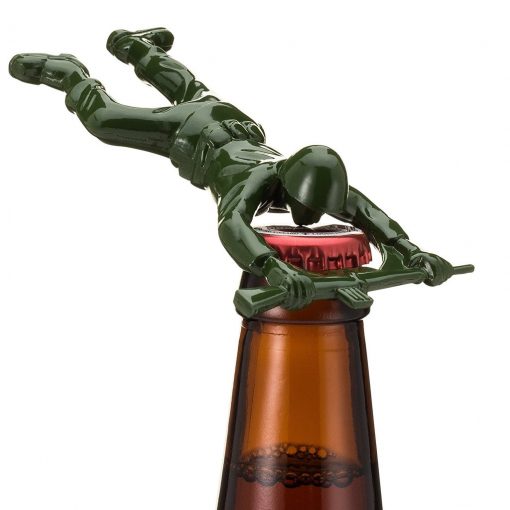 Have you got your grandpa's birthday coming up? Who has been serving the army all of his life and is proud to do so? Or maybe a friend who is right now serving? This is going to be the best thing that you're going to give them because a soldier is going to help them open that bottle up. Its as tough as a navy seal so there's nothing you need to get worried about. It also has a manufactures guarantee, so there isn't going to be a problem with stability.
---
7. HQY Magnet-Automatic Beer Bottle Opener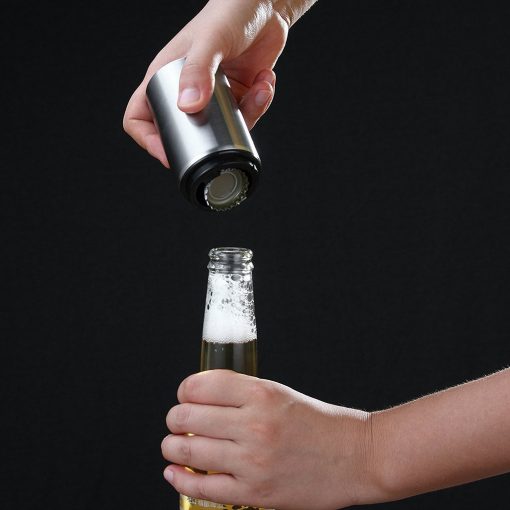 Technology is everything right? And who doesn't like the word "Automatic" in the world of today? It has this beautiful feature of opening the beer for you automatically and then not let the cap get bent so that you can add it up to your collection. The product entirely is made up of a professional grade and is also very durable so it can last for years without having any problem settling it down. It is also going to be the perfect gift this Christmas.
---
6. Hand of The King Bottle Opener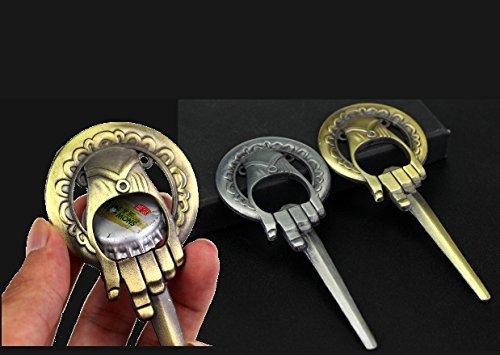 Any Game of Thrones fans around you? And are you willing to surprise them with the best thing they can get on the Christmas and can use it next year and in fact years to come? This is a merchandise that will boast all of the best things about the TV Series and is going to make your friends happy. The package comes with two of the bottle openers, and you can give them in silver and a gold color that are both seen in the show.
---
5. Rustic Farmhouse Wall Mounted Bottle Opener
Just in case you want to make things more traditional and worth watching and having you can go for this rustic wall mounted bottle opener that will mention "open here" on top of it. Put it on any wall you like, and anywhere you prefer. This will make the entire wall worth looking at because everyone wants a bottle opener when friends sit together. It has cast iron finishing, and the rusty looks make it sound tougher than you can imagine. Another funny and perfect gift option for anyone who likes to drink.
---
4. Pickle – Bottle Opener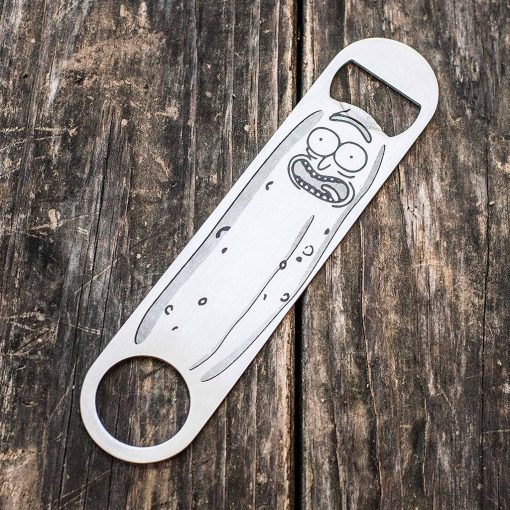 Pickle and Drinks, what a combination, right? These are going to be openers of a professional grade stainless steel. Aiming to give you a pleasant look and a creepy yet funny pickle face on top of them. A great gadget for all of the bartenders or backyard parties. The size is good and handy so that it can fit perfectly fine in your pocket. It is durable as well.
---
3. 50 Caliber BMG Real Bullet Bottle Opener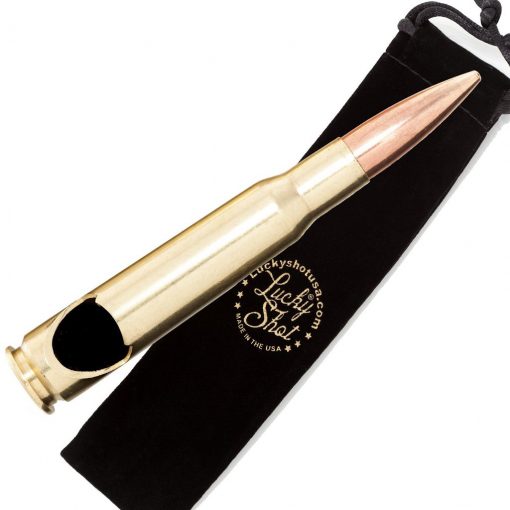 Want to look dangerous and always ready for action? Or you just have a thing for bullets and guns? Then this is what will make your day and keep you equipped as well. Made from a real once fired US Military 50 BMG (Browning Machine Gun) round this bottle opener is sleek, stylish and beautiful.
---
2. Star Wars Bottle Opener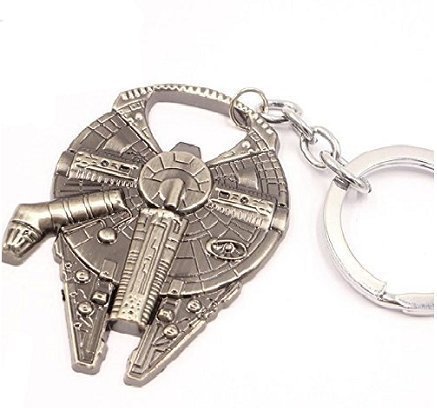 Another one of the gifts that are going to work no matter what. It's for all of the Star War fans that are too much in number, and we can't even begin to argue. It is designed in a shape of a starship, and the fans are going to love it.
---
1. Bruntmor Magnetic Beer Opener

If you can spend some money and want something that is interactive and interesting as well, then this is going to be the perfect thing we will suggest and the one that will do the job just right. It is an opener with a wooden back, and that has a magnet built inside of it. It is not going to let your drink fall, yes! That's correct! But at the same time, it will make sure that the cap doesn't fall as well and that is just amazing. It holds over 50 beer caps! Comes with a wall mount and also the screws so all you have to do is mount it up on the wall and let the caps hang.
---