Software developers are trying out new formats and programming of operating systems, and while this may improve performance and adds new features, it can also often result in incompatibility issues with older gear. Windows 10 has become somewhat notorious for such issues, with external hard drives being no exception. This is why we have created this short guide to help you fix an external hard drive not showing up.
Most of these options can also be applied when your USB device is not recognized by Windows 10.
Possible external problems
Before you even try to connect your software to the drive, you should make sure that the hardware part of the whole operation is working. First of all, make sure the drive itself is functional by plugging it into another computer (if possible, of course). Secondly, try plugging it into a different USB port, since the port itself may be broken in some way. Before you even go into Windows' utility options, trying the simplest "turn it off and then on again" (unplug and plug back in, in this case) may be worth a shot. If the external hard drive doesn't have any of these issues or the software issues below, the drive itself may be broken.
Troubleshooting
Troubleshooting is the default Windows' answer to any problem and may tell exactly what's wrong with your drive or tell you nothing at all, but it's still worth a shot before diving in deeper and looking for issues manually. To troubleshoot your drive, type in "troubleshooting" in the search box and hit enter. Then pick "Configure a Device" under "Hardware and Sound".

Click "Next" in the new options window and the troubleshooter will get to work. If it comes up with a specific issue (that the troubleshooter couldn't fix itself), try googling it, but if it comes up with nothing, go through the following options.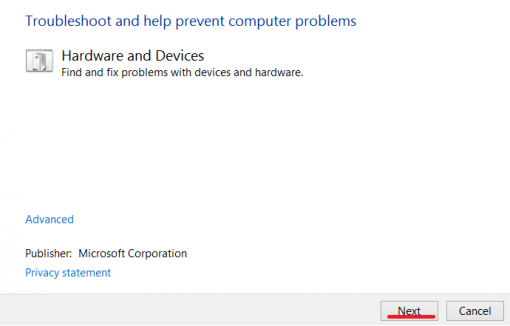 Solutions with Disk Manager
As we keep going deeper from the surface level of problems, the next step would be checking how, if at all, your Windows 10 system recognizes the external drive. Disk Manager is a utility that will "see" a functioning drive whether it shows up in Explorer or not. Below are a couple issues you can encounter and methods of fixing them.
Assigning the drive a letter – a quite trivial problem, such as simply assigning a letter, may be behind Windows 10 not recognizing a hard drive. To do this, right-click the Windows Start button, choose "Disk Manager" from the list. The Disk Manager will show you all the drives your PC has detected and all the partitions they have, with your external drive possibly not having a letter next to it.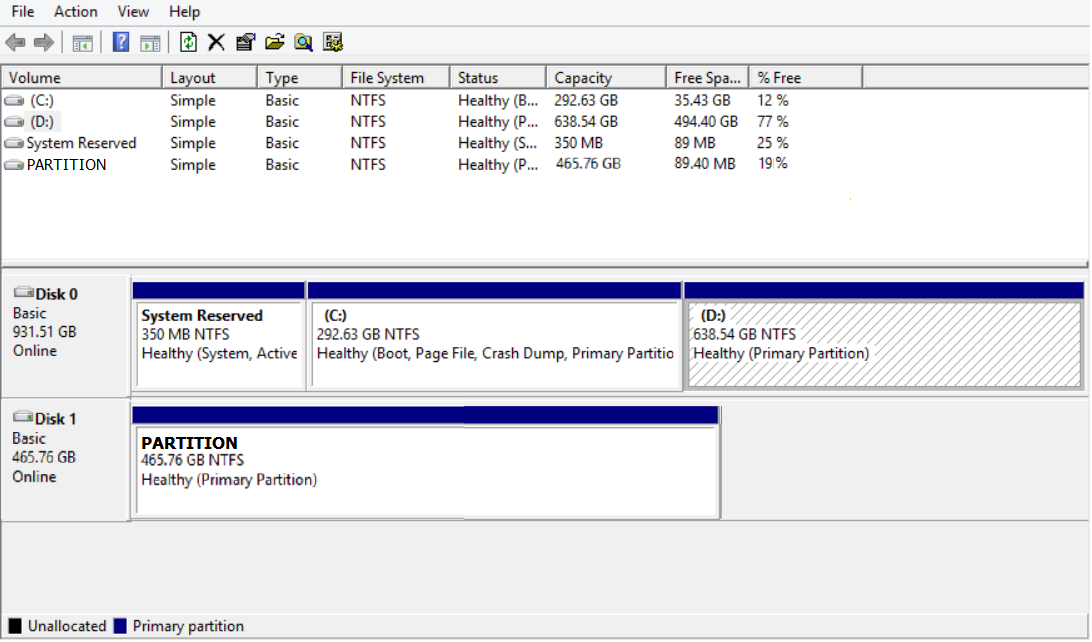 To assign a letter, right click the drive in either the list or the partition window below and choose "Change Drive Letter and Paths…".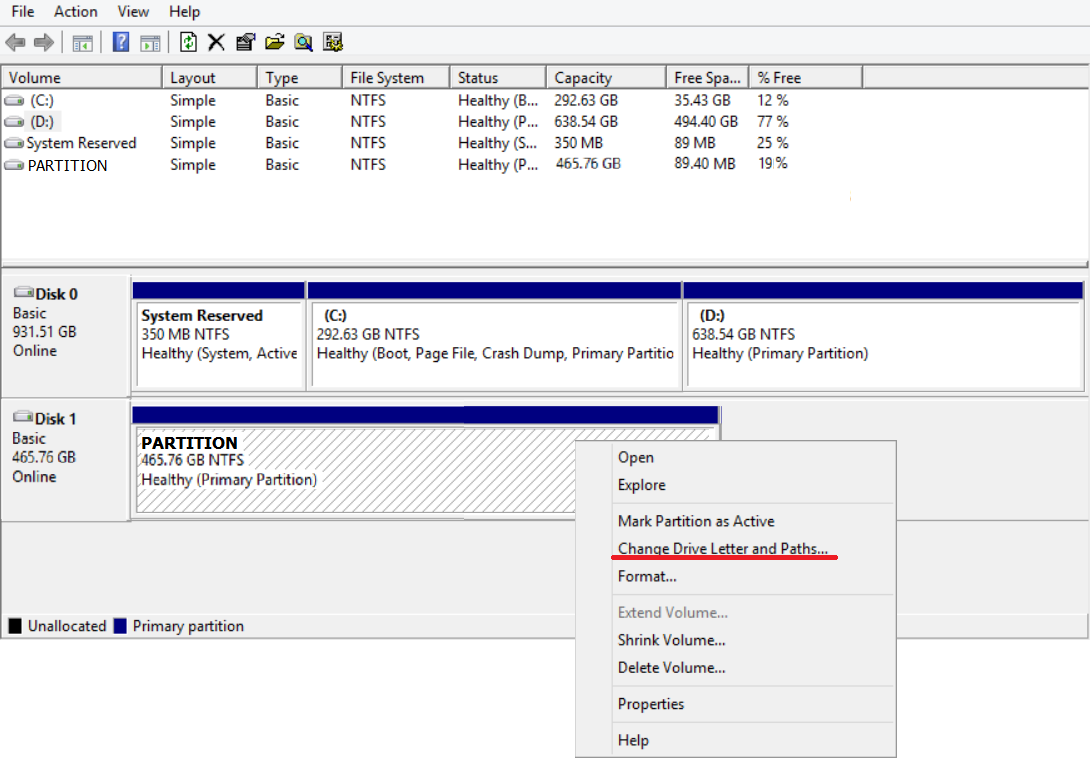 If the window in front of you is empty, click "Add…" and pick what letter you want the external drive to be called. After this, the drive should appear in Windows Explorer with the letter you have assigned to it.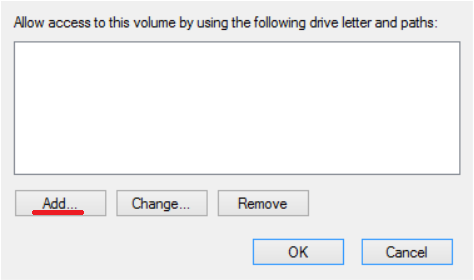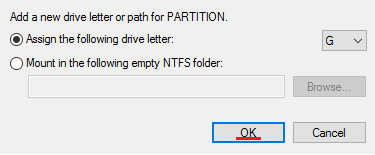 Formatting the drive – if your external hard drive has a black bar above it (Unallocated) in the Disk Manager window, it has to be formatted. For Windows 10 (and any OS, for that matter) to work with a certain hard drive/partition, it has to be formatted for that system. Note, that before formatting, back-up all important files that are on the drive or partition, since they will be completely erased in the process. Go to our How to Format an External Hard Drive article for further instructions ( the same method works with Windows 10 as well).
Solutions with Device Manager
If Disk Manager does not resolve the issue, the next step would be going through Device Manager. There are two things you can try with device management – update the drivers for the external hard drive and reinstall it. Note that you have to use the administrator account of the computer to access these options.
Updating the drivers – the more common issue with external hard drives not showing up are drivers being installed incorrectly. To fix this, you will have to open the Device Manager utility by right-clicking the Start button and choosing "Device Manager" from the list. After this, you should find the external drive under either "Drives" or "Portable Devices" with a recognizable name, for example, "Seagate Backup Plus 1TB". After that, right-click your drive and press "Update Driver Software…" which will open up a new window.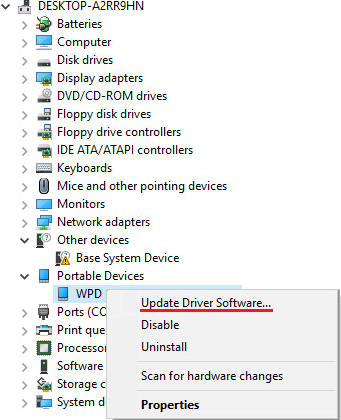 Then choose the "Search automatically for updated driver software" and after a while of searching, Windows 10 should automatically install the correct drivers which will allow the external drive to show up.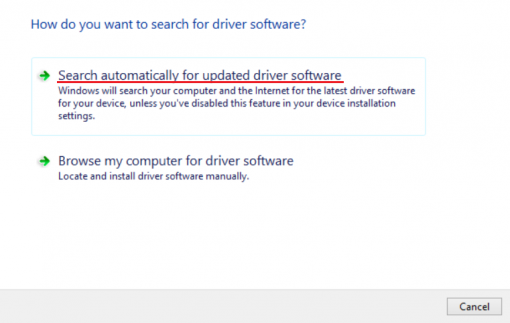 Note that this doesn't always work, so googling your external drive's name with the word "drivers" may be easier (depending on how simple the manufacturer has made finding the latest working driver).
Reinstalling the drive – to do this, follow the previous steps of finding your drive in the Device Manager. Once you've found your drive, right-click it and pick "Uninstall". After this process is done, unplug the drive from your computer, restart your PC and plug it back in, which may resolve any issues the drive had installing the first time around.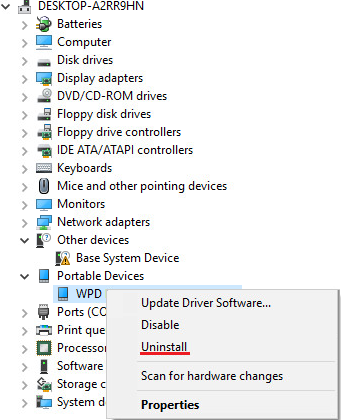 Related articles:
[su_list icon="icon: external-link-square" icon_color="#000000″]
[/su_list]