Usually, you can't tell the difference between flash drives when transferring relatively small files until it's time to transfer large files like 4k media files. Your tired of waiting on the progress bar that often is up for too long? Corsair Flash Voyager GTX USB Flash Drive is made for performance and mind blowing speeds. This is all possible thanks to its SSD-grade NAND memory.  Corsair has proclaimed that this is their fastest drive ever made. Reported data transfer speeds of 450MB/s for read speed and 350MB/s for write speed resulting in one gigabyte that can be written into about 3 seconds. Is it really so? We will find out. This drive is made mostly for professionals who have to transfer large files on a daily basis, in a result, saving their time. But that doesn't mean it's not suitable for average consumer or gamer. If you are willing to pay a bit more and get better performance, then go ahead. 5-year warranty combined with a top-shelf performance and stylish design makes this drive a great buy. Plus – it's not so expensive as other thumb drives that perform similarly.
Related: Top 8 Best USB 3.0 Thumb Drives
Performance and technical specifications
This is where the Corsair Flash Voyager GTX excels the most. We did some testing with a PC runing Windows 10 that has the following specifications:
CPU – intel i5-6500
RAM – 8GB
SSD – ADATA SU800 512GB
We tested this drive by transfering many different size files starting from 1GB to 10GB and did some benchmark testing. In the result, we got an average read speed of 312MB/s and write speed of 192MB/s. Of course, this is outstanding, but if we have to compare it with promissed sequential speeds of 450MB/s and 350MB/s it's a bit behind.
Corsair Flash Voyager GTX specifications:
Available capacities – 128GB and 256GB
Interface – USB 3.0 that's backwards compatible with USB 2.0
Warranty – 5 years
Weight – 0.03 kg
PROS
Very good price considering it's performance

5 years warranty

Sleek looking design
CONS
Write speed cloud be a bit higher
Wide design that makes pluging something into the USB port that's right next to port where Corsair Flash Voyager GTX is plugged impossible
Design
The Corsair Flash Voyager GTX uses the standard and well know capped USB drive design. The drive is in dark gray color and features an lettering of Corsair logo and name as well as red letters "GTX." It also features a led that indicates if the drive is powered and working.

The Corsair Flash Voyager GTX isn't the most compact drive on the market as it uses an eight channel design and that's why it's wider than most flash drives. This leads to some problems if you have to plug two wide USB devices next to each other as there is not enough space. Build quality feels magnificent and well made. There are no signs of cheapness.
There is also a place to clip your drive to a key ring or a strap, so you never lose it.To be honest, we loved the simple yet well made Flash Voyager GTX design.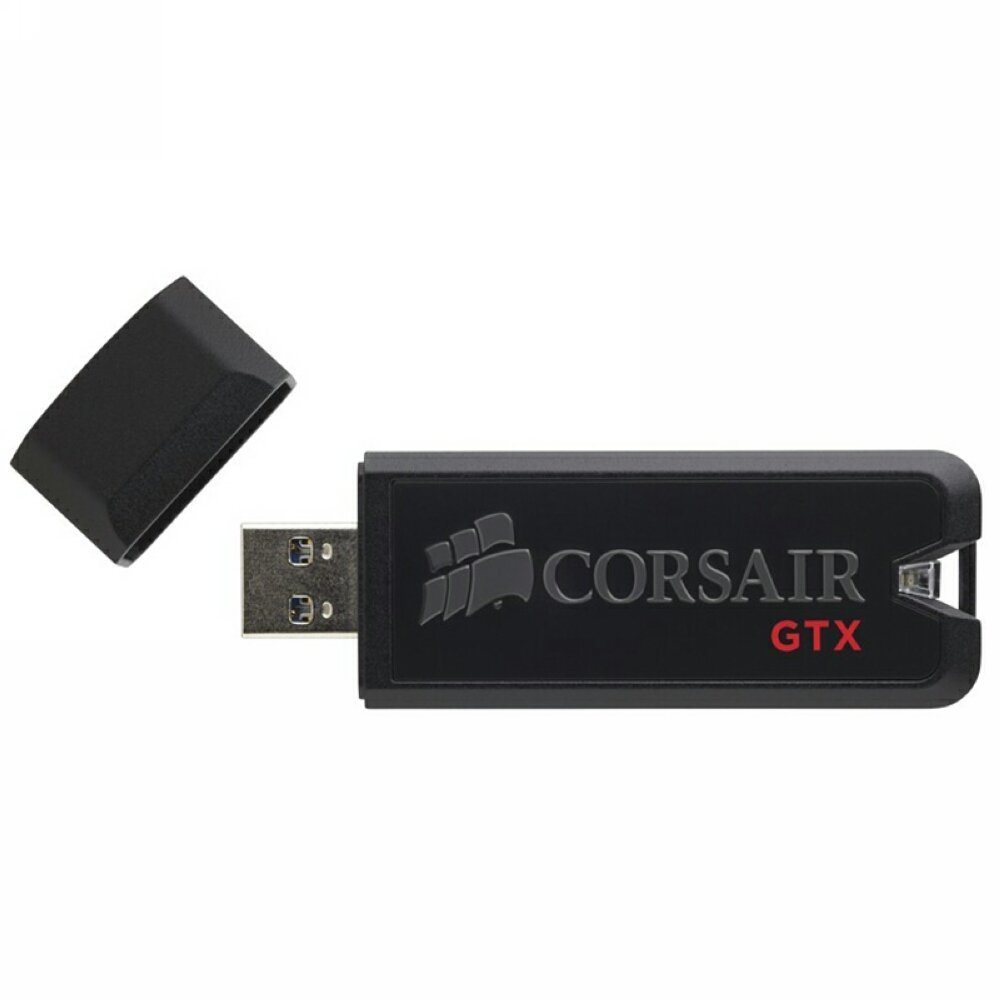 Verdict
The Corsair Flash Voyager GTX with its SSD controller and SSD-grade NAND memory combined with USB 3.0 is a great choice for a high-end thumb drive. It's available only in large capacities: 128GB and 256GB and offers a high performance especially read speed. Keeping those two things in mind, this drive isn't cheap for an average flash drive. If you know that you're not going to use 128GB of memory and you can wait for few extra seconds when transferring files, then you should probably get a cheaper drive like Lexar JumpDrive Tough. That being said, for a high-performance device, Corsair Flash Voyager GTX is not expensive at all. Actually, it's a bit cheaper than competitors like Patriot Supersonic Rage 2.
Also, keep in mind that this flash drive has a worthy 5-year warranty in case if things go wrong and straightforward and good looking design. The only downside is the write speed that could be just a little bit faster and its impracticability if USB ports are very close to each other. The Corsair Flash Voyager GTX is quite wide meaning that you couldn't fit two of these thumb drives next to each other.