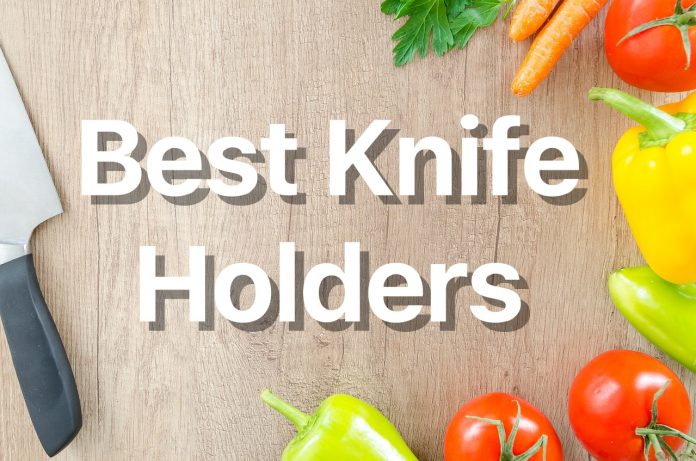 Nothing makes cooking more fun but when your Kitchen is well organized and neat. Most of us love to play with knives while cooking, but it would be so much more fun if our knives were also organized in a cool way. A Knife is the best tool available to any cook, keeping your knives clean and well organized is one of the most important etiquettes of cooking. There are a lot of cool knife holders out there in the market.
It can be a hassle to choose the best and the coolest one for your Kitchen. Well, hold onto your knives as we have compiled a list of the Top 10 coolest Knife holders out there. Not only will they hold your knives but make your kitchen look cool as well.
10. Brooklyn Copper Fan Shaped Knife Block Set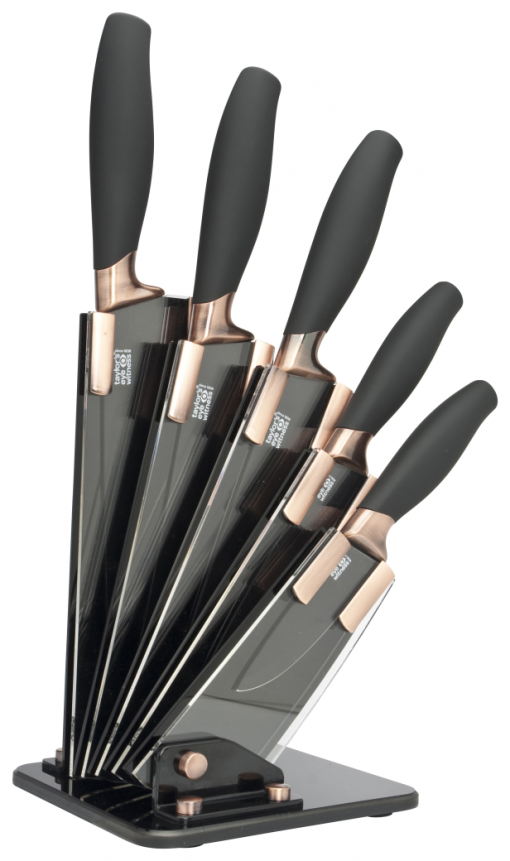 One of coolest Knife Block set out there, Brooklyn Copper Fan Block Set has made our list of Top 10 because of its unique and Innovative design. Designed by the Taylor's Eye Witness this Block set boasts the best quality of anti-bacterial and dishwasher safe, ceramic coated knives. Apart from its cool looks, the knives prevent discoloration and the tainting of food while cutting. Surely this Knife set will make a smart and stylishly sleek addition to your Kitchen Table.
---
9. Elevate™ Knives Carousel 100
When Talking about the coolest Knife blocks or holders, one can't forget to mention Joseph-Joseph Elevate™ Knives Carousel 100. One of the most Stylish and ultra-modern Knife sets out there. The Elevate Knives Carousel comes with a rotating block along with 6 pieces of high-grade stainless knives, which not only makes storing knives more compact but makes your Kitchen looks more stylish.
---
8. Five Finger Knife Block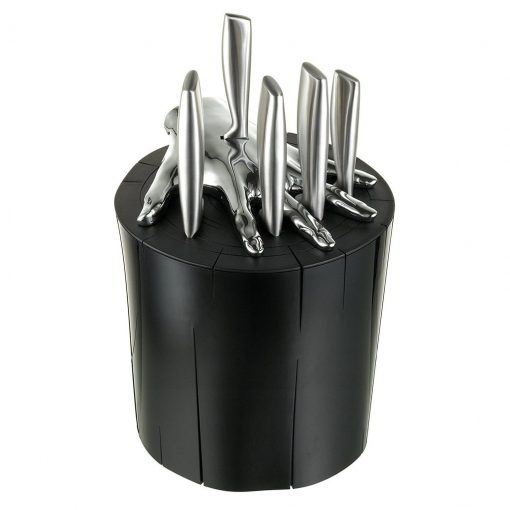 Styled more like a Halloween Scare prop the Fiver Finger Knife Block is one of the most Stylish Knife Holders on this list. The Five Finger Knife Block can not only help you maximize your Kitchen Counter space and make your Kitchen look more stylish but can also be one of the best gifts to give someone. Manufactured By CSB commodities and designed by Raffaele Iannello. The Fiver Finger Knife Block is available for $82.42 so get yourself a good bargain.
---
7. Boker Wood Review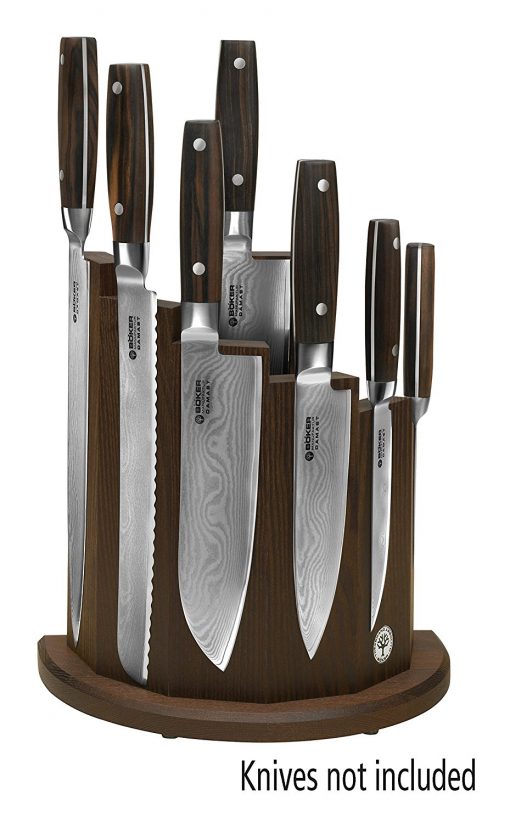 The Boker Wood Knife Block Boasts a unique and stylish design. Instead of hiding your knives the design makes it possible to display them with a magnet. This not only helps you select the right knife at the right time but also looks quite stylish due to its dark Makassar wooden texture.
---
6. Under Cabinet Magnetic Knife Rack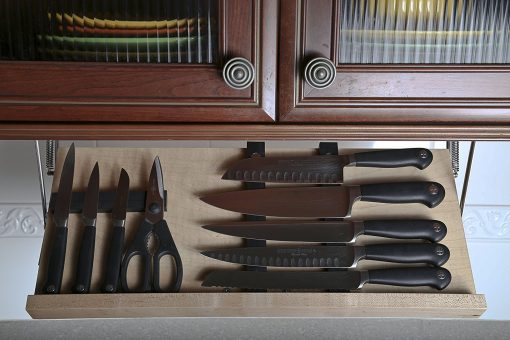 If you're not a fan of keeping your knives out in the open or if you struggle with compact and free space in your kitchen than "Undercabinet Magnetic Knife Rack" is the best option for you. Not only will this knife storing rack help prevent any accidents but also save up space in your kitchen. Easy to assemble the rack stores your blades on a magnetic surface preventing their movement and reducing the chances of mishaps.
---
5. Magnetic Wall Knife Disc Set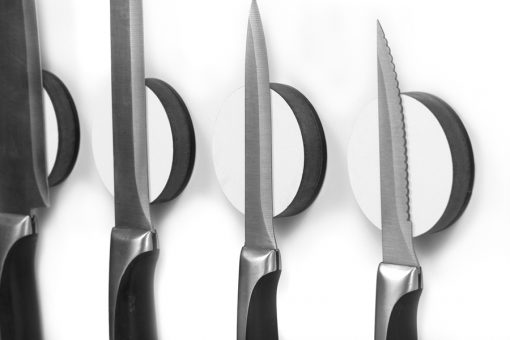 When you're looking to beautify and style your kitchen the only utilities that come to mind are compact and use minimalized space. For this purpose, Magnetic Wall Knife Disc set is one of the most stylish and compact out there. It's a wall mounted magnet for holding your kitchen knives securely and stylishly. The disc set is easy to install with heavy duty wall mounted tape. It also comes in different colors. Available for only $19.95, Hurry up and grab a set for your Kitchen.
---
4. Titanium Plated 13 Piece Hampton Forge Knife Set
Thanks to their color contrast and the titanium plating the Hampton Forge knife set is not only stylish but a delight to look at. Designed in an innovative way to save up space and display the titanium blades, this knife set is a must-have for your kitchen table. Available for $40.80 they can be easily purchased.
---
3. The Ex 5-Piece Knife Set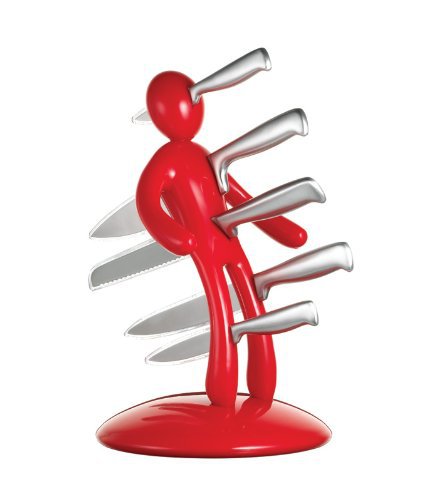 The Ex 5-Piece Knife set has a very innovative and amusing design with plastic casings to hold the blades and prevent exposure. Its ergonomically hollow Handle design ensures a firm grip and makes it comfortable to hold.
---
2. Koziol PABLO Bull Shaped Knife Stand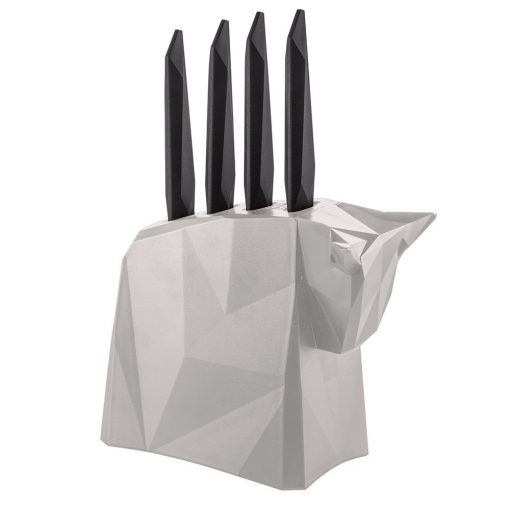 The Koziol Pablo Knife stand has a unique design which makes it stand out among your kitchen items. Available in multicolor the Koziol Pablo has a price tag of $49.90 and can easily be purchased.
---
1. Spartan Warrior Themed Wood Knife Holder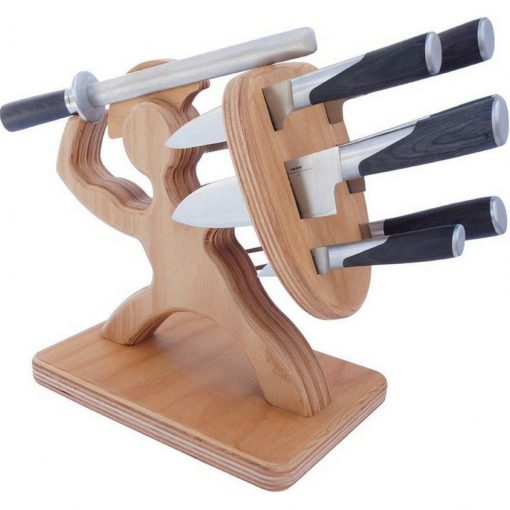 By far one of the coolest and unique knife holders, Spartan Warrior Themed Wood Knife holder has the stylish, yet ferocious design on this list. Shaped like a Spartan Warrior this knife holder can be an amusing sight and a sleek utility for your kitchen or a hilarious gift for your loved ones.
---