The Cooler Master brand is well-known for making cooler units as well as PC cases. However, Cooler Master also makes PC peripherals like keyboards, mouses, headsets and mouse pads. Recently Cooler master has released MasterKeys Lite L Combo that includes an RGB mem-chanical switch keyboard and RGB mouse. This product is designed towards budget gamers and those who don't want to spend 120$ only for a mechanical keyboard but want to have the feel of it for much lower price. In this article, we are reviewing this excellent device. It probably features the best price for what you get ratio.
If you are serious and competitive in gaming, this probably isn't your best bet, however, for average gamers who want to fully enjoy their gameplay with well-built and good looking keyboard and mouse this product is great. For example, I use Cooler Master MasterKeys Lite L Combo on my multi purpose gaming/productivity rig and to be honest, I'm more than satisfied. It works just as good for typing as for gaming.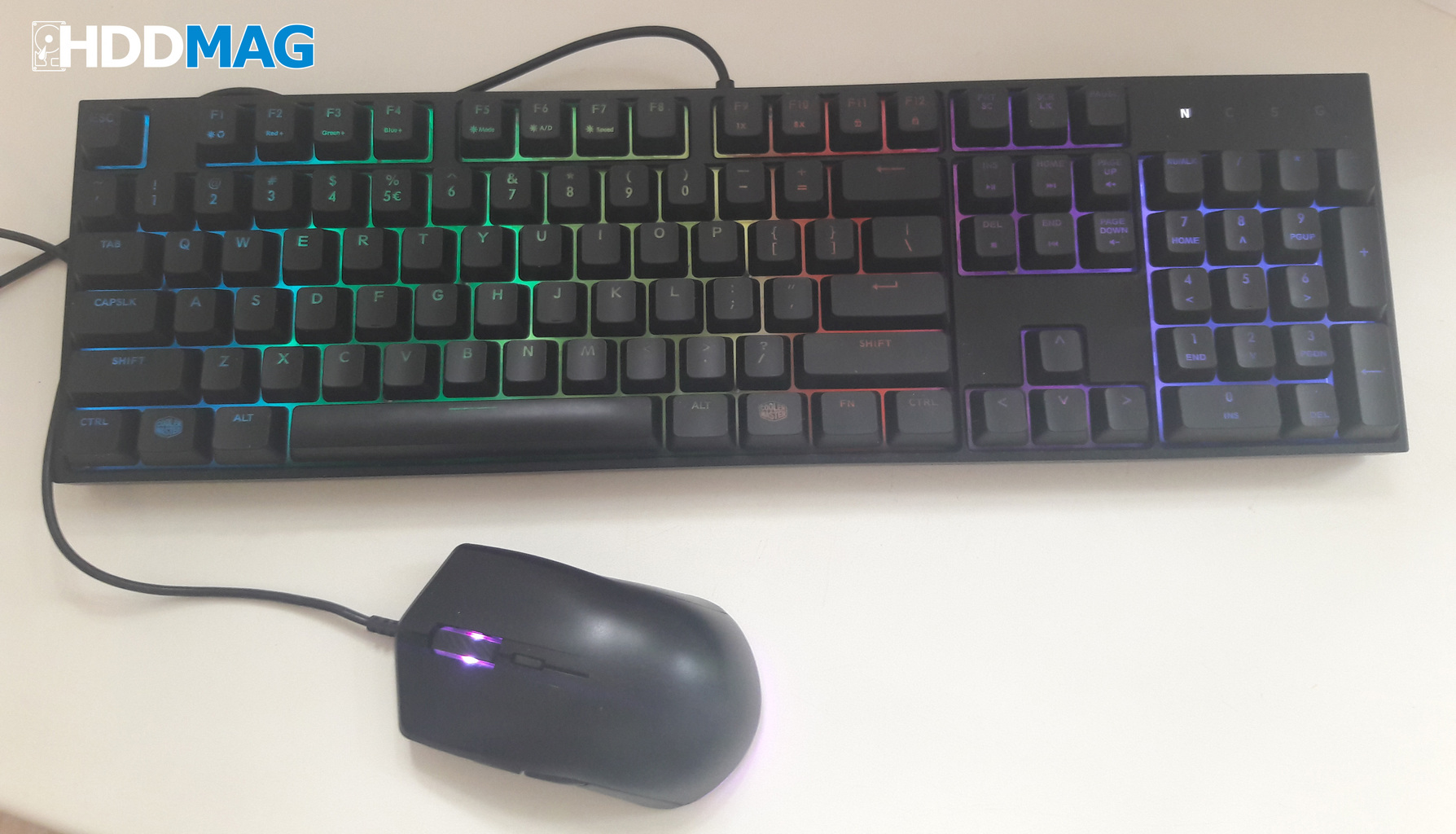 Out of the box
The packaging of Cooler Master MasterKeys Lite L is very simple and straight forward. You can see keyboard and mouse on the packaging. You can also see all necessary information about this product like its mem-chanical switches that are compatible with cherry keycaps, RGP lighting and much more.

Inside the box, everything is well packed. The mouse is secured with foam padding and there's a layer of cellophane covering over the keyboard. Not only you get a keyboard and mouse but also an instruction with everything you need to know like how to switch between LED colors and RGB modes.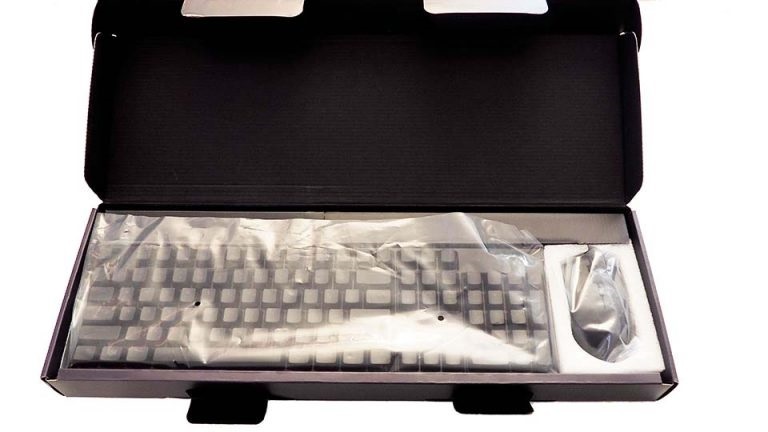 The packaging leaves a good opinion about the product inside. Everything seems as with more expensive keyboards, you won't find anything cheaply put together. After unboxing you just plug everything in your computer's USB ports and start using your keyboard.
Features and RGB lighting
This keyboard and mouse have many features, but one we were most curious about is Mem-chanical switches. The first question that a rise is "What's that? Are they a hybrid or something?" Unfortunately, Mem-chanical switches are 100% membrane switches that only have mechanical switch feel.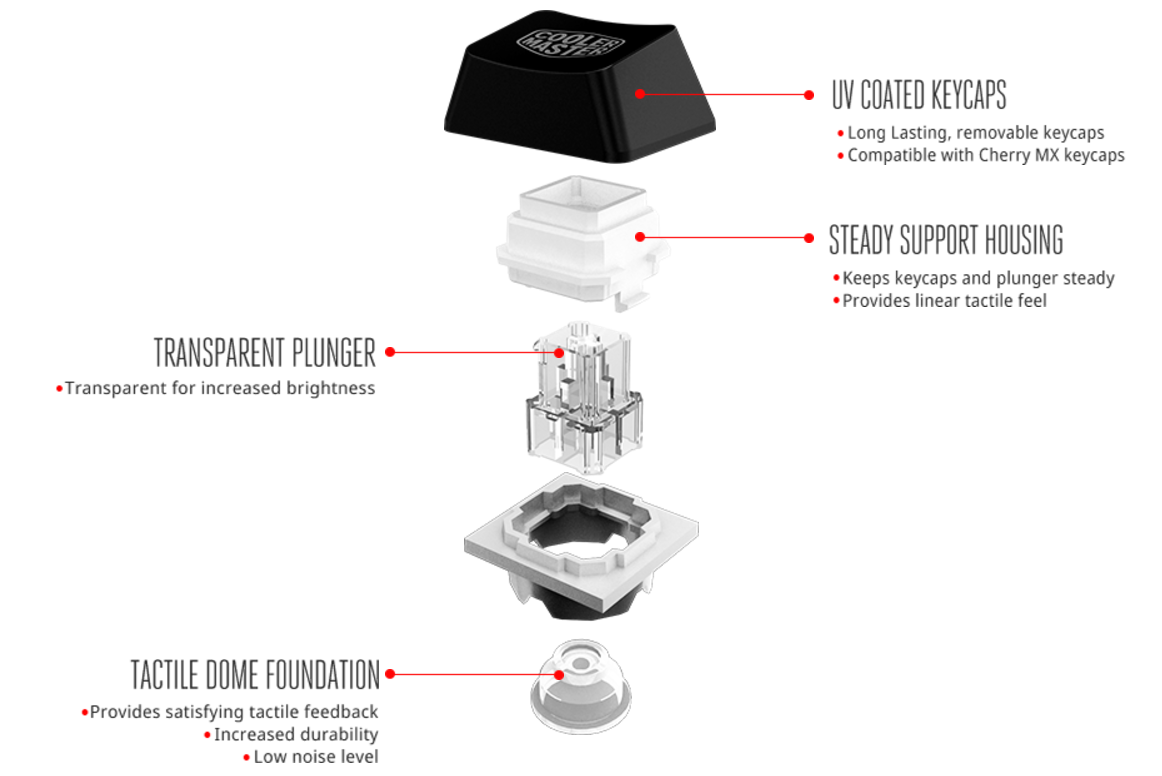 As you can see from the image above, Mem-chanical switches feature a membrane switch Tactile Dome Foundation, which has to be pressed to register key. Everything above comes from mechanical keyboard family and gives it a mechanical switch feel.
Next about RGB lighting. First of all, effects are applied manually with your keyboard and mouse by pressing dedicated keys to switch between modes and colors. There is no software in which you can fully customize your keyboard and mouse. However, I find it ok as in-build colors and modes are great and it's super easy to switch between them without wasting too much time opening a specific software. Also, it's worth mentioning that there are no programmable macro keys.
I won't go into a detailed guide on how to switch between all modes on keyboard and mouse. Just to give you an example how to switch between modes and colors on the keyboard, you have to press "FN" key together with F keys. For example, F1 can change brightness, F2 can add red color, F3 can add Green, F4 Blue. F5 stands for Mode.

Here's a video with a detailed guide on how to switch between RGB modes and colors:
Performance and specifications
Overall the Cooler Master MasterKeys Lite L Combo RGB seems to be well put together and competes well even with keyboards that feature fully mechanical switches. The mouse is also super sweet and easy to use nothing fancy here. However, for a price you get, Cooler Master MasterKeys Lite L Combo RGB offers superb performance. Here are specifications of both: keyboard and mouse.
Keyboard
Switches on the keyboard feel very solid and indeed feel like mechanical switches, not the membrane. Of course, if you try Cooler Master keyboards Mem-chanical switches and then immediately switch to truly mechanical switches, you will be able to tell a difference. In the end, they are just boosted membrane switches. Cool thing is that keyboard support Cherry MX keycaps.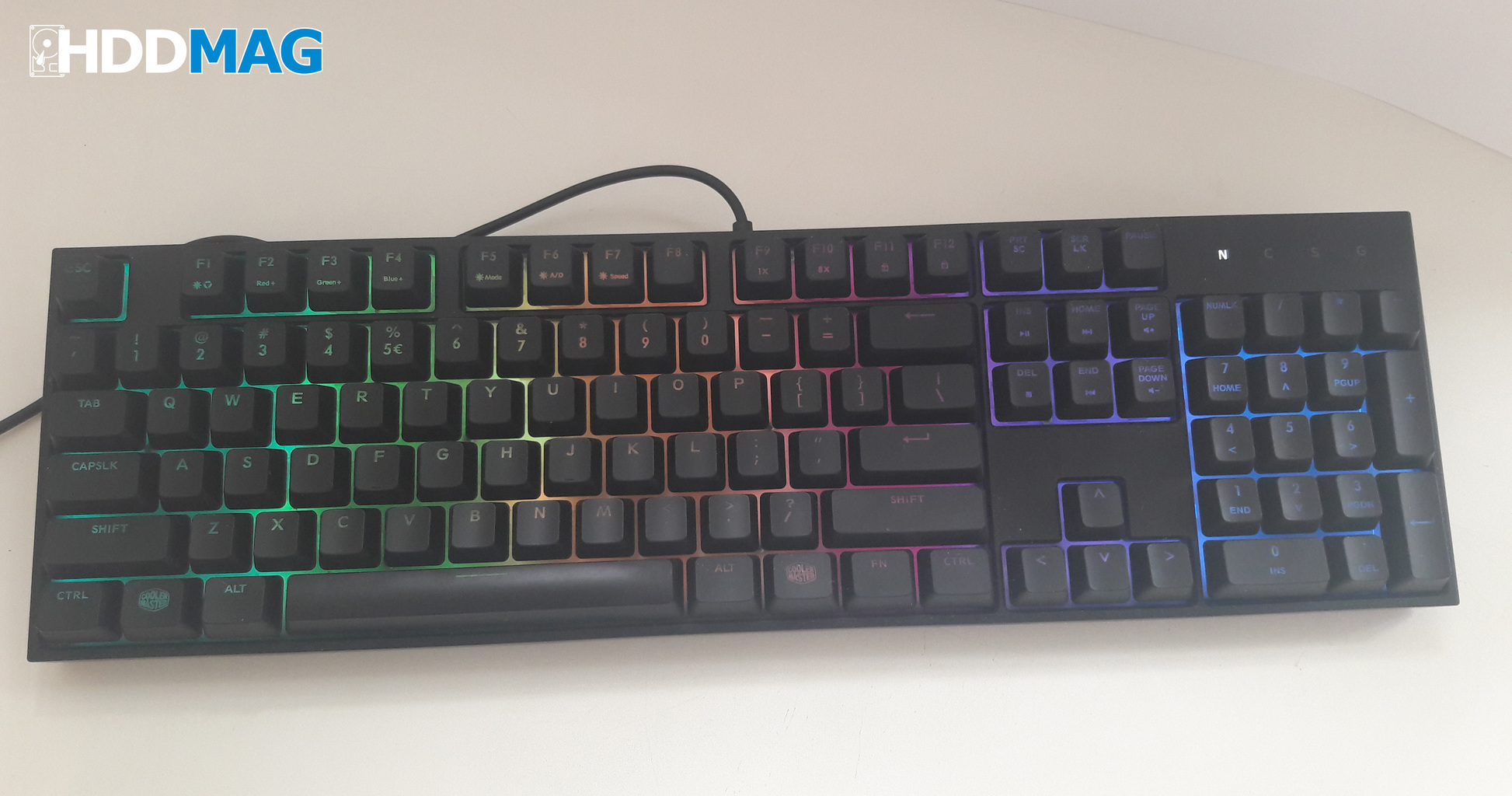 In the real world, only someone with good experience in using mechanical keyboards will be able to tell that Cooler Master MasterKeys Lite L keyboard features membrane switches. To be honest, there isn't much of a difference between this keyboard and higher end ones. While writing this article and playing some games this keyboard seems superb. I never noticed that key wasn't pressed because of insufficient pressure or mis-pressed any keys. I also definitely wouldn't have any advantage if I were using a truly mechanical keyboard instead of this one. But then again, I'm an average gamer who mostly uses his keyboard for typing, not gaming.
The keyboard is segmented meaning you can press keys with greater precision. Overall I found it quite capable when gaming and decent for typing. No serious complaints here.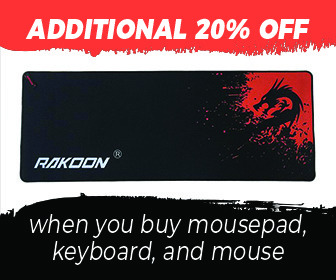 Mouse
The Masterkey Lite gaming mouse seems to be secondary in this combo pack. However, it's very capable despite its simple design. To be honest, I find it great for gaming. I did multiple tests playing MOBA games like Heroes of the Storm and Dota 2, as well as some FPS games like Battlefield 1 and Call of Duty series and had zero complaints about this mouse. It has everything you would ever need – strong accuracy, good sensitivity range and it's very comfortable to use. This mouse has a Teflon mouse feet making it very smooth even on some rough desks.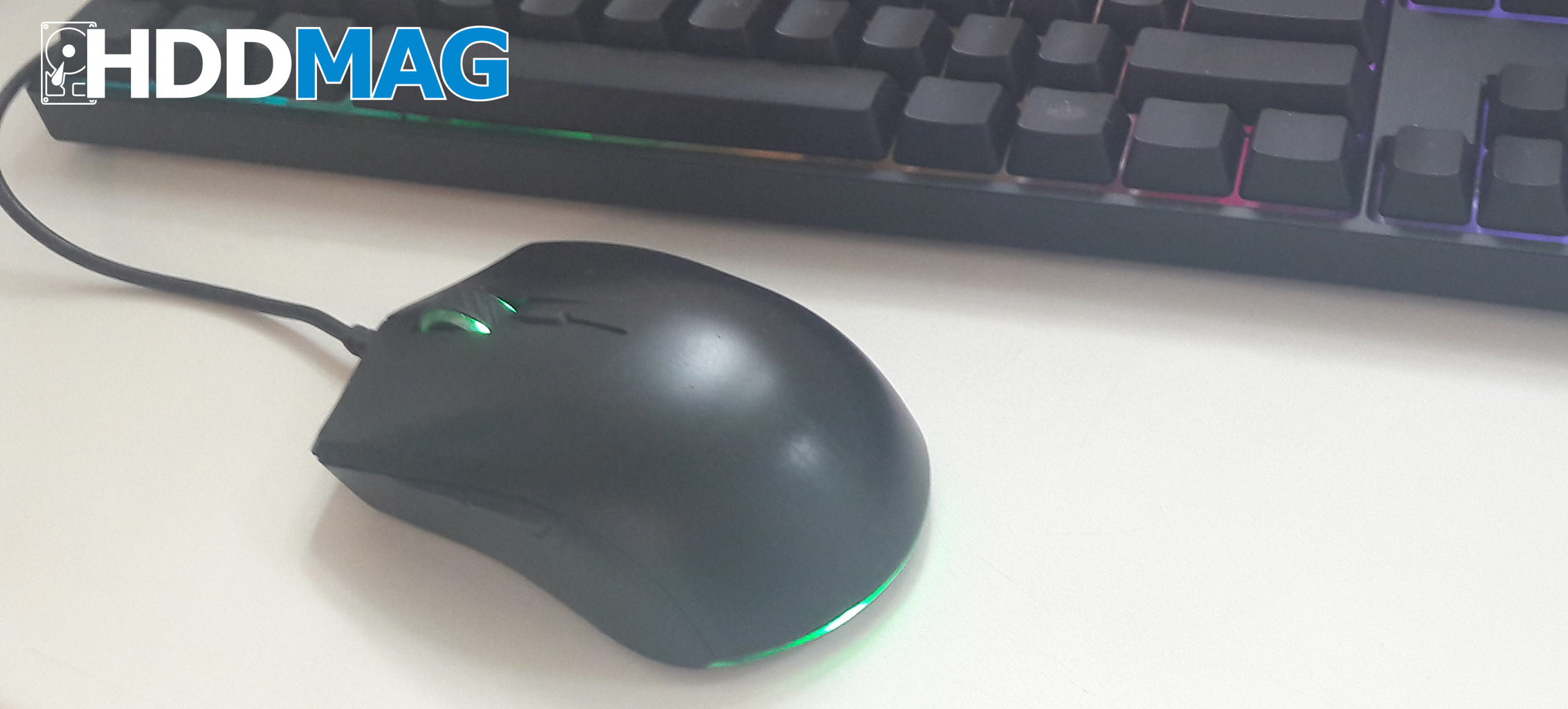 I liked this mouse, however, serious gamers might find some things annoying like it lacks side buttons, doesn't feature rubber side grips. Sometimes during intensive game plays hands can get sweaty and you might lose your grip on a hard plastic. Overall it's quite basic, nothing fancy about it. But I also had no complaints about it. It works great and does everything well.
Verdict
Overall I must say that this is an excellent deal, you get both: keyboard and mouse for an adequate price. Some standalone mechanical keyboards cost double of that! Only real drawback is that switches so called Mem-chanical are basically 100% membrane switches that only feature mechanical switch feel. But then again, that's why this combo set is so reasonably priced. Here is a full list of Pros and Cons of this product:
PROS
Great for both: gaming and typing
Excellent alternative to truly mechanical switches
Superb price for what you get
Cherry Keycap compatibility
Splash resistant keyboard
Minimalistic and aesthetic design
Many RGB modes, super simple to switch between them
Very smooth and fast mouse
CONS
No wrist rest
Mem-chanical switches are basically membrane switches
No software for backlight customization
Lacks some gaming peripheral features
The keyboard is the main component of Cooler Master MasterKeys Lite L Combo it great to use for both typing and gaming. Actually, I used this keyboard to not only type this article but also on many games for weeks and it works flawlessly. The mouse also sits in the sweet spot. It's a regular mouse that performs great, the only thing it lacks is some true gaming features like more dedicated macro keys and some rubber side grips.
So should you buy it? Well, if you are on a tight budget or simply don't want to spend 200-300$ just for peripherals like mouse and keyboard, Cooler Master MasterKeys Lite L Combo is a great choice. For example, if you like to play some games, but just for your own fun and still want a sleek looking keyboard this is your best choice. In my opinion, this is the best gaming keyboard and mouse kit for budget gamers. It's also very suitable for multi purpose PCs. For example, I use a system that consists of Multipurpose PC build that costs under 1000$ and similar gaming/productivity monitor AOC Q2781PQ.