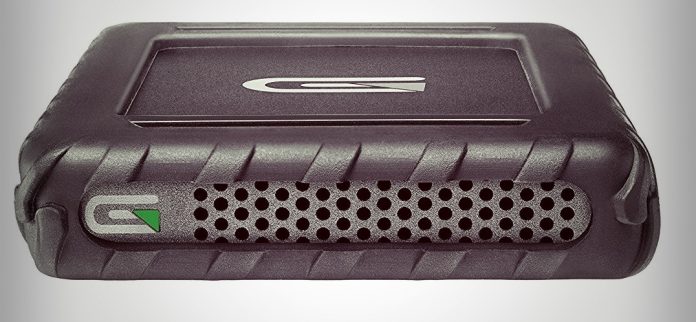 A lot of times we encounter external hard drives that are vulnerable to a lot of outside dangers (falling damage, water damage, crushing, etc.), so this time I figured out that you should meet something rugged, something that could be taken out of your bag or purse without being scared of damaging it. So, I managed to spend some time with a real terminator of external drives.
Introduction
The title probably gave it away, but this time we are reviewing Glyph Blackbox Plus. For my review, I received two Blackboxes: 1 TB HDD (7200 rpm) and one 512 GB (SSD), because they offer five different capacities: 500 GB and 1 TB (7200 rpm), one 2 TB (5400 rpm) and two 512 GB and 1 TB SSD.
Last time we reviewed G-Technology G-Drive Mobile USB-C, and as Blackbox is USB-C type too, we are going to put it next to G-Drive. And of course, the price differs from the model you get, and it starts from
$100 (for 500 GB 7200 RPM HDD)
$120 (for 1 TB 7200 RPM HDD)
$170 (for 2 TB, 5400 RPM HDD)
$230 (for 512 GB SSD)
$420 (for 1 TB SSD)
Breakdown of the Glyph Blackbox Plus features
Although they are rugged with their outer removable rubber casing they are not huge or uncomfortable (144 x 93 x 20 mm), but the most interesting part may be that they come with a great warranty (3-2-1 type policy) where you get:
3-year Regular Hardware Warranty
2-year Level 1 Data Recovery
1-year Advanced Replacement
Glyph Blackbox works with existing tech, by providing USB-C to USB-C cable and USB-C to USB 3.0/2.0, and of course, works with Thunderbolt 3 ports. The main difference from G-Tech is that Blackbox supports USB 3.1 Gen 2 (10 Gbps), but G-Tech supports only USB 3.1 Gen 1 (5 Gbps). Compatible with Windows Vista and later versions and with Mac OS 10.4 and later versions.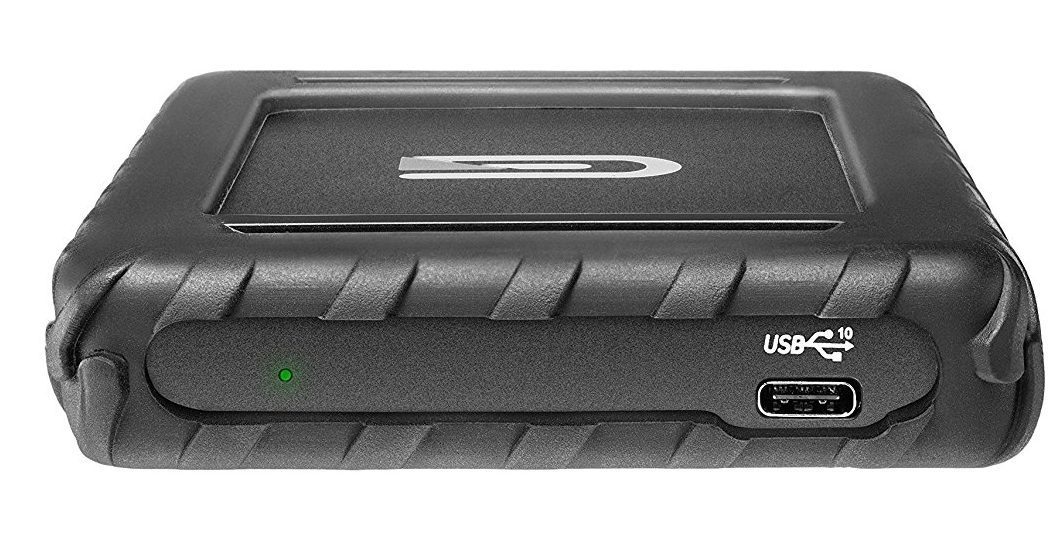 First Impression
First time seeing it and picking it up it was easy to feel the built quality. The outer rubber was firm and tight on the case, ensuring it will not fall off, but not so you could not remove it. It was nice to see two cables again, just to make sure the users could connect it to all other computers, and I always think that is a nice gesture from manufacturers.
This time I read first about the drive that it was preformatted in HFS+ system, and started it on Mac, and again just as G-Drive it was plug and play, and of course it is compatible with Time Machine, and by plugging it into computer with Windows OS, I needed to reformat it and it was easy just as it was for G-Drive.
In terms of performance both of the drives performed like they were advertised, and they did a solid performance all the time, every time I used them.
Compared to G-Drive Mobile, Blackbox outperformed it by quite a bit (the 1 TB, 7200 RPM) and the SSD is a different shelf by itself, so it was a bit unfair to compare it to G-Drive.
Carrying it around wasn't a big problem, and I didn't have to worry about damaging it, although I did not want to test the real capabilities for its endurance it did survive few drops, kicks and even accidental meeting with some coffee. With these little "tests" it passed them with flying colors and performance wasn't slowed down.
Advantages of the Glyph Blackbox Plus
Main advantage probably is its endurance to the outer world dangers, and with the little "tests" it was assigned by me and surviving them without a problem means that this mobile external drive probably is capable to follow even the most adventurous people, and being able to withstand even bigger punishment. Although I do not recommend for you to test its capabilities, as I might have been lucky and I do not want you to lose your data.
Performance definitely is the other ace in Blackbox pocket, as it did perform a lot better as it was advertised running at 152 MB/S with writing and 161 MB/S for reading (it was advertised up to 140 MB/s) with the 1 TB, 7200 RPM HDD and it was the fastest 7200 RPM HDD I have seen at this time , and running at 407 MB/S with writing and 393 MB/S for reading, for SSD it is not the fastest speeds, but they are not slowest too and, with time it did not drop or even stall its performance, giving its maximum all the time, every time. Although I tested SSD and the 7200 RPM versions, I could bet that 2 TB, 5400 RPM version would be slower, but that should be expected from a slower RPM drive.

Disadvantages of the Glyph Blackbox Plus
Glyph Blackbox Plus just as G-Technology G-Drive Mobile does not come with any backup software and again I see it was a minor disadvantage, cause Mac OS and Windows OS comes with great inbuilt backup software. But the biggest blow again was the lack of security, cause Blackbox does not have any security, and you are not safe from data theft or data loss. But this time lacking these features, I still did not feel like you are overpaying for them, I think mostly it is the cause of the good warranty policy and the endurance of it, or maybe it was that you have a lot of options in its price, but that is for you to debate.
PROS
• Works with older computers
• Endurance
• Great performance

CONS
• Lack of backup software
• No security encryption

Conclusion
Glyph Blackbox Plus definitely is a great external mobile hard drive, but it is not a must buy. You should consider buying it if you want to have a rugged, fast and reliable drive you should consider the Glyph Blackbox Plus, and of course, it is future proofed too in case you will buy it, it should work and fit you for a long time. Even if you are not planning to upgrade your computer to something new, these drives will work with every computer out with this date. Plus the HDD performance was one of the fastest I have seen for 7200 RPM drives, so you might not get wrong with buying the Blackbox Plus 7200 RPM version.