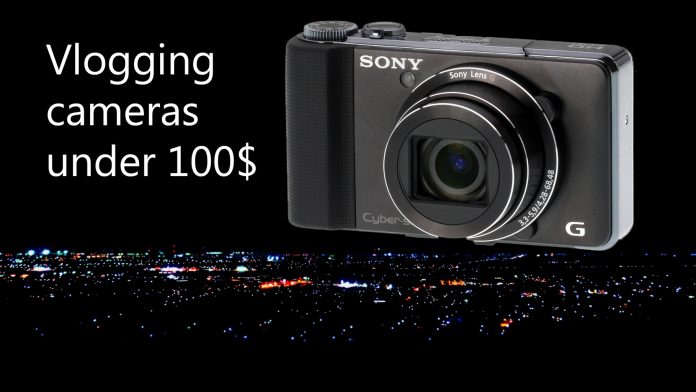 If you are looking for the best vlogging camera under 100$, this article is exactly for you. Vlogging has become more and more popular, and today just about anyone can do it. Some do it for fun, some to make money and other for their documentation. The truth is – you don't need a super expensive vlogging camera to shoot quality videos unless you're a professional. Most of the vloggers will be just fine with a camera that doesn't cost more than 100$. There are tons of different vlogging cameras on the market, but how to choose the right one that doesn't break your budget and performs well? That's exactly what we are going to find out.
Difference between a sub 100$ vlogging camera and more expensive cameras
1. Sony Cyber-shot DSC-HX9V
After testing all of the cameras on this list, we concluded that Sony Cyber-shot DSC-HX9V is the best camera you can get for 100$. If you're in this price range, there's nothing better you can buy. This is a real deal and will serve well even when you're getting serious about vlogging. It's capable of shooting videos in full HD at 60fps, has optical AND digital image stabilization and a rechargeable Li-ion battery. What else cloud you want from a 100$ vlogging camera?
Just by looking at Cyber-shot's DSC-HX9V specifications you can tell that this is a real deal, after all – Sony makes it. It was not one of the latest cameras being made in 2011, that's quite a while ago, yet it still does way better than any other camera at this price range. For example, the 3 inch LCD has 921K dots which is way more than any other camera we tested.
This camera is also super well made and in hands feels qualitative. It has tons of different options and features. If it were me, I would take it not even considering another sub 100$ cameras.
---
2. Nikon Coolpix L32
There is a phrase "you get what you pay for" and that's exactly how Nikon Coolpix L32 is. Why it's great for vloggers? Because it features image stabilization and that's exactly what you want for a vlogging camera. This a beginner camera that can manage shooting some videos at 720p. That isn't great, but let's face it – if you're getting a vlogging camera under 100$ you can't expect much more.
3-inch LCD display is low on resolution featuring only 230K-dot. This camera is also not rechargeable so you will have to get regular disposable AA batteries and change them everytime they run out which is quite a lame.
---
3. Canon PowerShot ELPH 180
The Elph 180 is Canon's budget shooter. Actually, one of the cheapest Canon cameras you can buy. It comes with 20-megapixel CCD image sensor, 8X zoom lens and digital image stabilization system. The last aspect is why we included Elph 180 in this list. As I already mentioned image stabilization is a must-have feature when it comes to vlogging cameras you will most likely walk with them and shoot while walking.
Sadly this camera tops out only 720p at fixed 25fps which is decent, but as high as we would like it to be. Today's standard is at least 1080p at 30fps. At the rear, you get 2.7 inch LCD with a low 230k-dot resolution. Also, there is nothing much included – the camera itself and connection cables. Battery life is also quite low.
We think that this camera is more for photos than videos. However, it still performs decently if you want to do some vlogging. For beginners, it will be more than ok, but over time you will definitely start to look for an upgrade.
---
4. Rainbowday Digital Camera
Cameras above can be difficult to manage while blogging because you don't see yourself. Therefore, the video you record may not be so qualitative and in some cases, you might not even see your face after watching what you have recorded. And this can be a huge drawback. To fix this, you need a camera with a flip screen. Such cameras tend to be much more expensive than 100$. However, if you are ready to get one from not so well known brand like Rainbowday, you might end up getting exactly what you are after.
In our opinion, this isn't the best camera regarding picture quality. Yes, it can record videos at 1080p and take pictures with 24MP, but the colors and contrast aren't there as with previous cameras. However, it will get the job done and the end that's exactly what matters. Otherwise, this camera has 4X digital zoom, super night vision function for low light conditions, anti-shaking function, face detection, self-timer, Smile Shooting and much more. So there's something to play with. Another thing we liked is included 52mm Wide Angel Lens and 52mm UV Lens. That's cool for a camera under 100$. For storage capacity, you have to go with standard SD class 6 card that doesn't exceed 32GB.
Overall, this is a good beginner camera to start off with. It's a great gift for someone who thinks about vlogging or just wants to start photographing to see if it's made for them. Overall build quality is decent; you even get money back guarantee and a 12-month warranty. Don't be scared about the brand. In fact, most cameras from well-known brands at this price range can be slightly worse.
---
5. AKASO EK7000 4K WIFI Sports Action Camera
Let's be honest; often vlogging cameras get broken easily because people use them on a daily basis and dropping it at some point is almost invadable. In, most cases one drop is enough to break your camera. This can hurt a lot if you bought a budget camera and after few months it gets broken. A solution? Getting an action camera like well-known Sony's GoPro. But it's quite expensive, what's the solution? AKASE EK7000 is your best bet. This camera doesn't cost more than 100$ and will do almost everything the GroPro would.
Design of this camera is quite basic and straightforward. It has a rectangular shape and overall is looking quite similar to GoPro. Sides are covered with a rubberized material that's textured to improve grip, and in hands, this camera feels quite solid and well made. At the back of a camera, there is 2″ LCD screen which is quite large for being in the price range of 100$.For connections, you get Mini-USB, micro HDMI ports. MicroSD slot is placed right next to them. Another thing we loved is accessories that you get with it. There are tons of them – different straps and connections not even mentioning remote control and charger. In fact, it has more accessories than almost all more expensive cameras.
Another thing we loved is accessories that you get with it. There are tons of them – different straps and connections not even mentioning remote control and charger. In fact, it has more accessories than almost all more expensive cameras.
As for video quality and overall performance, I'm impressed again. All colors look natural; everything is sharp. Being able to record 1080p at 60 fps is great. Although you can also record 4K at 25fps, however, I strongly doubt it's worth it, because this "4K" isn't a native resolution. The camera records everything at 2.7K, and then processor creates extra pixels to fill video to 4K.
Action cameras are superb if you do vlogging outside, love to shoot some hikes and sports one in a while. It's also a great gift for a kid that wants to shoot videos and do some vlogging as it's hard to break. A camera like this is one of our all-time favorites because it offers solid 1080p at 60fps resolution, can run for 80 minutes is compatible with MicroSD cards of up to 64GB of storage capacity. Has many such features, modes, and remote control. I mean what else cloud you expect from a camera that costs less than 100$?
Final words
Choosing a vlogging camera under 100$ isn't an easy task as most of them are truly bad and just waste of money. However, these few cameras are worth considering. They offer decent performance for not a lot of money. But before you're making a purchase think twice – if 100$ camera worth it or you should save up a little bit and get something better. From all of these cameras, I highly advise getting Sony Cyber-shot DSC-HX9V or AKASO EK7000, if sports is your thing. You won't be disappointed. 
Got any good vlogging cameras in mind that fit in the 100$ budget? Feel free to share in the comment section below.